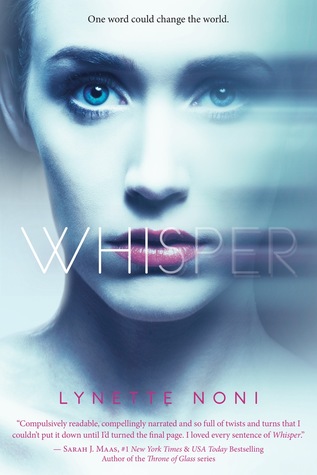 "Lengard is a secret government facility for extraordinary people," they told me. I believed them. That was my mistake.There isn't anyone else in the world like me.I'm different. I'm an anomaly. I'm a monster. For two years, six months, fourteen days, eleven hours and sixteen minutes, Subject Six-Eight-Four — 'Jane Doe' — has been locked away and experimented on, without uttering a single word.As Jane's resolve begins to cra...
---
Details Whisper (Whisper, #1)
Title
Whisper (Whisper, #1)
ISBN

9781525300417

Author

Lynette Noni

Release Date
May 1st, 2018
Publisher

KCP Loft

Language

English

Genre

Young Adult

,

Fantasy

,

Science Fiction

Rating
Reviews Whisper (Whisper, #1)
"Words are too precious to throw around carelessly." Stranger Things meets X-Men meets The Divergent in this ah-mazing book! Just imagine!This book had me glued to it and I absolutely loved everything about it. The plot, the story, the characters, writing style, and most importantly the mystery it creates! Omg!We are introduced to a mysterious girl who is silent since don't know when. She is at a secret research facility, Lengard, for almost thre...

Science fiction set in Sydney! Goodies versus baddies but we take a long while to discover which is which. Deep tunnel complexes under Centre Point Tower and Taronga Zoo. What more could you ask for:)I really enjoyed this young adult novel. Okay so there is a love triangle and our main character has amazing powers but does not know how to use them and the bad guy's laboratory is like something out of Frankenstein. It is still a fun book. It moves...

4.25 StarsShe has been locked away from the world for more than two years. She's known as "Subject Six-Eight-Four" and "Jane Doe".I am nothing. No one.I am a test subject, not even worthy of a name.In these years she has been experimented on or should I say tortured! She can't speak, oh no, she can but won't! Words have cost her everything.I can do the unimaginable; I can Speak the impossible into being.And with just one wrong word she ...

Loved this story! It's coming out in May 2018 and it is wonderful! The main character is afraid to speak and with good reason and I just was pulled in an couldn't stop reading! Plus Lynette is the sweetest person you'll ever meet - she's from Australia and I got to know her when I was there and she's lovely - just lovely and I was happy to give her a blurb for her US debut!

About: Whisper is a young adult fantasy written by Lynette Noni. It will be published on 5/1/18 by KCP Loft, an imprint of Kids Can Press/Hatchette Book Group, 320 pages. The genres are young adult, science fiction, and fantasy. This book is intended for readers ages 14 and up, grades 9 and up. My Experience: I started reading Whisper on 11/28/17 and finished it on 12/6/17 at nearly 1am. This book is a fantastic read! I love the plot and the char...

Thank you to NetGalley for a free copy of this book.--2.5 stars-- A way to describe my experience with this book would be akin to that of the rush of a new relationship with someone. In the beginning I was hooked, because I was eager to see what would happen next, but after a while my interest waned because I came to realize... Oh. You're just like the others.I couldn't put this book down during the first half, because I really wanted to know wha...

Divergent meets Miss Peregrine's Home For Peculiar Children. A definite MUST READ for 2018! Genre: Young Adult/FantasyRating:5 /5 starsRecommendation:BUY IT, and while you're at it buy a copy for a friend. Would you read another book by this author?: I will pay full price for her books. I will pre-order them if possible. I am OBSESSED. Who might enjoy this book?: Fans of Divergent and Miss Peregrine's Home For Peculiar Children.Overview: ...

Words demand respect. They are beautiful; they are terrible. They are a gift and a curse. I will never forget what they can do. I have been a fan of Lynette's work ever since i started her Medoran Chronicles series and i was very interested in seeing what she would do with this new series. Plot: I would say this story is like x-men meets stranger things and another story that i can't quiet put my finger on but if you like x-men or stranger thin...

This review was originally posted on Happy Indulgence Books. Check it out for more reviews! When a mute test subject called Jane Doe suddenly finds her routine disrupted by a kind boy called Ward, her whole world changes. Unlike the confinement in a cell and the torturous laboratory tests she's been undergoing, he actually talks to her and treats her with kindness. What does he want from her? Is this just a trick? Whisper opens up with the core...

⭐⭐⭐⭐💫 / 5"WHOA!" That is one word that comes to mind when I think about Whisper by Lynette Noni. This is a fast-paced YA novel that completely overcame all of my expectations. Whisper is about subject Six-Eight-Four, aka Jane Doe, who is being kept in a secret underground government facility. She is poked, prodded, and tested every day because she has a gift; we just don't know what that gift is until a ways into the book. She has been...

Lynette Noni's American debut novel will be the next sci-fi series that everyone will love.I had never heard of Noni before this novel and went into this book with an open mind. From the description, I knew this book would be sci-fi, but I wasn't sure if I would enjoy the plot. I was largely mistaken. Whisper is a science fiction novel that will appear in stores on May 1, 2018. It follows a young woman, who goes by Jane Doe in the beginning o...

I received an e-ARC from NetGalley and Kids Can Press.My review was originally posted at www.cafemanon.nlBefore starting this e-ARC, I had never read anything by Lynette Noni and I wasn't sure what to expect. I adored this book.The story is written in first person from the point of view of a mysterious girl. She stays at a secret government research facility named Lengard. The people who work there, call her 'Subject Six-Eight-Four' or 'J...

What book lover doesn't love a great story about the power of words? Naturally I was hooked from the first page, and completely unsurprised that I read this in a day. (It's why I waited for a day off to start it.) As a fan of The Medoran Chronicles, I was expecting this new offering from Lynette Noni to be pretty addictive and it didn't disappoint. That being said, I'm glad it went in a totally different direction from the fantasy world of TMC, ...

Eighteen year old Jane Doe was removed from her self-imposed stay at a psychiatric institution and held for the last 2-1/2 years at Lengard, a secret underground government facility. Jane thought of herself as a monster for reasons that aren't immediately explained. At Lengard she was analyzed, tested and experimented on to the point of torture, but she steadfastly refused to speak or tell her real name. This part of the book was sort of interest...

MY REVIEW FOR WHISPER WAS FIRST POSTED ON MY BLOG. CLICK HERE TO SEE MOREI always try to support Australian authors and Lynette Noni has been on my radar for a while. I just haven't had the time to pick up one of her books. I was scanning the bookshop for a read for a flight when I came across Whisper, which I had just seen one of my close friends rave about. So, I picked it up and I am not regretting the choice at all.Whisper by Lynette Noni f...

"Words are too precious to throw around carelessly. Words demand respect. They are beautiful; they are terrible. They are a gift and a curse. I will never forget what they can do. Because words have cost me everything."Whisper is an organic drama encased in technological dread, a warning but wholly alive voice echoing through a sterile ward. The power of words is a mighty one, and it bears a price to match if words are abused.It's a literal inter...

Thanks to Dymocks Karrinyup for an Advance Readers Copy of this book. I love Lynette Noni and I'm head over heels for her series, The Medoran Chronicles. Noni brings her amazing ability of creating exceptional friendship dynamics into this new series, Whisper. I really enjoyed reading about the characters. The writing keeps you turning the pages whilst having this magical flow. I really, really, really wanted to love this book just as much and in...

WhisperLynette NoniRating: 1/5Note: Special thanks to Kids Can Press for providing an ARC for review.I am so disappointed and angry that I don't even know where to begin. The premise seemed like something I would love but the poor execution of the plot and horribly developed characters prevented that from happening. The prologue had an interesting hook and I actually didn't want to stop reading. Despite the first few interesting chapters, the...

*lets out huuuuge ass sigh of relieve* Girls (and boys and all of you, basically.) let me tell you about this one. We're following Jane Doe on her trip through .. a very weird and strange place. Where she; after a pretty darn long time -FINALLY- gets some other privileges and where she learns about herself. She has to learn how to deal with.. her things, with what she did and what she can do. I'm pretty sure she has a thing for this one guy L...

My Opinion:Awesome fantasy read with all the twists and turns that I didn't see coming. I loved every minute of it. I was rooting for 684 the whole time reading this. There was a few spots that I thought could be moved along a little faster but that's ok because the next part would pick it right up and you were happy to read it. We are taken through to the life of 684 or JD or Jane or even Chip if you want to call her or her real name! She is an ...

While it's easy to draw parallels with other series - X-men particularly - Whisper offers so much more than it might first seem. Jane has been imprisoned at some sort of research facility for over two years. In that time, she hasn't spoken a word, and she's clearly traumatised over the death of her parents, the even that precipitated her imprisonment. However, there's more to this facility than meets the eye - and I don't just mean that it's buri...

When I saw this book on NetGalley I knew I have to read it, Why? First The title is so appealing, Second Sarah FreakingMass Thoughts on the title.I didn't read any book of Lynette Noni before, I didn't expect anything from it, Just dived into it to find out and I didn't regret even for one page.I love the story and Plot, world development was so refined It was easy to imagine it, It gave X-man/divergent vibes though but it is not a negative...

3.5 :) It was really fun and easy to read and I'm honestly excited for the next one :D

It's been a while since I have picked up a sci-fi novel, but now I definitely want to get back into the genre. Whisper is an incredibly secretive book with a main character who has not spoken since her capture. The writing style is also fitting for the story, making it even more enjoyable.Full review on The Candid Cover

OKAY but wow this book as more twists and turns than a corn maze on Halloween. (Yes I made that up could you tell?) Honestly I have nothing but praise and amazement when it comes to this incredible book. The story, the characters, the world, the twists... everything about it just works to make one INCREDIBLE story that I cannot recommend enough.Corn maze level twists(look i'm gonna keep making this analogy you're just gonna have to deal)The plot ...

I have mixed feelings about this. The title was very interesting and Subject Six-Eight-Four, 'Jane Doe', reminded me a lot of Juliette from Shatter me. 'Jane' also considers herself a monster and refuses to speak, at all. She gets treated badly in this 'institution', where she was supposed to get cured. There were twists and turns I didn't see coming and at first I was really intrigued. One character really annoyed me, because he called Jane ...

I got sent this book in exchange for a honest review, all my opinions are my own and thank you so much to the publishers for sending me this book!Whisper was Shatter Me mixed in with The Darkest minds and Sprinkled with Divergent and it was freaking fantastic.Chip/Jane Doe is a very broken and interesting character, you have no idea who she is at the start and we get to learn about her and it's very entertaining learning more about her past.This ...

Jane Doe has been held captive in a secret government bunker for over two years. She's been experimented on, she's been tested, and she still doesn't know why she's held there.  But she refuses to answer any of their questions.  She refuses to say anything at all.  And for good reason…What a terrific book! Compelling from the very first sentence, I was held captivated by this story from cover to cover. Jane Doe's past is gradually ...

3.5 Stars. Transferred from a psychiatric institute and forced into isolation, Jane Doe has remained silent despite the invasive experimentation throughout the underground facility. Disciplined in the artistry of combat, patient six eight four endures experimental procedures to fracture her fortitude. Landon Ward is an abnormally, a kind and compassionate young man and considers Jane as his intellect rather than an allocated number.The violation ...