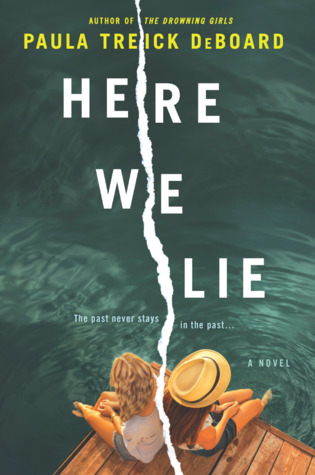 A riveting novel about how the past never stays in the past, from the critically acclaimed author of The Drowning Girls and The Mourning Hours . Megan Mazeros and Lauren Mabrey are complete opposites on paper. Megan is a girl from a modest Midwest background, and Lauren is the daughter of a senator from an esteemed New England family. But in 1999, Megan and Lauren become college roommates and, as two young women struggling to find their pl...
---
Details Here We Lie
Title
Here We Lie
ISBN

9780778330264

Author

Paula Treick DeBoard

Release Date
Jan 30th, 2018
Publisher

Park Row

Language

English

Genre

Thriller

,

Mystery Thriller

Rating
Reviews Here We Lie
Another utterly engaging read from the author of one of my favorites last year—The Drowning Girls. What I appreciate the most about Paula Treick DeBoard's writing is how effortless she makes the reader/character connection. Abandoning my own sense of self, to allow for the voices and emotions of these characters to take over, was done with ease. The complexity and depth of the two women at the center of it all—how their flaws, issues, exper...

Paula is one of my go-to authors; after devouring The Drowning Girls last year I immediately consumed The Fragile World and The Mourning Hours in quick succession. I find her writing to be one of the finest examples of flawless character study around. While each book has a different theme, she manages to keep a tight reign on her cast, always ensuring that, what could be construed as the everyday mundane, is in fact transformed into a tense...

4.5 starsHere We Lie is so timely and relevant--it amazes me that the author wrote this before #metoo movement began.This is an emotional read about friendship, lies, and stories that cloud reality. "What was a lie or two between friends?" Megan and Lauren become unlikely friends while attending elite Keale College in the late 1990's. Lauren is the privileged daughter of a senator, whereas Megan comes from a blue collar family and has had ...

An addicting tale of lies, jealously, and friendship. What another brilliant story by Paula Treick DeBoard!!One of things that I love about DeBoard's style is her ability to flawlessly connect her characters with her readers. The sense of depth and experiences that the author creates through her characters is absolutely amazing. Megan and Lauren are quite the opposite of one another when they meet attending an elite college in the 90's. Lauren co...

From the critically acclaimed author, of The Drowning Girls, The Fragile World, and The Mourning Hours (all five glowing stars-review links below), Paula Treick DeBoard follows with her latest riveting suspense, coming Jan 2018— HERE WE LIE. Rich in character, a look inside the secret lives of two different unlikely friends from two different social classes. A world of privilege and secrets. The lies and secrets they tell themselves, and to one...

Last year The Drowning Girls was one of my most pleasant surprises in terms of discovering a new to me author so I was super excited to get my hands on DeBoard's latest novel. While this was very different from TDG I still enjoyed it and will always be a huge fan of the authors style.This is told from two viewpoints, both Laura and Megan. It starts in 2016 before a press conference that's obviously important to both women but the reasons behi...

Due to be published at the end of January 2018, Here We Lie is my second encounter with Paula Treick DeBoard's literature following The Drowning Girls, her enthralling novel of domestic suspense which I read a few months ago and very much enjoyed. Paula Treick DeBoard reinvented herself in Here We Lie in the sense that she left the realm of psychological thriller/mystery/suspense that she had explored in her previous publication and switched focu...

Full review closer to pub date.

I received an ARC from the author in exchange for an honest review. I was contacted because I read and enjoyed this author's last book, The Drowning Girls, and I was thrilled to have a chance to read this one.This book did one of my favorite things, which is to bounce from the past to the present to get the reader to the climax of the story. Megan and Lauren used to be good friends, but the book opens up at a time when they no longer keep in touc...

This is the third book I've read by this author and definitely my favorite! While I don't want to give anything away, I will say Here We Lie deals with incredibly timely issues, like sexual assault by those in positions of power. This is an important book and a great examination of why things play out the way they do in society. I'm certainly looking forward to reading whatever else Ms. DeBoard writes in the future. I received an advance co...