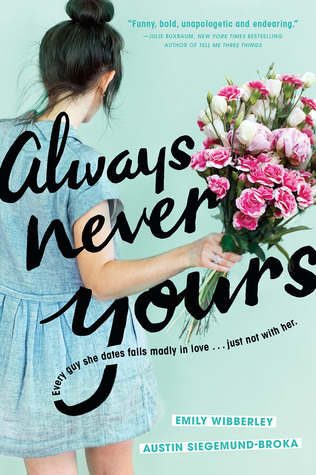 Megan Harper is the girl before. All her exes find their one true love right after dating her. It's not a curse or anything, it's just the way things are, and Megan refuses to waste time feeling sorry for herself. Instead, she focuses on pursuing her next fling, directing theatre, and fulfilling her dream school's acting requirement in the smallest role possible. But her plans quickly crumble when she's cast as none other than Juliet–ye...
---
Details Always Never Yours
Title
Always Never Yours
ISBN

9780451479846

Author

Emily Wibberley

Release Date
May 22nd, 2018
Publisher

Speak

Language

English

Genre

Young Adult

,

Contemporary

,

Romance

Rating
Reviews Always Never Yours
This is such a deeply cute book that I screamed for 300 hours. Theater romance ft. cute play tropes and totally, utterly bingeable. Megan is the forgotten supporting character in her life, the Rosalind to everyone else's Romeo and Juliet. Instead of romance, she focuses on directing theatre. But her plans quickly crumble when she's cast as Juliet in her high school's production - even though she's never acted before. And maybe also meets a ...

I read this book in one sitting. IT WAS INCREDIBLE! YOU SHOULD ALL READ THIS!

My god could I have used a heroine like Megan growing up. A girl who knows her own mind and goes for what she wants. One who bravados her way through any situation she's not sure how to handle. Anyone else remember what it is to be equal parts brash and afraid? Willing to bet the ranch on a wink and a smile?Maybe that's just me.I love brazen girls and I love my heroines a little bit reckless. I also am partial to Megan because I think she and Lul...

Megan Harper is the forgotten supporting character in all her romantic relationships--the "Rosalind" to every Romeo that leaves her behind for a windowsill-leaning Juliet. She's even fast becoming the supporting character in her own family, now that her dad is re-married, and she's about to become a twice half-sister.But after life throws her a sweet little curveball, and she gets cast LITERALLY AS JULIET in a high school production of "Romeo & J...

This book's plot imagines modern-day Rosaline from Romeo and Juliet with her own story. Confident, flirtatious Megan is well-aware that every guy she dates finds his "true love" after breaking up with her, but that doesn't get her down in the dumps. She's too preoccupied directing theater shows and auditioning for the smallest role in the upcoming Romeo and Juliet to fulfill her dream school's theater requirement. But her theater teacher is bound...

3.5 starsI really enjoyed this book! It takes place in the fall, but I'd definitely consider it a fun, summery contemporary. If you're looking for a book that will make you happy, this is certainly the one for you. I loved all the Shakespeare references! Throughout the novel, the main character, Megan, is learning her part as Juliet in her school's production. I loved hearing her take on the scenes, seeing her direct them, etc. Theater play...

Another book I finished this week: ALWAYS NEVER YOURS by Austin Siegemund-Broka and Emily Wibberley. I've been intrigued by this book since I heard about it, and OBSESSED with that cover! Seriously, it's my perfect aesthetic—I could spend my whole life in cute little dresses with Peter Pan collars, wearing a messy bun and carrying carnations and peonies.So it was no surprise when I found myself completely unable to put the book itself down! Fun...

This book was adorable. The characters were amazing, I loved Megan, our main character, so much and it was just cute and maybe a bit predictable, yet I didn't mind one bit.ADD THIS TO YOUR TBR FRIENDS, you won't regret it.Full review coming closer to release date :)

Okay, I enjoyed this SO much more than expected. So much drama, and yet so much heart. Full review TK!

Megan Harper has resigned herself to being the girl that everyone dates before they find "the one". She is okay with being the flirty, fun girl that everyone likes but never loves. But when she is thrust in the spotlight for the school play, "Romeo & Juliet", as Juliet, Megan freaks out...she has always been the director never the star. On top of that a stagehand that she has known forever has recently become "new hot" and she is determined to ha...

If you like Morgan Matson books, Shakespeare, brash and fierce heroines and reserved boy playwrights who are just doing their best, this is the book for you. I was absolutely delighted by it, and I know you will be too!

4/5 starsI really enjoyed this book! Always Never Yours was the cute read I anticipated and it went beyond my expectations in many ways. First let's talk about Megan. I think that Julie Buxbaum said it best when she described this novel as "funny, bold, unapologetic, and endearing." Megan Harper is all of those things and more! From the first pages, Megan had me laughing at her narration about everything from a certain swoon worthy hunk to ...

I was sent this book by the publisher, Penguin Teen. My ratings and reviews will be my own personal opinions and are in no way influenced by publishers or authors who may have sent me books to review.If you love sweet, funny, and fluffy contemporaries then you need to pick up Always Never More. I was intrigued as soon as I saw this, and when I saw it deals with the trope of never being the one to find love, I knew I wanted to read it.This story d...

Everyone knows the love story of Romeo and Juliet, but have you ever wondered what happened to Rosaline? Yep, she's the girl Romeo dumped when he met his one true love, Juliet. By Senior year, Megan Harper is sure she's destined for a life of being Rosaline. Seven boyfriends have broken up with her only to find true love with the next girl. Megan has learned to steel herself against a broken heart by earning a reputation as the class flirt wh...

Wow this is everything I want in a contemporary romance. I really loved every bit of it!! I couldn't put it down. It's funny, relatable, and just so sweet!! One of my favorite aspects of the book is definitely Megan's development, and the approach the authors took in regards to her characterization and sense of self among her families and friends. I also really enjoyed how diverse the characters were with their personalities and identities....