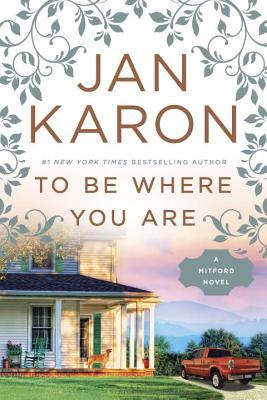 #1 New York Times bestselling author Jan Karon returns with the fourteenth novel in the beloved Mitford series, featuring three generations of Kavanaghs. After twelve years of wrestling with the conflicts of retirement, Father Tim Kavanagh realizes he doesn't need a steady job to prove himself. Then he's given one--but what, exactly, does it prove? Meanwhile, newly married Dooley and Lace face a crisis that empties their bank account and turns th...
---
Details To Be Where You Are
Reviews To Be Where You Are
I was going to be chintzy and take a half star away because there was simply not enough Father Tim and Cynthia for me but I just loved the warm embrace of Mitford so much that I gave it the full five stars. How can a 78 year old retired Anglican priest and his artist wife be so fascinating? Because Father Tim is someone we would all like in our lives. A kind man who came to love late in his life, fatherhood by adoption even later and grateful for...

How could the 12th book (or 14th if you count the Fr. Tim books) of any series, still be so fresh and stunning?! Jan Karon again works her word magic with this new book as if she's just introducing all her Mitford characters. I have read the entire series and this book is right up there with the best.Fr. Tim has been retired for ten plus years but at 77 he's not ready to slow down and neither is his wife, Cynthia busy painting pictures for th...

One of the ways a book can get a rare five star rating from me is when the setting and characters make me want to crawl inside of it and hang out. This is one of those books. While in some ways Mitford and its inhabitants are idealized, there are also plenty of realistic problems and life events. The action picks up not too long after the events of Come Rain or Come Shine, and the reader gets plenty of time with Lace and Dooley on their farm and ...

The beginning starts off slow but by no means is this a boring book. This is a continuation of the popular Mitford Series by Jan Karon. It continues the emotional and raw stories of the Kavanagh families. Father Tim is coming to realizations about himself and his purpose. The newly-wed Dooley and Lace have to deal with major tragedy, stress and loss. Jack is the hero or shining star as he heals old wounds and brings the family and town much happi...

Thank you to @penguinrandomhouse for the advanced galley of "To Be Where You Are", Jan Karon's 14th installment of the beloved Mitford Years books, due to be released on 9/19. My mother-in-law introduced me to this series over 15 years ago though I will confess I haven't kept up with the books in the last several years. Settling into this novel was like visiting old friends and family. Like snuggling into your favorite sweater with a warm cup of ...

This was my first trip to the town Mitford and I was totally captivated. What a wonderful series and I'm so upset with myself for not reading them before. Better late than never, right? Father Tim Kavanagh is dealing with his retirement and his new health regime which is quite humorous. He's trying you have to give him that, even if his smoothies are a bit chunky! I didn't find myself lost at all as I read through this series with all its loveabl...

Old Priests Never Retire, They Just Take The Occasional Wrong NumberYea--We are back in Mitford! For readers new to the series, Mitford is a safe, warm, and genuine place. Life is a little calmer, the people are kind, and their faith is real.Life goes on at a leisurely pace in Mitford, and a similarly modest pace in this book. The folks in town try to be good Christians as well as good citizens. Most folks still say grace before meals. One woman,...

I often marvel at those on the right who long for "the good old days" and want to "take back [their] country" and "make America 'great' again." I never really understood what they were talking about because they seem to be longing for an America that has never existed. Then I read this book, which can only be considered mythological. Granted, as a Jewish woman with disabilities who has struggled against poverty many times and spent most of my adu...

I absolutely adore Mitford and the people who make up this community. The writing feels like you are just living the life with Father Tim, Cynthia, Dooley, Lace, and the rest of the characters who all add so much to the story. Through this entire series, I have become invested in the community. When you lose a character that has been a part of the series, even if the character is not a major player, you feel the loss. Seeing the next generation o...

● Somewhere Safe with Somebody Good (Mitford Years #10) (2014) ● Come Rain or Come Shine (Mitford Years #11) (2015) ● To Be Where You Are (Mitford Years #12)#1 New York Times bestselling author Jan Karon returns with the fourteenth novel in the beloved Mitford series, featuring three generations of Kavanaghs.After twelve years of wrestling with the conflicts of retirement, Father Tim Kavanagh realizes he doesn't need a steady job to prove h...

Title: To Be Where You AreAuthor: Jan KaronRating: 4/5Release Date: September 19, 2017Description from Goodreads: "#1 New York Times bestselling author Jan Karon returns with the fourteenth novel in the beloved Mitford series, featuring three generations of Kavanaghs.After twelve years of wrestling with the conflicts of retirement, Father Tim Kavanagh realizes he doesn't need a steady job to prove himself. Then he's given one--but what, exactly...

I would try to write and describe the people and the story line but there is a lot going on in this book. I gave it 3 out of 5 stars. If I had not gotten stuck or confused a couple of times I would have easily given it a 4. I really loved the characters they were all so lovable and well described. During the reading I kept getting a horrible feeling in the bottom of my stomach that something bad was going to happen to the characters but thankfull...

To Be Where You Are is the newest installation in Jan Karon's Mitford series. And just like its predecessors, this book provides its readers with a warm, small town community that has the ability to believe that helping neighbors and healing hearts is always important, especially during the holiday season. This story provides a more in depth look into the lives of newlywed characters Dooley and Lace, whom readers have grown to love over the ser...

Such a wonderful read (though saying that about a Jan Karon book isn't much of a surprise.) I loved seeing Dooley, Lace and Jack grow together as a family, even under hardship and tests of faith. Father Tim, too, never ceases to surprise me with his post-retirement adventures. Will the ex-mayor ever fail to ensnare him in her schemes? Will the town ever lack in ways to occupy his time and his heart? Probably not! But that means more Mitford books...

I always pick up a new book by Jan Karon whenever I see it. She never disappoints me and her stories have just the right mix of love, religion, tension and sadness. Animal lovers will be particularly happy with this new book as Father Tim and Dooley work together. With 14 books set in Mitford and Father Tim reaching 77 years of age you might think the story lines would get stale or bog down but this isn't true at all. Every book is a new adventur...

I am a huge Jan Karon fan, but I found this book disappointing. Sure, the characters were there and the story was there. I cried when my favorites were having problems. But, the beautiful writing that I also love did not seem to be there for me. I felt confused many times as the story jumped abruptly from one part of the story to the next. Also, I understand writing in a dialect, but I don't ever remember reading portions where characters also th...

Reading one of Jan Karon's Mitford books is like visiting with old friends in NC. This one was no exception. Everyone is doing mostly well, with a few exceptions to make things interesting. Lots of very happy family times in this particular one, with folks showing a great deal of love and peace. Always a great vacation to read these stories. Father Tim and Cynthia are leaving on an adventure as this book closes--ripe for another book!

DISCLOSURE OF MATERIAL CONNECTION: I have a material connection because I received a review copy for free from Netgalley and Penguin First to Read in exchange for a fair and honest review.Mitford is a small town tucked into the Blue Ridge Mountains. The locals know everyone and everything that goes on in the town. Information spreads faster than the cool mountain breeze of autumn when something good or bad happens to any of the inhabitants.Like a...

Times, they are a-changin'!At about 450 pages the newest installment in the much-beloved Mitford series is cram-jammed with familiar faces, people not-so-familiar, fun, food, and laughter. Definitely laughter. I love when a book makes me snicker out loud, and on that point probably any Mitford book absolutely delivers.Many loved characters are back - besides Father Tim, Cynthia, Puny, Esther Cunningham, etc., there is also a focus on Hope Winches...

Anyone who has read Debbie Macomber's Cedar Cove books will adore Jan Karon's Mitford Series. Based on Father Tim Kavanagh, his family, friends and town's people, this installment is delightfully quick paced as it delves into the daily trials and tribulations in the town of Mitford and Meadowgate Farm. Although this is the 14th novel in the series, which I had not read, it was a pretty good stand alone book, although there are times you feel you ...

I believe this is the 14th book in this series and I could not put it down! I don't know if you would truly understand the going back and forth between story lines, let alone the history of the Barlowe's if you hadn't already read the first 13. I laughed with this book and I cried with it and the stories within. Father Tim and Cynthia, who found each other late in life, but have a love like no other, Father Brad, who, after much tragedy in his ow...

Worth the wait!Mitford fans rejoice as they laugh, ache and reflect on favorite characters and events in the area. As always, Jan Karon weaves daily events, nostalgia and surprises with a town that lives off the page and into our thoughts. Picture a walk through Happy Endings bookstore, shopping seasonal specials at the Local and of course, tasting the world famous Orange Marmalade Cake (OMC.) Pull up a chair at the hearth with Father Tim and Cyn...

Thank you to First to Read for the advance copy of To Be Where You Are by Jan Karon. Reading this was like reuniting with old friends. I've always enjoyed reading about Father Tim and the Mitford community. This book was no exception. It is so refreshing to read about a family and community who try to get along and look out for each other. If you haven't read any of the Mitford books, I recommend that you go back and start the series at the begin...

4 1/2 stars because I just love to be back in Mitford again. I'm subtracting half a star because with all the POV jumps, it gets very confusing when each character is identified by a pronoun instead of a name -- sometimes it would take me a couple of paragraphs into a section before I figured out which character the "he" or "she" was. IF this is the last Mitford novel (though I hope it's not), it's a very satisfying conclusion to the series.Thank...

It was so great to be with the folks of Mitford again. We got caught up on all the goings on in and around the town. I laughed a lot, I cried a lot, some sad tears but, more happy tears. I felt myself grinning while I was reading..We found out sweet Father Tim is almost 78 yrs. old and still doing too much all the time. I think I will always picture him as 63 yrs. old. Our Dooley has grown up and become a responsible family man. I remember when h...

Note: I read this as a free e-ARC from Netgalley. I was very excited to read the new installment of the Mitford Years. However, as I read the book, I didn't really find a main plot. It was as if I was a fly on the wall watching the town and it's inhabitants living (or not living) their lives. The book caught up with most everyone including Dooley and Lace at Meadowgate. I enjoyed the book for what is was, but disappointed in lack of movement of t...

I was provided an ARC from Penguin Books and First to Read for my honest review. I made it 38 pages into this book before I gave up. I have almost no clue what kids going on and there are so many characters that it's just plain confusing to keep them straight. Any time I put this book down and came back to it later I was lost as to what was going on and where'd I'd left off. I doubt this is a book I'd try again. I would definitely recommend readi...

I received a copy of this book through the Goodreads giveaway program. To be honest, it's been a long time since I've read a Mitford book. I read the series many years ago, but stopped before the Father Tim novels came out. I have questions about what happened to some of the characters and how others ended up where they are, but that just means that I can go back and read the books I haven't read in order to fill in the blanks. I really enjoyed c...

A huge thank you to NetGalley and the publisher for an advanced reader's copy of Jan Karon's latest. I have been an avid reader of the entire Mitford series. Reading a new book in the series is like visiting with family and friends. The latest novel includes many of the same characters and more heartwarming moments. It feels a little choppy and rushed at some points, but I still enjoyed returning to Mitford for a visit. Overall rating - 3.5 stars

I know that Jan Karon and her Mitford series is very well loved. This was my first attempt at reading one of her books. While it was entertaining and the characters were interesting, I am going to have to go back and read the rest of the series. I felt a little lost at times since I hadn't read the rest of the series. Very well written. I received this novel as a free digital download as part of Penguin's First to Read Program.