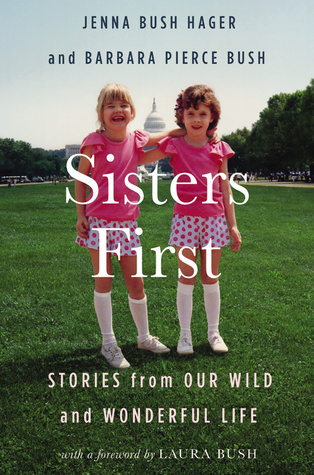 Funny and poignant personal stories and reflections from former first daughters Jenna Bush Hager and Barbara Pierce Bush.Born into a political dynasty, Jenna and Barbara Bush grew up in the public eye. As small children, they watched their grandfather become president; just twelve years later they stood by their father's side when he took the same oath. They spent their college years being trailed by the Secret Service and chased by the paparazzi...
---
Reviews Sisters First
This memoir by the fraternal Bush twins has the forward by their mother, Laura Bush. Jenna Bush Hager is a correspondent for NBC's Today Show and Barbara Pierce Bush is CEO and founder of Global Health Corps.They discuss their early life in Midland Texas and attending high school in Austin, Texas when their father was Governor. They tell about life in the Governor's Mansion and in the White House.The book is full of heartwarming anecdotes as ...

Quick fun read. I was pleasantly surprised by the Bush daughters' caring, honest, and funny stories. Their love for each other and their family really shines through in this one.

The Bush twins come off as likeable, intelligent women... interesting for the inside scoop on their lives in the White House.

All my reviews can be found at: http://jessicasreadingroom.com~~~~Born into the Bush dynasty, Barbara and Jenna Bush were never going to have a normal life, despite their parents attempting that very fact. And their parents succeeded in that as much as possible. From the moment they were born they were in the public eye and will continue to be.I am one year older than them, so I really enjoyed this memoir that both ladies co-wrote. Being the same...

I've always enjoyed Jenna Bush Hager on the Today show.Both Barbara and Jenna wrote chapters on their memories/feelings as growing up as twin sisters and being part of the Bush family.I found this to be an easy, interesting read.

Jenna and Barbara take turns telling stories about growing up in the Bush household, the Texas governor's mansion, and their years as First Daughters. Funny anecdotes from both made me smile. The best thing was getting to know the President, through his intelligent, articulate daughters. The love and respect they have for one another is the best thing about this audio book. The entire Bush clan becomes real and appear to be every bit as normal as...

Beautiful stories of sisterhood being a twin and growing up very normal in a very political family. Full review soon. Thank you Grand Central Publishing for a copy of this book. Loved it.

I was never interested in the lives of President George Bush's twins while he was in office. I'd see them in the tabloids every now and then for some underage drinking fiasco but for the most part, wasn't interested. But when I saw this book at the airport a few months ago, I was curious what they had to say. After all, they were born and raised in a political dynasty, so they were bound to have a few larger-than-life memories. Sure enough, this ...

As a lover of presidential history, I've always been intrigued by the lives of the First Families. So I really enjoyed the insights Jenna and Barbara share in their memoir. It was surprisingly deep at times: they reveal the lifelong guilt their mother, Laura Bush, has felt since she ran a stop sign at 17 and killed her high school classmate; Barbara talks -- openly and honestly -- about her high school boyfriend who hanged himself; and they both ...

I thought this was a lovely, poignant and informative family memoir. I actually listened to the audiobook version as my running soundtrack this month and I found myself looking forward to each run because I felt like I was having a conversation with two girlfriends.Jenna and Barbara are about my age and I've always found myself interested in their lives and family, and I think I related to their goal: to show that their family was their family an...

This memoir is maybe the best I have ever read. The Bush sisters are incredibly talented writers and story tellers. They draw you in and you just can't stop reading. I've always loved learning about the Bush family, but this book made me fall in love with them more. Their stories are so genuine, relatable, and refreshing. This is an inspiring must-read.

This was funny, surprising, shocking, and wonderful. We need more books that help us see the human side of politics. It is a tribute to the wonderful job the Bushes did in raising their daughters in the hard spotlight of the media. I love presidential stories, and this one was especially fun! The audiobook is read by Barbara and Jenna in alternating chapters.

I was given this book by my sister as a Christmas gift. I finished the book in one sitting. This book reads as if you are sitting across the dinner table listening to Jenna and Barbara share stories of their life. As a sister and a mom of twins, I was completely captivated by stories of growing up in the Bush family and their adventures in the White House. Barbara shares a comment that moved me to tears about how she feels about her sister..."for...

Interesting audio book. I did not care for the twins voices sometimes but did like the prologue that Laura Bush wrote and read. Very interesting read and enjoyed the stories about their time in the White House and time outside the White House.

Jenna, Barbara, Chelsea, Sasha, Malia. Love classy women! Right now I'm suffering from some serious wardrobe envy after following @jennabhager on Instagram.Big thanks to Laura Bush for here work funding school libraries! On a side note, I was dismayed to learn this weekend that there are currently four Donors Choose projects at my former school asking for books. This is terrible. Teachers and librarians shouldn't have to write grant proposals for...

I chose to read this book mostly because I enjoyed Jenna Bush Hager on the Today Show ... but I actually enjoyed the book far more than I expected. Jenna's vibrancy in telling a story on television shines through in her book as her stories of growing up in Texas will repeatedly make the reader smile. I found Jenna and her sister Barbara to be real people with experiences that weren't much different than our own, even though they were living in th...

I listened to this one through my library's overdrive app. Jenna and her sister Barbara alternate reading their own stories in each chapter. I easily could tell the two voices apart and absolutely loved this collection of stories from their childhood to adult life. Their stories ranged from sister bonding to the trouble each of them got into (even when it made the front pages) to their careers and Jenna's marriage and family. All of this while gr...

I really wanted to love this book. The chapters were alternating short vignettes, shifting from Jenna's perspective to Barbara's.... but none of the vignettes really went in depth. In the section about living in the white house, one of the sister's mention that showing around the Obama girls was their favourite moment in that house. I wish we had gotten an in depth story about that, rather than the one sentence. Having said all that, I did enjoy ...

there were some interesting and enjoyable stories in this non-political, non-partisan book, and the sisterly and family love is clearly evident. Stories about Barbara Bush's work with (and founding of) Global Health Corp. are impressive. However, the sometimes rambling writing, and the random (and sometimes repetitive) way the stories were presented, were a bit annoying.

Sisters First is more than simply a memoire it's a personal , touching, heartfelt first hand account of the powerful bond of twins and the familiar comfort and guidance full of love and support of family.The connections between the families (Bush/Hager) as well as between ( the present and past Bush's) is remarkable.I'm not a gushy tooty-fruity person however I could relate to this book on many levels which was surprising because often times thos...

I find presidential children fascinating- What's it like to live in the White House? How do people (boys in particular) treat you when they know your father is the leader of the free world? Do the secret service folks ever joke around or are they always 'on'? Can you really order whatever you want at whatever hour of the day/night from the kitchen? Is sneaking out of the white house even an option? These are just some of the questions I was looki...

Reading this book by the Bush twins spoke to me on a couple of different levels. First of all, I have two daughters who are similarly sisters first throughout their lives. Secondly, I have great admiration for the Bush family and appreciate their service to the country while in office and afterwards as the entire family has a gentility and a respect for the basic principles of how our nation operates unlike those in the office today. I was also e...

I really enjoyed hearing about Jenna and Barbara's lives. I am close to their age so I can relate to some of the same things (flip phones, etc.). I love how the Bush family writes so many personal letters and they are shared in the book. Hearing the girls read their story was wonderful. This book touched upon political topics (like the gulf war, elections) but it was because it was part of their lives and not in a preachy way. I loved hearing abo...

An interesting twist on the usual political memoir--the Bush daughters talk about their entire life in snippets, encompassing their lives in Texas, their grandfather's presidency, being in college during their father's terms in office, and what they've done afterwards. As the title suggests, it's about their relationship as sisters, and it's through that lens that their public lives are discussed. IF you're looking for a tell-all memoir, you won'...

Enjoyable autobiography of the Bush sisters. Growing up in the public eye was difficult but these two had each other and a very supportive family. They tell stories about their meeting some famous people but the main focus is on their family. These family stories were the best not because you got the scoop on anyone but because they were stories with lots of love. Some references may be unfamiliar to those outside the U.S. Overall a cozy warm rea...

This book is written by both Bush sisters, alternating their own perspectives of shared and independent life experiences. They give insight into their famous family members as mother, father, and grandparents. They tell loving stories of "Gampy" and their experience of his campaign for Vice President and then President as well as the 2000 election and waiting for days to find out if their dad really had won Florida. The book is well-written a...

I loved this book! Irregardless of your personal politics, if you are caring and compassion person, this book would be a good choice. It is interesting hearing from these two young women about what their lives were like growing up in one of the largest political families. Their youthful indiscretions (or a reporter's perceived indiscretion) was splashed across newspapers and magazines, and I enjoyed hearing the behind the scenes story of what act...

This was beautifully written, though I don't know if the Bush twins wrote it themselves of if they had a ghost writer. Fascinating to see how they were affected by their father's presidency and the day of 9/11. I loved reading about the love and respect they have for their grandparents. Highly recommend.

I mostly enjoyed this book, especially Jenna's stories about her dates with her future husband and the less high-profile Barbara's accounts of her work with the Global Health Corps, an organization she co-founded, and her encounters with the raunchy former Prime Minister of Italy and Vladimir Putin. However, the twins focused too much on their father's suffering during the wars he started and his love of and service to the wounded warriors and no...