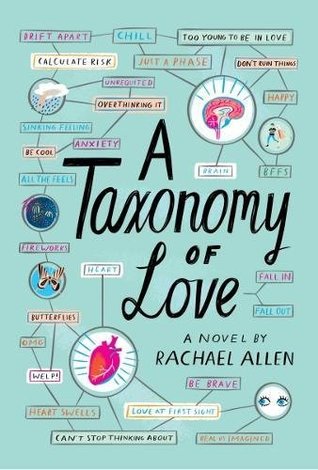 The moment Spencer meets Hope the summer before seventh grade, it's . . . something at first sight. He knows she's special, possibly even magical. The pair become fast friends, climbing trees and planning world travels. After years of being outshone by his older brother and teased because of his Tourette syndrome, Spencer finally feels like he belongs. But as Hope and Spencer get older and life gets messier, the clear label of "friend" ge...
---
Details A Taxonomy of Love
Title
A Taxonomy of Love
ISBN

9781419725418

Author

Rachael Allen

Release Date
Jan 9th, 2018
Publisher

Amulet Books

Language

English

Genre

Young Adult

,

Contemporary

,

Romance

Rating
Reviews A Taxonomy of Love
4,5 estrelasUm dos YAs contemporâneos mais legais que eu já li! Amei a oportunidade de ter lido com antecedência ao lançamento.. o livro só sai em janeiro de 2018 lá nos Estados Unidos.O livro acompanha a vida do Spencer e da Hope, dos 13 até os 19 anos de idade. Spencer tem Síndrome de Tourette e Hope se muda para a casa ao lado da dele logo no começo da história. Pode parecer que vai ser óbvio o que vai acontecer, MAS NÃO! Muita mer...

This book was adorable…I knew I wanted to read this book as soon as I read the blurb and saw the amazing cover, so when I saw it to request on Netgalley I jumped at the chance to receive a copy of it to read and review 😊I really enjoyed the writing in this, I like how the books tarts off when Spencer and Hope are just thirteen and follows there story, the final chapters being when they are nineteen, it was done so well and I didn't find it...

Can you hear those vague squeals from the other end of the world and i just feel those FEELS and JUST eep! What is happening to me? I don't like contemporaries. REMEMBER. wait, I like this book. Scrap that I love it. This is about a boy with Tourettes called Spencer who loves insects and animals and helping everyone out and is so dorky and smol and ruins so much yet you still love him. And he's basically this little enthusiastic bean who has emo...

um um i simultaneously hated this and enjoyed this at the same time(have fun, folks)rtc!

Nothing is wrong with this one, exactly. More of a matter of personal taste. And misplaced expectations. RTC.

Is there a way to understand and capture the complexities of life, friendship, and love? A Taxonomy of Love is a sweet story that captures all the magic and heartbreak of friendship and growing up.When the new girl moves in next door, she and Spencer become strong friends. Who else but Hope could understand Spencer's love of bugs and climbing trees. Who else could understand the ways in which he is different and yet not treat him as if he is any ...

This book!!! I cried so many tears today - happy tears, sad tears, broken hearted tears, frustrated tears, but in the end, I cried tears of joy. This book had an intro letter from the editor, which called this a YA When Harry Met Sally, and I have to agree with her assessment. It was a tough 6 year journey with Hope and Spencer, but I am so happy I took it. Full review to follow. *I would like to thank the publisher for the review copy of this bo...

Where to start?!The cover is amazing, the chapter headers are the cutest, and I absolutely love the taxonomies interspersed throughout. I love YA books with complex families and present parents, parents (and siblings) with personalities and house rules and names!"Maybe it's about finding the other people who don't fit the same way you don't fit""If it's a matter of us versus them, I always want to be on the side of people who choose kindness over...