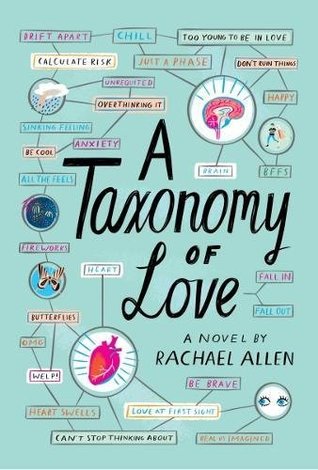 The moment Spencer meets Hope the summer before seventh grade, it's . . . something at first sight. He knows she's special, possibly even magical. The pair become fast friends, climbing trees and planning world travels. After years of being outshone by his older brother and teased because of his Tourette syndrome, Spencer finally feels like he belongs. But as Hope and Spencer get older and life gets messier, the clear label of "friend" ge...
---
Details A Taxonomy of Love
Title
A Taxonomy of Love
ISBN

9781419725418

Author

Rachael Allen

Release Date
Jan 9th, 2018
Publisher

Harry N. Abrams

Language

English

Genre

Young Adult

,

Contemporary

,

Romance

Rating
Reviews A Taxonomy of Love
Ahh this was cute and angsty and angstily cute! I'm turning into a monster who likes to read fluff, ok, (although this is fluff + serious issues = and done so well I am a FAN) and naught will stop me. Also I read this in just a f ew hours with only 2 breaks!! This is a big deal for I, who has the attention span of a headless gnat!!Also total shout out to books that do neurodiversity so well!That's like 98% of the reason I wanted to read this, oka...

3.5 Stars I am going to be part of Toronto's Audible Book Club with a special celeb guest as host, and as host, she got to pick the book and her favourite genre (unlike mine) is YA. So as soon as I found out the selection I was royally disappointed I thought YA contemporary romance! UGH! Hard Pass. I thought this book was going to be like every John Green novel filled with melodramatic teenagers waxing poetry and philosophical questions and just ...

✔ Book #3 done for the Contemporary-A-ThonChallenge: " "read a contemporary with orange on the cover" "this book was so sickly cute i got nauseous from just reading it (okay im exaggerating, sliiightly) Pros - this book spans over many years, starting from when the mc is 13 and ending when he is 19- the mc is a precious sweet little soft boy named spencer and her has Tourette's Syndrome - i loved how we got to see spencer dealing with his cond...

***Review posted on The Eater of Books! blog***A Taxonomy of Love by Rachael AllenPublisher: Amulet BooksPublication Date: January 9, 2018Rating: 3 starsSource: ARC sent by the publisherSummary (from Goodreads):The moment Spencer meets Hope the summer before seventh grade, it's . . . something at first sight. He knows she's special, possibly even magical. The pair become fast friends, climbing trees and planning world travels. After years of ...

4,5 estrelasUm dos YAs contemporâneos mais legais que eu já li! Amei a oportunidade de ter lido com antecedência ao lançamento.. o livro só sai em janeiro de 2018 lá nos Estados Unidos.O livro acompanha a vida do Spencer e da Hope, dos 13 até os 19 anos de idade. Spencer tem Síndrome de Tourette e Hope se muda para a casa ao lado da dele logo no começo da história. Pode parecer que vai ser óbvio o que vai acontecer, MAS NÃO! Muita mer...

Can you hear those vague squeals from the other end of the world and i just feel those FEELS and JUST eep! What is happening to me? I don't like contemporaries. REMEMBER. wait, I like this book. Scrap that I love it. This is about a boy with Tourettes called Spencer who loves insects and animals and helping everyone out and is so dorky and smol and ruins so much yet you still love him. And he's basically this little enthusiastic bean who has emo...

This book is adorable! I don't usually like contemporary teen books but am so glad that every now and again I am reminded of why I read them. I don't know how close to being a teenager Rachael Allen is at the time of writing this; but it feels genuine. The narrative, dialogue, taxonomy and journal entries all really worked well together giving this diverse book unique diverse ways to tell it's story! Neuro IssuesThis book focuses on two teens: ou...

Nothing is wrong with this one, exactly. More of a matter of personal taste. And misplaced expectations. Something just isn't clicking here.This was a solid case of 'it's me, not you'. Well, kind of. I will admit to going into this with high expectations, because a) its formatted uniquely and science-y and I love these two things quite a lot, b) the book is broken down into years; ie age thirteen, age fourteen, all the way to nineteen, which seem...

Check out more reviews @ Perspective of a Writer...Spencer is a bug lover and all around nerd who understands that one never grows too old to climb trees. He also has Tourette syndrome. When Hope moves next door the summer before seventh grade he understands right off that she's special but that because of that last label he may never get the girl. As they grow up together and experience the growing pains of life in high school (sibling feuds, fa...

This book!!! I cried so many tears today - happy tears, sad tears, broken hearted tears, frustrated tears, but in the end, I cried tears of joy. This book had an intro letter from the editor, which called this a YA When Harry Met Sally, and I have to agree with her assessment. It was a tough 6 year journey with Hope and Spencer, but I am so happy I took it. In the introduction by the editor, this book was cited as a YA When Harry Met Sally, and I...

Me alegra ver cómo poco a poco están saliendo cada vez más novelas con diversidad en sus personajes para incluir protagonistas con enfermedades mentales (otros ejemplos: Buscando a Audrey; Aquí empieza todo; Made you up). Ahora le ha tocado el turno a Rachael Allen y el Síndrome de Tourette, algo de lo que nunca había leído antes (en una novela).Reseña completa en THE BEST READ YET BLOG

A Taxonomy of Love follows Spencer and Hope from the day they meet, at age 13, all the way to age 18, with a short epilogue after, of age 19. But even before they get there, to the grand finale (of the story), we see them go through all their teenage years, growing up, and going through the ups and downs of life.Question: Is it a spoiler to say (if) they end up together?The story is mainly shown through the point of view of Spencer. He loves bugs...

4 starsI really am the worst buddy reader ever BUT THIS WAS SO CUTE HOW COULD I NOT BINGE IT (so sorry though Henn). But this was so cute! I loved the neurodiversity! Plus, so cute!! RTC maybe?

Have mixed emotions but mostly, I really liked it 💕

"Sometimes you have a day that is so epic that you know, even before it's over, that it's going to be one of the dozens that you remember forever." I received an ARC from Netgalley in exchange for an honest review.Release date was January 9th, 2018.A Taxonomy of Love had ALL the feels. It was cute, it was happy, it was sad (omg, was it sad!), it had me tearing up, it had me laughing, there were times I was annoyed, and times I was angry. ...

Where to start?!The cover is amazing, the chapter headers are the cutest, and I absolutely love the taxonomies interspersed throughout. I love YA books with complex families and present parents, parents (and siblings) with personalities and house rules and names!"Maybe it's about finding the other people who don't fit the same way you don't fit""If it's a matter of us versus them, I always want to be on the side of people who choose kindness over...

Is there a way to understand and capture the complexities of life, friendship, and love? A Taxonomy of Love is a sweet story that captures all the magic and heartbreak of friendship and growing up.When the new girl moves in next door, she and Spencer become strong friends. Who else but Hope could understand Spencer's love of bugs and climbing trees. Who else could understand the ways in which he is different and yet not treat him as if he is any ...

Also posted at Library of Colors.I feel like I should preface this review to say that I've solely been reading YA contemporaries over the past couple months. I've devoured one, sometimes two a week, and I don't plan to stop anytime soon. So, when NetGalley approved an eARC of A Taxonomy of Love by Rachael Allen for me, I dove in head first - what a great swim it was! This book will stand out in the sea of contemporaries that I've been rea...

A Taxonomy of Love caught my attention right away! First, the title. I love it. The cover is adorable, and so apt. And the description of Spencer, our narrator, who has Tourette Syndrome (something I hadn't seen in a book, and certainly not like this), and who is obsessed with the idea of classifications and taxonomies. I knew I would love it, and I did.The Writinghere pulls off something I think can be super difficult, which is that through th...

So I made sure to be the one to check the mail. Every day for a whole year, I opened the box and reached for a letter that never came. How am I ever supposed to figure anything out when such a big piece of me is missing?It would be more of a 2.5-star rating but that's not an option, is it? I'm not much of a contemporary enthusiast. It's that kind of genre that just does not surprise. A Taxonomy of Love has it all - a protagonist with Tourette's S...

For more of my reviews, visit my blog, As the Book Ends or follow me on my Bookstagram!Have you ever bought a book because Bookstagram told you to? I have purchased SO MANY books because they were featured by someone on feed or story. This is, fortunately, one of them! One of my favorite accounts featured this ARC on her page and just gushed about how great it was. So, of course, I had to have it the minute it came out.I am SO happy that I picked...

A Taxonomy of Love is a such a lovely book in many aspects, however, there were a lot of parts that just made me want to throttle the two main characters. Or at least lock them in a closet together so they could actually talk out their problems.Spencer and Hope live next door to each other. Spencer has a crush on Hope, who, in his eyes, is the perfect girl. Hope and Spencer become friends and share in many experiences over their childhood and int...

Every fan of YA needs to make this one a priority for 2018! The characters are dynamic and easy to become emotionally attached to. The story flows well despite the great span of time covered in just over 300 pages. I look forward to seeing 'A Taxonomy of Love' become a bestseller in the coming year.

Few stories have pulled me in so thoroughly as the journey of Spencer and Hope.Fantastic writing coupled with a great story which spans the ups and downs of growth -- personal, interpersonal, and romantic -- through adolescence.Read this book. ASAP.

This was a cute read! A little fluffy and the characters - though drawn well - irritated me at times. I was inclined to give it one fewer star because of this, but I think this YA novel dealt with a lot of important issues in intriguing ways and I'm happy to know many young adults will be reading it!

The majority of this book was just so frustrating and I honestly wanted to walk up to some of the characters and shake some sense into them like "Dude stop! You're going in a big circle again, just TALK to one another for once, pleaseeee? You're killing me over here!!"But the epilogue kinda salvaged my rating from a 2 star to a 3.5

I devoured this in one sitting. So much YA goodness. It was set in the south, but not obnoxiously. It dealt with all the hard stuff in an accessible but not overly simplistic way. Love, loss, disability, bullying, kindness, racism, sexism, this book does it all without judgement or contempt, but through the eyes of a thoughtful and kind teenager. I highly recommend this to readers of all ages.