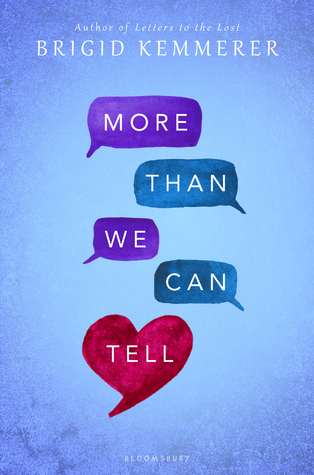 *While this book exists in the same universe as Letters to the Lost, it is a standalone title.*Rev Fletcher is battling the demons of his past. But with loving adoptive parents by his side, he's managed to keep them at bay...until he gets a letter from his abusive father and the trauma of his childhood comes hurtling back.Emma Blue spends her time perfecting the computer game she built from scratch, rather than facing her parents' crumbling m...
---
Details More Than We Can Tell (Letters to the Lost, #2)
Title
More Than We Can Tell (Letters to the Lost, #2)
ISBN

9781681190143

Author

Brigid Kemmerer

Release Date
Mar 6th, 2018
Publisher

Bloomsbury Children's

Genre

Young Adult

,

Contemporary

,

Romance

,

Young Adult Contemporary

,

Realistic Fiction

,

Young Adult Romance

,

Family

,

Fiction

,

Sociology

,

Abuse

,

Religion

Rating
Reviews More Than We Can Tell (Letters to the Lost, #2)
#1 Letters to the Lost ★★★★★#2 More Than We Can Tell ★★★☆☆After the absolute delight that was Letters to the Lost – and, even more, considering how much I adored Rev's character in that book – I thought there was no way this book could be anything less than a home run for me. Unfortunately, I think I may have overestimated this one. I tried to write a standard review of this book, but honestly, there's just not that mu...

Letters to the lost was one of my favourite books last year so when I got accepted for an arc of this on netgalley I was practically jumping up and down with joy, I did have quite high expectations as I really wanted to love it and I can happily confirm that it was the case and I loved this book from start to finish!!!Not going to lie, this book did bring tears to my eyes, there were parts that were just so emotional, and I wasn't ready for it,...

Thank you Netgalley for providing me an arc in exchange for an honest reviewTrigger Warning: Abuse, Sexual Abuse, Violence4 Stars!When I first read Letters to the Lost, I loved the characters in that book, Rev was 100000% included, in fact he was probably my favourite, and this time around we got Revs story and my heart is bursting with love for him. I knew this book was going to be slightly darker, but it had to be as we only knew bits and piece...

***4.5/5 Stars***More Than We Can Tell was an emotional book that was the perfect mixture of heart-wrenching and oh so sweet. So I definitely wasn't surprised that I had tears in my eyes, when I was only a few chapters into this story. It was a testament to how easily these characters captured my heart. And while this can be read as a standalone, I recommend picking up Letters to the Lost too. That story first introduced us to Rev, and it was o...

4.5 Stars!Last year Letters to the Lost was one of my top ten reads so it was pretty much a no brainer that More Than We Can Tell would be high on my priority list of must read books for 2018.Throw in that this is Rev's story and yeah, I wasn't missing out on this for the world. Kemmerer has done as amazing job of sliding right into the YA Contemporary genre. Not only was this just as beautiful, just as emotional as it's predecessor but I think i...

4.5 STARSEmma is being stalked by an online predator but won't tell her feuding parents. While walking her dog, she encounters Rev, a brooding classmate known as Grim Reaper. Hiding beneath a hoodie, Rev isn't grim, but his is in pain from his biological father's abuse and tries to hide from his adoptive parents. Rev and Emma slowly open up to each other, but danger lurks near for each.MORE THAN WE CAN TELL has all the right elements of a g...

English/ItalianoFirst of all, I have to say I am not a native english speaker so, please, I prefer to not be attacked, if I made any mistakes. Instead of do that, it would be nice if you corrected me, thank you :) Most importantly, I would like to thank NetGalley and publishers for allowing me to read this book. Thank you very much. RELEASE DATE: MARCH 6, 2018. TODAY!!It was a little bit difficult reading this book, not due to how was the book it...

3.5/5 stars!! Letters to the Lost was one of my favourite reads of 2017 so I would like to thank the publishers from Netgalley for providing me an arc for Rev's story. First of all, I really liked meeting Emma and getting to know more about Rev! However in terms of the romance I was hoping for a bit more - it was cute and unique but there wasn't as much of a spark between the two that there was between Juliette and Declan which I was hoping for. ...

I was thrilled when my request on NetGalley for this book was accepted and I am even more thrilled now that I've read it, because this was a seriously wonderful read. This is filled with both an extremely deep and impactful plot and a lovely set of characters that are so well developed. Since reading Letters to the Lost I've been waiting for more from Brigid Kemmerer. That book was one of the best books I read last year so the fact that this was ...

I loved the glimpses of Rev that we got in Letters to the Lost, so I was beyond excited to see he was getting his own story. Rev is strong and good and struggles to believe that. Emma is smart and maybe lacking on personal interaction. Together they are broken, but find something they needed in each other. I loved seeing Geoff and Kristin and Declan and Juliet. Matthew was an interesting addition and I would have loved just a little bit more with...

3.5 starsThis review is all over the place (a combination of regular review and random musings) and may not make sense completely haha... I did love the book but some things I didn't like too.It may not complete sense haha.----I remember feeling wary when I read the summary for this. Don'tget me wrong, I was excited to get to know Rev better. What we know/see of him in Letters had me curious about him.So I was cautiously excited when I started t...

"We have to ask questions to hear the silent people."Rev, Rev, Rev! Rev Fletcher caught my eye in Letters to the Lost as Declan's best friend and pillar of strength and patience. The reticent and magnetic cutie hidden underneath an ever present hoodie gets to tell his story now. I knew Rev would rip my heart to shreds, but I had to know. I had to know if he was going to be alright. Rev's huge heart, patience, scars, and pain are on full d...

5 stars!review to come closer to release date. 💗

4.5 stars. No surprise that I loved this one! Full review to come. *ARC provided by the publisher in exchange for an honest review.*

I love Rev even more after reading this! It was a treat to be inside of his head and get to spend more time in his world, even when it was hard. I think his relationship with his foster brother Matthew was one of my unexpected favorite parts of this story. And I always love his parents too. I also enjoyed catching up with Declan and Juliet. Declan and Rev have such a strong bond. I love the way they always support each other. Some of their conver...

Move over, Sarah Dessen! Brigid Kemmerer may just be becoming my new favorite contemporary YA author. I first read her Letters To The Lost, which I loved and gave a solid 4/5 stars. (I tend to rate contemporaries a little lower because I'm very strict about what I like too see in them and so a 4/5 is a VERY GOOD rating coming from me.) Now that I've read this one, I can tell you that it's not a fluke! This one was just as good! I really enjoyed i...

Update: Feb 19, 2018I was filled with a rollercoaster of emotions. The novel-set in the same world as Letters to the Lost is equally if not more compelling- with its raw prose and beautifully crafted characters, themes and storylines.Full review to come close to release day! Dec 26, 2017My beautiful ARC is here!! Thank you Pansing Books! 💕

Let's start with saying communication was a big deal in Letters to the Lost and it was in More Than We Can Tell as well, albeit in a different way. Where Letters had more of a focus on the importance of communication, More Than We Can Tell shows the consequences of not communicating. It made me realize that being honest and open is so important.He says the Internet makes too many people loud, and too many people silent, but the loud people ar...

I received a copy of this title via NetGalley. It does not impact my review.My favorite thing about Letters to the Lost was the friendship between Declan and Rev and I was very excited to hear that Rev was going to get his own book. I'm happy to report that I enjoyed More Than We Can Tell even more than I did Letters to the Lost.As I said, I love Rev and Declan's friendship. No matter what happens they are always there for each other. Even wh...

After reading Letters to the Lost, I was very much looking forward to Rev's story. It hurt my heart seeing what he went through in the past and then also watching him struggle in the present. I loved his relationship with his parents and with Declan. Rev was lucky to have each of them in his life. The plot line involving Matthew was quite interesting, although it was difficult to stomach at times. Between his pain and Rev's I felt sick. Emma was ...

Actual rating: 2.5 stars. I really loved Rev's character in 'Letters to the Lost' so I was excited to read more about him here. I knew a lot about his tragic back story already and it didn't feel like there was a lot of hope in his life. Emma was also an interesting addition, being the coder-girl character I've been craving since 'When Dimple Met Rishi' let me down so much earlier this year. They both had a lot of emotional baggage, and Emma's PO...

So. Freaking. Good. And thank you, Brigid Kemmerer, for being awesome and giving the people what they want! And for ending an awesome book the way it should be ended!!! 😘😘😘

First of all, More Than We Can Tell is listed as a book 2 to Letters of The Lost, I don't know that I would categorize it that way. This is definitely more of a companion book and if you're so inclined you could definitely read it without reading book 1… but I don't know why you would want to. A. You'd miss out on an amazing and beautiful story, and B. You'd miss out on a lot of the base of Rev & Dec's friendship. And that's somet...