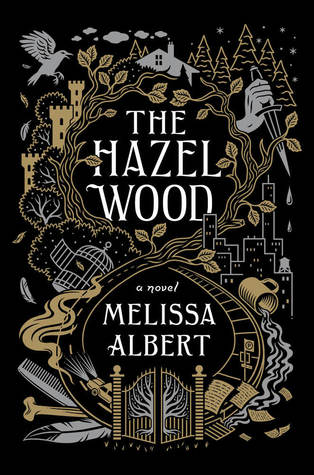 Seventeen-year-old Alice and her mother have spent most of Alice's life on the road, always a step ahead of the uncanny bad luck biting at their heels. But when Alice's grandmother, the reclusive author of a cult-classic book of pitch-dark fairy tales, dies alone on her estate, the Hazel Wood, Alice learns how bad her luck can really get: her mother is stolen away―by a figure who claims to come from the Hinterland, the cruel supernatural wo...
---
Details The Hazel Wood (The Hazel Wood, #1)
Title
The Hazel Wood (The Hazel Wood, #1)
ISBN

9781250147905

Author

Melissa Albert

Release Date
Jan 30th, 2018
Publisher

Flatiron Books

Language

English

Genre

Fantasy

,

Young Adult

Rating
Reviews The Hazel Wood (The Hazel Wood, #1)
4.5*Thoughts tk at some point when I have time, sorry!

Did her insides match her outsides? Was the way my life dripped off me like water, barely leaving a mark, normal? Okay, so this was not a book for me. I really wish I hadn't received an arc of The Hazel Wood and had instead waited for more reviews to roll in first. The blurb makes it sound exactly like the kind of dark fairy tale goodness I love, but if someone had - more accurately - explained that this is a book about a girl called Alice who ...

That was one of the most mesmerizing, creepy, and creative stories I've found in a long time! I absolutely loved the writing, but the plot itself wasn't really my cup of tea.Alice grew up moving from place to place with her mom whenever "bad luck" and weird situations caught up to them. (Ex: she was kidnapped once when she was a kid, but the guy just bought her blueberry pancakes and then showed up a decade later at Alice's job looking the exact ...

"Everything was beautiful, and nothing hurt."You know those Disney princess fairytales, the ones where the damsel in distress is saved by Prince Charming and they get married and live happily ever after? Yeah, this isn't that story. Think of the old school Brother's Grimm fairytales, and then imagine something even darker and you'll have a clear picture of what this book holds for you. That's not a criticism; one of the surest ways to get me to c...

ARC provided by Flatiron Books in exchange for an honest review. "Once upon a time there was a beautiful queen who thought words were stronger than anything. She used them to win love and money and gifts. She used them to carry her across the world." Let me just start this off by saying that I normally only one star something if it has very problematic content. This book only has one element that made me uncomfortable (that I will talk abou...

Buddy read with Melanie and Jenn! ♡It's time for another unpopular opinion review! This book was literally the single biggest reading disappointment of the year for me. I really wanted to love this story. It was being marketed as a twisted fairytale, and those are my aesthetic for sure - the spookier and darker, the better - but this fell short in so many ways. Please remember that these are just my opinions! You are more than welcome to disagr...

3.75 stars, maybe? Wow, this was kind of an odd, dark urban fantasy meets fairy tale type of novel. Alice has a messed up life, living with her mom Ella on the edge of homelessness, constantly moving from place to place, bad luck dogging their steps wherever they go. And they never speak about Ella's mother Althea, a very reclusive author of a mysterious, nearly impossible to find collection of dark and bloody fairy tales, who lives in a grand, n...

3.5 stars.This is a curious story. It is mysterious from beginning to end. The atmosphere is dark enough to make suspenseful scenes give us goosebumps and the writing is a combination between fairytale-esque and modern. I read this book for the story, not for the characters. The problem with the characters is that there are only two main ones – Alice and Finch. Other characters are mentioned, but do not appear in the story frequently, if at all...

At seventeen Alice had never known what it was like to have a real home, she and her mother were always on the move as far back as she can remember. Alice knew that somewhere out there she had a grandmother that lived on her estate, the Hazel Wood, although Alice had never been to meet or visit her. Her grandmother though was famous from writing a book that Alice had never been able to read, a book of fairy tales of Hinterland. One day Alice catc...

About: The Hazel Wood is a young adult fantasy written by Melissa Albert. It will be published on 1/30/2018 by Flatiron Books, an imprint of Macmillan Publisher, 368 pages. The genres are young adult, fantasy, and fiction. This book is intended for readers ages 12 to 18. This is the author's debut novel.My Experience: I started reading The Hazel Wood on 8/6/17 and finished it on 8/18/17. I love reading this book, despite some creepy elements in...