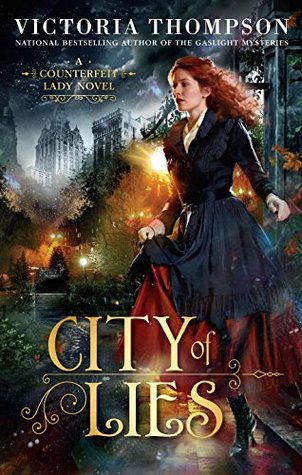 Elizabeth Miles scours 1920's Washington, D.C. for a killer in the first Counterfeit Lady novel from the author of the New York Times bestselling Gaslight mysteries.Every woman plays a part—but some are more dangerous than others…Like most women, Elizabeth Miles assumes many roles; unlike most, hers have made her a woman on the run. Living on the edge of society, Elizabeth uses her guile to relieve so-called respectable men of their ill-got...
---
Details City of Lies (Counterfeit Lady, #1)
Title
City of Lies (Counterfeit Lady, #1)
ISBN

9780399586576

Author

Victoria Thompson

Release Date
Nov 7th, 2017
Publisher

Berkley

Language

English

Genre

Historical

,

Historical Fiction

,

Mystery

,

Historical Mystery

,

Fiction

,

Adult

,

Romance

,

Thriller

,

Mystery Thriller

,

Adult Fiction

,

Did Not Finish

Rating
Reviews City of Lies (Counterfeit Lady, #1)
It was supposed to be a great con, easy money, but this time Elizabeth Miles finds the "respectable" businessman she has conned is a brutal and deadly con man himself and he is out for both his lost money and revenge. Running scared, Elizabeth gets herself carted off with the women of the Suffragists' movement and for a woman on the run, jail may be the safest place for her. Little did Elizabeth realize, these women would change her life an...

3.75 stars Thank you to First-to-Read and Berkley for allowing me the chance to read this ARC. This book publishes on 11/7/17. Elizabeth Miles is a grifter. She lies, steals and cheats for a living. It is in the process of a job that she becomes involved with a Women's Rights Movement where she falls into a suffragette march as she flees from danger. She is soon jailed, along with the women in this march, and sent to a workhouse where she feels s...

Set in a time where the world was on the cusp of change, Thompson's City of Lies will pull you in with both intrigue for the mystery behind Elizabeth's life and the fascinating con that this woman and her brother are pulling on others. With hints of danger and a touch of romance, this was a fun read that kept me entertained and interested right up to the very end.

Rich with fascinating historical detail, Thompson's new series dives into the worlds of suffragists and con-men. City of Lies combines a cunning protagonist with a simmering romance and gripping suspense to form a story that is certain to beguile readers hook, line and sinker.

Elizabeth Miles makes her living as a con woman, an unusual profession for a woman in 1917. However, when her latest con goes south, she finds herself on the run from the mark's goons. In her attempts to escape, she joins a group of suffragists outside the White House and is delighted when they are arrested. But has she truly escaped the men searching for her?If you pick up this book expecting a murder and five suspects, you'll be disappointe...

The story takes us to 1917 Washington, D.C. and New York City. Women are protesting for their right to vote, but none of that matters to Elizabeth Miles. She has other interests in mind.Elizabeth Miles is a con artist. Along with her brother, Jake, she schemes to steal money from less-than-nice men like Oscar Thornton. Unfortunately, during one of their schemes, their plans take a turn for the worst. Once Thornton finds out, it's over for the b...

City of Lies set in the 1920s both in Washington and New York home to the Four Hundred, Thompson shares an engaging tale about a woman who's running a grift with her brother. When things go terribly wrong she is forced to hide among a group of rallying female suffragists. The tale that unfolds was clever and engaging. So much so that I finished the tale in just two sitting.Thompson weaves historical facts, friendship, LGBT issues, women's righ...

4 "The Grifter Suffragist" Stars!Lovers of historical fiction that takes place during the women's suffragist movement in the US of the early 1900s (circa 1920s) will not want to miss City of Lies. There is also a dash of mystery and suspense thrown in to keep the reader guessing. Additionally, while this is not a traditional historical romance title, I also believe that there is enough of a romance thread (even the beginnings of a romance triangl...

2.5 starsAfter reading all of Ms. Thompson's Gaslight mysteries and becoming slightly disenchanted with the last few stories, I was excited to find City of Lies. IMHO, it was not a mystery. I thought of it as historical fiction with a few elements taken from true events. The upside for me was researching this time-gone-by. What was the truth, only you can decide. Though no year was given, it appeared to take place in late August, 1917 and the w...

City of Lies is more than just an intriguing mystery. It is an exciting, elegantly written historical fiction story about strong women, crime, betrayal, and wit. This one has all the makings of a fun crime novel, with the addition of women fighting for what they believe in, and rising above their times! For those who love historical fiction with flare and cleverness, this one is for you!I was pleasantly intrigued by this book. Though, the synopsi...

4.5/5Mon avis en FrançaisMy English reviewI must say that I did not know about the novel at all but I really had a great time with the story. What to say? Everything seemed fantastic!We discover Elizabeth Miles, a young girl who used to live on the margins of society. With her friends, she usually organizes scams to steal money from dishonest rich men. But while she usually does not have problems after these acts, the latest victim is far from a...

I want to start by pointing out that the Goodreads blurb for this book is not accurate. First of all this is not a murder mystery, Elizabeth does not scour Washington, DC for a killer. The story does not take place in 1920's but few years earlier, in 1917-1918. Lastly, one of the main character's name is Gideon, not Gabriel. (The blurb on Amazon website is more accurate)Now that we cleared this I must say I really enjoyed City of Lies. I found th...

I absolutely loved this book. Any book that includes con artists, and especially smart female ones always intrigues me. When combined with the history of the suffrage movement, I felt like this book was made for me. The use of the the rich history of the suffrage movement was fresh and new, and it was clear that Victoria Thompson put quite a bit of research into it. While the book had me hooked from the beginning, there was a part towards the mid...

Elizabeth Miles is just like any other woman trying to get by in 1920s New York...only she does it with clever cons. Only her most recent ploy seems to have gone massively astray and forces her to hide amongst some conveniently located Suffragettes. She never expected to come to admire the ladies she has been stranded with and she definitely didn't expect to find the one honest man in the whole of New York. However, Elizabeth must pull a massive ...

I'd rate this somewhere between 3.5-4 stars.I was expecting more of a historical mystery but got more of a historical fiction/romance with a little bit of action. The beginning was definitely heavy on the historical info which wasn't bad but I was not expecting the historical info dump. Although, I did find it enlightening once I changed my expectations as I am shamefully lacking in knowledge of the suffragist movement. After I changed my expecta...

In a departure from her long-running Gaslight Mystery series, Thompson has written a new historical set in the 1917 at the height of the Suffrage movement. Elizabeth (last name changeable) is working a con with her brother that goes horribly wrong. Now the mark, Oscar Thornton, is out for revenge and Elizabeth ends up throwing in with a group of Suffragists (who land in prison) to escape Thornton's clutches. But what starts out as one more cover ...

ARC received from the publisher via NetGalley in exchange for an honest review :)it was definitely different than what I expected, but I actually really liked it :) will have a full review on the release day, because I need some time to gather my thoughts but for now, 4 solid stars :)edited to add my full review :) I got an ARC of this book from the publisher via NetGalley in exchange for an honest review :) this was definitely a vey different re...

City of Lies was the type of book that only got better as it went on. At the start, I was introduced to Elizabeth Mile's character and grifter ways, which I found most interesting. When things went bad with a deal, she wound up taking part in a suffragist march in order to try and throw some thugs off of her trail. Only that did not go as she had planned.I will say that I enjoyed reading about the suffragists movement because I tend to take my ...

I was expecting this to be a mystery but it's not. The description here on goodreads it's incorrect - it is not set in the 1920s, it's set during WWI and the women's suffrage movement plays a significant role in the plot.

Having read and enjoyed this authors gaslight mysteries I figured I'd give this new series a try. I expected it to be similar to her other books but it was completely different, Elizabeth Miles is a grifter who cons the rich out of their money. Sort of a female Robin Hood. When one con goes horribly wrong Elizabeth finds herself running from wealthy businessman Oscar Thornton who embodies all that is evil in this world. She blends in with a group...

Thanks to First to Read for the ARC in exchange for an honest review. City of Lies by Victoria Thompson is a fast-paced, easy historical fiction about a female con-artist/grifter on the run after a con gone bad. Elizabeth Miles and her brother Jake are casing their next mark, Oscar Thornton, and trying to make out with thousands of dollars of his money. When the con goes bad, Lizzie runs off and ends up in a group of suffragists outside the White...

The description that is given is a little misleading as is the title, I was expecting a woman that we see very much in the beginning of the novel. We see "Betty" swindling people for their money, using her charms to con a man, and then? She completely loses her agency when she goes into jail. I feel like it was a smart idea for her but at the same time, while she is in jail, she seems to forget about her sense of urgency. I feel like we lost her ...

Lizzy Miles is a grifter. She and her brother run a number of cons. However, their latest con goes wrong and Oscar Thornton is now and the hunt for Lizzy. He wants his money back or Lizzy dead. Lizzy runs into a protest by suffragists who are picketing in front of the White House. Lizzy finds herself arrested and taken to a workhouse. She meets a number of upper class women and makes friends as they go through the horrors of the workhouse. She be...

I thought this was surprisingly good. I just expected a fun mystery type read, but this was really a well written historical fiction novel. Elizabeth is a grifter, running a con with her partner in crime and the target is a vicious and dangerous man. When they make off with his money, he beats her partner and Elizabeth hides among a suffragist protest and ends up getting herself (and an entire crowd of women) arrested and shipped off to prison. A...

I won this book thank you. This is the second book I have read this year about the Suffragette movement, and only being familiar with the movement in the U.K. I found it very interesting to read what our American Sisters went through to earn the right for us all to have the vote. I appreciate this, I never fail to vote, and because of what our sisters went through, we have the right to vote in our respective countries. However, this is not a bori...

Gorgeous story. The depth of research shows in all the good ways, and the story of the suffragists is one we all need to be more familiar with. It's more of a suspense than a mystery, which is a bit of a departure for fans of Ms Thompson's Gaslight Mysteries. I think it's probably 4.5 stars - I took off half a star because the puzzle pieces of the story came together a little too neatly for me, but it was satisfying, rich in historical deta...

What a terrific book! I can't tell if it's a stand-alone or the first in a series, but either way it's on my keeper shelf. The characters are wonderfully drawn and Elizabeth's contrasting worlds come wonderfully alive with Thompson's deft prose.

Good story and what promises to be a good new series. The title doesn't really fit, though.

Good start. Hope there are more.