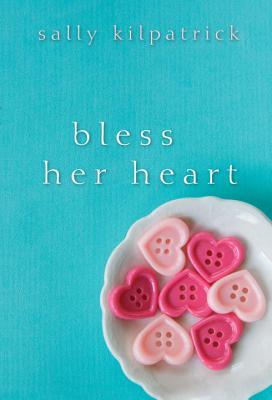 Laugh-out-loud funny and unabashedly uplifting, with just the right amount of Southern sass, Sally Kilpatrick's wonderful novel centers on one woman's journey from unhappy marriage to a surprising second chance . . . On the day Posey Love discovers that her born-again husband has been ministering to some of his flock a little too eagerly, she also learns that he's left her broke and homeless. Posey married Chad five years ago in hopes of finding...
---
Details Bless Her Heart
Title
Bless Her Heart
ISBN

9781496710734

Author

Sally Kilpatrick

Release Date
Oct 31st, 2017
Publisher

Kensington Publishing Corporation

Genre

Womens Fiction

,

Chick Lit

Rating
Reviews Bless Her Heart
There were only three words in the English language that I hated with all of my being: bless, your, and heart—specifically in that order.Every Southerner knows what it means when someone blesses your heart, so it's no mystery why Posey Love hates hearing that phrase, especially after a lifetime of having her heart blessed by someone. But then, her life hasn't exactly turned out the way she'd planned, either. She thought she would be a teacher, ...

Some will find the Christianity references in this book excessive -- I know that I did because the publisher's summary didn't really give a hint about them, except to refer to the protagonist's husband as born-again. When I started, I questioned whether I had missed that this book was really Christian chick-lit (which is its own genre) but apparently it isn't being sold that way. I was raised Baptist, so I could relate to much of it, but I can se...

Posey Love hates three little words. Every time someone says, "Bless your heart," Posey sees red.But who could blame her? Her life hasn't exactly turned out the way she pictured it would. After a decade of marriage, Posey hoped to be raising a child with her pastor husband. Still aching each month as she hopes for a positive instead of a negative indicator on a pregnancy test, Posey finds her world turned upside down when her husband absconds wit...

What a terrific book! Posey needs to find her true self after years with her creep of a husband and denial about her family. Giving up church for Lent and a trip through the Seven Deadly Sins is a unconventional way to do that (and please don't find it offensive- it's very funny). She's not the only food character in this novel- her mom Lark and friend Liza are also totally believable, especially since they only have Posey's best interests at hea...

Sad, funny, honest and hopeful Sally Kilpatrick's Bless Her Heart was a joy to read with characters and settings that felt so real and vivid even when I have no prior connection with the subject matter. Watching Posey's journey from what she hoped for, to what she got and how she dealt with it afterwards was such an adventure. *ARC kindly given by NetGallery in exchange for an honest review*

Thank you to Kensington Books and Sally Kilpatrick for a copy of Bless Her Heart. I was given this novel in exchange for an honest review. I received no financial compensation. Posey has been married to Chad for ten years. All she really wants is a child. She has put up with some weird requests from Chad. One day she wakes up to find that he is gone with another woman. The house is gone and the car repossessed. What is Posey to do? Posey moves ba...

Sally Kilpatrick has woven another enjoyable charming Southern tale. This one felt a little more serious to me than previous books that were just fun and filled with her sassy wit. Even though the author tackled some tough subjects, it is a wonderful book about second chances, one that I would recommend to anyone who enjoys Southern fiction. I'm already looking forward to her next one. My thanks to the author, publisher and NetGalley for the oppo...

I didn't expect to enjoy this book as much as I did. Posey is the obedient wife of a domineering self-proclaimed pastor. (Having experienced such individuals, I found Ms. Kirkpatrick's description of Chad to be spot on.) Her mother is a new age hippie that owns a yoga and natural foods store in town. A series of events forces Posey to the stark realities of her husband and his domination and her relationship with her family. The story flowed and ...

Excellent tale of overcoming bullying and abuse.Posey Adams Love, church receptionist, is married to Chad Love, head of Love Ministries. Longing to be a mother, she submits to mind numbing manipulation. When she finds herself abandoned, moving home to her former hippie mother, Lark Adams, Posey must face her decisions and move forward with help from her half siblings.Reconnecting with her former self, her friends and career goals was an inspiring...

In Sally Kilpatrick's latest novel "Bless Her Heart", Posey Love has spent a lot of life proving to everyone that she is a good girl that follows the rules, and this especially is the case in her marriage. Posey spends her days watching the desk at Love Ministries while her husband Chad is busy watching other women, and when he leaves with one of the women to attend a conference at the last minute Posey has reached her limit of being good. ...

I received an Advanced Reader Copy from NetGalley for my unbiased opinion of the book. I read this book in less than 12 hours. I really enjoy reading about females, who through adversity find their voice as well as themselves. The book was funny, relatable characters, and a joy to read. I look forward to reading more from this author in the future!!!!

This is Kilpatrick's best since her debut--funny, sweet, honest, irreverent, inspiring and on-the-mark Southern. I loved it! I'm not a huge fan of first-person point of view in fiction, but sometimes it works wonderfully. Such is the case here. Hearing the story in Posey's voice makes the story funnier and more poignant, and it makes it so easy to love Posey, fabulous and flawed as she is.Chad is vermin, of course, and he is rendered even mor...

First of all, thank you to the author and NetGalley for this ARC in return for a review.I'm a little leery of calling this book powerful and painful in case it turns potential readers off. Trust me, if you're just looking for a regular amazing fiction book, go ahead and grab this one. This is a sweet, touching story of a woman that gives up church for Lent, and how she finds herself while checking off the seven deadly sins along the way.But it re...

A fun southern read! Brought back memories of koolaid and cookies from VBS at the Baptist Church. Thanks to Netgalley and the publisher for the ARC.

Bless Her Heart is a delightful book written by author Sally Kilpatrick. It's funny, sad and hopeful. Thanks to NetGalley and Kensington Books for the advance copy.

Aaaaah... Sally Kilpatrick has done it again. She reached out and grabbed my heartstrings with the very first line of this book and held onto them until the very end. Because let's be honest, the words bless, her, and heart, in that order, can be frightening. Following the up and down story of Posey Love, the daughter of Beulah Land from The Happy Hour Choir, was sometimes sad, sometimes witty, but always charming. As Posey moves out of her marit...

This is a great book with a wonderful story and well developed characters. The story flowed very well and was very enjoyable. This book will keep you reading long into the night and you will not want to put this book down until you finish. This was such a great read and full of surprises. I voluntarily reviewed an advanced reader's copy of this book. The free book held no determination on my personal review.