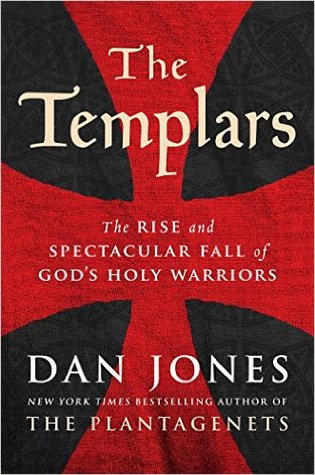 Jerusalem 1119. A small group of knights seeking a purpose in the violent aftermath of the First Crusade decides to set up a new order. These are the first Knights of Templar, a band of elite warriors prepared to give their lives to protect Christian pilgrims to the Holy Land. Over the next two hundred years, the Templars would become the most powerful religious order of the medieval world. Their legend has inspired fervent speculation ever since...
---
Reviews The Templars
When you read non-fiction, you (hopefully) learn something about the world around you (if you don't, you might want to consider finding better non-fiction to read, unless you're Stephen Hawking reading a Physics for Dummies book).Sometimes, though, you also learn something about yourself. That something might be the fact that you scream like a wolf whose leg just got severed by a steel trap when you get a paper cut trying to flip through thos...

"It was exactly a century since Hugh of Payns had established the Order of the Poor Knights of the Temple of Solomon in Jerusalem. Those one hundred years had seen the Templars transformed from indigent shepherds of the pilgrim roads, dependent on the charity of fellow pilgrims for their food and clothes, into a borderless, self-sustaining paramilitary group funded by large-scale estate management." Hugh of PaynsHUGH OF PAYNS, doesn't the...

Non nobis, Domine, non nobis, sed nomini tuo da gloriam! Not unto us, o Lord, not unto us, but unto your name grant glory! The Knights Templars is perhaps the most well-known military order of the medieval era. The Templars traces their origins in the aftermath of the First Crusade to their rise to spectacular rise as a feared & respected elite military force in the Holy Lands & the royal courts across Europe and to their eventual disbanding & p...

Dan Jones is fast becoming one of my go-to authors on all things medieval. His previous books that I've read all cover British medieval history, from Henry I through the end of the Wars of the Roses. With "The Templars" he takes his pen and gives the reader a reasonably complete overview of the "Warrior Monks – The Poor Fellow Soldiers of Christ and of the Temple of Solomon, AKA the Templars. The narrative mainly unfolds chronologically...

The book covers the founding of the Templars from its spectacular fundraising to its tawdry end. In between you see how the Templar's mission changed from protecting pilgrims in the Holy Land to warfare and then to banking and financial services. Assembly of all this material is to be saluted if only for the logistics of finding and reading its primary sources in so many languages.Most of the book is about the Templar's role in the Crusades a...

From their idealistic, religious, humble beginnings in Jerusalem after its capture during the First Crusade in 1119, for the initial task of protecting pilgrims on their journey to the Holy Land, to end up being dissolved by the jealousy of King Phillip IV of France (who needed money from his campaigns against the Jews), then this book contains probably the best, quasi-neutral account I have read of the Templars, or Knights of the Temple of Solom...

Well it was nice to read a nonfiction book after all the YA I have been reading lately, Also the Templars have always been an interesting topic to me. I associate them with the crusades and all the militaristic life that was such a big part of the 13th century both in Europe and the Middle East. This book also gave me some new insights into the order and its demise , For one I thought that after the ordeal they went through in France the order wa...

It's just too big of a topic for 400 pages. While Jones does a good job of giving a high level view there's really very little in the day to day of the Templar body especially in regards to the crusades in the east. It did give me a lot of ideas for follow up topics I want to read about and refreshed my memory on a lot of this history. I do confess that every time the name Antioch was uttered in the back of my head.........the counting of the num...

(Note - I received an advanced copy of this book through NetGalley). Dan Jones (author of recent greats such as "The War of the Roses" and "The Plantagenets") delivers yet again with another absolutely spectacular work, and possibly his best to date. From their humble origins to their great fall, from Jerusalem to burning pyres in France, Jones takes readers through a grand history of the Knights Templar. His is a chronicle that offers focuses no...

This is an excellent non-fiction research and historic study of the Templars. That class of oath / vow declared warrior men who were originally formed to ensure the safety of pilgrim participants (Christian) who traveled to see the physical locations in which Jesus was born, lived, and died. This is a nearly perfect example of something I have noted within nearly all historic non-fiction. That the more focused the attention to one issue, one clas...

An interesting book as an introduction to the Templar history however I did find that parts were dominated with lists of dates and names. Written in a chronological manner but lacked, for me any depth of analyses until the final chapter. Just Ok probably 2.5.

As more and more pilgrims traveled to the Holy Land in the Middle Ages, they found themselves easy prey for bandits and warlords residing along the routes from Europe. So, in 1120 the Knights of the Templar were founded. These knights would take a vow of poverty and chastity similar to other Christian orders; however, these knights would be able to murder pagans on behalf of the Christian cross. In addition to protecting the pilgrim routes, they ...

Excellent book by historian Dan Jones on the Templars.Written in an almost linnear progression, it was much easier to keep track of what happened than some other Templar books I have read.I had only one small niggle: I disliked the Anglization of names. I'm sorry, James of Molay just annoyed me. History knows him as Jacques de Molay and that is what he should have remained. Same went for the unilateral usage of "of" instead of "de". Hugh of Payen...

A history of the Templars is essentially a history of the Crusades. Since the Templars were established as a result of the Crusades the only part of their history that doesn't parallel these campaigns has to do with the vast amount of wealth the Templars accumulated and then their betrayal and destruction by the institutions that helped create them and protect them. In the telling of their story Dan Jones has revealed himself to be a rare if not ...

Wow. What a book.I've been a fan of Dan Jones' history books since listening to his fantastic novels on the Plantagenets and the Wars of the Roses, though I was introduced to him through Netflix's acquisition of his documentary series entitled Secrets of Great British Castles. Jones has a way of telling you fact-laden history as if it's nothing more than a story -- I suppose, there's an argument that, yes, anything is a story, but too often I fin...

Concise narrative history of the Templars without all the extraneaous myths surrounding the organization. For a group that only existed for a couple hundred years The Templars certainly have captured a corner of the public's imagination.8/10

I would like to thank NetGalley for a preview copy of this book in exchange for an honest review.The Templars by Dan Jones delivers a heck of a lot of information in a highly readable format. I started out knowing very little about the Templars and now I know more than I ever really wanted to know. But that is a good thing. I like the style which is clean and easy to follow. For those who want more information, there are copious footnotes to lead...

I knew very little about the Templars going into this book, and I'm very glad of all the books out there, I read this one. Midway through this book, I was looking for some documentaries to watch to accompany this and I was unsuccessful in finding one that wasn't all about lost mysterious treasure or the Holy Grail or Ark of the Covenant legends--which I found amusing, since I was like 300 pages in and none of that had come up yet and doesn't sinc...

A very thorough insight into the Templars, really good, you need to know some background story, though. Highly recommended to those who are into medieval history.

The Templars left a legacy behind them that is shrouded in myth, so Jones' unveiling of the Order's true history is a fascinating read. Well researched, well written, and full of larger than life characters. Covers a lot of ground in a very short amount of time- 200 years in just over 300 pages. A lot of names to keep straight, but the notes in the back of the book help with that.

I was reading another book that was, more generally about the developmental history and decided that I wanted to know about the Templars from an accurate historical perspective (not through Hollywood) and so I read this book. This book appears to be extremely well referenced and researched and I think I really now understand what this group of religious solders were about and that they really only had any effect/action in the world for about two ...

I won this in the giveaways in exchange for an honest review. Okay, hands up, I may have let out an excited squeak when I got the email to say I'd won the latest book by Dan Jones. He's one of the great current historians bringing the past to a wider audience and reminding this little history nerd how interesting the past can be. Here he turns his attention to the Templars and medieval troubles in the Middle East. Totally unbiased, totally fascin...

An eminently readable and enlightening story of the rise and fall of the Templars, a military order of devoted men whose 192 year history came to a devastating end in 1311 due to the fanatical ire of one man, Philip IV, King of France. Their inglorious end comes as a warning to us today of the power of a single-minded tyrant who can ruin lives at a whim.

I managed half of this history. Well researched I'm sure, but I just cannot get into the "church" and royals of Europe repeating the same bad mistakes, decade after decade with the Crusades and ultimately, attacking the Templars who got too big for their britches. Or the other way around. The royals unable to control the Templars and tax them.Look at Jerusalem and the Levant now. Centuries later. Has anything changed? Of course not.

I listened to this on Audible and it was narrated (well) by the author, Dan Jones.A good account of the Templars, including insight to their daily lives (which intrigued me), as well as the politics, scandal and working of their Grand Masters, and the organisation in general throughout its 'life'.I learnt some new things and it was very easy to follow: flowed very well indeed. I think it could have gone into more detail on many things, but perhap...

Such a fantastic read. Dan Jones has once again shown why he's one of the best historians writing today.See my full review at http://allthebookblognamesaretaken.bl... or www.facebook.com/AllTheBookBlogNamesA...+++++++++++++++++I CAN NOT WAIT TO READ THIS ONE AND YES I AM AWARE I AM SHOUTING BUT I'M NOT EVEN SORRY.Okay, now that that's out of my system, I will attempt to wait ever so patiently for this one to be released, and for Dan Jones to come...

The Templars attempts to juggle too many persons and places to make for a compelling narrative; the story's flow is constantly disrupted by the introduction of new characters and scenes. This vast scope and the book's relatively modest size also result in only superficial coverage of the included material.