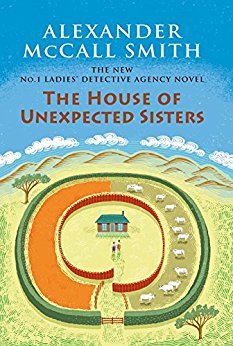 Precious Ramotswe and Grace Makutsi investigate a new mystery in this latest installment of the irresistibly charming, perennially best-selling No. 1 Ladies' Detective Agency series. Fans around the world adore the No. 1 Ladies' Detective Agency and its proprietor, Precious Ramotswe, Botswana's premier lady detective. In this delightful series, Mma Ramotswe--with help from her loyal co-director, Mma Makutsi--navigates her cases and her personal l...
---
Details The House of Unexpected Sisters (No. 1 Ladies' Detective Agency #18)
Reviews The House of Unexpected Sisters (No. 1 Ladies' Detective Agency #18)
Another book in this series from Alexander McCall Smith and a few more pleasurable hours spent with Mma Ramotswe and associates. All the usual characters are there, debating life and its particulars in their own inimitable way. There are the scenes of the Botswanan countryside we have come to expect and Precious is still driving her little white van and drinking Rooibos tea. It is a land where change happens slowly and things passing are always r...

Pantheon Books kindly sent me an advance copy of this book for reviewing purposes!The House Of Unexpected Sisters is a worthy addition to the No. 1 Ladies' Detective Agency series. It has two central plotlines: one professional and one personal, both handled at the gentle, steady pace that characterizes this series. Frequent divagations take you inside the minds of the characters, and while these do tend to slow down the action, they are often am...

Dear HBO:You had a really good thing going when you turned the first book of the Ladies #1 Detective Agency into a one-season series. Why in heaven's name did you stop? Surely not for lack of material, because the books just keep coming. Not, either, for the lack of appeal of Precious Ramatswe and her cast of characters, all of whom are quirky and engaging and bring with them the intriguing life of Botswana. Please, please sign Jill Scott back on...

Some unexpected news for Mma Precious Ramotswe Mr Polopetsi, who sometimes works part-time for the No 1 Ladies Detective Agency when not teaching chemistry at the Gaborone Secondary School, asks Mma Ramotswe if she would be prepared to help Charity Mompoloki, the sister of the games teacher at the school. She was fired from her job at The Office Place, supposedly for being rude to one of the clients, but he's sure that there is more to the stor...

No 18 in this series and it is a bit like putting on a favorite pair of slippers ... comfortable and no surprises. My favorite line (s) is "Families come in different ways, she thought: sometimes they are given to you, but sometimes you find them yourself, unexpectedly, as you go through life. That is perhaps not all that well known, but it is still true."

First of all, this is no. 18 in this series! Eighteen! And not a genuine dud among them. Do you know how hard that is? Over 18 books, Mr McCall Smith has maintained the charm to keep me and many others loyally returning, year after year. Not only that, but this one is one of the best yet. I've often promoted the theory that AMS has a little game with himself to see if every time he writes a book, he can incorporate less of a plot than in the prev...

As usual, I couldn't wait for the latest installment of the No.1 Ladies Detective Agency. Wonderful characters and very heartwarming.

I love spending time with Mma Ramotswe. *Thanks to Edelweiss and the publisher for providing an e-galley in exchange for an honest review!

I've enjoyed all of the #1 Ladies Detective Agency novels, and this one is no exception. Precious Ramotswe has several new surprising cases to deal with, and she does so with her trademark grace and kindness. Despite being such a prolific author, Alexander McCall Smith has kept up the high quality of this series—it just keeps getting better.

How I love to spend time with Precious Ramotswe. Her kindness and generosity are the perfect antidote to our cynical world. I always feel I can be a better person after my time with Precious. This is the 18th instalment in the series, and McCall Smith still manages to engage us with a fresh mystery and some very personal issues for Precious. Here is a perfect example of one of Precious' introspective conversations she has with herself:Those image...

Precious Ramotswe and Grace Makutsi are once again joined by Mr Polopetsi who brings them a case from his school where a colleague's sister has been unfairly dismissed. In the course of the investigation, Mma Ramotswe encounters a photograph of a most unexpected lady and finds that the investigation may take her closer to home than she ever would have imagined.Yet another lovely story from Alexander McCall Smith where the lovely ladies (and gentl...

By the time you reach number 18 in a series, you think you know what's coming up. Sure there may be a few plot meanders and turns of phrases that you weren't expecting, but the characters are well established, the pattern is set, and the rhythm familiar, or so you think. Oh, my, I didn't see this coming! Of course, we can count on Violet somewhere in the background trying to ruin people's lives for fun, but the rest of it was a true and pleasant,...

The Number Ladies Detective Agency books are my favourite and reading a new one is like visiting old and wonderful friends. Every book brings a literal new phase in the lives of the marvellous cast, whom I have come to believe truly inhabit Botswana. McCall Smith is a gifted author who creates characters and stories that feel so alive. I feel close to his characters and I breathe the sweet Kalahari air on every page.

This was another lovely read in this series with very little happening as usual. All the favourite characters were there. Unlike the previous book in the series we were treated to many of those lovely conversations which really make these books. Mma Makutsi has given herself yet another promotion to Principal Investigating Officer and comes up once again against her arch enemy Violet Sephotho. All works out well in the end. Absolutely delightful!

Usual luxuriant braid of stories. Such a gentle style makes you think that the story must be thin and lightweight. But one of these story strands was so sad it made me well up with tears - an unexpected experience with Mma Ramotswe. Rather clever - to take a well known formula and take a stage further.

When Precious Romatswe is asked to look into the firing of a young woman, she finds, as usual, that this is not an isolated problem, and that there is no easy solution. Another truly wonderful story about Botswana and the very human people who live there.I read this EARC courtesy of Edelweiss and Random House/Pantheon pub date 11/09/17

This series never disappoints! In fact this might be one of my favourites because it touches on a very emotional part of Mma Ramotswe's personal life, which in true McCall Smith fashion, is happily resolved.

I might be getting tired of this series. Though there is an interesting personal story line for Precious in this book, I found myself skipping over a lot of the descriptive language McCall Smith uses to describe scenery.

Wonderful as alwaysPrecious Ramotswe is back in action foiling the latest p!ot by the evi! violet Sepotho, A love!y read that will be enjoyed by all fans of Botswana and the No1 ladies

Best book yet, so heartwarming and touching. If I could give it 10 stars I would.

lovely to make my annual return to the world of Mma Ramotswe and the #1LDA. The usual gentle mysteries and dramas.

a lovely sweet story. how knowing half a story neans that we so easily misunderstand the truth

Reading about mma Ramotswe is like coming home to a friend. I love these books. In this book her life is changing unexpectidly.....

Another lovely story in this series. The characters are great, as always.

an absolutely brilliant read love the number 1 ladies detective agency books

Because I love these books and the characters in them, I cannot give them less than 5 stars.

This series is always a pleasurable read. However Precious faces a big deal in this book that will change her life forever. All your favourite characters are here, you won't be disappointed.

Mma Precious Ramotswe and her employees at the #1 Ladies' Detective Agency have a new case in this, the 18th book in the series. Mr. Polopetsi, a part time employee of the agency, has learned of Charity, a single mother who has lost her job an an office furniture store. Charity claims that she did nothing wrong and should not have been terminated. So the detectives try to figure out the truth and possible get her job back. Then Precious reads a n...