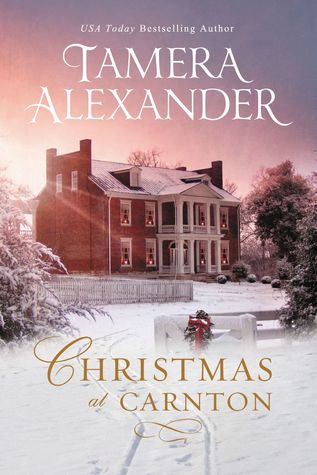 A Christmas novella to launch a brand new three-book series . . . The Carnton Novels   Amid war and the fading dream of the Confederacy, a wounded soldier and a destitute widow discover the true meaning of Christmas - and of sacrificial love.  Recently widowed, Aletta Prescott struggles to hold life together for herself and her six-year old son.With the bank threatening to evict, she discovers an advertisement for the Women's Relief Society au...
---
Details Christmas at Carnton (Carnton, #0.5)
Title
Christmas at Carnton (Carnton, #0.5)
ISBN

9780310293248

Author

Tamera Alexander

Release Date
Oct 3rd, 2017
Publisher

Thomas Nelson

Language

English

Genre

Historical

,

Historical Fiction

,

Holiday

,

Christmas

,

Christian Fiction

,

Romance

,

Fiction

,

Christian

,

Military History

,

Civil War

Rating
Reviews Christmas at Carnton (Carnton, #0.5)
i am absolutely astonished. i sit here minutes after having completed this title feeling wounded, empty to a degree, needing to feel a fraction of the tenderly layered chemistry this title provides. this is so pleasantly poignant at times, other times it is greatly heartwarming and radiant.christmas at carnton is based on a real plantation house (currently a museum) in franklin, tennessee, built in 1826. the mcgavock surname in this story is th...

I chose to read this book from my picks because it mentions the Battle at Chickamauga, Chattanooga and some other places. The Chickamauga Battlefield is about 15 minutes from our house here in Chattanooga and this is one of the places me and my dog used to hike, dad would come with us a lot as well. I wanted to add some pictures of us but they are all on cd's unfortunately. At the Battlefield there is a lot of land and trails into the woods where...

Come on weatherman,Give us a forecast snowy white.Can't you hear the prayersOf every childlike heart tonight? Rockies are calling,Denver snow falling,Somebody said it's four feet deep.But it doesn't matter, Give me the laughter;I'm gonna choose to keepAnother tender Tennessee Christmas,The only Christmas for me. -- Songwriters: Amy Grant and Gary ChapmanThis is a novella, a prequel story meant to tug at your heartstrings, and it succeeds. A s...

I just thoroughly enjoyed reading about a slice of life taking place at a slower pace than we do now. Where people had more time for each other and really cared enough to listen to what you said. The novella I just read is a prequel that sets up the story so you can enjoy the other 3 books in this series. The next book releases in Fall of 2018. I am so impressed with the research Tamera Alexander puts into not only this book of hers but all of th...

An excellent shorter Christmas story. Aletta is a young widow in 1863, partway through the Civil War—facing the birth of her second child, the loss of her job, and foreclosure of her home, all at the same time. For a novella this book is pretty chunky, which makes me quite happy! (Oh, if only it would be published in one of those darling mini hardcovers!...)Jake has a new future to find after a head injury leaves him with impaired vision and an...

Christmas at Carnton is a lovely introduction to the Carnton series upcoming from Tamera Alexander. Though it's called a novella, it's actually a quite complete story, with very little feeling rushed or glossed over. Perhaps in comparison to one of the author's full length books, it's short, but happily it's a full story. Aletta is an admirable lead, pressed into hard circumstances as a widow in the middle of the Civil War. The mother of a precoc...

Tamera Alexander purely knows how to tell a good story. Beginning a new series with this novella (which felt like a full-length book, by the way), she sets her story in the last 2 years of the Civil War, a time of unrest and great deprivations in this nation of ours. She writes with deep feeling and has created a cast of characters that were so easy to fall in love with, for this reader. I loved every single minute. I found myself crying through ...

See full review at: www.joyofreadingweb.wordpress.com Bundle up and get ready for a Christmas story you won't soon forget! With the perfect setting and dynamic, resourceful characters Tamera has set the perfect backdrop for a perfect cozy Christmas story and the introduction to her newest series.The next book releases in 2018 and I am excited to read more about Carnton Plantation and discover more about the people who called the beautiful plant...

A lovely start to a new series! Set on the Carnton estate in 1863 just outside of Nashville, Tennessee, in the middle of the Civil War. I love how this author ties together real people and places with her own set of fictional characters, making it feel so authentic. Her characters struggle with real-life problems--foreclosure, widowhood, single parenting, loss of income, poverty, pregnancy, loss of health--something many can relate to today even...

This was a beautifully written novella (that seemed as complete as a novel) that was a wonderful start to a new series from Tamera Alexander. Dealing with life, death, and love during the Civil War, Alexander brought this time period to life til I felt like I was a part of it. Having never heard of the Women's Relief Society, Alexander obviously devoted time to researching the role of this group in the Civil War and its support of the Confederate...

This Christmas novella was a nice introduction to the upcoming Carnton Series. Tamera Alexander is a master storyteller and does a nice job of blending in historical detail in her novels.In 1863 times are difficult for all in Franklin, Tennessee and even more so for a widow that loses her job. Aletta Prescott is concerned about her ability to keep her home and provide food for her son. She is a lovely example of not feeling defeated and trusting ...

"Please do not make this more difficult on me than it already is." Aletta Prescott is not only widowed, she has just lost her only source of income as a seamstress; making survival even that much harder for her family of almost three. Desperate to locate employment, facing property foreclosure on her home, she applies for a temporary pastry chef position at a large Franklin, Tennessee estate. "At this point, we still have every reason to believe ...

This is a really good prequel start to the upcoming series by this author set at Carnton (and I simply can't wait for them after this sneak peek!). This one is set during the Civil War, though most of the focus of this book is on the damage that war caused on the home front for the women left behind. This author is so good at focusing on the small details to bring home that overall pain of that time. Like the women reading the newspaper, searchin...

3.75 stars. This was a superbly crafted novella by Tamera Alexander. I don't normally enjoy shorts or novellas since most of them don't contain fully developed characters, settings, or plots, but this one sure did. I was completely immersed in this Civil War era tale, the historical details making this story come alive, and the characters in it were a delight. The angst was just right, not too drawn out but quickly resolved between two adults, an...

"Christmas at Carnton" by Tamera Alexander is a sweet Christmas novella that will get you in the Christmas spirit. "Christmas at Carnton" is the second book I've read by this author. It's a novella to start off a new "Carnton" series. It is a longer novella at a little over 200 pages. It's the perfect read for a cozy winter's night."Christmas at Carnton" reminds me of a great Hallmark movie. Its characters are real, flawed people who you ...

Short and sweet is how this review will be. This novella was a great "kick-off" for the new three-book series. I am very excited to read the next stories.I really like it that Carnton is an actual plantation. I mean, if you traveled to Franklin, Tennessee, you could see this plantation. That would be so cool!In this story, Tamera Alexander did a wonderful job writing and describing the scenes and characters. Even though it was so short, becau...

I enjoyed this introduction to the Carton Estate. I love how the characters have multiple--and somewhat surprising--skills, with stereotypes being turned on their heads: Aletta is a mother and respectable cook, but she also has a talent for (and enjoyment of) carpentry. Jake is a sharp-shooter, but he is also a decent handyman and an artist (and proves to have a way with words). Both of them have real struggles as a result of the war, but I espec...

Christmas at Carnton is the novella leading to the series Carnton novels by Tamera Alexander. Tamera hooked me right from the start with this heart touching novella. A story that is full of love, hope, heartache, pain and so much more. Characters that come to life before your eyes. I so can't wait to dive into the rest of the books in this series. I received a complementary copy of this novella. This review is my honest opinion. 5 stars!

As always this author delivers another wonderful read. I was skeptical at first because I love the long books, but this book contains much in its pages.The horrors of war, the community that those at home created to deal with those, carrying hearts, and hardworking women who strove every day to help their men who were in a different kind of war… both in a war of survival.The characters are terrific in this short read, and as always I fell in lo...

I really enjoyed this introduction to the new series coming from Tamera Alexander. I have loved everything I've read by this author, and this is no exception. I am looking forward to the first full novel in this series. I hope we will hear more about Jake and Aletta because I fell in love with both of them in this book.

Will share my review shortly

I loved this story and prequel to the whole new upcoming series by Tamera Alexander. Highly recommended.

My favorite Christmas read this season. Tamera Alexander draws you into the story and her research is so impeccable that you always learn something besides being entertained. Historical fiction is my favorite genre and when it includes children, romance, Faith, and Christmas then it is sigh worthy. I love the characters including the minor ones, especially Tempy. When she describes being sold as a slave while a child I had to weep. The growth of ...

Aletta is war widow. She's trying to hold onto her home and raise her six-year old son. So when life forces her to take another job, she jumps at the chance to make some extra money. But she'll need the help of an injured Captain. He's staying at the Carnton Estate at the request of his boss while he waits on healing so he can return to the war. This is the prequal to a series that will be coming in the future. This book wold work well as a stan...

Christmas at Carnton (2017) is a novella by Tamera Alexander, and will be released on October 3, 2017. This novella will come in all forms including eBook, and is 256 pages in length. With a full-time job and a precocious five-year old at home, this novella took me three days to read. I received a free review copy of this novella in eBook form from NetGalley. In no way has this influenced my review. The opinions expressed in this post are my own....

I'm not a big fan of Civil War stories. I have a hard time enjoying those type of stories, but . . . Tamera Alexander does such a great job at recreating this time period and bringing me into the story that I have a hard time not enjoying her writings. I have enjoyed her Belle Meade and her Belmont Mansion series, so I'm excited that she has decided to do another series in Tennessee around another popular plantation. With any historical novel, I ...

Once in a while, I read a book, novella, or story of some kind where all the pieces fit together in such a way that there is no disconnect, no disjointed pieces, nothing but an enjoyable story with a completeness that brings satisfaction to the reader. Tamera Alexander's Christmas at Carnton is that kind of story. Aletta is a war widow with a young son about to lose her house to foreclosure. She looks all over town for a job, any job, just to kee...

I love learning about the American Civil War through fictional books, but I had never heard of Carnton or the incredible story behind the plantation-turned-field hospital in Tennessee. I was excited to see a Christmas novella by Tamera Alexander pop up in my NetGalley feed - just as the snow had begun to fall and I was heading back to college after my fall reading break.This book was a wonderful, refreshing read. I love the fact that it was sligh...

As with Tamera Alexander's other works this novella, centered amidst the Civil war and involving elaborate preparations for a Christmas auction and festivities, was well written with characters that the reader's heart warmed to immediately and a story line that engaged.Just a bit longer than some novellas, it was a completely satisfying read from start to finish. It shows the reality of those left at home where there is scant to live on and those...

Christmas at Carnton is a great novella Christmas story. There is so much I enjoyed about this book. Aletta is a young widow who was partway through the civil war facing a job loss, foreclosure of her house and all the pregnancy of her second child. Will Aletta find employment at the plantation and will she be able to provide for her son? Captain Jake had an injury and is no longer able to shoot. He is devastated and now learns he must be sent to...