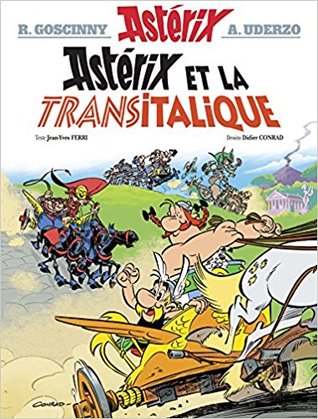 Les personnages créés par les deux génies du 9e art Albert Uderzo et René Goscinny sont de retour!Après Astérix chez les Pictes et Le Papyrus de César, Astérix et Obélix reviennent dans Astérix et la Transitalique, le nouvel album signé par les talentueux Jean-Yves Ferri et Didier Conrad.N'en déplaise à Obélix, les Italiques, les habitants de l'Italie, ne sont pas tous des Romains, au contraire! Les Italiques tiennent à préserver ...
---
Details Astérix et la Transitalique (Astérix, #37)
Title
Astérix et la Transitalique (Astérix, #37)
ISBN

9782864973270

Author

Jean-Yves Ferri

Release Date
Oct 19th, 2017
Publisher

Éditions Albert-René

Language

French

Genre

Sequential Art

,

Comics

,

Bande Dessinée

,

Humor

,

Historical

,

Historical Fiction

,

Graphic Novels

,

Cultural

,

France

Rating
Reviews Astérix et la Transitalique (Astérix, #37)
2,5/5Je suis déçue!Asterix c'est sacré pour moi. Quelque chose que j'ai partagé avec mon grand-père qui était un grand fan. Alors quand j'ouvre la BD et que je n'y trouve pas la page de présentation des personnages ni la page qui situe le village sur la carte entouré des camps romains et bien cela commence mal.Ensuite, l'histoire est gentilllette... pas de quoi casser 3 pattes à un canard. Les références historiques et culturelles ne v...

Amusing, but nothing special.

Asterix hat es in meinen Augen zunehmend schwer. Viel zu oft muss sich das Team Ferri-Conrad mit dem Erfolgsgespann Goscinny-Uderzo vergleichen lassen - und seien wir ehrlich, bei so einem Vergleich können die Neuen doch nur den Kürzeren ziehen ..."Asterix in Italien" zu bewerten, funktioniert daher meiner Meinung nach nur, wenn man versucht, den neuen Band für sich zu sehen. Und da sind schon einige nette Gags dabei, die Veneter, Parmaschinke...

Die unverständliche Neigung, Klassikern nicht fortzusetzen, sondern stattdessen in Nostalgie und Best-Of-Referenzen zu baden, jetzt auch auf gallisch. Entbehrlich.Extra-Malus für den moralischen Nebel, in dem der Zaubertrank nicht mehr dazu dient, gegen eine illegitime Besatzungsmacht die Oberhand zu behalten, sondern die gleichgestellten Konkurrenten aus dem Rennen zu werfen. Reflektionsniveau der Autoren: null.

Ein Comic in bester Asterix-Qualität. 😉

As good as the other new Asterix comics, maybe even better. So many laughable tiny details and puns. A must-read for Asterix & Obelix fans.

Bonne lecture qui m'a rappelé mes lectures d'enfance.Autant les derniers tomes dessinés et écrits par Uderzo étaient une honte absolue, autant ici j'ai beaucoup aimé.Ce qui est savoureux dans les albums d'Astérix ce sont toutes les références disséminées au fil des cases.Il y'a des références historiques ou des références à l'actualité qui réussissent à vous faire automatiquement esquisser un sourire.C'est un vrai régal de pren...

Para quem, como eu, só consegue gostar dos livros do Asterix da autoria de goscinny e uderzo, este livro foi uma boa surpresa. Apesar de não se comparar com nenhum dos da dupla original, andou lá próximo. Voltarei a ler

Auf diesen kurzweiligen Comic ein Garum Lupus!

En ces temps où le "politiquement correct" est de rigueur — à l'outrance — cela nous donne un album où le personnage secondaire, le sidekick, devient le héros. Un album dont le message porte sur la diversité — car l'Italie c'est plus que les latins/romains (puisqu'on y retrouve une grande diversité de peuples [Astérix cites [p.22] les Vénètes, Étrusques, Ombriens, Osques, Messapes, Apuliens (?), mais on peut y ajouter ...

Para início de conversa eu cresci com os livros do Astérix. Quando eu era mais nova havia uma revista, penso que semanal, chamada Tintin que se comprava nos quiosques e que para além das aventures do herói que lhe dava o nome trazia entre outros o Lucky Luke e o Astérix. Assim sendo foi com algum pesar que olhei para a capa deste novo livro e não vi os nomes que fazem parte do meu imaginário de criança René Goscinny e Albert Uderzo, argu...

A new Asterix, the third in the Ferri & Conrad series. They are finding their own way in the series and add their own style of story telling, which has it's pros and cons. All three in their series have a more educational viewpoint. Visiting the picts, placing our Gauls in the Bello Gallico and now teaching about the different folks in the 'Italy'-region of the Roman empire. It gives some historical perspective and makes for an interesting read. ...

"Asterix in Italien" ist der dritte Band vom Autorenduo Ferri und Conrad. Im Gegensatz zu Goscinny und Uderzo lassen sie sich mehr Zeit mit der Produktion und veröffentlichen bislang nur alle zwei Jahre ein Album, während Goscinny und Uderzo in ihrer Hochphase jedes Jahr ein neues Abenteuer veröffentlichten.In "Asterix in Italien" geht es um ein Wagenrennen durch Italien, dass der römische Senat angesetzt hat, um Werbung für das Straßennetz...

Poco a poco, tomo a tomo, Ferri y Conrad van mejorando y aclimatándose a lo que tiene que ser una aventura de Astérix. Sobre todo, nos hacen olvidar de los dos últimos despropósitos que nos entregó Uderzo (en los volúmenes #33 y #34).Los dibujos mucho más conseguidos que en los dos tomos anteriores, y el guión cada vez va recordándonos más a los Astérix primigenios, aunque.... aún les queda mucho camino que recorrer. Y que nosotros lo...

2.5Les pages de présentation des personnages et la carte de France qui montre où se trouve le petit village d'irréductibles gaulois... Elles sont où?Je l'ai trouvé très moyen ce tome. Je n'ai pas retrouvé ce sentiment de familiarité lorsque je lis généralement un album d'Astérix. Astérix dit trois phrases, Obélix est "plus présent" mais sans que ça ait d'importance dans l'histoire...Mouais... Non.

This is the weakest of the three volumes from the new writing team, especially because it almost actively invites comparison with the vastly superior Asterix and the Banquest from the classic era. I still enjoyed much of the humor, but could have done with less topical references. The ending also felt kind of tacked on.

The genius of Goscinny was not only the tongue-and-cheek and puns incorporated in the story, but also the thoughtful placement and adequate pacing of the jokes. While Ferri is actually quite good at emulating Goscinny (more than many others), he seems to work his story around the wordplay rather than the other way around. In some instances, it feels a bit too "Family Guy" to my taste. Nonetheless, the Astérix franchise is fairly secure in his ha...

3,5-4Sterne, weil es sprachlich geschliffenere Redewendungen sind und wieder etwas mehr Genuss(z.B. Wildschweine) geboten wird, aber diese Zeichenästhetik und suggerierte Perspektive bzw die unbedingt gemalte Dynamik im Bild wollen meinem Auge einfach nicht gefallen. Ich sehne mich nach der Ästhetik von Bänden wie "A. als Legionär" oder "Die Lorbeeren des Cäsar" zurück. Geschmackssache.

Quase quase 4, só pela piada corrente com os Lusitanos.É a melhor piada sobre tugas em TODA a série (com um bruto de um pay-off), juro! :DAgora confio plenamente nestes dois senhores para criarem um "Astérix na Lusitania", sim? Por favor? Prometo que sou o primeiro na linha para o comprar...

Bonne lecture avec des références amusantes. Par contre, c'est pas possible ils doivent absolument remettre la page de présentation des personnages et la carte dans le prochain tome... j'ai cru que j'avais tourné deux pages en même temps en les voyant pas, ça m'a complètement déstabilisé de pas les avoir au début de la lecture!

I enjoyed reading it. I've grown up with all the Asterix comics. So it's Always alot of fun when a new one gets released.It wasn't as funny as I had thought it would be. I liked the last one a bit better.But he, it's still fun.

Qua tekeningen trouw aan Uderzo. Het verhaal is wat minder spitsvondig dan de hoogtijdagen van Asterix, maar toch een product waar de makers zich (anders dan bij veel nieuwe versies van oude strips) echt niet voor hoeven te schamen.

Une aventure palpitante avec de multiples gags. A réserver aux enfants ... et à tous ceux qui ont su garder leur âme d'enfant !

Quite enjoyable. The name-dropping was a bit too much. 😉

Almost back to the quality of the classics! Congratulations to the team Jean-Yves Ferri and Didier Conrad. Brilliant, funny!

No me ha gustado mucho este nuevo tomo de Astérix. Creo que los autores lo pueden hacer bastante mejor. Creo que es la más floja de las nuevas aventuras.

hat mir gut gefallen, war aber leicht enttäuscht, dass die berühmte Einleitung fehlt.