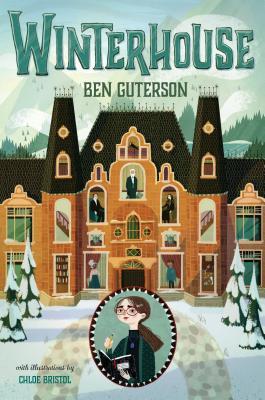 An enchanting urban fantasy middle-grade debut―the first book in a trilogy―set in a magical hotel full of secrets.Orphan Elizabeth Somers's malevolent aunt and uncle ship her off to the ominous Winterhouse Hotel, owned by the peculiar Norbridge Falls. Upon arrival, Elizabeth quickly discovers that Winterhouse has many charms―most notably its massive library. It's not long before she locates a magical book of puzzles that will unlock a m...
---
Details Winterhouse (Winterhouse, #1)
Title
Winterhouse (Winterhouse, #1)
ISBN

9781250123886

Author

Ben Guterson

Release Date
Jan 2nd, 2018
Publisher

Henry Holt & Company

Language

English

Genre

Childrens

,

Middle Grade

,

Mystery

,

Fantasy

Rating
Reviews Winterhouse (Winterhouse, #1)
E ARC from Netgalley.comPoor Elizabeth Somers. Her parents died when she was four, and she has been raised by her uncaring Aunt Purdy and Uncle Burlap. When they decide to take a vacation over Christmas, she is packed off to Winterhouse with $3 and a grocery bag of clothing. There's little explanation, but she is glad to have a few books with her, and the hotel is not as bad as she has feared. Aside from the creepy booksellers, the Hiems, who war...

Charming. Though I would have liked it better without the ghost-y elements.

Originally posted at Log Cabin LibraryElizabeth will be spending her Christmas break at the Winterhouse Hotel while her Aunt and Uncle take a vacation. At least they left her some clothing in a grocery bag, a few measly dollars, and a bus, and train ticket to get her there. Once Elizabeth gets underway, she encounters an odd couple dressed all in black, who upon their arrival at the hotel, introduce themselves as the Heims, booksellers of old rar...

This is a book about a girl who loves books, so of course I loved it.〰Ten-year-old Elizabeth comes home one day to find that her aunt and uncle are gone on vacation, leaving her three dollars and a bus ticket to the Winterhouse Hotel. What a couple of dears.〰At Winterhouse, Elizabeth meets the owner, Norbridge Falls, and another kid on his own, Freddy, who's inventing a fuel source using walnut shells.〰The hotel isn't exactly 100% normal, a...

While Elizabeth's aunt and uncle go on vacation, Elizabeth is sent to spend her winter break from school at a mysterious hotel. Her aunt and uncle don't explain why, and although Elizabeth at first is resentful of this trip, she eventually begins to enjoy herself at the hotel, and while there finds both a friend and a mystery to solve.I thought the descriptions of the hotel and the various characters staying there were fantastic. I loved Elizabet...

Thanks to the @kidlitexchange network for the review copy of this book – all opinions are my own.This magical, modern day fantasy is full of mystery, fun, imagination and charm. Elizabeth has been an orphan for the past seven years, living in poverty with a heartless aunt and uncle. Her only friends are her books, which she borrows from her caring school librarian. This all changes when an unexpected invitation arrives inviting her to spend the...

From my first reading of the description of Winterhouse, I was super excited. Books like Chasing Vermeer, The Greenglass House, and The Mysterious Benedict Society are my absolute favorite kind of middle grade fiction but are, unfortunately, less common. (As a side note, finding a true mystery - a story with a puzzle- rather than a thriller for middle grade or YA is more difficult than one might think.)Winterhouse did not disappoint. It is a true...

I really enjoyed this book and will be ordering it for the library collection. Very good kids cozy mystery. I look forward to the next book.

WinterhouseByBen GutersonWhat it's all about...This book is about a young girl named Elizabeth and what happens to her over Christmas vacation. She lives with her aunt and uncle and is not treated very nicely. She loves books and puzzles and anagrams and list making. She doesn't have many friends and spends most of her time reading...alone...in her room. But...on the last day of school just before Christmas vacation she arrives at her house to ...

Winterhouse is the story Elizabeth, who finds herself spirited away from her exceptionally dull and rather chilly aunt and uncle and to the magical world of the Winterhouse Hotel. The mysteries begin almost immediately when a strange couple won't stop staring at Elizabeth on the bus ride to Winterhouse. Things get stranger when Elizabeth arrives and meets the quirky proprietor, Norbridge, and the strange man and woman from the bus check into the ...