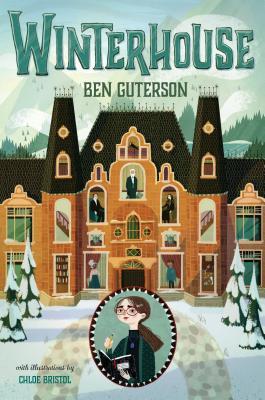 An enchanting urban fantasy middle-grade debut―the first book in a trilogy―set in a magical hotel full of secrets.Orphan Elizabeth Somers's malevolent aunt and uncle ship her off to the ominous Winterhouse Hotel, owned by the peculiar Norbridge Falls. Upon arrival, Elizabeth quickly discovers that Winterhouse has many charms―most notably its massive library. It's not long before she locates a magical book of puzzles that will unlock a m...
---
Details Winterhouse (Winterhouse, #1)
Title
Winterhouse (Winterhouse, #1)
ISBN

9781250123886

Author

Ben Guterson

Release Date
Jan 2nd, 2018
Publisher

Henry Holt and Co. (BYR)

Language

English

Genre

Childrens

,

Middle Grade

,

Mystery

,

Fantasy

Rating
Reviews Winterhouse (Winterhouse, #1)
E ARC from Netgalley.comPoor Elizabeth Somers. Her parents died when she was four, and she has been raised by her uncaring Aunt Purdy and Uncle Burlap. When they decide to take a vacation over Christmas, she is packed off to Winterhouse with $3 and a grocery bag of clothing. There's little explanation, but she is glad to have a few books with her, and the hotel is not as bad as she has feared. Aside from the creepy booksellers, the Hiems, who war...

Oh my gosh I freaking LOVED this book! The setting of Winterhouse was absolutely magical, I loved the writing, the characters, the mystery, everything. Who says middle grade books aren't for adults? First book of 2018 and it's gonna be hard to top!

Charming. Though I would have liked it better without the ghost-y elements.

While Elizabeth's aunt and uncle go on vacation, Elizabeth is sent to spend her winter break from school at a mysterious hotel. Her aunt and uncle don't explain why, and although Elizabeth at first is resentful of this trip, she eventually begins to enjoy herself at the hotel, and while there finds both a friend and a mystery to solve.I thought the descriptions of the hotel and the various characters staying there were fantastic. I loved Elizabet...

From my first reading of the description of Winterhouse, I was super excited. Books like Chasing Vermeer, The Greenglass House, and The Mysterious Benedict Society are my absolute favorite kind of middle grade fiction but are, unfortunately, less common. (As a side note, finding a true mystery - a story with a puzzle- rather than a thriller for middle grade or YA is more difficult than one might think.)Winterhouse did not disappoint. It is a true...

I really enjoyed this book and will be ordering it for the library collection. Very good kids cozy mystery. I look forward to the next book.

Interest Level: 3-6; Reading Level: 6.4@kidlitexchange #partner Thanks to the @kidlitexchange network for the review copy of this book - all opinions are my own.Imagine that your parents have passed away and you have to live with an aunt and uncle that do not want you, you are poor and you have no friends. That is the life of Elizabeth Somers. So when she comes home from school for Christmas break and there is a note on the door, a bag of clothes...

When Elizabeth's guardians send her away to a strange hotel for Christmas vacation, she expects to spend a miserable holiday there. Instead, she finds a new friend and a fascinating mystery . . . and maybe even a hint of magic, and a little bit of danger.This is a solid entry in the genre of middle-grade puzzle novels, perfect for young readers who love anagrams and secret codes. There were enough clues to figure out the solution to one big rid...

Originally posted at Log Cabin LibraryElizabeth will be spending her Christmas break at the Winterhouse Hotel while her Aunt and Uncle take a vacation. At least they left her some clothing in a grocery bag, a few measly dollars, and a bus, and train ticket to get her there. Once Elizabeth gets underway, she encounters an odd couple dressed all in black, who upon their arrival at the hotel, introduce themselves as the Heims, booksellers of old rar...

This was a cute little book. Elizabeth Somers is sent to Winterhouse, a hotel run by an eccentric older man. Elizabeth meets Freddy, a fellow kid who was sent to the hotel by his parents for the holidays. Together, they uncover secrets about the family who began the hotel and crack the code to a mysterious puzzle that saves the hotel.

This is a book about a girl who loves books, so of course I loved it.〰Ten-year-old Elizabeth comes home one day to find that her aunt and uncle are gone on vacation, leaving her three dollars and a bus ticket to the Winterhouse Hotel. What a couple of dears.〰At Winterhouse, Elizabeth meets the owner, Norbridge Falls, and another kid on his own, Freddy, who's inventing a fuel source using walnut shells.〰The hotel isn't exactly 100% normal, a...

Thanks to the @kidlitexchange network for the review copy of this book – all opinions are my own.This magical, modern day fantasy is full of mystery, fun, imagination and charm. Elizabeth has been an orphan for the past seven years, living in poverty with a heartless aunt and uncle. Her only friends are her books, which she borrows from her caring school librarian. This all changes when an unexpected invitation arrives inviting her to spend the...

This book was an amazing read with very creative illustrations that I loved. It brought together everything for a wonderful Christmas mystery. The story follows Elizabeth and journey to Winterhouse for the holidays while her aunt and uncle get a suspicious paid for vacation. During Elizabeth's stay at this magical hotel she meets Freddy and becomes best friends. They find lots of things to get into and even a very spooky mystery to solve. I don't...

I read this because of the cover and wanting to read something no one was telling me to read. It turned out to be pretty good. I would have really liked it as a kid. Reading Winterhouse brought to mind stories like Harry Potter and Matilda. Elizabeth is an orphan who lives with her mean and neglectful Aunt and Uncle. A mysterious benefactor unexpectedly pays for the Aunt and Uncle to take a vacation and send Elizabeth to the fabulous Winterhouse ...

I was looking for a follow up to Ghosts of Greenglass House (review coming) and Winterhouse by Ben Guterson seemed like a good fit. The book opens with Elizabeth Somers arriving home on the last day of school before winter break to find a note from her aunt and uncle and a train and a bus ticket to Winterhouse for the three weeks of vacation.http://pussreboots.com/blog/2018/comm...

3 1/2 starsDropping it 1/2 a star because I saw where this was going as soon as she arrived at the hotel. *sigh* I love books set in mysterious hotels! I do not love books where the plot is yelling at me from the get-go. Liked the puzzles throughout. Will definitely read the sequel.

This was a pretty fun book for middle grade readers. Great for children who love puzzles, books, and a touch of magic. Much of the action is set in a beautiful library and revolves around a special book. One I'll be adding to the shelf for my daughter when she gets a bit older.

Winterhouse is a wonderful story about a bright, curious, young, orphaned, girl, Elizabeth. She is left by uncaring relatives to travel alone, to an unfamiliar place called Winterhouse at Christmas time. Upon her arrival to Winterhouse Elizabeth enters a wonderous world of secrets, unsolved mysteries, treacherous plots and new friendships. Like Elizabeth, we are challenged to seek out clues, while figuring out codes and solving puzzles along the ...

WinterhouseByBen GutersonWhat it's all about...This book is about a young girl named Elizabeth and what happens to her over Christmas vacation. She lives with her aunt and uncle and is not treated very nicely. She loves books and puzzles and anagrams and list making. She doesn't have many friends and spends most of her time reading...alone...in her room. But...on the last day of school just before Christmas vacation she arrives at her house to ...

This mysterious and magical story is beautifully written. The description and detail of Winterhouse lured me in and made me feel right at home as one of the guests! The mystery Elizabeth became involved in was intriguing and kept me guessing with each new clue. I'm looking forward to the rest of the trilogy and more adventures at Winterhouse!

Winterhouse is the story Elizabeth, who finds herself spirited away from her exceptionally dull and rather chilly aunt and uncle and to the magical world of the Winterhouse Hotel. The mysteries begin almost immediately when a strange couple won't stop staring at Elizabeth on the bus ride to Winterhouse. Things get stranger when Elizabeth arrives and meets the quirky proprietor, Norbridge, and the strange man and woman from the bus check into the ...

Advanced Copy provided through NetGalley in exchange for an honest review. Despite being a readalike for Greenglass House, this book was definitely more compelling read for me. I have coworkers who loved the older book, but this one was filled with a bit more intrigue, and it clipped along really well. A plot-driven story about a girl who is shipped off to a mystery hotel for her winter break, and ends up finding herself in a noir-style mystery. ...

What a delightful middles-grades read! A precocious protagonist in a mysterious hotel is always a win for me and this is an especially well done mix of those elements. It is a less weird Warren the 13th. Elizabeth is a fantastic, like-able main character. I was rooting for her the whole time. The resolution wasn't entirely unexpected but I was looking forward to it the whole time because I wanted something to go right for Elizabeth. The mystery w...

Orphan Elizabeth Somers stays lives with her impoverished aunt and uncle. She loves books and puzzles, especially word puzzles. When they announce vacation plans for themselves and a stay at a grand house called Winterhouse for her, she wonders who paid for it. On the train she meets some creepy people who get off at the same stop and go to the same house. They cause problems from the moment they set foot in the door. Elizabeth soon meets the own...

Fans of the Mysterious Benedict Society Series & Mr. Lemoncello's Library Series will love this twisty mystery. It's full of codes, puzzles, and a touch of magic.

*I received a digital review copy from NetGalley*A charming middle grade novel, Winterhouse is the perfect read for the winter season. I really enjoyed reading about the Winterhouse hotel and all of its attractions. It seems like such a wonderful place to visit, especially during the holiday season, as Elizabeth does. Speaking of Elizabeth, she and the other characters were great, though for the most part pretty one-dimensional. Some sections of ...

Cute and fun for puzzle lovers. Sometimes the setting was confusing - how big could that hotel really be? But readers won't care, they'll just want to visit. The Big Mystery is actually a few mysteries and their solutions aren't always telegraphed, which is always a good thing. That this is the first in a series may also be a good thing... I'll have to wait and read.ARC provided by publisher.

I really enjoyed this book. I wasn't expecting it to take a "supernatural" path, but I was pleasantly surprised. The story moved along at a good pace and the different mysteries kept me wanting to know more. I'm looking forward to the next books in this series.