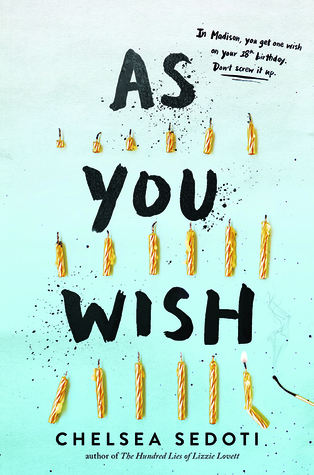 What if you could ask for anything- and get it? In the sandy Mojave Desert, Madison is a small town on the road between nothing and nowhere. But Eldon wouldn't want to live anywhere else, because in Madison, everyone gets one wish—and that wish always comes true.Some people wish for money, some people wish for love, but Eldon has seen how wishes have broken the people around him. And with the lives of his family and friends in chaos, he's l...
---
Details As You Wish
Title
As You Wish
ISBN

9781492642312

Author

Chelsea Sedoti

Release Date
Jan 2nd, 2018
Publisher

Sourcebooks Fire

Genre

Young Adult

,

Fantasy

Rating
Reviews As You Wish
Hmm, I am an unfortunate non-fan of this, mostly due to it being narrated by an insufferable jerk. And there being a lack of Princess Bride references. I mean, look at that title??? Why was there not even one Westley reference??? I can feel my soul fading with disappointment.SO I did really really like the magical realism premise! It centres around this small town where everyone gets a wish on their 18th birthday. It's a HUGE secret from the outs...

As You Wish takes place in an idle and depressing small town called Madison on the outskirts of Las Vegas. It's buried deep in the Mojave Desert and its residents keep a magical secret which causes them to discourage visitors and newcomers to the town - not that anyone would want to enter that hot, dust, and tainted town anyhow. On the day of their eighteenth birthday each resident, upon having their wish formally approved by the towns mayor vi...

3.5 starsAs You Wish was a quick, fun read! I'm actually surprised by how much I enjoyed it. Everyone in Madison, Nevada gets one wish that comes true. That's an interesting premise and I was interested to see how this played out. On their eighteenth birthday, Mayor Fontaine walks the wishers to the wishing cave and it's quite a hike. You wish alone, although it wasn't always the rule. The rule changed due to an accidental wish. It was so...

Omigosh I literally hate this book so much. It's boring and slow and there is a HORRIBLE JERKISH MAIN CHARACTEr who wins the award for best jerk of 2k17. OKAY?I was literally DYING reading this book. And not in a good way. It took me over 2 WEEKS to read this! TWO WEEKs? The writing was so, so, SO DRY. and Boring. AND BLESS THE UNIVERSE THAT THIS BOOK IS OVER. I didn't DNF just because I DON'T DNF.And can we talk about the freaking protagonist, E...

I really love the premise and setting of this story. The idea of an off-the-map, small town that is hiding this magical, and at times dark, secret is absolutely fascinating. The characters in this story are in this unique situation of getting to wish for just one thing and being guaranteed that that one thing will actually come true. The crux of the situation though, is that the wish has to be made at age 18 and the wishers are forced to live wit...

Release date: 01.02.18DNF at 32% (Though I did skip to the final chapter to see how things ended.) Jesus Christ, this was the worst book I've tried to read in a long time. Maybe young adult fiction is not for me anymore? I don't know. This book is set in a small town in the desert, near Area 51. Nothing much goes on in said town, except for the occasional tourist on his or her way to find aliens. Oh, and everyone in town can make one wish that co...

I was alllll over this synopsis. I love the idea of a small town with a secret like wishes...sadly it was quite disappointing. Eldon was a hard character to like and I'm not sure I ever really did. He acts before he thinks and often his actions are harsh words and punching. There are some other characters who had promise, but Eldon doesn't let them get close enough to be helpful. Plot wise, it was sloooooooooow. I did like Eldon going around ...

"The sky is mostly dark now. Stars replace the sunset. Out in the desert, creatures creep out of their daytime hiding places. In the hills, the wish cave is dormant, waiting for the next birthday. Waiting to change someone's life." I really loved this story a lot, which was fantastic because I've heard some very mixed reviews. Specifically about how everyone hates Eldon, but I am happy to say that I really liked Eldon, and I really liked...

// Received an advance readers copy in exchange for a fair review // "Wishing made it a sure thing though.""But who wants a sure thing? Life is about gambles," well that felt like a really long read. . . this book !!!!!!!!it had such a unique plot, a unique world, and I am in love with the writing style of the whole book. The history narrations of some characters was a creative addition to this already wonderful story, it made everything much ea...

If you need your books to have loveable narrators and happy endings and justice being served and unicorns and picture perfect humans, then Chelsea Sedoti's books probably aren't for you.If, on the other hand, you love flawed narrators, cynicism, people who make mistakes, and storylines that leave you thinking about right and wrong for days, all tied up in absolutely brilliant narrative voice, then you need to read every book Chelsea Sedoti wr...