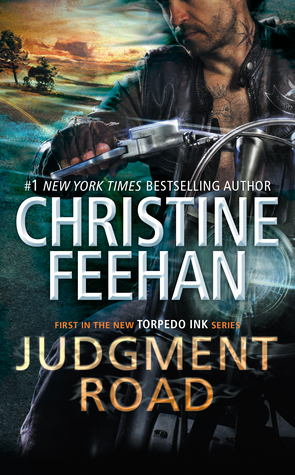 An outlaw motorcycle club sets up shop next door to Sea Haven in the dangerously sexy new series from #1 New York Times bestselling author Christine Feehan.As the enforcer of the Torpedo Ink motorcycle club, Reaper lives for riding and fighting. He's a stone-cold killer who turns his wrath on those who deserve it. Feelings are a weakness he can't afford--until a gorgeous bartender gets under his skin...Near Sea Haven, the small town of Caspar has...
---
Details Judgment Road (Torpedo Ink #1)
Title
Judgment Road (Torpedo Ink #1)
ISBN

9780349416724

Author

Christine Feehan

Release Date
Jan 30th, 2018
Publisher

Piatkus

Language

English

Genre

Romance

,

Fantasy

,

Paranormal

Rating
Reviews Judgment Road (Torpedo Ink #1)
***I received an ARC of this book in order to provide an honest review***3.5 stars - maybe 4?I had an interesting time with this book. For starters - I was in a mood. I started 7 books in a day (made it to 22% on one) and gave up on all of them until I started this one. Also, contemporaries, with their jangly writing, all tell and no show, and one-dimensional characters, make me itchy. However, I found something that I didn't know I was looking f...

I received an ARC of this book in exchange for an honest review.3 starsThoughts and PlotI'm settling for 3 stars on this book because while I enjoyed this book, there were a few places that I wasn't okay with what was going on and how it was resolved. I also wasn't rushing to finish this one. Sometimes I also felt like it was a never ending romance...and it totally leaves itself wide open for continuations with other club members. In fact, I thin...

"He needed the wind in his face and the devil at his back." Judgment Road was my introduction to author Chrisine Feehan. All I can say is... mind blown. I'm guessing she hasn't been on my radar because I don't read paranormal. But I am addicted to MC Romance so when I saw her latest cover with a biker on it she got my attention. So, I gave her a chance and it was the best decision ever. I can't even put into words how much I enjoyed this book, i...

I can't wait to read this book! Ever since I read Bound Together and was introduced to Reaper I have been wishing for his story.

Judgment Road is the first book in Christine Feehan's Torpedo Ink series. I have loved all of the books in the previous two series (Sisters of the Heart, which is a spinoff of the Drake sisters series) so I went into this one with high expectations. Ms. Feehan delivers on many levels, although something held me back from giving this one a five star rating.The men and women who make up the Torpedo Ink MC are the last men standing, so to speak. Sur...

This book some may find hard to read due to the subject matter and it is at times raw, gritty, in your face, and darkly sensual. I loved it !!!!!The members of Torpedo Ink have been together since childhood but a childhood that no child should ever have to suffer, has made them a family. They are finally free to have a life without living in the shadows, without looking over their shoulders at every turn, and now they are making their life in the...

Christine Feehan does it again with the beginning of this new spin-off series! Usually a spin-off of a spin-off does not work well, but I think the progression of these books is logical and fun to read. The original series was the Drake Sisters, which lead to the Sisters of the Heart. Both ended because there were only 7 sisters in the Drake family and 6 women on the farm in Sisters of the Heart. Plus, the Sisters of the Heart series involved all...