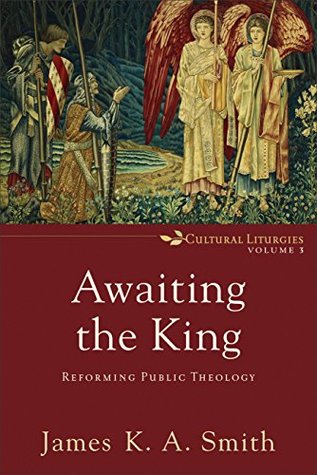 In this culmination of his widely read and highly acclaimed Cultural Liturgies project, James K. A. Smith examines the political through the lens of liturgy. What if, he asks, citizens are not only thinkers or believers but lovers? Smith explores how our analysis of political institutions would look different if we viewed them as incubators of love-shaping practices--not merely governing us but forming what we love. How would our political enga...
---
Details Awaiting the King
Reviews Awaiting the King
3.5/5.One of the dangers of challenging yourself to read 75 books in a year is that it can make you read too fast to appreciate a book. This is only exacerbated if your reading of the book is fragmentary and even WORSE if you are not reading it alongside someone else so you can digest and discuss the book together. I might be guilty of a "poor" reading of 'Awaiting the King: Reforming Public Theology,' as a result.This is the final volume in Jame...

A nice conclusion to a remarkable trilogy. While each volume seems to have to have it's own eclectic style and concerns, this seemed to me to be the most eclectic of the three. I began this trilogy now around 5 years ago and to finish it now I can see how it has shaped my thoughts on things like theological anthropology, and ecclesiological practice. This book strikes an interesting note as it touches on the intersection between ecclesial practic...

Summary: A theology of public (and not just political) life exploring both how public life is "liturgical" and the church "political" and the possibilities and limits on engagement in the life of the "city of Man" for those who identify their hope and citizenship with the "city of God."The 2016 election season in the U. S. underscored how vitally needed is a "public theology" among Christians in the U.S., both to shed light both on the outcome, a...

This is the book I've desired to read for about the past three to four years. Someone finally wrote it. (I was starting to worry I'd have to write it myself). Chapters one and two bolster the political nature of the church. Then chapters three through six work out the implications for Christian participation in earthly politics. Smith sketches what it might look like to do politics in a hopeful key, from a place of cruciform authority rather ...

One of the brilliant insights of Smith's book (and others in the trilogy) is that we are worshiping creatures whose hearts are formed and deformed by the million competing liturgies to which we are exposed. In the past, I've envisioned myself as keeping politics at arm's length. I had no use for its "liturgies." I've come to realize, more and more, not only the impossibility of such insular living but the abdication of my responsibility in doin...

Ever heard of a reviewer posting a disclaimer at the start of their review?After reading James K.A. Smith's AWAITING THE KING (the third volume in his Cultural Liturgies series) I feel obligated.First, I'm not a theologian. Second, I'm not from academia. Third, I'm pretty sure I'm not within the target audience that Professor Smith had in mind when he began his ambitious project.What motivated me to read King's volume is a deep intere...

In James K.A. Smith's 3-volume series "Cultural Liturgies," he has argued that all human beings (not just the religious) are religious. All humans have a notion of the "good life" and engage in "worship" and "liturgical practices" to get to that telos. Though the Reformation and Enlightenment taught that we are creatures of reason, we are actually creatures of desire. Since we are creatures of desire, our own desires are shaped and molded by syst...

Preachers are often cautioned to steer clear of politics, and yet the biblical story is very political. Jesus himself was executed as political figure. The Romans didn't care about intricacies of Jewish theology, but they did pay attention to claims of being a king. So, Pilate had him executed. The prophets of Israel often stepped on the toes of the political establishment. So it goes. Politics and religion have long been connected, even if the r...

Smith is a scholar for whom I have great respect. I have not had the chance to read the first two volumes of the Cultural Liturgies series, but I am planning on it. "Awaiting the King" is a volume that can stand on its own, especially if you have read some of Smith's other work. "You Are What You Love" remains one of my favorite books, and serves as a nice appetizer for "Awaiting the King." In this newest volume, Smith examines the idea of publi...

I've been slowly making my way through this one as I've had the chance this semester. While I'm not completely on board with James K.A. Smith's overall project, this might be my favorite book of his. It is a engaging, entertaining, and yet deeply philosophical read and timely given cultural/political climate at large. Worth a read if you are theologically or politically minded...especially so if you are both. "Central to a Christian political pos...

I love Smith, and I loved this book. I wrestle with so many of the things that Smith talks about in this book, related to politics, political action, the role of faith, cynicism, doubt, skepticism and hope. I think chapters 3 and 4 provided some tough sledding through O'Donovan and his thought, but I think the work was worth it. Chapters 1, 2 and 6 were money all the way through. An important book!

There were a lot of good ideas in Awaiting the King but Smith's writing style was overly academic and opaque. In that sense it was a missed opportunity; a more accessible version of his cultural liturgy series could be a very relevant book (or books) to American Christians.

In this final installment of the heralded Cultural Liturgies trilogy, James K.A. Smith invites us to reexamine the way we approach politics – and, even more, the ways politics "disciple" us. Continuing his ongoing engagement with Augustine, Smith argues that we are liturgical creatures, shaped for better and worse by rites both within and outside the church. For those of us who are persuaded of "the good of politics" but recognize all the ways ...

In a world where the Christian theologians, pastors, and laymen routinely communicate co-opted political stances, where televangelists preach the "gospel" of the Religious Right or where T.V. pastors preach the "gospel" of the Christian Left, and, yet, where Christian engagement in "politics" is often reticent, fraught with overcomplexities, and, in the end, discarded, James K.A. Smith's final entry in his Cultural Liturgies project is a breath o...

It's hard to put into a short summary the depth and breadth of what Smith covers in this book. First, the reader should understand that this is the final in a trilogy of books (Cultural Liturgies) by Smith which advocate and engage liturgical theology. If you haven't read either Desiring the Kingdom or Imagining the Kingdom then some key points of his arguments or chapters may seem to lack a foundation (or justification) which was established in ...

I was worried I'd feel like I'm coming in in the middle of a conversation. I haven't read the preceding books in Smith's Cultural Liturgies series. I'm also not as steeped in Kuyper or Augustine as the ideal reader would be, and I'm totally unfamiliar with Oliver O'Donovan, the key figure in this work. Even so, it's easy enough to get up to speed, and there's plenty to reward the work in this book.The answers to the various issues raised in this ...

As always, Smith is a master of clear and engaging prose on issues that matter. I appreciate his intuitions and his bringing figures like O'Donovan or Willie Jennings to a broader audience. I have two worries with the book.First, one can come away with the sense that humans are passive, liturgy/habits are active, and that we're just shaped by the things we do without being aware. I think this is half right: the habits we practice certainly form u...

While I have thoroughly enjoyed reading Smith's books in cultural liturgies project, and was waiting for this book for a while; I couldn't help but leave the book disappointed. After Smith talks about the "Godfather problem" and how we can be deformed through liturgy while still attending the church I believed he has missed the point of his own project. From my reading of his book he relegates all "worship" to what happens within the ...

In the third volume of his Cultural Liturgies project, Smith unwraps what it looks like for the Church to be the City of God in the midst of a fallen world. Instead of quietist despair or triumphalist action, Smith tries to convey a posture of striving for the good of society while also bearing in mind that the world's days are numbered and Christ the King is coming. Jesus is the only one who brings the Kingdom, and we eagerly await him. I think ...

The much anticipated conclusion to Smith's cultural-liturgical formation trilogy. This time Smith focuses on political theology, with an eye toward an Augustinian critique of his own Kuyperian theological tradition. The book mainly asks (and allows Augustine to answer) a series of questions of his Calvinist (and neo-Calvinist) compatriots...- Is something lost in our tenacious emphasis on the goodness of creation?- Do we perhaps protest a bit too...

Extremely helpful after the 2016 election.Key insights:Modern people have a naive understanding of institutions, namely, that the individual changes the insitution. The relationship between individual and insitution is actually two-way; the individual changes the institution, and the institution changes the individual. Individuals who walk into an insitution thinking they will change it usually wind up culturally assimilated.How do Christians par...

This book surprised me, and that doesn't happen often. From the critique of his own Kuyperian tradition's unintentional "naturalizing of Shalom" to his humbling and, to be honest, painful recalling of the work of Willie James Jennings and others in the capitulation of the church to the pressures of modernism and its capitalistic tendencies in the slave, Awaiting The King is both constructive and critical of the political ambitions and use today. ...

Well, some books really strain your brain and this one did that! But, what a master-piece of theological and practical writing. James K Smith challenges us to remember we belong to the city of God but live in the saeculum, in the city of man and have a duty to engage in the polis. Wish I had been able to read this when I dabbled in politics 20 years ago, it may have helped us do a much better job.Also a call to the church to shape her people for ...

A timely proposal for Christian engagement with the political realm. Smith engages with Oliver O'Donovan and Peter Leithart, as well as the Dutch Reformed tradition, to suggest an modified Augustinian paradigm marked chiefly by hope and patience, formed and shaped by the church's worship. I especially appreciated Smith addressing what he calls the church's "Godfather problem" (i.e. "How can we say the church's worship is formative when there are ...

The final volume of Smith's 'Cultural Liturgies' 3-volume series addresses the public application of the liturgical theories outlined in the previous two volumes.Smith addresses democracy, the role of the church in the public sphere, liberalism, pluralism, and the notion of a 'redeemed Christendom.'Throughout, he weaves interactions with literature to help make his points. I've already added to my reading list simply through enjoying these sideba...

An interesting read, but I think he depends a little too much on the main theologians that he uses in this book. Also, he has had a kind of "conversion" away from a Hauerwasian ecclesiology. It is made clear here, but I think the relation with Hauerwas could be made a little more precise. What exactly is it that he is now critical against? It is not as if he doesn't point this out (new constantinianism, isolationism are out), but it could be clea...

The best one of the series. More Reformed, more conservative, and more helpful than was expecting. There are some problems, which I will unpack elsehwere, not least the 'church-as-polis' thing. But more later.

Mixed thoughts about this third entry in the Cultural Liturgies series. One the one hand the book makes good strong arguments for liturgical practice as political theology. On the other, many chapters are detailed reviews of other scholar's arguments that got a little tiresome.

Smith advocates a political engagement that defies the traditional means we've seen it done in the past and what the modern evangelical movement has often fallen into, but one that promotes the kingdom of Heaven.