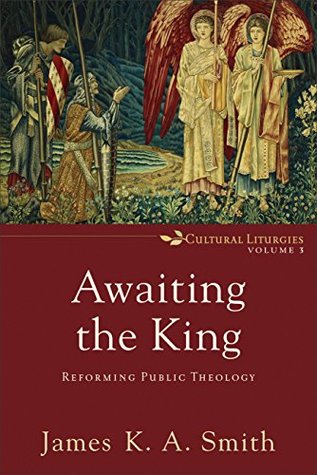 In this culmination of his widely read and highly acclaimed Cultural Liturgies project, James K. A. Smith examines the political through the lens of liturgy. What if, he asks, citizens are not only thinkers or believers but lovers? Smith explores how our analysis of political institutions would look different if we viewed them as incubators of love-shaping practices--not merely governing us but forming what we love. How would our political enga...
---
Details Awaiting the King
Reviews Awaiting the King
One of the brilliant insights of Smith's book (and others in the trilogy) is that we are worshiping creatures whose hearts are formed and deformed by the million competing liturgies to which we are exposed. In the past, I've envisioned myself as keeping politics at arm's length. I had no use for its "liturgies." I've come to realize, more and more, not only the impossibility of such insular living but the abdication of my responsibility in doin...

Smith is a scholar for whom I have great respect. I have not had the chance to read the first two volumes of the Cultural Liturgies series, but I am planning on it. "Awaiting the King" is a volume that can stand on its own, especially if you have read some of Smith's other work. "You Are What You Love" remains one of my favorite books, and serves as a nice appetizer for "Awaiting the King." In this newest volume, Smith examines the idea of publi...

I was worried I'd feel like I'm coming in in the middle of a conversation. I haven't read the preceding books in Smith's Cultural Liturgies series. I'm also not as steeped in Kuyper or Augustine as the ideal reader would be, and I'm totally unfamiliar with Oliver O'Donovan, the key figure in this work. Even so, it's easy enough to get up to speed, and there's plenty to reward the work in this book.The answers to the various issues raised in this ...

In this final installment of the heralded Cultural Liturgies trilogy, James K.A. Smith invites us to reexamine the way we approach politics – and, even more, the ways politics "disciple" us. Continuing his ongoing engagement with Augustine, Smith argues that we are liturgical creatures, shaped for better and worse by rites both within and outside the church. For those of us who are persuaded of "the good of politics" but recognize all the ways ...