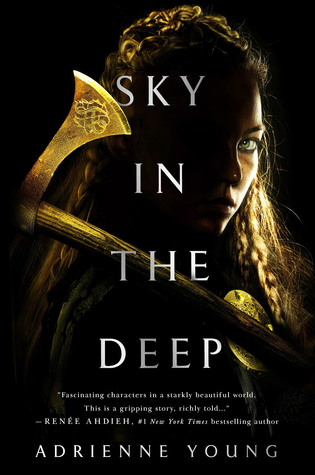 Seventeen-year-old Eelyn's world is war. Raised to fight alongside her Aska clansmen in a generations-old blood feud against the Riki, her life is brutal but simple: fight and survive. Until the day she sees the impossible on the battlefield—her brother, fighting with the enemy—the brother she watched die five years ago. Faced with her brother's betrayal, she must survive the winter in the mountains with the Riki if she wants to make it bac...
---
Details Sky in the Deep
Title
Sky in the Deep
ISBN

9781250168450

Author

Adrienne Young

Release Date
Apr 24th, 2018
Publisher

Wednesday Books

Language

English

Genre

Fantasy

,

Young Adult

Rating
Reviews Sky in the Deep
Is this really a stand alone? Because I'm so thrilled after the ending! Also, can the whole ax thing was freaking awesome, and there was some awesomely brutal scenes. There was family love, friendship, and romance mixed in. And I really want viking hair as of now!!

To set the stage of how AMAZING this book is let me start by saying, I'm DEEP in the SJTR book three drafting cave, and I DEVOURED this masterpiece basically in one night. THE SKY IN THE DEEP is INCREDIBLE and I cannot recommend that you add it to your TBRs enough. DEFINITELY going to add a more official blurb soon.

I'm not even sure where to start with this book… It was such an incredible read.First can we talk about how amazing it is to read a fantasy book that isn't 15 books long? This, my friends, is a stand-alone fantasy. That said, I would NOT be against seeing an outtake from the future for these characters. (Adrienne you can send that right to my email if you like!)This book is YA Vikings. It is brutal.It is violent.It is unflinching.And I love...

Stellar fantasy debut. Gorgeous and tight writing. Nuanced looks at friendship and family. A lovely and achy romance. It's short and I am loving short or standalone fantasy. Praise the YA fantasy gods.I feel like I cried for the last fifth of this book PURELY because of Young's writing.

Oh, this book.It's the kind of book you read slowly because you don't want it to end. From the very first page, the reader is pulled into a world of brutality and loyalty and honor. There is a sense of heart-pounding urgency that pulls you in and doesn't let go. Eelyn is fierce and determined and clever. This poor girl takes a beating in the first few chapters yet still manages to be a total badass. If you're looking for a victim, look elsewhere...