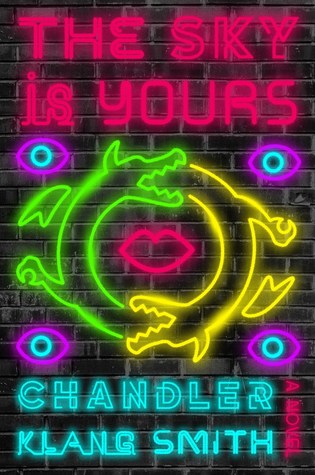 A sprawling, genre-defying epic set in a dystopian metropolis plagued by dragons, this debut about what it's like to be young in a very old world is pure storytelling pleasureIn the burned-out, futuristic city of Empire Island, three young people navigate a crumbling metropolis constantly under threat from a pair of dragons that circle the skies. When violence strikes, reality star Duncan Humphrey Ripple V, the spoiled scion of the metropolisâ€...
---
Reviews The Sky Is Yours
Wow! This is a very bold, fresh, hilarious, sad and smart combination of literary satire and apocalyptic Scifi. It manages to combine elements of a futuristic Austenesque marriage plot with a Vonnegut/Saunders style blackly humorous take on virtual reality TV celebrity culture, and a strange decaying city a la Philip K. Dick novelizing Escape From New York. And Dragons! Should be great for fans of Jonathan Lethem's Chronic City, Kirsten Bakis' Li...

Delightfully weird and incredibly unique, The Sky is Yours tells the story of three teens, Swanny, Ripple, and Abby, who are navigating a twisted, broken, burning world. Empire City has been under siege from a pair of dragons that circle the sky and light fires on a whim, but that's not the only threat. The city is also home to an underbelly of danger where kingpin Sharkey and his gangs bring violence, drugs, murder, and every kind of horror im...

I was thrilled to get a sneak peek at this novel thanks to an ARC from Penguin Random House! All the promise that Chandler Klang Smith showed in GOLDENLAND PAST DARK is both confirmed and built upon impressively in THE SKY IS YOURS, an epic adventure tale set in a richly imagined world that has gone on way past its expiration date. The alternate near-future of Empire Island comes to life in astonishing detail through Smith's colorful, expert pros...

I....still don't know what I read or whether I liked it. It didn't seem to have a point? I have to think on this one. I will say that the characterizations were interesting. Definitely fully fleshed out, but not all that easy to root for since they were kinda dickish, but I still enjoyed reading their stories. But the plot, of which there really wasn't much of one, just seemed to kind of meander without much of an end goal. This book is being com...

The Sky Is Yours is crazily creative and kept me intrigued from beginning to end.I really just loved everything about it from the quirky and interesting characters to the authors wonderfully inventive story telling abilities. It's one of those books you get hooked on and are sad when it comes to an end. The story starts off strange and only gets stranger as you read on. Duncan Ripple, a reality TV star, Baroness Swann Lenore Dahlberg- his betroth...

Fantastic. A rare, strange thing reminiscent of Elizabeth Hand's Winterlong series. It's a very difficult thing to capture the weirdness of the future, the strangeness of what's to come, but Smith does a bang-up job with this cinematic, technicolor joy of a book. She very adeptly mixes the darkness of dystopia with the beauty of human emotion and redemption, and she crafts characters that are believably broken and yet still capable of becoming mo...

Really 4.5 - this book is one of those wildly inventive, delightfully overstuffed kind of novels, where you could reasonably have pulled three or four books out of its contents if you'd wanted to. But why? Why do that when the thing we got was so fun? This book is FUN, it is strange, it is a delight. Give over to it, allow yourself the weariness that sometimes come from its pacing/overfulness, and enjoy.

Disclaimer: I received an ARC through Netgalley in exchange for an honest reviewThis book was deeply weird, but somehow I still found myself enjoying it. It reminded me a little bit of a more approachable version of Infinite Jest.None of the characters are really... likeable... but at the same time, you keep reading. Schadenfreude? It doesn't matter that you don't like them, or that they're absurd (they are. I kept imagining the Ripples as the Tr...

301970 AF. Empire Island metropolis is in horrible ruins. PPL still do exist though. It is a dog/dog environment. A Yellow & Green Dragon, who have been around forever rule the sky & set fire to various parts of the city to let citizens know who still is partially in charge in the world. They especially love the prison. Duncan Humphrey Ripple V (son, heir) has a pimped-out HowFly vehicle built by DJ S-Carggo. The wealthy elite's slogan is "Th...

Genre bending novels used to be my thing — after all, before finding out that he was a total arse, I used to love Jonathan Lethem's early novels. So when a book that describes itself as a cross between Blade Runner and Super Sad True Love Story comes along, I had to jump at the chance to read it. That novel is Chandler Klang Smith's The Sky Is Yours, and, boy, does it bend genres. It is equal parts science fiction and fantasy, blended w...