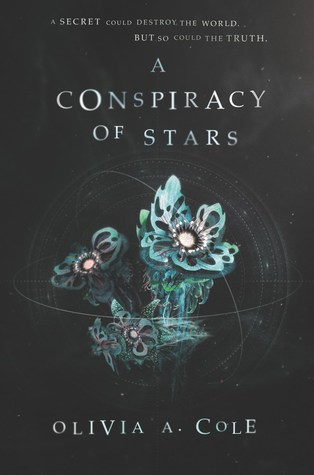 Octavia has only ever had one goal: to follow in the footsteps of her parents and become a prestigious whitecoat, one of the scientists who study the natural wonders of Faloiv. The secrets of the jungle's exotic plants and animals are protected fiercely in the labs by the Council of N'Terra, so when the rules suddenly change, allowing students inside, Octavia should be overjoyed.But something isn't right. The newly elected leader of the Cou...
---
Details A Conspiracy of Stars (Untitled Duology #1)
Title
A Conspiracy of Stars (Untitled Duology #1)
ISBN

9780062644213

Author

Olivia A. Cole

Release Date
Jan 2nd, 2018
Publisher

Katherine Tegen Books

Genre

Young Adult

,

Science Fiction

,

Fantasy

Rating
Reviews A Conspiracy of Stars (Untitled Duology #1)
Is this how humans got ourselves into this mess? By believing that we have as much right to this planet as the Faloii? Do we think we own the galaxy? 3 1/2 stars. I really think that love for certain books can depend on the time when you read them. There would probably be times when A Conspiracy of Stars would be too slow-moving for me. Because, honestly, it is a very slow climb; a gradually painted picture of a fascinating concept, with later ch...

I have a love/hate relationship with the classic slow build. Mainly because I usually get too bored. But there are the cases where the slowness pays off in an explosive way. That ends up being the case here. Especially in the last chapter. So this is worth the read. However..suffering through that slowness was a bit of a pain until the world we were in came to life. I get it, though. If this didn't come together in a slower way, the world-buildin...

(I received an advance copy of this book for free. Thanks to HarperCollins and Edelweiss.)This was a YA sci-fi story, set on another planet.I liked Octavia, and I liked how she kept searching for the truth even when things got hard. I also liked her friends Rondo and Alma, and I liked how they helped her even when she sounded a bit crazy.The storyline in this was about Octavia finding that things were not as they seemed on the planet where she li...

I think that this is my favorite book I've read this year.Admittedly, it's the only book I've read so far this year, but no matter. For being the first book I read in 2018, this has set the bar fairly high.  And to think that I felt a bit hesitant when picking this book up after seeing some low rated reviews. But then I realized that the problem was less about the story and more about personal preferences.The main problem with this book is that...

Everything about this book - the characters, plot and mystery - are all very well thought out and carefully constructed. I was definitely compelled to read and continue unraveling the secrets of Faloiv (

"But home isn't just a memory, I've decided: it's knowledge, knowing where you belong and where you fit in." This was a solid sci-fi story that combined all the things I want to see in my science fiction reads: compelling research, characters I connect with, and an intriguing mystery. A Conspiracy of Stars follows aspiring scientist Octavia, who's desperate to follow in the steps of her parents and discover the secrets of Faloiv. But...

Here there be monsters. A Conspiracy Of Stars is a truly imaginative novel. Beautifully crafted, this book draws the reader into another world, or rather planet, that is entirely different from our own. Yet is seems that the troubles of humanity follow, no matter how exotic the location.Octavia's dream is to become a whitecoat like her mother and father, eminent scientists who study the diverse animals and plants of Faloiv. When she and her fello...

See my full review and much more on my blog KissinBlueKaren A CONSPIRACY OF STARS takes place on a distant planet called Faloiv. Octavia's grandparents and other scientists have crash landed on. The big job on this planet is to become a 'whitecoat' scientist, studying the animals of Faloiv. Everything changes when Olivia witnesses a native Falvoii being attacked and captured by the scientists in the council of N'Terra. With a little help...

You can find the full review and all the fancy and/or randomness that accompanies it at It Starts at Midnight Oh yay, my mind has the mixed feelings again! Let's get right to it with yet another list, hmm?The Things I Liked: It's on another planet and that is always awesome. I mean, who doesn't want to go venture to literal worlds unknown!? And I love when a planet harbors secrets, and this one totally does. Especially in relation to the Faloii ...