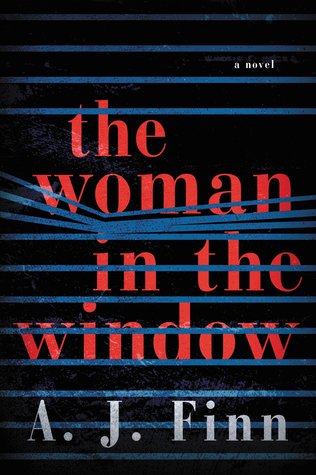 What did she see?It's been ten long months since Anna Fox last left her home. Ten months during which she has haunted the rooms of her old New York house like a ghost, lost in her memories, too terrified to step outside.Anna's lifeline to the real world is her window, where she sits day after day, watching her neighbours. When the Russells move in, Anna is instantly drawn to them. A picture-perfect family of three, they are an echo of the lif...
---
Details The Woman in the Window
Reviews The Woman in the Window
NO SPOILERSThis is a solid 4 Stars for me. It's been awhile since I've read a psychological suspense thriller —-a surprise gift in the mail. My copy says a film is already in the making. I can definitely see this novel as a movie. It should be good! The book is good. There are a few other reviews about the plot already ....so I'm going to simply list some random thoughts about my experience reading it. ....I enjoyed the premises of this s...

4.5*"Agoraphobia is an intense fear and anxiety of being in places where it is hard to escape, or where help might not be available. Agoraphobia usually involves fear of crowds, bridges, or of being outside alone." -NIHFor the past 10 months Anna has been trapped inside the four walls she calls home. She can't bring herself to take a single step outside. No grocery shopping, no walks through the park, not even to pick a package from the front s...

3.5 Anna Fox, now living alone in her three story brownstone, well alone that is except for Daniel, her basement tenant. Her husband and daughter, are elsewhere, though she talks to them daily. A trauma in her near past, has left her an agrophobic, subsisting on items from the internet that can be delivered. Her main activities were watching Black and White movies from old, and peering into the lives of her neighbors. It is while peering through ...

so, add my name onto the long list of superheroes who are conflicted about their powers, moaning about how alienating it is to have superhuman abilities, how it is truly more curse than boon. because i have emerged from two weeks of debilitating illness physically enfeebled, but with a new power, like john smith in The Dead Zone - i can now call all of the twists. not one or two, but all. of. the. twists.and this does not please me, or make me fe...

3.5 starsThis was a highly suspenseful, anxiety-filled, page-turning wild ride! The main character, Anna Fox, suffers from agoraphobia (hers is a fear of being outside). She can't leave her home and finds herself obsessed with the "hobby" of keeping tabs on her neighbours by watching them through the many windows in her large house.I liked Anna, but found that after the halfway mark, her paranoia and constant coping mechanisms started to ge...

In a nut shell... I wasn't that impressed with this debut.Dr. Anna Fox lives in her townhome in New York struggling with agoraphobia. She has taken on some unique activities to help pass the time.... drowning herself with Merlot with a mix of pills, watching her neighbors, playing chess, and an obsession with her black and white movies. In between Anna's struggles with her agoraphobia she talks to her daughter and ex-husband frequently. One day A...

Who's that woman in the window?Dr. Anna Fox has spent the past 10 months inside her NY home. Her home is her safe place and she is too afraid to venture outside her door. She entertains herself daily with the following activities:-downing bottles of Merlot and popping pills prescribed by her physician-following the lives of her neighbors through the lens of her camera-playing online chess -watching black and white films from her large collection ...

3.25 Stars* (rounded down).Anna Fox is home bound. She hasn't left her home in almost a year. She has groceries delivered and keeps all the windows closed. She watches old black and white movies, takes anti-depressants and mixes them with alcohol, lots of alcohol - which her doctor has strongly advised against. Besides watching old movies, her only other source of entertainment is watching what goes on outside of her windows. Sneaking peaks of ...

It isn't paranoia if it's really happening... The Woman in the Window is intoxicating, dark, and simply unputdownable. AJ Finn's debut novel is placed in current day, gentrified Harlem, New York City, where Dr. Anna Fox spends her day in her five-story townhouse drinking Merlot, spying on her neighbors, and mixing pills to numb her thoughts. She has theories and pseudo-storylines for her neighbors, each one being unique and different in their o...

I loved it! This book has restored my faith in psychological thrillers and was a solid 5 star reading experience. It's well-written, perfectly plotted, and riveting. I had trouble putting it down and became annoyed when life interrupted my reading – it didn't feel like >400 pages and I could have happily read it cover to cover in one sitting. Anna is a 38 year-old child psychologist with agoraphobia, who hasn't left her home for over a year...

Traveling Sisters Read by Brenda and Norma with Holly, Kaceey, Susanne, Lindsay, Jan, Kendall, and Diane We read The Woman In The Window with seven of our Traveling Sisters and we were split again into two different coulees. Some of us really enjoyed this one and were in the deep-rooted end of the rapturous murky coulee and the rest of the sisters lost in the craters of the dry coulee looking for water and a way out.THE WOMAN IN THE WINDOW by A. ...

Traveling Sisters Read by Brenda and Norma with Holly, Kaceey, Susanne, Lindsay, Jan, Kendall, and DianeI really enjoyed the premise of this book and found the agoraphobia aspect of this novel quite fascinating. Even though this book was a little lengthy it read really fast for me because of the short chapters and I was really intrigued by the woman in the window. I did end up in the craters of the dry coulee though as there were a few aspects of...

If you are looking for a gripping book that will capture your attention and keep you turning pages late into the night, The Woman in the Window is for you! It's been noted the story is similar to The Girl on the Train; that's true, but I found this story much more exciting and engaging.Every part of this novel was just amazing. Anna was such a multi-faceted character. After leading a fairly "normal" life, she had undergone a series of tragedies i...

About: The Woman in the Window is a psychological thriller written by A. J. Finn. It will be published on 1/2/2018 by William Morrow, an imprint of HarperCollins, 448 pages. The genres are mystery/thriller, fiction, and suspense.My Experience: I started reading The Woman in the Window on 10/11/17 and finished it on 10/19/17. This book taught me a new phobia people may have. This phobia is interesting. . This book has short chapters and some chapt...

When this comes out in January 2018, get a copy and clear the decks. It's a barn burner and reads like a house afire. Definitely one of the best psychological suspense novels I've read in quite a while.Update: Since GONE GIRL was published, a torrent of psychological suspense novels have emerged, including THE GIRL ON THE TRAIN. And it is pretty much a given that any new novel in this genre will be compared to these two titles. Until January 2018...

One of the joys of being a reader is the fact that there are always new authors to discover. It is hard to believe that, "The Woman in the Window," is a debut, as it is so assured and well written. Best of all, it is a really good story, which kept me gripped all the way through. Dr Anna Fox is a psychologist, who lives alone in New York. An agoraphobic, Anna feels isolated and fills her days with giving advice online to those also suffering ...

Anna Fox is an agoraphobic former psychologist who spends her time spying on her neighbors, playing online chess, and watching black and white movies. She lives alone, drinking copious amounts of wine and living in the past. She becomes especially intrigued when a new family, the Russells, move in a house across from hers--husband, Alistair; wife, Jane; and teenage son, Ethan. But then one evening Anna witnesses a shocking event at the Russell ho...

The Woman in the Window owes much to Hitchcock, Rear Window, and the recent slew of domestic psychological thrillers like The Girl on the Train, and to A.J. Finn's credit, his protagonist Dr. Anna Fox is a huge classic film enthusiast, which allows the author to nod to the novel's influences while adding to the mood. The meta spin to utilize these influences in the novel's construction and in the plot and personality elements works quite well, an...

FULL REVIEW WILL BE ON JANUARY 2, 2018."THE WOMAN IN THE WINDOW kept my interest, but it wasn't edge-of-your-seat or gripping until the last half of the book. The ending had enough gripping action to make up for the slow start. I think the oddity of Anna and her situation kept things going in the first half of the book along with the wondering about the reason for the separation from her family. All in all, if you can get past the beginning, yo...

*5++ Goodreads Stars** "Watching is like nature photography: You don't interfere with the wildlife.""It's not as though I'll see his hands rinsed in blood. He won't knock on my door and confess. But I can watch." What if you saw a crime only to be told it didn't happen? Could you accept others' renditions of the event? Would you be able to let your memory fade, or would you pursue your version of the truth no matter how danger...

Dr. Anna Fox suffers from agoraphobia and hasn't left her house in almost a year. She kills time by watching old black and white movies, playing online chess, drowning herself with alcohol and pills and spying on her neighbors with her Nikon camera. One day she witnesses an attack in her neighbor's house but nobody believes her and Anna starts believing she is either hallucinating or losing her mind.This book started a little slow for me with...

I read this cover to cover yesterday in a big gulp of a read. Clever, absorbing, noir psychological drama with a fascinating main character and a beautifully constructed plot that holds you enthralled.One to watch next year without a doubt at which point I shall surely be talking more about it.

Right in the midst of things, it starts. In media res, it's called, as Dr. Anna Fox, a psychologist, is peering through her camera at the neighbors in 212, stuck in her agoraphobic world in her $3,000,000 house. We know that she talks to her almost-ex-husband, Ed, and young daughter, Olivia, on the phone pretty frequently, and she shares her voyeuristic adventures. She also plays chess online and is part of a forum to help other agoraphobics. S...

I always approach this type of book with one eyebrow raised but this made me raise both eyebrows in astonishment. This will be the best psychological thriller that you will read in 2018!

** Possible mild spoilers **Yet another super-hyped 'psychological thriller' which seems to think readers are innocents new to the genre... it's starting to feel like each new author just selects from a pack of established set pieces and gives them a bit of a shake hoping for something original. Here we have the traumatised, agoraphobic woman on a self-destructive binge of booze and pills keeping watch over her new neighbours and spotting a murde...

Best thriller I've read in years. A page turning delight, filled with a plot based on every movie you've and the main character have ever seen. Well constructed dialog and an appealing if damaged main character. Be ready, I think this is going to be a big one, though why it's coming out in January I'll never be able to tell you. They should have popped it out in November or waited until next May when people would be more likely to pick up somethi...

I enjoy a good thriller and this one was brilliant. It didn't grab me at first and thought I might give up on it as the start was very slow but I persevered and so glad I did. I became totally hooked quarter way in and then each page had me tearing through to the end as the tension intensified with every chapter. I was on the edge of my seat until the final heart pounding moment was revealed and wow, what a conclusion! I won this uncorrected pr...

I received ARC at BEA. It's a very well crafted psychological thriller. And, it's very addictive.I started reading the book at 1 pm and finished reading before I went to bed. I got into Anna's psyche so much that I had to fight against my urge to drink Merlot and watch a film noir. My Japanese review: https://youshofanclub.com/2017/06/13/...