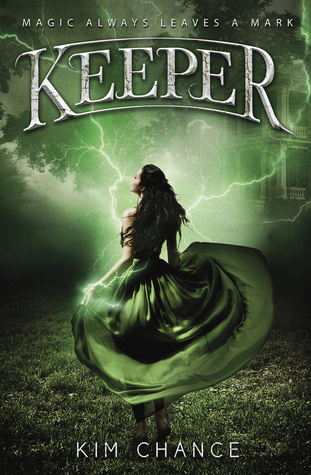 When a 200-year-old witch attacks her, sixteen-year-old bookworm Lainey Styles is determined to find a logical explanation. Even with the impossible staring her in the face, Lainey refuses to believe it—until she finds a photograph linking the witch to her dead mother.After consulting a psychic, Lainey discovers that she, like her mother, is a Keeper: a witch with the exclusive ability to unlock and wield the Grimoire, a dangerous but powerful ...
---
Details Keeper
Title
Keeper
ISBN

9781635830125

Author

Kim Chance

Release Date
Jan 30th, 2018
Publisher

Flux Books/North Star Editions

Language

English

Genre

Fantasy

,

Young Adult

,

Paranormal

Rating
Reviews Keeper
Holy guacamole - those ending plot twists! This was a fun book - and wow that last 30% was a wild ride! But before I get into all that, I just wanted to give a shoutout to the author! First of all, thank you, Kim, for the opportunity to read the ARC! For those of you who don't know, Kim has a writing channel on youtube full of awesome writing & craft advice - and I highly recommend checking it out of you're an aspiring author! Click here to visit...

I'm a little bit disappointed. I thought this would be an amazing-book-explosion💥, but it was just a spark✨. Maybe I'm too old for this book. 🤷🏻♀"You're a witch, Lainey." 🧙🏻♀ (did this line really appear in this book? 🤷🏻♀😉)Story ⭐⭐⭐Being rescued by a hot guy in a comic shop? Really cool. 😍Being attacked by a girl covered in blood looking like yourself? Not cool. Absolutely not cool.😱Changing t...

KEEPER will officially be out in the world on January 30th, 2018! I am so beyond excited to share this book with all of you! I hope you enjoy reading it as much as I enjoyed writing it! Lainey, Maggie, and Ty are so near and dear to my heart and may they be as good a friend to you as they always are to me!Happy Reading and remember...Magic always leaves a mark!

Thanks to netgalley for providing me with this arc Am actually suprised but I thoroughly enjoyed this book. It was a fascinating and intriguing read, despite the fact that there's nothing specifically special about this book.There were lots of tropes used by the author that is usually found in other YA books/ movies such as;A. Her not knowing she had powersB. Her parents are deadC. She's a bookwormD. The fact that she got her powers at seventeen(...

WrensReads Review:This reminds me a lot of Cassandra Clare's first books. The story is very interesting and something that is unique and will draw you in, but the writing is young and the characters are a little weak. Her writing was aimed for young adults but the way it was written seemed to be towards a younger audience. With that said, I have high hopes for Kim Chance because Cassandra Clare has become such an amazing author and weaver of st...

ARC received in exchange for an honest review from NetGalley.Actual rating: 4.5While I found the blurb interesting enough to request an ARC I didn't expect to enjoy Keeper as much as I did. Generally I find it hard to connect with young adult characters (I guess I'm too old for it) so what I really wanted was to see how the story would be told. What I got instead was a set of very likeable and surprisingly relatable characters. Lainey reminds me ...

I received this Arc from Net Galley in exchange for an honest review.'Magic always leaves a mark' A witch, a street fighter, a comic book loving best friend, and a Lord Voldemort like Villian, YESSS! As soon as I read the synopsis for Keeper, I knew I had to request it right away and thankfully I got approved for it. Although this novel won't be released until 30th Jan 2018, I'm glad I got a chance to review it for you guys. Being Kim Chance's d...

I devoured Keeper in one sitting, letting go of any reservation that this was a paranormal story which was mostly what I read in 201, and instead of thinking 'oh no, this is exactly like this book' I let myself be transported to when I first discovered YA and read romances like 'Hush, Hush', 'Fallen' and 'Beautiful Creatures.' Keeper is a nostalgic YA mash-up. It feels a little odd to be reading it in 2017 because my reading tastes have change...

3.5 stars I received an ARC from netgalley in exchange of an honest review This was actually pretty good.I mean I went into this with EXTREMELY low expectations, but it was actually really good???I am glad I requested this book tbh.I'm glad I gave Kim Chanceachance. I'm sorry I'll show myself out now I honestly don't even know how to write this review without any spoilers lmao.Now. Firstly.That synopsis does not do this book any justice...