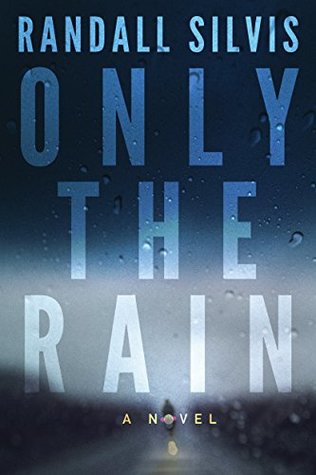 When family man and war veteran Russell loses his job as a quarry worker, his life suddenly seems more like a waking nightmare than a chance to finally live the American dream. Facing bills, a new baby, and a bone-dry bank account, he's got nothing left to lose. Russell comes to the rescue of a naked stranger dancing in the rain, and what was supposed to be a straightforward good deed turns into a spiral of danger. When Russell finds an enticin...
---
Details Only the Rain
Reviews Only the Rain
A kindle first pick for me and one in which I was very pleased. I have read his two DeMarco series books and also enjoyed both. A simple story, simply written as a modern day morality tale. A young man, husband, father of two young daughters, wife expecting another, loses his job. Feeling desperate, and though he is at heart a good man, a loving man, does something he comes to regret. Something with a terrible cost, something he needs to put righ...

I started off lost in the rainy, grassy lush coulee with three of my Traveling Sisters reading Only The Rain and this turned out to be quite the interesting read for me when we clearly were left lost in different coulees. Often in our sister reads we have different thoughts and views on the books we read and usually I can see both sides of the coulee however for this read I really struggled with my thoughts on this one. Through an email from our ...

When it rains, it pours!Captivating with a suspenseful pace that is simply spellbinding.  5 STARS!!This author's storytelling and characterization had me emotionally involved in this story.  I was experiencing feelings about what I might have done or how I may have acted or reacted to the various situations.  I found myself asking many questions about the dilemma that the main character Russell set in motion. It takes a special skill to be abl...

4.5 marvelously written starsThere are some books you read because they have gotten so much hype you just can't pass them up.There are some books you read because a friend, or a family member recommends them. Then there are books you read just for the beauty of the writing, the ease in which he author tells his or her story, the emotions that stir inside you are you turn the pages. Only the Rain is one of those books. It comes at you slowly, pull...

Diamond studded five gold stars.Very glad that I chose this book, Amazon First Read December novel.Russell is Iraq veteran, grandfather is Vietnam veteran and they know what other needs. Love, support and understanding of family. Russell writes everything about himself and what is going on to his sergeant, even the things he couldn't tell his wife. Touching, though provoking story. Rainy days will remind me this novel.

Even as I clicked the purchase button, I wondered if I had made an error. My cursor hovered over the "Cancel Order" link as I pondered if I really wanted to take a chance on another thriller that would probably turn out to be just another washed clean, milquetoast, unbelievable story that would never make sense in the real world.Fortunately, I never canceled the order and "Only the Rain" was a thriller on every level.Author Randall Silvis...

From the internationally acclaimed author and gifted storyteller, a master of complicated human souls— Randall Silvis bring readers his latest, ONLY THE RAIN —a gripping and emotional story of an ordinary man faced with a split second decision, leading to dire consequences. One which could change the course of his life and those near and dear to him. A short book (read in one sitting), A remarkable heart-rendering blending of literary, drama...

I swear, I'm only reading one chapter...Or the whole book at once. Same thing!...Except the trick's on me, there are no chapters. And reading this whole book in one sitting? Absolutely plausible. Had I not downloaded it before going to work, I absolutely would have read it in one breathless, barely blinking, madly swiping sitting. Russell is a war vet who tells the story in a series of emails to a friend of his from the military. It's an interest...

I was excited to have the opportunity to read an Advanced Reader Copy (ARC) of this book on NetGalley."Only the Rain" by Randall Silvis is the type of novel that rocks the reader to the core and keeps her turning pages all night long to find out what happens next. Silvis is a gifted storyteller. He breathes life into each of the characters, making them pop from the page. His beautiful prose shines, adding an elegance to the reading experience...

Seeing something traumatic changes our world – and it is no longer safe. We can't trust the systems and people we believed we should be able to trust. God – whether or not we are believers – may no longer be a benign and comforting force in the world.And, when we see ourselves as responsible for morally reprehensible actions – as often occurs with interpersonal trauma like rape or war – we may be unable to trust ourselves: "You can't ...

ONLY THE RAIN opens with a plot that at first feels disappointingly familiar. A conscientious family man panics when he learns he will be losing his job. How will he support his family? Then he stumbles on a cache of illicit money. He seizes his opportunity. However, this is a Randall Silvis novel, and readers already acquainted with him will not be misled. The plot evolves into a suspenseful, carefully paced narrative which functions as a vehicl...

A naked woman dancing in the rain half out of her mind. Shoebox after shoebox filled with money. An Iraq War veteran losing his job at the local plant with a family to feed and another child on the way. It's a story of temptation like Eve with the snake and the apple and what happens when a man in desperate straits - at the end of that string of luck - succumbs and what happens when guilt and fear consume him step after step. All the right ingred...

Quick, solid read This was a quicker read, and I actually think that was a strength of the book. If it was 300 pages I'm not sure I would have enjoyed this as much. Fortunately the story developed at a good pace which kept my interest.There will be a few moments you'll have to suspend your disbelief, but it provides good action to the story. This is an engaging tale of a man struggling with the results of choices he's made and how he works to mak...

An outstanding novel about a young husband/father, an Iraqi war veteran, who, on the day he loses his job, sees a woman on his way home who is dancing in the rain naked. She falls and he thinks she may be hurt. So what he does, despite the best of intentions, and the consequences he faces, are what make up this story, and it a good story, very suspenseful, but it is what he writes about war and the absurdity of it that I thought made the novel a ...

Good story but ...I kept having the feeling that this was being told to me by that one friend we all have that takes way too long to get to the point. Other than that it was a very good read.

This is the first introduction that I've had to this author. I'm now lining up more of his books to add to my TBR list. I'm giving this 4 stars. I found a bit of the plot to drag a bit meant it didn't quite make it to the 5 start stratosphere for me. But it's a good solid 4 stars.What I liked: The glimpse into the head of an Iraq War veteran years after he's returned home and still is trying to readjust to life before the war. I felt that these s...

2.5 STARSFor such a short book, this really seemed to drag, especially the first half. It's written in sort of a stream of consciousness, so there was too much filler to get through to get to the point. The blurb for this was kind of misleading: "When Russell finds an enticing stash of money in the woman's house, he knows the cash could be his only hope. Taking just a handful will save his family's future...but then his daughter gets sick…a...

I wanted to like this book, the premise was interesting but the execution was just flat. Russell is impossible to root for with his lying and whining, Cindy is overly sensitive and comes off dimwitted for never questioning his lies, and her parents are self centered junkies that you never truly figure out why she hates her father so much. The only character you find yourself rooting for is the grandfather. The flashbacks to the middle East are su...

I did get this as an Amazon first read but then I ordered the audible version to go with it. Great way to fold laundry and other household chores when listening to a good story.I liked the narrator which really can make or break an audio story.A good paced story about a split second decision and the consequences of that choice.

*Used for PopSugar 2018 Reading Challenge prompt "A book with a weather element in the title."

"That's what they really did to us, Spence. Every single one of us. Every war they've ever made us fight. They start by shaving our heads, but it's our souls they destroy." If you're looking for a thriller to keep you on the edge of your seat, you need to check out Only The Rain by Randall Silvis. I couldn't put this book down! It is a quick read, but very well written, action-packed, and heart-pounding suspenseful. I also really enjoyed the rea...

This is an interesting enough diversion for the brief amount of time it takes to read, but it's only ever mediocre at best, and maybe a little bit worse at times. The part with the main character having been in Iraq could have been interesting, but they don't really do anything with it. It seems to be there mostly to pad the length, lest they were forced to sell this as a novella. The way the story resolves itself is the definition of anticlimact...

Only the Boring...This stream of consciousness novel was predictable and almost a chore to finish. I will note the main character's wife, Cindy, was just as annoying as any other "dependa" you would encounter on base. And while everyone who has served in the military has a different experience, I've never encountered anyone as whiny as Russel, our protagonist, was portrayed. Luckily I downloaded this book free with prime, because I would ...

hooked me almost immediately. this thriller will keep you in your chair until you finish reading! this is a one sitting book. be prepared.

Damn good book. Made me cry though.

This book really grabs you in the beginning, and I truly enjoyed the first half. The story takes a weird twist in the middle, and leaves the reader with a lot of unanswered questions. However, as a veteran, I did like how the author brings up the magnitude of emotions a soldier feels after returning to civilian life. It had some very thoughtful moments and I enjoyed the story.

Disclaimers: The synopsis section is ©Goodreads but the rest of the reviews are completely my words and of course the quote section is obviously from the book reviewed. 3/5 Stars "Spin and die, To live again a butterfly."Where shall I begin? This was weird. Like hella weird. I hated it and loved it. I fell into the abyss of its strangeness..Will be on my blog January 11... Join The ATB Family!Opinion:I had no idea what I was getting myself...

When Russell came back from Iraq, he worked hard to build a good life for himself. He went to college and got a business degree on the G.I. Bill. He got married, and he and his wife had a couple of beautiful girls. He found a good job as a foreman for a rock splitting quarry, with a promise of promotion. And now he and his wife are expecting another baby. So when Russell got the news that the quarry was being sold to some Chinese businessmen, an...

An Overboard Use of Self-Justification AsidesThis novel starts with the main character, Russell Blystone, writing an e-mail to his Army buddy, Spence, from Iraq. The author uses this mechanism to delve into the mind and thoughts of Russell. The action of the story starts shortly after this introduction. Russell learns that he has a third child on the way, that he is losing his job without any viable prospects on the horizon, and that he looking a...

This book was a Kindle First Reads freebie for me. I've started it twice and then stopped and finally decided I need to just read it. The premise is a vet looses his job. On his way home from work that day, it's raining and traffic issues cause him to take a different route home. He sees a naked woman dancing in the rain and fall at a remote farm house. He stops his motorcycle to see if he can help, and in the end finds boxes of money. He steals ...