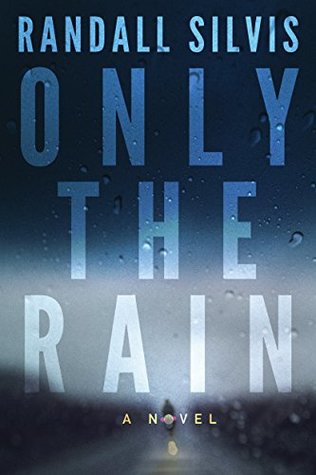 When family man and war veteran Russell loses his job as a quarry worker, his life suddenly seems more like a waking nightmare than a chance to finally live the American dream. Facing bills, a new baby, and a bone-dry bank account, he's got nothing left to lose. Russell comes to the rescue of a naked stranger dancing in the rain, and what was supposed to be a straightforward good deed turns into a spiral of danger. When Russell finds an enticin...
---
Reviews Only the Rain
Diamond studded five gold stars.Very glad that I chose this book, Amazon First Read December novel.Russell is Iraq veteran, grandfather is Vietnam veteran and they know what other needs. Love, support and understanding of family. Russell writes everything about himself and what is going on to his sergeant, even the things he couldn't tell his wife. Touching, though provoking story. Rainy days will remind me this novel.

Even as I clicked the purchase button, I wondered if I had made an error. My cursor hovered over the "Cancel Order" link as I pondered if I really wanted to take a chance on another thriller that would probably turn out to be just another washed clean, milquetoast, unbelievable story that would never make sense in the real world.Fortunately, I never canceled the order and "Only the Rain" was a thriller on every level.Author Randall Silvis...

I swear, I'm only reading one chapter...Or the whole book at once. Same thing!...Except the trick's on me, there are no chapters. And reading this whole book in one sitting? Absolutely plausible. Had I not downloaded it before going to work, I absolutely would have read it in one breathless, barely blinking, madly swiping sitting. Russell is a war vet who tells the story in a series of emails to a friend of his from the military. It's an interest...

I was excited to have the opportunity to read an Advanced Reader Copy (ARC) of this book on NetGalley."Only the Rain" by Randall Silvis is the type of novel that rocks the reader to the core and keeps her turning pages all night long to find out what happens next. Silvis is a gifted storyteller. He breathes life into each of the characters, making them pop from the page. His beautiful prose shines, adding an elegance to the reading experience...

Quick, solid read This was a quicker read, and I actually think that was a strength of the book. If it was 300 pages I'm not sure I would have enjoyed this as much. Fortunately the story developed at a good pace which kept my interest.There will be a few moments you'll have to suspend your disbelief, but it provides good action to the story. This is an engaging tale of a man struggling with the results of choices he's made and how he works to mak...

Seeing something traumatic changes our world – and it is no longer safe. We can't trust the systems and people we believed we should be able to trust. God – whether or not we are believers – may no longer be a benign and comforting force in the world.And, when we see ourselves as responsible for morally reprehensible actions – as often occurs with interpersonal trauma like rape or war – we may be unable to trust ourselves: "You can't ...

Loved ONLY THE RAIN! Another winner by Silvis. Review to follow.

2.5 STARSFor such a short book, this really seemed to drag, especially the first half. It's written in sort of a stream of consciousness, so there was too much filler to get through to get to the point. The blurb for this was kind of misleading: "When Russell finds an enticing stash of money in the woman's house, he knows the cash could be his only hope. Taking just a handful will save his family's future...but then his daughter gets sick…a...

Good story but ...I kept having the feeling that this was being told to me by that one friend we all have that takes way too long to get to the point. Other than that it was a very good read.

"That's what they really did to us, Spence. Every single one of us. Every war they've ever made us fight. They start by shaving our heads, but it's our souls they destroy." If you're looking for a thriller to keep you on the edge of your seat, you need to check out Only The Rain by Randall Silvis. I couldn't put this book down! It is a quick read, but very well written, action-packed, and heart-pounding suspenseful. I also really enjoyed the rea...

Damn good book. Made me cry though.

This is an interesting enough diversion for the brief amount of time it takes to read, but it's only ever mediocre at best, and maybe a little bit worse at times. The part with the main character having been in Iraq could have been interesting, but they don't really do anything with it. It seems to be there mostly to pad the length, lest they were forced to sell this as a novella. The way the story resolves itself is the definition of anticlimact...

A fast moving story about a retired marine who has come back home and is living a normal life in a small town with his family. He gets laid off and on his way home he rides his motorcycle past a quiet street where he sees a high naked lady dancing in the street. He stops to help and carries her back into her house where he finds shoe boxes full of money. In a moment of weakness he takes one of the boxes and heads home. Feelings of guilt control h...

If only there were no such thing as war I am a Vietnam era kid. Even though I aS not in the war myself my husband was. We lost our best friend at the Citadel. He was carrying a wounded soldier over a bridge as he was wounded. Our friendliest his life trying to save that comrad. These men were left alone after all they went through. They were not welcomed home. My son and I were together watching desert storm men come home to rousing cheers and ye...

Only the Boring...This stream of consciousness novel was predictable and almost a chore to finish. I will note the main character's wife, Cindy, was just as annoying as any other "dependa" you would encounter on base. And while everyone who has served in the military has a different experience, I've never encountered anyone as whiny as Russel, our protagonist, was portrayed. Luckily I downloaded this book free with prime, because I would ...

Great readI got hooked on the story right away and read the book in 3 sittings-being very upset when things like work or sleep stopped me from continuing to read. The overall story is not very original, but I love how personal it becomes by the letter from the author chose to write in. In the end, it feels like only the protagonist and I are the ones that know the whole story...

I wasn't impressed. I was expecting more. Didn't really care for the main character. In my opinion he was a sniveling whining sort. I did like his relationship with his grandfather tho. I really don't have much to say about this book. My book club would have had a great discussion regarding the letters and the recipient as to whether the letters were actually sent and whether the recipient was actually still alive.

Worth "hanging in".If I had read a review of this book, I am sure I would not have chosen to read it. There were times when I put it aside and wasn't sure I wanted to pick it up again. But Russel became so real to me I couldn't stand to not know how it all turned out for him and the family he loved so much. The author did a great job of pulling me into this story. I have to believe Russel eventually became a butterfly.

Wow! Once started you definitively won't want to put it down!If someone told me I would basically read one voice for the majority of this book and want more, I would not have believed them -- good thing no one told me! Wow! From the sands of the middle east to suburbia, U.S.A., a truly engaging, intriguing, dramatic and suspenseful tale unfolds and is told just that way! I'll be looking for more!

Powerful and good.What would you do if your back was up against the wall and you found a shoebox full of cash belonging to criminals? That's the basic premise of this story, but it's so much more than that. It's the story of a man who comes home from war and the everlasting effects that leaves on a person. This is a very emotional and powerful book in many ways, and it leaves you with much to think about. Well done Mr. Silvis!

Good news/bad newsThe good news is, this is definitely a book worth reading. The bad news is, it's a tearjerker if you're the sensitive type. Good news: well-crafted first person writing that makes your emotions move with the character. Bad news: a lot of that emotion is fear, anxiety, self-doubt, and loneliness. Best news, there's a lot of love and loyalty, and in the end, everyone, good and evil, gets what they deserve.

Did I really just read this entire book in one day? Technically, I just read a chapter! Needless to say, I enjoyed this month's Kindle First Read for Amazon Prime members. An interesting tale of how things aren't always black/white, wrong/right and how some of life's greatest lessons occur in the gray. If you're in the mood for a quick/light thriller on a snowy (or sunny) day, this book is for you!

Into the mind of a soldierThis story took me on an adventure into the mind of a soldier. It was an experience that both gave me greater understanding and tugged unmercifully on my heart. We all grow up differently and hope for the best life has to offer, and this book took me far beyond my own understanding of how to get to that place in life.

Amazing Page-turnerI could not put this book down. From the first page, the premise pulled me in. I don't want to give any spoilers, so you can read the synopsis if you like. This thriller does not disappoint, and the author's voice is authentic. There's not a false note in this little book. This would make a great movie!

Great suspense. Quick readGreat book for a quick easy read. Really appreciate the style with which it was written. The end became predictable as it approached but never took away from the book. Would recommend to a friend but never anyone underage due to language. This book could have been a true story.

What Would You Do . . Such a good book. If you lost your job and have a family to take care of and a baby on the way, would you do what Russell did? I think most people would. This is a great book to read on a snowy afternoon. It's a quick read, should only take a few hours. I highly recommend.

I'm still on the fence about what I feel for this novel. Still confused about what the true purpose of the novel was.At first it bugged me by not having real chapters, but after finishing it, the way it was divided works.I will say I found a lot of meaningful quotes in this book. I even got misty eyed reading some of them, because they gave me a new perspective on how I've been feeling.

Only the RainThis is a well-written and engaging story of an amazing yet horrifying happening. He is writing a letter to his old platoon leader he had during the war. He became entangled ...innocently at first and then has an opportunity to grab a large amount of drug money. That sets up a terrifying series of events in his life and family. Worth reading!!!!

The book is well-written. It has at least one pretty intense action stretch. I can see how a life-time network movie can be made out of this book. It kept my attention quite well. The negatives are that the story seemed kind of sad and the main character seemed to be a somewhat simple and boring person.

A rich story with a well crafted end.I tried not to like it. I really did. I just can't. The plot wasn't all that original but the story was fleshed out very well. Before I knew it, I had gotten to the end. I somehow expected to be cheated with a predictable ending or some ridiculous twist but instead left the story feeling it was worth reading.