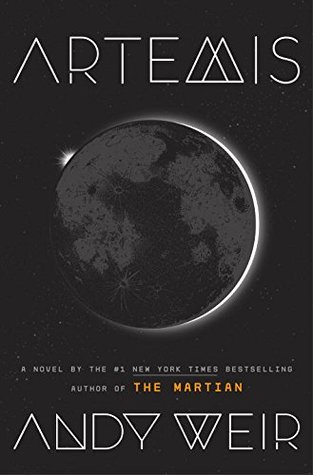 Jazz Bashara is a criminal.Well, sort of. Life on Artemis, the first and only city on the moon, is tough if you're not a rich tourist or an eccentric billionaire. So smuggling in the occasional harmless bit of contraband barely counts, right? Not when you've got debts to pay and your job as a porter barely covers the rent.Everything changes when Jazz sees the chance to commit the perfect crime, with a reward too lucrative to turn down. But pullin...
---
Details Artemis
Title
Artemis
ISBN

9780553448122

Author

Andy Weir

Release Date
Nov 14th, 2017
Publisher

Crown Publishing Group (NY)

Language

English

Genre

Science Fiction

,

Fiction

,

Audiobook

Rating
Reviews Artemis
1 1/2 stars. I really wish I could say I liked this. A couple of years back, I gave in to the hype and read Weir's The Martian, and I have to say-- I loved it. The scary scenario of being stranded so far away from everything and everyone you know, the very high probability that Mark Watney wouldn't survive, his chirpy sense of humour that keeps him going... unfortunately,Artemis's plot is convoluted and less exciting. And Jazz Bashara is SO ANNOY...

Yay for my book winning 2017 GR award 😄This book freaking rocks!! No, seriously. The book does have science in it but it's not too bad. This is mostly about Jazz who has lived on the moon since she was 6 and now she's in her 20's. Her dad lives on the moon too but they had a falling out and she makes it on her own by doing. . . things. I love the character of Jazz. She's funny and does crazy things but never anything to hurt any one. AND SHE L...

A new book from Andy Weir? Happening on the moon? A heist where the main character survives with her scientific knowledge?COUNT ME IN!!I was so excited for this book but I didn't end up loving nearly as much as The Martian.Even though I liked the overall idea, I didn't like the characters and the constant jokes and insults felt incredibly forced.The main character Jazz, a 26 years old woman, was talking and thinking like a cringy 15 years old boy...

Apologies in advance. You're not gonna like what I have to say. This is not the review I was expecting to write, but this is not the book I was expecting to read.Andy Weir has successfully taken the one element I didn't like in THE MARTIAN and expanded on that until ARTEMIS is almost a chore to read. Major disappointment. Remember our hero, Mark, in The Martian? His jokey, sarcastic personality started to grate on my nerves towards the end of the...

This book was great. I admit to worrying that he wouldn't be able to keep up the quality from The Martian, and this is definitely a very different kind of tale from that, being half a heist novel but otherwise just a great adventure, but he pulls it off. Better than pulling it off, even. I love his characters and the feel of the moon city, Artemis, is vital and detailed.But you know what the best part is? I was thoroughly entertained during the e...

I HAVE SUCH MIXED FEELINGS. The first half of this book was very fun, and the plot was interesting and all that. The only thing that bugged me was the writing style, which I suppose is similar to The Martian, but I felt it was a better fit with that story, and with Artemis it just felt forced. Other than that though, I was loving it! This book could have easily been 4 or 5 stars from me.Then, around the halfway point, the book sort of lost me. Th...

I received a free advance copy of this for review from NetGalley.M-O-O-N. That spells Andy Weir's new novel. (OK, if you haven't read Stephen King's The Stand that joke won't make sense to you, but rather than think that's a failure of my review I'm going to say that it's your own fault for not having read The Stand. Serves you right.)It's the near future, and there's a city on the moon called Artemis. Jazz Bashara is a young wo...

Seems to me that Andy Weir rushed to write this book.Oh man, what a disappointment. And an even bigger disappointment that it won the science fiction category of the Goodreads Choice Awards. (Just because the author is popular.)To be honest, I didn't even realize Jazz Bashara was a woman until specific pronouns were used. That certainly did not take long, but even after I made that realization, I couldn't shake the feeling that Jazz's perso...

I'm between 3 and 3.5 stars here.Although it has been a few years since Andy Weir published The Martian , he hasn't been missing from the literary world, thanks to his sharing a number of free super-short stories with the reading public. ( Annie's Day remains my favorite of the bunch.) Even so, I was anxious for him to come out with a new novel.Artemis is the first city on the moon. While wealthy tourists get to experience the city's luxuries...

On sale today! 3.25 stars - sadly, I'm dropping down from my initial "soft" 4 star rating, on further reflection. Review first posted on Fantasy Literature:Life in Artemis, the only human city on the moon, is rough for Jasmine Bashara, a 26 year old delivery person, smuggler, and would-be tourist guide. She fails her EVA (extravehicular activity) Guild exam in, literally, breathtaking fashion; she's somewhat estranged from her welder father, to...