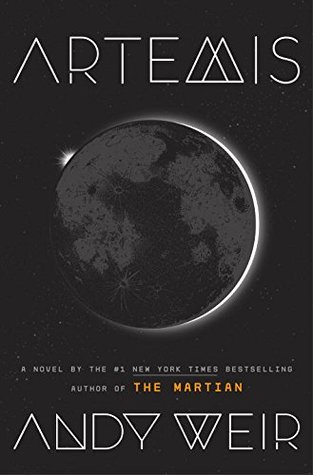 Jazz Bashara is a criminal.Well, sort of. Life on Artemis, the first and only city on the moon, is tough if you're not a rich tourist or an eccentric billionaire. So smuggling in the occasional harmless bit of contraband barely counts, right? Not when you've got debts to pay and your job as a porter barely covers the rent.Everything changes when Jazz sees the chance to commit the perfect crime, with a reward too lucrative to turn down. But pullin...
---
Details Artemis
Title
Artemis
ISBN

9780553448122

Author

Andy Weir

Release Date
Nov 14th, 2017
Publisher

Crown Publishing Group (NY)

Language

English

Genre

Science Fiction

,

Fiction

Rating
Reviews Artemis
This book freaking rocks!! No, seriously. The book does have science in it but it's not too bad. This is mostly about Jazz who has lived on the moon since she was 6 and now she's in her 20's. Her dad lives on the moon too but they had a falling out and she makes it on her own by doing. . . things. I love the character of Jazz. She's funny and does crazy things but never anything to hurt any one. AND SHE LIVES ON THE MOON! Jazz doesn't live in the...

A new book from Andy Weir? Happening on the moon? A heist where the main character survives with her scientific knowledge?COUNT ME IN!!I was so excited for this book but I didn't end up loving nearly as much as The Martian.Even though I liked the overall idea, I didn't like the characters and the constant jokes and insults felt incredibly forced.The main character Jazz, a 26 years old woman, was talking and thinking like a cringy 15 years old boy...

This book was great. I admit to worrying that he wouldn't be able to keep up the quality from The Martian, and this is definitely a very different kind of tale from that, being half a heist novel but otherwise just a great adventure, but he pulls it off. Better than pulling it off, even. I love his characters and the feel of the moon city, Artemis, is vital and detailed.But you know what the best part is? I was thoroughly entertained during the e...

I'm between 3 and 3.5 stars here.Although it has been a few years since Andy Weir published The Martian , he hasn't been missing from the literary world, thanks to his sharing a number of free super-short stories with the reading public. ( Annie's Day remains my favorite of the bunch.) Even so, I was anxious for him to come out with a new novel.Artemis is the first city on the moon. While wealthy tourists get to experience the city's luxuries...

Dangerous Place to Live....the Moon.Andy Weir, one of my favorite authors, serves up another winner with his new sci-fi thriller ARTEMIS....and Jazz Bashara is the spirited and defiant main attraction.Jasmine/Jazz is basically a good person, has a smart mouth, works as a lowly Porter, and drives around in a cart she named Trigger. AND.... despite her sideline of smuggling AND superior IQ, she still lives in a room the size of a coffin....literall...

Review also found at: https://theparanormalpaladin.wordpres...This book isn't released until November and already has about 300 reviews! What do I say that probably hasn't already been said?Let's start with Jazz. She's Saudi Arabian and lived most of her life on the moon (Artemis). She might have been born there, but I can't remember. She can't live or even WALK on Earth anymore without major treatments, exercise, medication, etc. because of the ...

Thank you to the fellas at Netgalley for giving me an ARC of this book, it was awesome to get acquainted with Andy Weir again. For all of you out there that have to wait for this book a little bit longer, let me tell you, this book is not "the Martian". This book is a lot faster, there is more action and more adventure and while the story happens in the moon, we don't get many lessons in the workings of it like we did on "the Martian". The main c...

3.5 StarsNo matter what Andy Weir did for his second novel, it was a forgone conclusion that he wasn't going to duplicate the success of The Martian. The peculiar upward trajectory of that phenomenon – from a free web serial to best-selling 99 cent ebook to exponentially bigger print bestseller to award winning blockbuster film – simply cannot be repeated.Don't get me wrong, Artemis is going to sell a lot of books. Weir has a name now and...

Find all of my reviews at: http://52bookminimum.blogspot.com/3.5 Stars Hey look. It's "Mark Watney Goes To The Moon." Now with 100% more vagina!!! Artemis is the story of Jasmine (Jazz) Bashara, a young woman who has lived on the moon ever since her family immigrated there when she was six years old. Jazz's only dream is to be rich, a goal she is trying to achieve one "slug" at a time working as a porter (with a little smuggling on th...

5 STARS This is an ARC provided by friends of NetGalley for an honest review.Andy Weir does it again in this fast pace, Sci-fi thriller. The book is hilarious, has cool Sci-fi elements without being over the top, and an unforgettable female protagonist!Yep I read the book...Yep, I LOVED THE BOOK! What's not to love about an incredible 'heist' story in the near future that takes place in our own exquisite moon? Andy Weir popped up in my radar ever...

Jazz is a young woman in her 20s making her way in the restricted economy of the community of Artemis on the moon in the near future. People either work for the Kenyan Space Center, which financed the colonization effort with domes and infrastructure, or for the industries of aluminum smelting and of tourism that bring in income to support the infrastructure. Jazz has her own porter business, transporting shipments and equipment from site to site...

Did you love The Martian? If you did then you are going to love this book too. The book takes place in Artemis which is a city in the moon. The main character is Jasmine Bashara, or Jazz to friends. She is of Saudi background and moved to the moon with her dad when she was six years old. Jazz works as a porter but also has some dubious business dealings on the side to complement her meager earnings. An opportunity comes up that might get her ou...

In space, no-one can hear you yawn…I try to include plot summaries at the top of my reviews for context but I can't do it for Fartemis - every time I think about this trash my mind collapses out of exhausted, frustrated, sheer boredom! The protagonist is a smuggler called Jazz Bashara. It's set on the moon city of Fartemis. There's a laughable half-assed "heist" plot. Oh, and I fucking haaaated reading it! AARRGH, GET IT AWAY FROM MEE...

You can find this review, and others like it at Tome Raider.ARC provided by the publisher, via NetGalley, in exchange for an honest review.This is my first book to read by Weir, so I'm not sure how this stacks up against The Martian, but I had so much fun with this book! It definitely had some flaws, but we'll get to that later. In Artemis we're following Jazz. Who is basically a smuggler with a conscience. There are tons of things that are cons...

3.5Artemis is a "moon city," the first of its kind, modeled after those on earth so that those in power, those who 'have,' receive all the comforts of… home, and those with no power, the 'have nots,' possess as few comforts as possible. Since Artemis is on the moon, of course there are differences due to the difference in gravity, sun exposure, the atmosphere, so the city is made up of bubble-like structures connected by tubes. Weal...

I don't know why I waited so long to read this. It's a heist/caper story set on the moon. ON THE MOON.What's not to love about that?The setting was really well done. I think Weir nailed the space aspect. To be clear, I know nothing about space or what it would be like to live in a vacuum, and most of the science was over my head, but he seemed to have done his research. He covered aspects of space life I wouldn't have even imagined. The setting f...

So after the phenomenon that was "The Martian" Andy Weir strikes again with this novel, Artemis, set on the moon, with a bang on brilliant main protagonist (again) - Jazz is funny, not necessarily always a "good guy" but always fascinating and full of frolic and I loved her. Unlike poor Mark Watney the hero of The Martian, Jazz has plenty of company and the genius writing of Mr Weir brings the whole cast to brilliant life, adds in his what is sur...

3.5 StarsWith a book like this, expectations are key. As the follow up to a bestselling novel, many readers will inevitably pick up the Artemis expecting it to be "the next Martian". These comparisons are ultimately unfair, as few books can live up to Weir's masterpiece debut. Going into the book with these impossible expectations will only leave readers disappointed. More of a lighthearted story, this felt like a lot like reading the novelizatio...

It's no secret I like action filled plots. This is an action filled plot!So, yeah, I loved it.Another thing I love is kick-ass heroines. Jazz Bashara is tough, smart, snarky, *fist pumps air* yet there's a soft, caring side to her that is beautifully feminine. Major kudos to Andy Weir and the wonderful women in his life that helped him write this amazing character.She is not the only memorable character. Everyone I met was unique and interesting....

3.5*Okay, lets be real. My expectations for this book were really high because I really loved The Martian (my favourite book of 2014).Overall, it was a enjoyable book and the story was interesting enough but I couldnt connect with the characters even though I enjoyed Jazz.This is not a bad book so if you enjoyed The Martian, give it a try.

To those who liked The Martian novel or movie and wonder if the author can do it again: Yes, he does. He delivers the same funny, sly dialogs, the same Hard SF background, the same level of reckless last minute survival action, the same positive minded and intelligent protagonist. Only this time, it is different: exchange the male biology astronaut on Mars with a female criminal smuggler on the Moon. A heist gone wrong, an economy thriller and l...