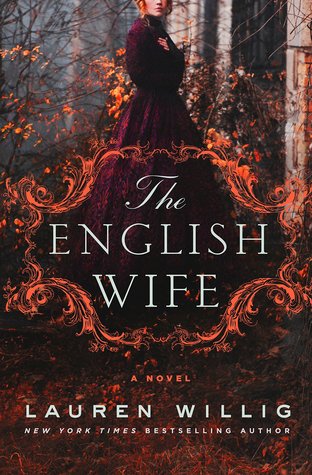 From the New York Times bestselling author, Lauren Willig, comes this scandalous New York Gilded Age novel full of family secrets, affairs, and even murder.Annabelle and Bayard Van Duyvil live a charmed life: he's the scion of an old Knickerbocker family, she grew up in a Tudor manor in England, they had a whirlwind romance in London, they have three year old twins on whom they dote, and he's recreated her family home on the banks of the Huds...
---
Reviews The English Wife
I found the characters confusing and the plot was hard to follow. I liked the premise of a gothic mystery set in the New York gilded age, but it didn't live up to my expectations. I enjoyed some parts, but the flow was not working for me.It begins with Bayard Van Duyvil found with a knife in his chest on the night of a Ball at his family home. I thought this mystery would be center in the plot and that suspects would be drawn out and examined, bu...

4 scandalous, intriguing stars to The English Wife 🌟 🌟 🌟 🌟 The English Wife was off to a slow start for me, but once it picked up, I was glued to it. The Gilded Age is one of my favorite time periods, and instantly this book reminded me of a favorite book that Lauren Willig co-authored with Karen White and Beatriz Williams, The Forgotten Room. Bay and Annabelle Van Duyvil appear to have it all, but when one of them is found murdered a...

Bayard Van Duyvil and his wife Annabelle seemed to be living such a charmed life when one night Bay is found dead with a knife in his chest and Annabelle is nowhere to be found. With Annabelle thought to be drowned and a murderer to be found the press is all over the story of how this privileged couple ended up the way that they did on that fateful night. Bay's sister Janie is convinced that someone out there killed her brother and did harm to hi...

2.5 stars I had high hopes for this novel, but it fell flat for me. This genre is usually one of my favourites, but I had a hard time staying focused as I found my mind wandering between all of the side stories and different characters involved. I did enjoy the atmosphere and gothic tone, but the story itself felt quite drawn out and I wasn't pulled into the mystery. This is my first novel by this author and I would be interested to try another o...

The year is 1899. The Van Duyvils are an extraordinarily wealthy and established family in New York. One night, at a holiday party, there is a murder... or is it a suicide?The newspapers whip the public into a fury with their sensational headlines. They ask, 'Who are the Van Duyvils and who is the new English wife?'And there, our story begins.Lauren Willig has created a lovely mystery/historical fiction with snappy dialogue and enough layers to k...

Something terrible happens on the night of Annabelle and Bayard (Bay) Van Duyvil's Twelfth Night ball celebrating the completion of their new family home in Cold Spring, New York. Bay is found dead with a knife in his chest and Annabelle is missing, feared drowned. Janie, Bay's sister finds herself trusting and teaming up with a reporter to seek the truth about what happened and why. At first I thought this story moved a bit slowly, almost pl...

It is the gilded age where money, power and prestige reign. Called such by the author Mark Twain, it was a period that dated from the 1870's until about the early 1900's. It was a time of amassing great wealth and the people who populated this age had last names like Astor, Carnegie, and Vanderbilt.In all this luxury and unlimited money live Bayard and Annabelle VanDuyvil. They seem to have it all, he being part of an old Dutch family and she gro...

2.5 starsThe description of the book as a gothic murder mystery set in the Gilded Age piqued my interest. The first pages start off with a bang with a murder on the night of a grand ball. From there the story is told in a dual storyline, alternating between the recent past and the present as the murder victim's sister, Janie, teams up with a reporter to discover what really happened to her brother Bay and his missing wife. There are plenty of f...

If I were prone to feeling guilt over enjoying the things I enjoy, I would classify this as a guilty pleasure book. This is more a nineteenth century soap opera of a novel than a literary gothic mystery, so you'll do well to check those expectations of a second coming of Rebecca at the door before starting The English Wife. But I have no reservations at all saying that I loved this. Sure, the writing is occasionally sophomoric; characters let out...

A murder in an aristocratic household? Unheard of and especially during a ball with hundreds of guests in attendance.Bay, Annabelle's husband and Janie's brother, could not have killed his wife and then killed himself. Janie was determined to find out who the real killer was.We follow the family as the book goes back and forth in time making the connections for us about who was who and what the circumstances were.And what marvelous connections an...

4 stars--I really liked it.This is a gothic romance in the vein of Rebecca--lots of atmosphere, human cruelty, and family secrets, but no supernatural happenings. It's also quite sad.It's been a long time since I read a historical novel, and this really brought the Gilded Age to life. Characters were finely drawn (and not static!), and I especially liked doomed Annabelle and clever Janie. The plot kept me reading (and guessing) until the end.Ther...

With gorgeous writing, complex characters and a twisty plot to keep the reader guessing—this book is a must-read!

The best way to keep someone was to let him go. Riveting mystery that left me guessing up until the end. Compelling and heartbreaking love story(s). The book should come with the warning: "Consumption of the product can lead to sleep deprivation". My kindle is full of highlights. My eyes are full of what feels like sand from reading almost all night. You know the feeling: "one more chapter, one more chapter". Marvelous writing, masterful...

The cover for The English Wife is absolutely stunning, I just had to get that out of the way because I've looked at it a gazillion times! This was the perfect book to be my first review of the new year as I'm hoping to add more historical fiction to my TBR and I had heard wonderful things about Willig's books so this was an easy pick for me. This was a beautifully rendered tale of love, betrayal and sacrifice all shrouded in a dark gothic m...

I've given this an A+ for narration and a B+ for content at AudioGals, so that's as close to 5 stars as makes no difference!I've read and/or listened to a number of the books in Lauren Willig's Pink Carnation series, but for some reason haven't yet read or listened to anything she's written since. Nothing against the author – it's my fault for having so little time to partake of books I'm not reviewing! – but the buzz about her ...

 I loved the premise of this story and there was some great unexpected twists. This book had enjoyable characters and a good mystery. I also loved the romance.Now to the things I disliked; this book was really slow to me and super sad at points. Maybe it's just because I am in a difficult place but this book could not hold my attention at times and just kind of made me feel down. I liked this book overall, I just wish it wasn't so drawn out....

I first fell in love with Lauren Willig with her Pink Carnation series but I never ventured into her other stand alone books because I simply liked her where she belonged—in the Pink Carnation series.Her Pink Carnation series was so fantastic and I didn't want to spoil it with a stand alone book that was subpar, so I avoided anything by her that wasn't the Pink Carnation series.That was until this stunning cover screamed READ ME! Just looki...

Ah the Gilded Age, a time when everything glittered gold but underneath that thin layer of gold corruption and deception ran supreme. In a sense that's what this book was about. The deception of a good family the Van Duyvils. They had the family name, fortune, honor and homes in multiple places. Beneath it all though there was unhappiness, jealousy, and even a loss of self because here was always that need to uphold the family name. At its core...

The English Wife, well the writing is good, however, the story is both slow and predictable. The only true moment of surprise for me came at the end when the truth was revealed. And, I liked that, I liked the whole explosive ending, probably because finally something happened. However, I'm still not really pleased that we did not find out truly everything at the end. I feel a bit cheated, to be honest. As for the characters, they were pretty blan...

The English Wife is a tantalizing, scandalous story; a masterful blend of suspense and historical fiction. I was completely engrossed from the very first page, completely and utterly surprised along the way! The characters in this book were so interesting, so full of life; they were fully-fleshed out, complex and multi-layered. My favorite character was Janie, a mousey and demure character at the start who finds her voice through the twists and t...

It has been a few years since I read a book by Ms. Willig, but The English Wife reminds me of why I enjoyed her books so much. I love mysteries and historical fiction and this is both with a spot of romance too. The setting is Gilded Age in New York City, but the story starts out in London with Georgie a young actress struggling to get by on her own where she meets a charming American named Bay, short for Bayard. Fast forward a bit and we find Ba...

From the New York Times bestselling author, Lauren Willig brings the glitz, glamour, and scandal of the Gilded Age to life in her latest THE ENGLISH WIFE – Rich in history, a mix of a gothic murder mystery, and romantic suspense. A portrayal of culture, class, and privilege at the turn of the twentieth century mingled with dark secrets and numerous twists and turns.Headlines New York, 1899. "Knickerbocker murders wife and kills himself. Murder...

Had anything ever been as she thought it was?The short answer? No. Oh, I really liked this. If the Gilded Age New York high society seems like a great setting for a murder mystery, that's because it is. The English Wife is a delight. That said, I have to admit, I did find Annabelle and Bayard's storyline a smidge more compelling than Janie's. Mostly because I liked Annabelle more than Janie. And because the progression of Annabelle and Bayard's r...

I received this from netgalley.com in exchange for a review. The book opens with Bayard Van Duyvil found murdered on the night of their Twelfth Night Ball and his English wife Annabelle is missing, presumed drowned. Bay's sister, Janie, is instrumental in solving the murder.Although the story had a nice 'gilt age' flavor, the book moved with ebbs and flows as the story is told, surging forward and then dragging back. 2.75☆ rounded up to 3☆

A study of class during the turn of the century in New York City. Mystery, romance and historical fiction are all included in this sweeping novel. I particularly liked how the author sets up for the next book at the end.

Many thanks go to Lauren Willig, St. Martin Press, and Netgalley for the free copy of this book in exchange for my unbiased review.Bay and Annabelle Duyvil after a few years of marriage moved to their property in the country of New York City, built a massive mansion, and three quite the fete for high society to stop tongues from wagging as they always felt shunned. But soon after the dinner is served and dancing begins they cannot be found. Not t...

A wonderful murder mystery set in gilded age New York (and a tiny bit in England). I enjoyed this book, and was not able to guess the plot twist ahead of time. My favorite thing of all about it was all of the new vocabulary words that I learned while reading this. There were so many wonderful archaic words that I never encounter in my day to day life, but now know. I actually kept a small notepad in the book to write new words down as I encounter...

This weekend I finished two novels written by two authors I have been wanting to try for a long while.  Every time I read a synopsis to a Louise Erdrich's book, I want to (and often do) add it to my to-read shelf.  Her books sound so interesting and given all the accolades, they must be well-written.  I even asked to review Erdrich's latest book, Future Home of the Living God, from the publisher. I hadn't yet had time to download it to my Kin...