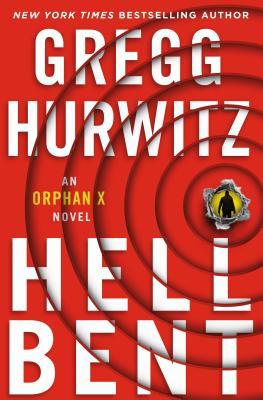 Evan Smoak—government assassin gone rogue—returns in Hellbent, an engrossing, unputdownable thriller from Gregg Hurwitz, the latest in his #1 international bestselling Orphan X series.Taken from a group home at age twelve, Evan Smoak was raised and trained as an off-the-books government assassin: Orphan X. After he broke with the Orphan Program, Evan disappeared and reinvented himself as the Nowhere Man, a man spoken about only in whispers an...
---
Details Hellbent (Orphan X, #3)
Reviews Hellbent (Orphan X, #3)
It is scorched earth time for Evan Smoak. He was originally known as Orphan X from his time as a deep black government assassin trained from childhood in the Orphan program. Later Smoak became known as The Nowhere Man, helping people who have nowhere else to turn. But now Smoak is out for revenge on his own account, as in scorched earth revenge by seeking the death of the twenty-five men who were involved in the death of Smoak's beloved mentor,...

Super Secret Agent Orphan X is free from the agency, but someone is trying to kill him. He picks up another orphan, and tries to start a relationship with his neighbor.Not bad, never seems real, though.

Thank you so much to NetGalley and St. Martin's Press for getting me into this awesome series by Greg Hurwitz. "Hellbent" continues Evan Smoak's amazing and increasingly destructive life after he receives a call from his mentor and father figure, asking for help. But is it too late for Jack to be saved? Swirling at the middle of all the madness as usual is Orphan Y, Evan's nemesis from the boy's home, who just can't seem to let go o...

Read this review and more at www.TheRealBookSpy.com "Do you need my help?"That's how former government assassin turned vigilante Evan Smoak answers his special RoamZone each time it rings. As a rogue, highly-trained former member of the Orphan Program, a top-secret government project designed to turn children into killers, Evan has left that life behind. Now he's known only as the Nowhere Man, the last hope for many people in desperate need...

3.5 starsHellbent is the third book in the Orphan X series. I loved the first book, Orphan X, struggled a lot with the second one, The Nowhere Man, and felt Hellbent fell somewhere in the middle. In this installment, the plot and ancillary characters are strong. I enjoyed both the project he takes on as the Nowhere Man and the assignment Jack gives Evan as Jack dies. However, I felt the dialogue and conversations Evan kept having in his head with...

Evan Smoak has gone through many transitions in his life. He was an orphan in a boys' home, he was taken from there at the age of 12 and trained to become a government assassin known as Orphan X. When he left the program, he became, The Nowhere Man, helping people who have nowhere else to turn. But now Smoak is out for revenge. When the last book ended, Evan gets a call from his mentor, Jack Johns, who he thought was dead. He was very much alive,...

I received this from netgalley.com in exchange for a review. Holy Smokes, Evan Smoak! What a thrilling ride, great continuation of the 'Orphan' series. 4☆

I can think of three words for this book.....I loved it! Evan Smoak is Orphan X, he is the Nowhere Man and when someone who means the world to him is killed he is Hellbent on revenge. It's hard to say too much about the plot without ruining the storyline, but needless to say it's action packed with a lot going on and a real page turner.

Hellbent is the 3rd book in the Orphan X series by Gregg Hurwitz. Now, I have seen a few reviews from readers that have been lukewarm on this book. I must be the exception because I think this 3rd entry in the series is the best to date. Why? Well, in Hellbent we see much more of what makes Evan Smoak tick. We also see an Evan Smoak that is vulnerable and a little unsure of himself and his situation at times. I found this Orphan X more complex an...

I have a new ritual these days. These days are so hectic that attention to ritual becomes important. At the end of the day, after the child is in bed and order has been restored to the force, I break a small bite of chocolate and let it melt in my mouth. I buy a good dark chocolate bar, I hide it behind the frozen spinach in the freezer. Alas, I can not afford a good bottle of vodka, but the ritual is the same. Evan Smoak would understand.Some bo...

Evan Smoak a.k.a Orphan X, is a former government assassin, now reborn as the Nowhere Man, helping those who have nowhere else to turn. His untraceable number is passed only to the select few; people who are out of options, beyond the help of the authorities. When his next caller turns out to be his mentor, Jack Johns, it's not only Jack whose life is in danger. There are those who want to erase the Orphan program, and those who graduated throu...

Evan Smoak, an unstoppable government assassin gone rogue returns in Gregg Hurwitz #1 international bestselling Orphan X series, HELLBENT – from revenge, bullets, and vodka his most emotional and personal yet; a riveting non-stop action thriller. Picking up from The Nowhere Man #2.0 Smoak is more than a legend. He is a man with skills, resources, and a personal mission to help those with nowhere else to turn. A dangerous past. Well-equipped ...

I truly enjoy this whole series & I think this was the best one yet! Evan Smoak is evolving into an epic character who I might just like more than Jack Reacher! This was a fast paced read that really needs no bookmark! Thanks to Minotaur for this early copy!

I have loved other Gregg Hurwitz's books but this is the first I've read in the Orphan X series. Now, I wish I'd read the other two first just to have some prior knowledge about protagonist, Evan. Of course it's not necessary as the book can clearly stand on its own as we see Evan and new "partner," Joey, a sixteen-year-old girl who is also schooled in the fine art of subterfuge and technology. Not a killer herself, she is a valuable asset to Eva...

By far my favorite Orphan X book. I liked getting to know Evan better especially his interactions with others. Sometimes very funny other times very touching. The action was great and sometimes very well deserved. Great read . I am glad I got this book in a free giveaway since I read the first two books.

"Hellbent" by Gregg Hurwitz is the third in his Orphan X series. I enjoyed the previous books, and this is the best book yet. Not to worry, those who have not read the previous books can jump right into "Hellbent" without any problem. Contextual references throughout the book fill in relevant background without wasting pages rehashing old events. Hurwitz shaped assassin Orphan X, into likeable character Evan, who has gone rogue from the g...

Evan Smoak is part man, part machine, and 100% badass. This book gives you no breathing room. It's not a book you relax into or meander through. The content is intense and the pace quick. Evan doesn't tread lightly. His world is dark and dangerous, and Gregg Hurwitz doesn't spare details. We see the violence play out as Evan leaves destruction behind in his quest for vengeance. But this violence isn't at all gratuitous or needlessly graphic. We a...

This is the third book in the Evan Smoak/Orphan X series. All are excellent and the series improves with each novel. This is the best yet, as we delve into further character development of Evan, without compromising the relentless action. Evan's mentor / father figure is in trouble and calls Evan to say his goodbyes. He leaves Evan a "package" which changes Evan markedly. Evan is hellbent on revenge for Jack. I am sure more to come in this ...

I've read and enjoyed the previous two Orphan X books so I was excited to receive this third one from NetGalley in exchange for a review.This was a fast moving action packed read. Evan, our hero, is still being pursued by the renegade Orphans including Van Sciver who wants him dead. Van Sciver uses Evan's mentor and father figure Jack to try and capture him. Jack is kidnapped but manages to get a message to Evan to protect one of the last orp...

Review to come. Loved it! Loved Evan & loved Joey.

Can't say enough good things about this book! Thrilling, exciting, a real page-turner and a very well written suspenseful novel. Love this series!

This was fantastic - probably my favourite of the series, and miles ahead of Nowhere Man.

I won this book from a Goodreads giveaway.I though this was a great book with lots of action that kept me on the edge of my seat.Even though this is the third book the Orphan X series it works just fine as standalone book and I will defiantly be going back to read the rest of the series.

The Orphan X series by Gregg Hurwitz is one of the best action series of the last few years and the third book, Hellbent is the best one yet. Evan Smoak is the Nowhere Man. A man trained literally from childhood to be a deadly off-the-books government assassin in the Orphan program. He broke away from the program and dedicated his life to helping people who have nowhere else to turn. But now the Orphan program is being shut down and the head of t...

I was excited to have the opportunity to obtain an Advanced Reader Copy (ARC) of this book from Net Galley."They say that revenge is a dish best served cold, but Evan preferred to serve it piping hot."While I thoroughly enjoyed all three novels, HELLBENT is my favorite book in the Orphan X series. In this installment, not only is Evan handling a Nowhere Man case, he's on a personal mission assigned to him by Jack, his mentor and father figu...

Gregg Hurwitz has hooked me, line and sinker, with his Orphan X series. "Hellbent" is the third episode with Evan Smoak, aka Orphan X, as the subject.Evan's mentor and friend Jack sends out a call for help the end result of which finds Orphan X left to care for sixteen year old Joey, who had also been trained in the Orphan programme, but rejected at the final stage. In other words she was lethal in a way that a sixteen year old girl shouldn't oug...

This book is part of the Orphan X series but could be read on its own. Evan Smoak, aka Orphan X-The Nowhere Man, is on the rampage and he is taking no prisoners. Jack the man who took him from an orphanage and trained him in the Orphan X Program is dead and Evan is out to get the people responsible. Jack was the closest thing to a Father Evan had in his life. Years ago Evan went rogue and left the Orphan program. Now he helps people who have no o...

Orphan X is back with a vengeance. Our government-trained assassin is forced to witness the long-distance execution of his beloved mentor through the power of digital compression sent to him in untraceable images. He vows retribution. But first he must pick up a final package from his mentor. And therein lies the plot for this tale and his own final lesson as a student. Author Hurwitz writes stellar passages fraught with tension, suspense, and gr...

This is a great series with a bright future. If you love action, suspense tinged with characters that continue to develop in depth over time, then this series is for you. The premise of the Orphan program comes to a climax in this novel as Evan/Orphan X seeks revenge on McSciver and company, while trying to grow in humanity and a teenager on board. This novel successfully balance Evan's goal to help with his desire for vengeance and his uncertain...