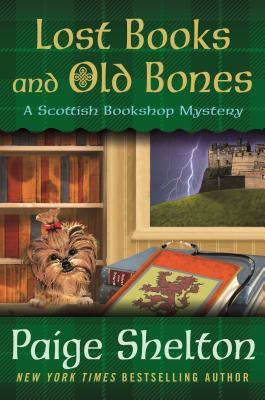 A delightful new mystery featuring bookseller and amateur sleuth Delaney Nichols, set in Edinburgh, Scotland.Delaney Nichols, originally of Kansas but settling happily into her new life as a bookseller in Edinburgh, works at The Cracked Spine in the heart of town. She's recently befriended a few medical school students after they came into the shop to sell some antique medical tomes. But when one of the students' friends is found murdered out...
---
Details Lost Books and Old Bones (Scottish Bookshop Mystery, #3)
Title
Lost Books and Old Bones (Scottish Bookshop Mystery, #3)
ISBN

9781250127792

Author

Paige Shelton

Release Date
Apr 3rd, 2018
Publisher

Minotaur Books

Genre

Mystery

,

Cozy Mystery

,

Fiction

Rating
Reviews Lost Books and Old Bones (Scottish Bookshop Mystery, #3)
Lost Books and Old Bones is the third book in Paige Shelton's Scottish Bookshop cozy mystery series. When this book showed up in my galley list for review, I didn't remember requesting it. But I do have this series on my cozy TBR list....so I was excited to get to read it, whether I remembered asking for it specifically or not. It was a happy surprise! This is the first book in the series that I have read, but I was easily able to jump in mid-str...

Since feisty Delaney Nichols moved from Kansas to Scotland, her life has been filled with old books and bookish treasures; intrigue and danger. She's found true love with pub owner Tom, and made great friends with her landlords, Elias and Aggie, and her co-workers, Rosie and Hamlet. Delaney is still carefully feeling her way around her mysterious and wealthy employer, Edwin MacAlister.The morning after Delaney has drinks with some new friends w...

A cozy mystery to curl up by the fire with and lose yourself for a while. I enjoyed the characters and the plot. Delaney, from Kansas, has moved to Scotland and is working in the bookshop The Cracked Spine. She befriends some medical students from the local university and, after a night out with them at a bar, a friend of the students who was as the bar with them is murdered behind The Cracked Spine. Delaney is full of questions and sets out on h...

Delaney moved to Scotland from the US to work for a bookseller. She has been in Scotland for about a year, and has recently been friendly with a couple of the local medical students. One night, Delaney goes out with the medical students and meets some of their friends. The next morning, one of the women Delaney had met the night before is found murdered just outside the bookshop. Delaney is curious as to why the woman was outside the bookshop, an...

Oh this was so good! I have book hangover. I loved Lost Books and Old Bones by Paige Shelton. This is a great read. This cozy mystery is Scotland based and a great mystery with lots of twists, history and fun artifacts await you inside!A dream job, friends and family made up of the people you surround yourself with. Local lore and legend and a whole lot of mystery and fun await you. Book three is one you are going to want to read. Actually the se...

3.5 stars This book has some great things going for it. It's set in the lovely town of Edinburgh. The heroine, Delaney Nichols, works in a dream job, an antique bookstore. She has come from Kansas for this opportunity and in this third book of the series is in a serious relationship with local pub owner, Tom. This story revolves around the famed Scottish scandal where people were murdered so their corpses could be sold to the Edinburgh Medical Sc...

For me, this one was just...okay. There was virtually no context to introduce the new characters and I just didn't connect with them. It was an great plot, lots of twists and turns and the very creepy Dr Eben. I enjoyed the history (The Burke & Hare story is always fascinating) and of course, the little bookshop and its treasures, both human and inanimate, are a big draw for me but I found it was difficult to hold my interest and I struggled to f...

Lost Books and Old Bones is the 3rd book in this series by Paige Shelton.I haven't read the first two, they are on my kindle TBR list.When I began this book, I had it in my head that I might not understand the dynamics at first, since I hadn't read the previous two. I was proven wrong right away. The story flowed smoothly and I was able to connect quickly with the characters.Delaney Nichols is a feisty character and her personality added a fun di...

Lost Books and Old Bones by Paige Shelton was a pure delight to read. Ms. Shelton never fails to intrigue me with her research of Scotland's rich heritage. This time it involves the University of Edinburgh's medical college and it was fascinating.Delaney has settled into her new life and may have found the love of her life in Tom. Delaney and Tom's relationship is so open and supportive as Delaney tries to help solve the mysteries that seem to fi...

4.5 STARS Full disclosure….I read this one simply because I liked the title and cover. Yes I was lured in by a pretty cover with the word 'books' in the title and I loved the sweet dog. I can never resist a book with a cute dog on the cover. I'm terrible. I didn't care if it was the third book in a series, or if it an over the top cozy. I just saw the cover and title and I just had to read it!From what I gather, this series is a popular...

**I voluntarily read this ARC**This is probably a series best read in order. I didn't fully connect with the characters because I missed the initial character building. The setting was beautiful. It had a slightly slower pace than I am used to, but it really helped build the story. I really enjoyed the history that was tied in with the plot. I actually ended up reading up on it after I finished the book. The reveal was a shock and very well writt...

"Two half-truths don't make a truth. In fact, even three don't"Delaney Nichols, from Kansas happily living as an ex-pat in Edinburgh, Scotland and working as a bookseller at The Crooked Spine finds herself in the middle of a mystery that stretches back into the history of the medical school, however could be as current as #metoo. When confronted with the situation at hand, her new friends could become her demise unless she finds the conne...

Lost Books and Old Bones is the third book in Paige Shelton's Scottish Bookshop Mystery series. This is a well-plotted murder mystery with well-developed characters. This book is an interesting read and the author did a wonderful job creating authenticity in the characters with Scottish dialog. Ms. Shelton's descriptive writing makes me feel like I'm right there with the wonderful cast of characters. The identity of the murderer was a myste...

I love books and bookstores, so if I find a story about a bookshop, I'm a happy camper. Delaney Nichols moved from Kansas to work at The Cracked Spine Bookshop in Edinburgh, Scotland. Delaney's new friends, students at Edinburgh Medical School, bring in a set of old medical books to sell to the bookshop. After a night out with her new friends, one of them is murdered. Delaney must figure out how the present day murder is linked to the books, ...

This is such a delightful series! This is the third I believe in the series with the lovely Delaney from Kansas. Working in The Cracked Spine bookshop selling rare and old books with a secret room with even more hidden treasure! It's a book lover's dream!When a young lady she had met the night before is found murdered outside of the bookshop, Delaney's curious mind simply has to be involved!This Cozy Mystery Series is full of history, intrigue an...

This series takes you right to the small Scottish town and you just want to spend the rest of your days there! There is something so unique about this series that just keeps me coming back for more! The characters are charming and quirky, the setting beautiful. The mystery, as always, is enjoyable, well thought out, and so delightfully twisty that I want to reread the book just to make sure I didn't miss anything! Such a great series that I love ...

I visited Edinburgh in 2017 and wanted to be able to "revisit" all the places I had read about but this time with the actual knowledge of having been there.Paige Shelton was gracious enough to send me an Advanced Reader's Copy of this book.Sitting down with the characters I met and have grown fond of I immersed myself in the latest mystery set in Edinburgh with The Cracked Spine bookshop front and center. Paige paints such a vivid description of ...

This was the best one yet!!! I am in love with everything that happened and how Paige played it all out. It was amazing and I'm chomping at the bit for another one! The Burke and Hare history in this book sucked me in the moment I read it and kept my attention the entire time. I can't rave about this series and especially this installment enough! It's perfect! A must read for any mystery lover! So excited for Delaney and Tom! My heart is still be...

Series: Scottish Bookshop Mystery #3Publication Date: 4/3/18Oh! My! I've definitely found a new series to start reading. This is my first book by this author but it definitely will not be my last! The mystery is well plotted, the story is wonderfully written and the characters are both relatable and likable. The setting is perfect (Edinburgh) and the author's descriptions make you feel as if you are right there with the characters. This autho...

Paige Shelton, has written a charming premise with her character, Delaney, who works for The Cracked Spine. This bookstore specializes in rare books and manuscripts. Set in Edinburgh, I loved the fact that it started out with the moody background of Scotland and lots of artifacts.Sophie and Rena, came into the shop to sell, "an Atlas of Illustrations of Clinical Medicine, Surgery and Pathology" made up of 25 books which are very rare. I, along wi...

Delaney is a very fortunate Kansas girl. She has found a job working in a book store in Edinburgh Scotland. And the Cracked Spine is not just any book store, it is filled with rare books and collector's items. Delaney's job is to verify and catalog the rarest of items.After Delaney has an evening at the pub with a couple of her friends who are medical students, she and her boy friend, Tom, go to the warehouse portion of the store. She wants to ve...

This is an exciting mystery, even better than the first two in the Scottish Bookshop Mystery! I really enjoyed it, especially seeing favorite characters and new ones. Delaney moved to Scotland in response to an ad for someone to do research for and organize special collections, and the beauty and history of this ancient land is proof that she isn't in Kansas anymore...and she loves where she is! She is also thrilled to be working at The Cracked S...

I've been a fan of the Scottish Bookshop Mystery series by Paige Shelton and was excited to read an advance copy of her third book, LOST BOOKS AND OLD BONES. Not only did it meet my high expectations but I think it's the best book in the series so far! Ms. Shelton captured my attention starting with her Acknowledgments and continuing all the way through to her list of real-life victims at the back of the book. I couldn't put the book down a...

I  recieved a free digital copy of this book from Netgalley for an honest review.This is the third book in the series, but my first. Delaney is an American from Kansas who moved to Scotland and is working at an amazing bookshop. She even has her own pub owner Tom! ❤After a night of drinking with friends, Mallory, one of the girls she met the night before is found dead right outside the bookshop. To make matters worse, her friends Sophie and Re...

3.75 starsDelaney Nichols left Kansas to embark on a grand adventure and wound up working in a mysterious bookstore in Edinburgh. She is a great protagonist -- quirky, flawed, and appealing. The ensemble cast including her kilted Scottish boyfriend, pubowner Tom, her eccentric boss, and her landlady and his wife.After spending a night out with her casual friends Rena and Sophie celebrating the end of the medical school semester, Delaney returns h...

Paige Shelton's Delaney Nichols is living one of my dreams-- working in a bookstore in Scotland. The series has shown her slowly making a comfortable life for herself. At first, there were new friendships with the people who own the house she rents as well as with the people she works with; then there was the delectable boyfriend, and in Lost Books and Old Bones, she's made friends outside of work and home. As she becomes more comfortable, so do ...

This is a series that is just growing stronger and stronger. Ms. Shelton's book took me on 'vacation' to Scotland and allowed me to spend some time with 'friends' at the bookshop. The characters are very likable and I'd love to actually visit the bookshop and get to know them better. This is a well-written and nicely paced book that kept me reading late into the night. Nice twists and turns to keep things interesting. I'm already looking forward ...

Another fun entry in this series! Delaney is doing her best to fit in and make new friends in Scotland. Yet again there is a murder and she is forced to investigate it. I love The Cracked Spine book store she works at along with the rag tag crew employed there. Her landlord is a hoot too! See how much I liked it I just typed hoot! If you are a fan of cozy mysteries or know anyone who is I definitely recommend this series. You are guaranteed an en...

Welcome to another Paige Shelton book that you will just love to dive into and are sad and utterly disappointed when the book is finished because now you have to go back to real life. The characters are so engaging and the city of Edinburgh is a character in itself. I love this series because you wind up learning so much because of the delightful bookstore that the main character Delaney works at. In this book, you peek into the world of medical ...

What a grand read, back with the friends from Scotland, a marvelous way to travel. I love the back room, want one, oh wait would pretty much describe my house. I love this series!!! Highly recommend!