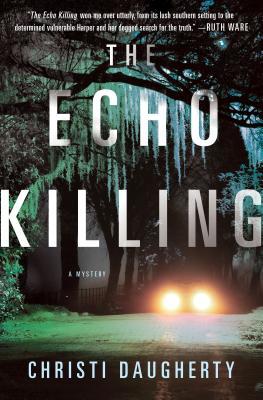 When a murder echoing a fifteen-year-old cold case rocks the Southern town of Savannah, crime reporter Harper McClain risks everything to find the identity of this calculated killer.A city of antebellum architecture, picturesque parks, and cobblestone streets, Savannah moves at a graceful pace. But for Harper McClain, the timeless beauty and culture that distinguishes her home's Southern heritage vanishes during the dark and dangerous nights. S...
---
Details The Echo Killing (Harper McClain #1)
Reviews The Echo Killing (Harper McClain #1)
I loved it! Harper McClain is a crime reporter living in Savannah, Georgia. When she was twelve-years-old, her mother was brutally murdered. Her Mother's murderer was never found. This has been a driving force for Harper and one of the reasons she became a crime reporter. She has built a solid reputation for herself as a journalist and formed relationships with police officers over the years. One of the police officers serves as a father figure t...

4.5 stop the presses stars 🌟🌟🌟🌟.5 if it bleeds it leads...This was a newspaper reporter procedural, is that a thing? Well it should be....This is the first book in the Harper McClain series and let me tell you the series is off to a fantastic start....Harper was born to be a crime reporter.... she puts her everything into her job... it's personal... it's her calling.... so when she starts investigating a murder that is eerily simi...

This wasn't a grab you by the seat of the pants kind of mystery. It was slow to build and I'm not good at practicing patience. BUT, once it got moving, the story took off the runway.A recent murder of a woman appears to echo that of one that took place 20 years ago. One whose daughter is now a reporter and recognizes the similarities of the death that took her mother from her at the age of 12. Investigating it however, comes at a great cost. Her ...

Harper might come across as a tad morbid to some. "Murders didn't bother Harper. They fascinated her...Murder had long ago left it's fingerprints in her DNA." Fifteen years earlier, she had come home from school to discover her mother brutally murdered in their kitchen. Now, she's 27 and is a crime reporter for a Savannah newspaper. She's audacious, maybe even foolhardy. At one point she asks a friend if she could be considered self des...

Harper McClain's world is like a Venti Double Shot On Ice from Starbuck's.Maximum jolt with an icy thrill.But it's June in Savannah and the soothing drawls suddenly pay heed to what's happening on those tree-lined streets. Harper, a crime reporter for the Daily News, hears the loud buzz on her police scanner. She and her photographer, Miles Jackson, set off to get an edge on a gang shooting not far away. As shots ring out, she and Miles are pinne...

Jam-packed suspense!A seasoned crime reporter + Cold case mystery with a personal stake +a recent murder and an intriguing setting in Savannah!Crime reporter Harper McClain will stop at nothing to find the killer behind these murders. Her mother's unsolved murder 15 years ago echoes the circumstances of a recent crime scene and rocks Harper's world. She becomes obsessed with solving the case. Could the murderer be the same person? How could she...

The Echo Killing by Christi Daugherty is the first book in the thrilling Harper McClain series. Harper is a crime reporter that lives life on the edge following the latest story giving the series and action packed ride from start to finish. This also felt to be just on the edge of being romantic suspense with a bit of a relationship forming too.The story begins with Harper and her photographer, Miles Jackson, following the police scanner as the c...

Unpopular opinion time! When Harper McClain was 12 years old she returned home from school to find her mother had been stabbed to death in their kitchen. Fast forward to the future and Harper is now a crime reporter in Savannah, Ga. When Harper hears that there has been a murder of a woman she rushes to the crime scene and breaks in through the back door, while the entire police force is present *rolls eyes*, only to discover that the scene is al...

Savannah is beautiful... and fairly safe and picturesque when you stick to the side the tourists are on. There is a bleaker side of the city, where the houses aren't so picture perfect and the criminals run rampant. Harper is in her element when things are a bit scary and dangerous, and she spends a lot of her time there. She's a newspaper reporter who covers crime in the city, and "if it bleeds, it leads". She's always ready to dash off with her...

Very entertaining! I stayed up into the wee hours to finish. Even though I kind of had a feeling how this would end it was still very well thought out and really well paced. I never got bored. Great characters and an ending that left enough questions to keep me hooked into reading the next novel. Really looking forward to seeing where this series goes. 4.5 stars.

Fifteen years ago, a 12-year-old girl came home from school only to find her mother lying dead on the kitchen floor. She had been stabbed repeatedly ... the killer was never found.Crime Reporter Harper McClain was that child. The murder of her mother is the very reason she chose her profession. She's very good at what she does, the cops respect her for her honesty, sometimes brutal at times.She hears the scanner and off she runs, grabbing her pho...

THE ECHO KILLING is the story of a young woman, Harper McClain, who discovers that her mother's murder fifteen years ago has been echoed when Harper, in her job as a crime reporter, is covering a murder scene. For Harper, this murder brings back memories of the day she came home from school and found her mother brutally murdered. Could the murderer be back? But, why fifteen years later? Is there some connection between Harper's mother and the mur...

Received this ARC from Netgalley for an honest review.OH MY FREAKING GOODNESS!The Echo Killing was so freaking good! I couldn't put it down!! I'm kind of wanting to kick myself because I feel like I should've dived right into when I first got the book.. but then life got in the way and I finally found time to read this AMAZING book and I fell in love. Harper McClain is probably my favorite character from any book that I've read today. TODAY peopl...

Thanks to Netgalley and St. Martin's press for providing me with an ARC in exchange for an honest review.I really enjoyed this one. Harper McClain was a great character, damaged enough to be "interesting" but really strong, smart as a whip, and highly entertaining to watch do her thing. The secondary characters were pretty good too, but Harper was definitely a powerful main character.The mystery itself was a good one. I will admit, I solved the m...

The Echo Killing is an expertly crafted novel which I thoroughly enjoyed. Author Christi Daughtery came up with such rich settings and characters in this dark and twisty book. I loved the premise which had me hooked from the start. The story unfolded at a great pace, and I loved the lush Savannah setting. Harper McClain made an intriguing character, feeling all too real as I turned the pages of what I would describe as a pulse-pounding read. The ...

Wow, what a thrilling experience! This book was absolutely amazing! I was feeling blah because I have been stuck at the hospital for a loved one so I needed something thrilling and suspenseful to wake up my emotions. The Echo Killing by Christi Daugherty exceeded my expectations! I was drawn to this novel because of the Savannah, Georgia setting. I live in Charleston, South Carolina, so Savannah is only an hour away and I have visited there many ...

Harper McClain is a reporter for a newspaper in Savannah, Georgia, where she chases down the 'best crimes' on a daily basis in order to make it to the front page of the paper. Harper is fascinated with crime, especially murder, and attributes this strange inclination to the traumatic event of her childhood that changed her life--the murder of her mother. The murder of her mother that she had to stumble upon when she arrived home from school, aler...

I received this via Goodreads Giveaways in exchange for an honest review. All my opinions are my own. ----3.5 stars Reading this may not have been the best idea when I couldn't sleep haha.Been awhile (that I can remember) since I had a good murder mystery that I could sink my teeth into (first one comes to mind is the Kurt Wallander series but tired brain is tired ;-P ) so I was cautiously optimistic about this one.I didn't feel the southern sett...

A great new thriller and a new character to follow. Harper McClain is a criminal reporter working for a Savannah newspaper. Her mother was murdered when Harper was only 12 and the killer was never found. Now there is a new murder, fifteen years later, and the murder scene looks very much like that of her mother. The investigation is on and Harper is deeply involved even though she's not supposed to be. Some very surprising information turns up. I...

The fundamental mistrust between the police and the press created a hazy no-man's-land between the two, draped in emotional barbed wire. 4.75 stars! Stop the press— this is one series opener you don't want to miss! From the opening paragraphs, I could tell that The Echo Killing was going to be a winner, and only a couple chapters in, I was pausing to look up Christi Daugherty's background and figure out why I hadn't heard of her before. The Ec...

A strong heroine, a chilling mystery, and a colorful setting all work together to make The Echo Killing a fantastic read.  If you're a fan of crime dramas, then I highly recommend this book.For starters, Harper McClain was a wonderful heroine.  Sometimes, authors equate tough with bitchy and smart with smart-aleck.  Luckily, Harper showed the positive qualities without displaying the negative ones.  She was a loner, but that didn't stop her...

3.5 rounded up. A really solid start to what is hopefully a series. I enjoyed this one, but it left me with more questions by the end which made the ending a bit flat but I will be looking out for the next one for sure! Set in Savannah, Georgia, we meet crime reporter Harper McClain. When a murder is committed, echoing a 15-year-old cold case, McClain takes it upon herself to try to find the perpetrator. The kicker here is that it was McClain's...

When a cold case is personal you take it to the next level in uncovering and unmasking the killer.This is a powerful epic thriller involving some strong characters who refuse to step down even when told by their superiors. Case in point Harper McClain a crimes reporter and journalist who suffers from flashbacks of her mother being murdered when she was just a young impressionable and innocent bystander.Little did she know her experience would hel...

I love a good thriller. Especially one that surprises me by turning out to be pretty amazing by the end. The Echo Killing did exactly this. I started this book without any expectations and was mildly disappointed up until about the halfway point when things really started picking up. I was unsure about how I felt regarding Harper being a journalist. I typically am more interested in thriller novels from the perspective of law enforcement or detec...

Harper is a news reporter in Savannah, where she works nights following crime activity across the city to catch her next story. After responding to a call to a murder scene, Harper is on a story that is eerily similar to another murder that happened 15 years earlier... the murder of Harper's mother, which was never solved. Harper sees the connection between the cases, but the police don't want to hear about it. Investigating this current story br...

If you're looking to start a new crime series in 2018, look no further than The Echo by Christi Daugherty. Harper McClain is a crime reporter for the Daily News in Savannah, glued to her police scanner every night to make sure she's the first reporter at crime scenes - the worse the crime, the better the story. When she arrives at the scene of the horrific murder of Marie Whitney in a smart neighbourhood and witnesses a young girl being led from ...

Good solid mystery! I loved how the worlds of journalism and the police department collide in this novel. Harper works closely with the detectives as she was the survivor of a horrific crime years ago when her mother was brutally murdered and young Harper discovered the body. Now amid gang shootings and domestic drama, another seemingly senseless murder occurs and Harper becomes suspicious when there appear to be too many similarities to her moth...

I didn't fall in love with this book on the first page--it took a couple of chapters to completely hook me. The things I liked about this book were engaging characters, a great sense of place, a backstory that enriched the contemporary plot, and unpredicatability--which doesn't mean constant surprises, but a plot that unfolded in logical but sometimes unexpected directions. Moderate levels of suspense, and hints that could lead to a sequel, but t...

Harper McClain is a hard-nosed, excessive working, sassy, rule breaking crime reporter in Savannah, GA. While investigating the stabbing death of a woman in an upscale neighborhood, Harper can't seem to shake the feeling that this crime bares perfect resemblance of her own mother's heinous murder. She must use every method, legal or not, to come to the truth while not getting herself killed in the process. This is the first installment of a hopef...

As a native Georgian, I enjoyed this novel that is set in Savannah. Harper McClain is a young crime reporter for the local newspaper who is investigating a murder that is very similar to her mother's murder 15 year prior. As she gets caught up in the investigation, she finds that some of the clues hit very close to home. A fast-paced read that I enjoyed very much. I think if you enjoy Debra Webb or Mary Higgins Clark, you will enjoy this one. Tha...