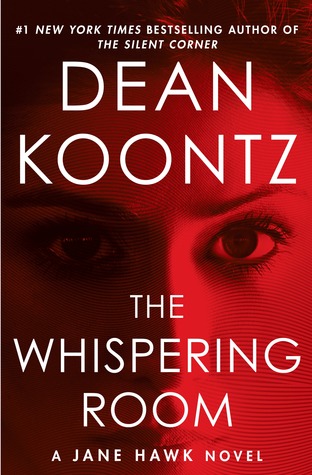 Jane Hawk—fiction's most relentless, resourceful, stunning new heroine—continues her battle against a murderous conspiracy in the riveting sequel to The Silent Corner. "No time to delay. Do what you were born to do. Fame will be yours when you do this." These are the words that ring in the mind of mild-mannered, beloved schoolteacher Cora Gundersun—just before she takes her own life, and many others', in a shocking act of carnage. When th...
---
Details The Whispering Room (Jane Hawk, #2)
Reviews The Whispering Room (Jane Hawk, #2)
Picked up right where book one left off. A follow-up book two from the Jane Hawk series. And Jane is still on the run. I highly recommend starting at the beginning with 'The Silent Corner' in order to become fully enmeshed.Money, power and sex! The triple threat of human nature that combined, have major potential for evil to bloom. A sinister group are using nanotechnology to take over and control unsuspecting innocent people through brain im...

The Whispering Room by Dean Kootz is a 2017 Bantam publication. Kick-butt heroine Jane Hawk is back ready to save the world from a diabolical and evil plot against America.After reading the 'The Silent Corner', I was cautiously optimistic about this new series. After reading this second installment, I have become a true believer- lock, stock and barrel. The thing about this storyline that makes it so incredibly chilling, especially in America...

"You're dead already...They'll know about you in the whispering room."A narrative which moves like a runaway train, a terrific premise which is more plausible than we'd like to admit, a resourceful protagonist we like and care about, and Dean Koontz's signature trademarks of goodness and hope in a world which too often seems to have gone mad, make this second entry in the Jane Hawk series a terrific read. I had not read the first in the s...

Thanks to Bantam Books/Random house for this ARC. Also thanks to Dustin Crazy little brown owl - moderator of Koontzland - the definitive Koontz Goodreads group - for hosting the giveaway. I say ARC even though it came out two weeks ago, but I got it just a couple of days before the release so I am late to the party.The Jane Hawk adventure continues as she takes her bad-ass-ery all over America in search if truth an justice. There is so much stuf...

Time for a confession: I've never read a single book by Dean Koontz. I started The Face once, long ago, and never finished.Maybe it's time to revisit that book. The Whispering Room is a sequel to Koontz's first Jane Hawk book: The Silent Corner. I should have picked it up while it was on sale a couple weeks ago because it's right up my alley: conspiracy theories, kick ass heroine, a fun supporting cast.That being said, I actually had no i...

For good reason there a genre called thrillers, if you looked the term up in the dictionary no doubt a picture of the cover for The Whispering Room (TWR) would be one of those books featured prominently. Rogue FBI Special Agent Jane Hawk is back in her continuing crusade against the cabal that is trying to control the world through implanted nanotechnology. Jane has acquired proof but since she is #1 on the FBI's most wanted list and since the NS...

This is turning into such a great series. I gave book one 4 stars but this one gets a full 5.The most noticeable aspect of The Whispering Room is the suspense. I sat on the edge of my seat, holding my breath and forcing myself not to peep at the end to see who survived. Jane Hawk is one of those characters who really has it all together and is usually one step ahead of the baddies. In this book however the baddies have all the power of the govern...

When I finished The Silent Corner, the first book in this series featuring FBI agent Jane Hawk, I loved it so much that in my review I urged the author to hurry up and finish the next one sooner than scheduled. He must have heard me, since he beat that original date by a couple of months. And oh boy, am I glad he did!This one can stand alone, although I'm sure I enjoyed it more for having read the first. That one had plenty of action, but here it...

The Whispering Room, Jane Hawk #2 (NEW RELEASE - Group Read November/December 2017) I Won a Goodread's first edition copy! Link to Koontzland's December 2017 Group Read Discussions: this is #1 out of 4 listed - completed Below is the group linkhttps://www.goodreads.com/event/show/...Jane Hawk, the "rogue" FBI agent solves her husband's suicide, FBI Lt.Col. Nick Hawk.She wants to catch the criminal scientists & investors on implanting microscopic...

Jane Hawk is back. She's still on the run....a fugitive....a rogue FBI agent. Following the apparent suicide of her husband, Jane discovered a conspiracy, something so evil and diabolical that she immediately knew she had to find those responsible and stop them. A group of powerful, wealthy people have developed technology that can hijack the will of any person...take over their brain. The person can be made to do anything. No resistance. No cons...

I received a free electronic copy of The Whispering Room (Jane Hawk, #2) by Dean Koontz from NetGalley for my honest review.First I have to say I have always been a big fan of Dean Koontz. This was a great thriller filled with conspiracy and mind control. Jane Hawk's husband committed suicide and Jane is trying to avenge her husband's death by proving it wasn't a suicide. Jane then becomes one of the most wanted people in the US because of what s...

What would happen if someone discovered a way to make anyone into an assassin? Unlimited power, wealth beyond your imagings, sexual servitude, and corruption and evil explode.The Whispering Room immediate follows Jane Hawks experiences and discoveries from The Silent Corner. She is following the trail of the power-players using the nano-tech to control minds and being hunted by the people she is hunting for. You can never know who is friend or fo...

The Whispering Room is book #2 in the Jane Hawk series. The story follows on from #1 The Silent Corner, but it is not necessary to have read book #1 in order to understand the gist of the storyline. In some ways I was disappointed with how the storyline developed. Jane Hawk seems to have spent most of the book chasing around, interrogating people in order to extract information from them. The book was boring at times and not as enjoyable as The S...

REVIEW OF THE FIRST 4 CHAPTERS ONLY ..... COURTESY OF BOOKISHFIRSTI'd almost forgotten what a Dean Koontz book did to me .... the hairs on the back of my neck tingled, an adrenaline rush, forgetting to breathe at times. This book may be his best yet.Jane Hawk has a story to tell. She is an FBI Agent, gone rogue, charged by our government of multiple murders. But the government is not telling the truth and Jane is looking for an honest reporter to...

Release Date: 11.21.17Picking up immediately after the action of this novel's predecessor, The Silent Corner, The Whispering Room — Dean Koontz's latest thriller — hits the ground running. Jane Hawk, blacklisted CIA agent, is still on the run and working hard to solve the massive conspiracy she uncovered in Koontz's previous release. Certain people have been chosen to kill themselves, for no apparent reason . . . except to manage the gene poo...

Wow! This story picked up Jane Hawk's mission and hit the ground running. I liked this one better than the first in this series - The Silent Corner. The conspiracy is much larger than she first imagined and more people she needs to try to bring down so that people won't be changed by these "idealists". Fast-paced and engrossing, I couldn't put this one down. Thanks to Dean Koontz and Random House Publishing - Ballantine through Netgalley for an a...

The thing I like most about this series is the protagonist. I grew up reading about Jason Borne, Jack Reacher, and Mitch Rapp, and I'm loving having a female hero that is just as skilled and competent. This book starts right where book 1 left off. Jane has learns more about what is happening, and gains an interesting ally in Luther Tillman, a small-town sheriff. But the bad guys are everywhere, and the story is basically one continuous chase.I'm ...

Once again, Dean Koontz left me breathless from start to finish in his second book of his Jane Hawk series. We pick up in The Whispering Room immediately following the end of The Silent Corner, and this time Jane gets a helping hand from Sheriff Luther Tillman. Luther and his family quickly endear themselves to the reader and I hope to see more Luther in the next book!In fact, Jane has a way of pulling in the unlikeliest of allies which give the ...

Absolutely loved this. One of Koontz's best series.

It has been a long time since I read a Dean Koontz novel, never feeling the need to rush out and purchase his newest work. I believe that will change after reading "The Whispering Room."The novel is nothing short of amazing. It is the second in the author's Jane Hawk series, although it can be read as a standalone (there is enough back story provided). Jane is an FBI agent on the run, trapped by events and machinations beyond her control. W...

Anyone who has read this will feel a compulsion to ask a certain question (no spoilers) of their nearest and dearest...just in case. When Jane Hawk ask herself in the mirror--chills! Sorry, I'm not usually that cryptic in my reviews but I wont give it away, you need to go read this one yourself.I am a huge Dean Koontz fan. He is brilliant with characters, plot, dialogue and making the impossible completely plausible (and terrifying) but more than...

I absolutely loved this book. It was better than the first and it really surprised me. Toward the end I was curious where it was going since I know there's going to be a third book. I wondered if Koontz was going to do something in particular, but I thought he cared too much about his fans for that, despite the fact that he still hasn't finished the third Moonlight Bay book. Happily, I was right about him not doing what I thought he wouldn't do.....

The Whispering Room, by Dean Koontz, is the second book in the Jane Hawk series. I strongly recommend reading them in order.Jane is on the run again. In the first book of the series, Jane was on a quest to tell the world the truth about her husband's suicide. As a former FBI agent and now a fugitive, Jane is adept at dealing with the challenges in her journey. During her journey, she discovers more questionable deaths. There are many evil people ...

The second book in the series did not disappoint. Rogue FBI Agent Jane Hawk continues her fight against an evil, well-funded, and well-connected group that is using nanotechnology to enslave citizens. With references to The Manchurian Candidate, the story provides an eerie glimpse at how technology, when in the hands of power-hungry egomaniacs, can go horribly wrong Waiting patiently for Book #3 coming in May, 2018!

*3-3.5 stars.Huh...I can't quite put my finger on why, but this sequel in the Jane Hawk series didn't engage me as much as the first book, The Silent Corner, did. It has all the usual suspenseful ingredients of a good thriller but is perhaps lacking somewhat in heart. It is an easy trap to fall into in which the author merely says "Jane felt" rather than helping the reader really feel what Jane felt. One puzzle with the storyline is why Jane does...

Little did my son know when he gave me this 492 page turner (regular print), that it was one of my best Christmas gifts. It was awesome, enthralling and I could NOT put it down. Fortunately, there was time to peruse due to a lake effect storm with bitter cold. Our main character Jane was a rogue FBI agent who sought to disable a horrible group of people that enslave with what would seem with unlikely means but Koontz enables us to totally believe...

This is much better than Jane Hawk #1 and was headed to 5 stars until chapter 20 to conclusion. Hard to understand why Koontz would move from a great pulse-pounding story, to practically turn the heroine into a victim. Elisabeth Rodgers is a fabulous narrator. Instead of what should have been 5 stars, 3 due to the poor end. Overall, 6 of 10 stars.

She's Back! Thank you to Random House/ Bantam for sending me a free advance review copy :-)The Jane Hawk Series has quickly accelerated to become my favorite Dean Koontz Series. Chris Snow remains uncompleted and I believe both Odd Thomas and Frankenstein were stretched too far. My sincere hope is that Dean will know when it is time for the Jane Hawk Adventures to stop.Jane Hawk is a character that we love to root for, she embodies the virtues th...

Book two continues right where The Silent Corner left off. Jane is slowly finding her way towards redemption for her husband and to right the wrongs for all of those who literally can no longer think for themselves.Since this is basically just a continuation, we don't get much more information, if any, that we didn't already have from book one. The book became stagnant in certain places because we never really got anywhere. That's not to say the ...