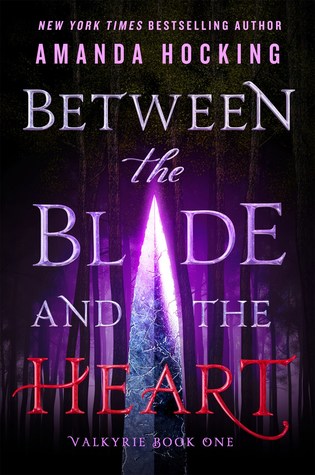 Between the Blade and the Heart is the first book in a brilliant new young adult fantasy duology inspired by Norse mythology by New York Times bestselling author Amanda Hocking.As one of Odin's Valkyries, Malin's greatest responsibility is to slay immortals and return them to the underworld. The balance of the world rests on her ability to carry out orders. But when Malin discovers that her mother spared the life of an immortal who was destined t...
---
Details Between the Blade and the Heart (Valkyrie, #1)
Title
Between the Blade and the Heart (Valkyrie, #1)
ISBN

9781250084798

Author

Amanda Hocking

Release Date
Jan 2nd, 2018
Publisher

Wednesday Books

Language

English

Genre

Fantasy

,

Young Adult

,

Mythology

Rating
Reviews Between the Blade and the Heart (Valkyrie, #1)
That was not the best way to start 2018.I am familiar with Amanda Hocking's work, since her Trylle Trilogy and Kanin Chronicles hold a special place in my heart. That is why it saddens me to no end to admit that Between the Blade and the Heart was a big miss for me.Between the Blade and the Heart is the first book of a duology based on norse mythology. The world is divided between Mortals and Immortals; Mortals have a short lifespan, but they can...

Between the Blade and the Heart by Amanda Hocking is the first book in a new young adult fantasy series, Valkyrie, which is inspired by Norse Mythology. The series features a main character that is a Valkyrie in training who finds her whole world turned upside down from everything she has ever known.I will admit to picking this one up half based on the beautiful cover but also the fact that instead of the Vampires and Werewolves that seem to be e...

I reviewed this book as a participant in a blog tour hosted by the publisher. Thank you, Wednesday Books, for sending me an e-galley and a finished copy.My written interview with Amanda Hocking can be found here.Did I choose to be a Valkyrie, or did it choose me?Being a fan of Valkyrie Profile, I was very excited to delve into Between the Blade and the Heart, Amanda Hocking's new novel about a teenage girl tasked by Odin to gather the souls (kill...

BETWEEN THE BLADE AND THE HEART REVIEW – BLOG TOUR & GIVEAWAY (Giveaway rules: 1 usa winner only, finished paperback copy, ends 1/20/18 midnight – Rt&follow my twitter @howusefulitis to win).About: Between the Blade and the Heart is a young adult fantasy written by Amanda Hocking. It will be published on 1/2/18 by Wednesday Books, an imprint of St. Martin's Press, 336 pages. The genres are young adult, fantasy, mythology, and fiction. This ...

When Amanda was an indie author I remember buying her books like crazy and devouring them. I loved them all and just couldn't get enough. And as much as I loved her writing, for some reason, her past couple of releases have been good, but I haven't felt that frenzied loved for them or her characters like I once did.Maybe it is me and my tastes have changed or maybe her writing has, either way, as much as I wanted to love this and connect with it,...

Between the Blade and the Heart is a brand new series by Amanda Hocking that is based on Norse Mythology and more specifically the training of a young Valkyrie who discovers that her life and all she believed was twisted lies and hidden agendas. Easy, entertaining a full of potential for another series that will be added to the must pre-order list, I am looking forward to seeing where this story goes.I'm a fan of Hocking's novels but I had a diff...

One thing can always be said about Amanda Hocking's writing, it always flows along, the dialogue is spot on, relaxed and natural feeling, as if the characters were right there, feeling exactly what you are feeling.This time out, we are treated to Norse Mythology and specifically, Valkyries, those amazing women warriors, trained for battle, to carry out the biddings of the gods, to return immortals to the underworld when it is their time, no exc...

Summary (from the publisher)When the fate of the world is at stakeLoyalties will be tested.Game of Thrones meets Blade Runner in this commanding new YA fantasy inspired by Norse Mythology from New York Times bestselling author Amanda Hocking. As one of Odin's Valkyries, Malin's greatest responsibility is to slay immortals and return them to the underworld. But when she unearths a secret that could unravel the balance of all she knows, Malin along...

*I received a free ARC copy from NetGalley in exchange for an honest review.*This was a rather quick and pleasant read. The story takes place in an alternate world where humans and immortals (demons, ogres, vampires etc.) co-exist. And there exists another group, the Valkyries, who were chosen by the gods to play grim reaper to the immortals. The book puts into question the idea of destiny or pre-determined fate versus our free will to choose. If...

I won an ARC of this book in a goodreads drawing.Sort of Buffy the Vampire Slayer with a Norse Mythology angle. Malin is a Valkyrie, and goes around retiring (killing) supernatural beings for a living. She has a difficult relationship with her mother; an ex girlfriend who still pines for her, and she meets with the usual mysterious, brooding boy, and there's secrets and crises.Not bad. The Norse stuff keeps the book from being completely cookie c...

I wish that more time had been given to the world-building and less to the love triangle romance that I didn't think made any sense. I'm still interested in the basic premise of this book... But the romance and sections of the plot didn't work well for me. I did enjoy the diverse cast of characters though, particularly that the book isn't just centered on the diversity (it's not the focus of the plot).

Thank you to Macmillan for sending me a copy. All thoughts are my own.Just eh. I don't have a lot of feelings, a mini review may come.

In Between the Blade and the Heart we follow Mal, a Valkyrie who returns immortals to the afterlife by slaying them to keep the balance of the world from being thrown into chaos. After Malin discovers that her mother spared the life of an immortal who was destined to die she struggles with the knowledge that her mother might not be who she thought. Now she has to figure out how to fix her mothers mistake before the immortal sends the world cras...

Disclaimer: This book was sent to me by the publisher, St. Martin's Press, via NetGalley for an honest review. Opinion: A slaying female heroine, naughty immortals hell-bent (haha, pun) on staying alive, and long walks into the underworld. Suh-Woon.Kind of.A Valkyrie has the sole duty of returning immortals to the afterlife once their lives are up. As one of the feared and sometimes hated Valkyrie, Malin dedicates her life to her job. When give...

Originally Posted On The Sassy Book Geek *** Big thank you to St. Martin's Press for giving me a copy in exchange for an honest review***This ended up being such a quick and entertaining read! Everything just flowed so well and I absolutely devoured this!The story is an urban fantasy that mixes together many different mythologies but the main one mostly being Norse since the story revolves around Valkyries who were created to kill immortals. ...

Read an excerpt from this book on my blog illbefinealone reads.This was an interesting read. This is the second Amanda Hocking book I've read, and it's also the second time that I'm disappointed with the romance aspect of the story in her books (in case you wonder why I'm mentioning it first it's because I really like romance). The main character was a bisexual girl, and I was all for it until she was involved in one of the weirdest love triangle...

AS SEEN ON: A THOUSAND WORDS A MILLION BOOKS I received an eARC from St. Martin's Press via NetGalley in exchange for an honest review. All thoughts and opinions are entirely my own. I HAVE THOUGHTS. SO SO MANY THOUGHTS.I hadn't heard about Between the Blade and the Heart until a lovely publicist from St. Martin's Press pitched me the book as a part of a Blog Tour invite and the minute I read the word Valkyrie, I WAS SOLD.If you haven't se...

I am a sucker for books about badass females, so I jumped on the opportunity to read a book about the Valkyrie warriors from Norse mythology! I was so happy that this book DELIVERED on the mythology and the powerful women! The Norse mythology in the novel was so interesting! It was obvious the author did a lot of research into the mythology, especially in regards to the female warriors called the Valkyrie. I know of the Valkyrie from some charact...

Checkout my full review on my blog! http://omgbooksandmorebooks.blogspot....I haven't read many Nordic Mythology retellings. But after this book, I need to read more because I am clearly missing out. There are many things that I liked about Between the Blade and the Heart. The world building was unique, set in a world where mortals and immortals live together. However, the immortals are sent to the Afterlife to prevent population. There are super...

In the vast emptiness of space, the gods grew restless, and so they created the heavens above and the worlds below. They filled the earth with every creature imaginable, from the smallest fish in the sea to the largest dragon in the sky. A fast-paced adventure that pulls heavily from Norse Mythology, Between the Blade and the Heart centers mostly around a 19 year-old Valkyrie named Malin and her struggle with not only finding her place in the wor...

*ARC provided by Wednesday Books in exchange for an honest review*"It was a strange, cold thing to realize I was born to be a murderer."As soon as I heard about this book, I knew that I had to read it immediately the fact that I love Norse Mythology with all my heart. It took me a bit longer than I care to admit to get through this novel just because it had a bit of a slow start for me. I was struggling to connect to any of the characters in the ...

Wow -- This new story by Amanda Hocking is an interesting combination of Science Fiction, Fantasy, and Mythology.  Malin is attending the Ravenwood Academy in a dystopian United States where she is training to be a Valkyrie like her mother.  All she wants in life is to slay creatures as ordered by the gods.  For all of Malin's strengths, she is most stubborn and won't be a full-fledged Valkyrie unless she graduates and her grades are not what...

This wasn't the worst book but I don't think I could recommend it either. I loved Hocking's Trylle trilogy but this one left me feeling blah. I don't think the world building was that great, all the things about mortals and immortals, and valkyrie's,,,,,,soon after I read some it didn't take long before I forgot what I read. The thing I disliked the most was, the whole love triangle part of the story. I don't think it was necessary and it felt fo...

I honestly thought BETWEEN THE BLADE AND THE HEART was a fun read.I'm not denying that there are fairly typical tropes in this story, which made it a little bit predictable. I'm also not such a big fan of the romantic bits that Hocking included. Plus, the world is a very lightly done blend of a variety of cultures and mythologies, which might prove to be either confusing or lacking to some readers.But it was enjoyable. I instantly warmed to the m...