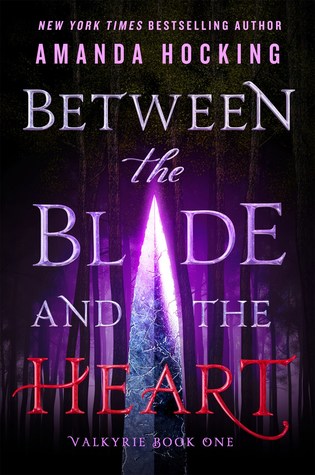 Valkyries have one great responsibility: to return immortals to the afterlife by slaying them. As a Valkyrie, Malin has always known that the balance of the world rests on her ability to carry out orders. But when Malin discovers that her mother spared the life of an immortal who was destined to die, her world is thrown into chaos. Malin not only wrestles with the knowledge that her mother might not be who she thought—she's also thrust into t...
---
Details Between the Blade and the Heart (Valkyrie, #1)
Title
Between the Blade and the Heart (Valkyrie, #1)
ISBN

9781250084798

Author

Amanda Hocking

Release Date
Jan 2nd, 2018
Publisher

Wednesday Books

Language

English

Genre

Fantasy

,

Young Adult

,

Mythology

Rating
Reviews Between the Blade and the Heart (Valkyrie, #1)
"Game of Thrones meets Blade Runner"This is an unfortunate comparison because it is nothing like either. I don't know why they do that. I requested this from Netgalley because I liked this author's vampire series and the zombie one too. I haven't read anything by her in years!There is nothing wrong with the writing or story. There is some good world-building here with some obscure supernatural, mythological creatures you don't see much in fiction...

When Amanda was an indie author I remember buying her books like crazy and devouring them. I loved them all and just couldn't get enough. And as much as I loved her writing, for some reason, her past couple of releases have been good, but I haven't felt that frenzied loved for them or her characters like I once did.Maybe it is me and my tastes have changed or maybe her writing has, either way, as much as I wanted to love this and connect with it,...

One thing can always be said about Amanda Hocking's writing, it always flows along, the dialogue is spot on, relaxed and natural feeling, as if the characters were right there, feeling exactly what you are feeling.This time out, we are treated to Norse Mythology and specifically, Valkyries, those amazing women warriors, trained for battle, to carry out the biddings of the gods, to return immortals to the underworld when it is their time, no exc...

I'm a fan of Hocking's novels but I had a difficult time connecting with the characters, mostly Malin, and their plight. I'm chalking this lack of connection up to a newly developing series and hoping that the connection is going to build with the progression of the story/series.The story is fast paced, action filled, easy and entertaining.I received this ARC copy of Between the Blade and the Heart from St. Martin's Press. This is my honest and v...

I won an ARC of this book in a goodreads drawing.Sort of Buffy the Vampire Slayer with a Norse Mythology angle. Malin is a Valkyrie, and goes around retiring (killing) supernatural beings for a living. She has a difficult relationship with her mother; an ex girlfriend who still pines for her, and she meets with the usual mysterious, brooding boy, and there's secrets and crises.Not bad. The Norse stuff keeps the book from being completely cookie c...

*I received a free ARC copy from NetGalley in exchange for an honest review.*This was a rather quick and pleasant read. The story takes place in an alternate world where humans and immortals (demons, ogres, vampires etc.) co-exist. And there exists another group, the Valkyries, who were chosen by the gods to play grim reaper to the immortals. The book puts into question the idea of destiny or pre-determined fate versus our free will to choose. If...

4.5 stars! An adventurous read! Blog tour review to come!

Full Review: Thank you so much to St. Martin's Press and NetGalley for allowing me to read and review "Between the Blade and the Heart" by Amanda Hocking. Malin and her mother Marlow lead an interesting life as Valkyries, though it isn't without moral questions at times. They are assigned to go out and kill those whose time it has been deemed to die. They both bring up the argument that "they are just following orders." I found the wo...

I honestly thought BETWEEN THE BLADE AND THE HEART was a fun read.I'm not denying that there are fairly typical tropes in this story, which made it a little bit predictable. I'm also not such a big fan of the romantic bits that Hocking included. Plus, the world is a very lightly done blend of a variety of cultures and mythologies, which might prove to be either confusing or lacking to some readers.But it was enjoyable. I instantly warmed to the m...

This was quite interestingRTC

DNF - I started this book with the expectation that it would be mythical tale about a powerful Valkyrie but I was so wrong. The story fell flat and seemed like a poorly written mashup between a YA contemporary and mythology. I didn't really like the authors writing style it's seemed kind of basic. Also I didn't like the characters and the way the author dealt with them. I couldn't finish it.

pooled ink Reviews: 3.5 StarsPulling together characters both familiar and horrifying, the plot races ahead in this world ruled by gods. Valkyries are compelled to kill (or "return") immortal beings under the instructions of social order, blind duty, and population control, but what happens when one Valkyrie refuses her call? When one immortal slips free from his fate, will that be the first piece pulled from a precarious house of cards? Betw...

I won a copy of this book through a Goodreads giveaway. This has not influenced or biased my opinions.I'm bummed this is my first peek into the work of Amanda Hocking. As a fellow Minnesota author, I was excited to win a copy of her newest release. Unfortunately, this book just didn't connect with me on many levels.Hocking brings together a diverse cast, blends in a bit of Norse history, adds a double batch of romance, and stirs in a dash of evil...

*I received a free ARC copy from NetGalley in exchange for an honest review.* 2.5*It's been a couple years since I read something by Amanda Hocking, I've read two of her other series in the past, and I've heard great things about some of her other books. When I read the premise for this book I was super intrigued by it, I was so happy when I received an e-arc of this, but I think I was disappointed by this book.There writing was fine, and there w...

*Source* NetGalley*Genre* Young Adult, Fantasy*Rating* 3.0*Thoughts*Between the Blade and the Heart is the first installment in author Amanda Hocking's Valkyrie duology. This duology features 19-year old Malin Krigare as a Valkyrie in training under her mother Marlow's mentorship. A mentorship that is both dysfunctional and bizarre in nature. The story takes place in a alternative reality; in a city known as New Edgewater where mortals and immort...

4/5I received an e-galley from the publisher through netgalley in exchange for an honest review.When I first requested this book, I expected it to be in a completely different setting, instead the setting reminded me of the comic and movie Hellboy. It's more of an urban fantasy and at first I was a little disappointed, but I still ended up enjoying it.I liked Malin most of the time. Lately all of our YA heroes have been super badass, never get hu...

- I received this book through NetGalley against an honest review. -I never really read a book from Amanda Hocking, I read the first volume of her first saga without being more convinced, but I was ready to retry the adventure.The big benefits of this series is its universe inspired by Norse mythology. I personally have not often read this kind of universe and it is a point that brings originality. In addition, the folklore of the valkyries has a...

2.5 stars, I love Amanda Hocking but this read very middle grade and I didn't connect to the characters at all. The writing style was decent and many chapters had cliffhangers that kept me reading, but then left me disappointed.

I received an ARC from St. Martin's Press and Wednesday Books in exchange for an honest review. You can find this review and others on my blog, Where the Words Take Me .When I found out I had won an Advanced Reader Copy of Between the Blade and the Heart by Amanda Hocking, I was ecstatic. First ARC and a new author? Well, she's new to me. I have yet to read her Trylle trilogy or Watersong series, but this book instantly had my attention. Val...

Aside from tidbits about Loki, Odin, Thor, and Freya, I know very little about Norse mythology. But I always thought the idea and what little I knew of Valkyries was really cool! So when I got the opportunity to read Between the Blade and the Heart, I was incredibly excited. It's Game of Thrones meets Blade Runner (according to the blurb)! A "commanding new YA fantasy!" I was picturing, I dunno, Wonder Woman x an army or something? Or something. ...

I received an arc fro m netgalley in exchange for an honest review!Oh my gosh! This book was amazing. I have been reading Amanda hockings books for years, so naturally I lost my cool a little bit when I received the electronic arc! CAN SOMEONE SAY O.M.F.G?! I adore Norse mythology. Not only is there a kick ass main character, but she defies what valkyrie law dictacts, that they cannot love or be loved. Of course this causes some MAJOR upheaval an...

I thought this was a fun read. What drew me to want to read it is it's based on Nordic Mythology, and I'm all about that. I love mythos. But some of the characters were somewhat stereotypical. I'd prefer it if they weren't. Still, I did enjoy this book, so I'm giving it a 4 star rating. Check it out, especially if you're a fan of Norse Mythology.

Review:3.5 StarsReview coming soon...