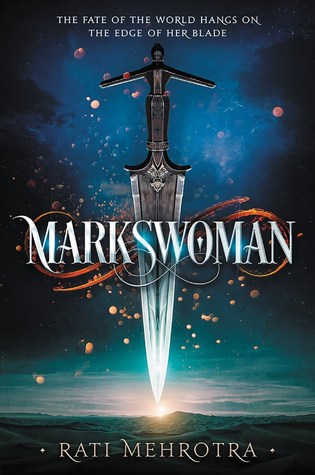 Kyra is the youngest Markswoman in the Order of Kali, one of a handful of sisterhoods of highly trained elite warriors. Armed with blades whose metal is imbued with magic and guided by a strict code of conduct, the Orders are sworn to keep the peace and protect the people of Asiana. Kyra has pledged to do so—yet she secretly harbors a fierce desire to avenge her murdered family.When Tamsyn, the powerful and dangerous Mistress of Mental Arts, as...
---
Details Markswoman (Asiana, #1)
Reviews Markswoman (Asiana, #1)
I freaking love this cover! I loved the summary of the book but it was just an okay read for me. I'm sure plenty will love it though 😊Happy Reading! Mel ❤ I freaking love this cover! I loved the summary of the book but it was just an okay read for me. I'm sure plenty will love it though 😊Happy Reading! Mel ❤️

This was a fast paced fun read. It was YA so it unfortunately it fell into some of the same YA pitfalls I tend to dislike, most notably, an instalove triangle. Not to fear though, the love interest doesn't even show up until halfway into the book and the romance was in no way a central plot thread.I loved the characters here. Kyra does not have special snowflake syndrome. She is the youngest full fledged Markswoman in the Order of Kali and her ...

I AM HERE FOR SISTERHOODS OF BADASS WOMEN. My reading interests fall pretty neatly into two categories: books full of badass characters (the characters I want to become) and trashy romance novels (for the trashy person that I am.) I was so certain Markswoman would fall into the former category, but it ended up falling into neither. My emotions while reading went something like: bewildered -> confused -> quite frankly lost???? -> bored -> a little...

Title: MarkswomanSeries: Asiana #1Author: Rati MehrotraRelease date: January 23, 2018Cliffhanger: YesHEA(view spoiler)[HFN (hide spoiler)]"To be evil is to suffer, and there is joy in releasing others from suffering."When I first spotted this book, I just had to have it. The entire package was calling out to me, telling me that I needed to read it. A group of revered female assassins who use magic daggers to enforce justice and keep the peace?...

This book was a big surprise for me. Why? Because I had started off listening to the audiobook in the car while my kids were with me and they insisted that I could only listen to it when they were there too. So I did - hence the lengthy time to completion. I thought maybe they might get bored, as this book is a bit slow in some parts, and has more than a few political machinations going on, but no, they LOVED IT. **What I liked about this were th...

This book is a fast paced YA read with solid characters and a good story.It has a unique setting, it's a post-apocalyptic middle eastern/Indian inspired world. The world is full of forgotten technologies that people do not understand the physics of them but use them.Kyra is the main protagonist which is the newest markswoman of the oldest order in the Asiana. She is not the best and has lots of doubts about what she should do due to her tragic ...

I was iffy about this one for the first 70 pages or so, but I really enjoyed it! There were times where it dragged a bit and could've been condensed, but overall it was better than I was expecting. There are still some things that I'm confused about with regards to the world-building, but I don't know if it'll ever be cleared up. The only way I think we'll ever learn more about the history (and the things that are confusing) is if there are some ...

Review from Tenacious Reader: http://www.tenaciousreader.com/2018/0...This debut was such an enjoyable read for me. It had a great balance of world building and character drama and the pace kept things moving. The world in this is definitely interesting. It starts out feeling like a standard fantasy world with magic and swords, etc. But then as you keep reading and details are revealed, you come to realize it also is post-apocalyptic. I've seen...

tw: self harm I read a few chapters of this book but I'm going to put it off for some time later. It was good so far like the world building and characters were interesting but what bugged me was that the MC cuts her arm after a kill (this happens in chapter 1). It is explained why though, to remember who they kill but I just.. I'll give this book another chance some time later.- - - So I did give this book another chance but it just fell flat fo...

omg omg omg! I just one this book as my first goodreads giveaway!!! I'm sooo happy. I entered more than 100 give aways for over a year and I FINALLY won!!Can't wait to start reading this book!! :D-----------------------------------Great read! It was a bit confusing sometimes because it went very fast at some points, but still a great book.

heteronormativity and insta-love aside THE PLOT IS SO GOOD AND I LOVE ALL THEM FEMALE ASSASSINS, they can murder me i'll thank them

WARNING: Dont read more than the first paragraph of the goodreads/amazon summary because it will spoil half the book and make it a lot less entertaining.I was hooked after the first line of the blurb "An order of magical-knife wielding female assassins ..." Set in a fascinating world where women with the gift can bond telepathically with their blades. These women train to become peace makers and executioners in a sisterhood of Markswomen. Kyra ...

Check out my book blog for more book reviews and other bookish posts!I received an ARC of Markswoman from the publisher. It was one of my most anticipated releases for 2018. Fantasy stories about assassins are always sure to pique my interest. This is a new adult fantasy novel (MC is 19 years old).It's #ownvoices for Asian representation. It's set in post-apocalyptic Asia.__The pacing in this book picks up momentum with every chapter. I could...

I wanted to love this book. I wanted to devour it in one sitting and bask in the wonderfulness that is female assassins and with YA/adult crossover appeal and. . . and. . . and I could go on. But that's not what happened and it comes down to one thing, really, that made the rest of the book not work for me.But before I get to that, some positives. First, the world building. The world building, y'all. It's gorgeous. Definitely fantasy but with a...

Markswoman is an interesting fantasy title in the fact that it defies categorization, to a certain extent. While the uniqueness of the world appealed, I did find the execution a little disorienting and confusing. This was part coming-of-age story, a revenge plot, a romance, and an adventure. There were many things happening in and I felt that to be a detriment considering that it took so long for the plot to get moving. Readers go in to the book...

I LOVED THIS BOOK. Post-apocalyptic magical knife-wielding female assassins FTW! I received a galley through the publisher (also my publisher), and was happy to supply a blurb:"Markswoman is a breathlessly-paced post-apocalyptic fantasy with a highly original setting and characters you can't help but love (and hate)."

I like it, but it is SO SLOW. It takes forever to get going. (I think 150 pages so almost half of the book before the story starts)Basic plot: the story is told from 2 view points Rushtan and Kyra. They are both assassins (Markswomen/Marksmen) who are tasked to carry out all deaths for this world. When Krya's favorite mentor is murdered she goes seeks aid for vengeance/justice. (She is still trying to learn the difference)So the world is intere...

Full spoiler-free review now on my blogKyra is the youngest Markswoman in the Order of Kali, one of five orders that were created to bring peace to the world of Asiana. She and every member of the order fight with weapons that are infused with magic and are bound to their wielder. But aside from her duty to her order, she has a deep desire to avenge her murdered family.In my opinion, this is totally enough to know before going into the book and t...

I received an e-ARC from Edelweiss in exchange for an honest review. Review can be found on *Milky Way of Books*The captivating world of Asiana awaits you in this stunning debut of Asian inspired fantasy! Kyra and her order of female assassins with telepathic blades rule over Asiana along with the other orders, keeping the peace and bringing justice. When betrayal strikes and Kyra escapes to the desert on the other side of Asiana and the male ord...

Review Courtesy of All Things Urban FantasyI was drawn into MARKSKWOMAN by the impressive back copy and cover art. Sign me up for any novel featuring a sisterhood of elite warriors. Readers that love page turning action and assassinations will fall in love with MARKSWOMAN.However, I did have a few issues with MARKSWOMAN. The story jumps into immediate and confusing action. The pace is maintained throughout the book, barely giving the reader time ...

This book was bleh for me. I loved the cover and I loved the summary, but the actual story was bland and slow. I was neither rooting for our main character or against her, I simply did not care. She was not interesting enough for me. Kyra has a backstory, but I don't feel like I got enough of it. I'm sure more will be revealed in the next book, but I am unsure if I want to continue reading. I was bored reading this and it took me a while to g...

*Source* Edelweiss*Genre* Young Adult, Fantasy*Rating* 3.5-4*Thoughts*Rati Mehrotra's Markswoman is the first installment in the authors Asiana duology. One can definitely call this a post-apocalyptic version of Asia. It is the year 853 of the Kanun and the Orders keep the peace – barely. Armed outlaws roam the Thar Desert, and a young woman seeks revenge for a horrific crime that was committed against her clan. 19-year old Kyra Veer lives in a...

I received a digital ARC copy from Edelweiss in exchange for an honest review. DNF 40%The premises were interesting but the realization was awful. It was boring as hell. The story dragged on and on, it was confusing and sometimes I didn't even know what was happening. Plus, the characters were passive and I couldn't care less about them. I tried to keep reading but more than once I almost fell asleep.