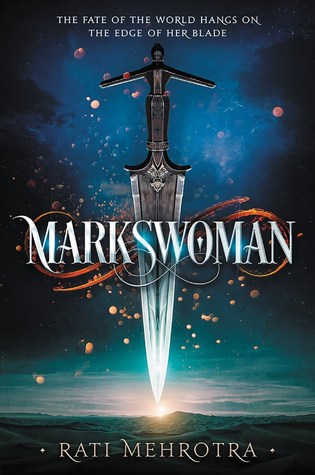 Kyra is the youngest Markswoman in the Order of Kali, a highly trained sisterhood of elite warriors armed with telepathic blades. Guided by a strict code of conduct, Kyra and the other Orders are sworn to protect the people of Asiana. But to be a Markswoman, an acolyte must repudiate her former life completely. Kyra has pledged to do so, yet she secretly harbors a fierce desire to avenge her dead family.When Kyra's beloved mentor dies in myster...
---
Details Markswoman (Asiana, #1)
Title
Markswoman (Asiana, #1)
ISBN

9780062564542

Author

Rati Mehrotra

Release Date
Jan 23rd, 2018
Publisher

Harper Voyager

Language

English

Genre

Fantasy

,

Young Adult

Rating
Reviews Markswoman (Asiana, #1)
This was a fast paced fun read. It was YA so it unfortunately it fell into some of the same YA pitfalls I tend to dislike, most notably, an instalove triangle. Not to fear though, the love interest doesn't even show up until halfway into the book and the romance was in no way a central plot thread.I loved the characters here. Kyra does not have special snowflake syndrome. She is the youngest full fledged Markswoman in the Order of Kali and her ...

omg omg omg! I just one this book as my first goodreads giveaway!!! I'm sooo happy. I entered more than 100 give aways for over a year and I FINALLY won!!Can't wait to start reading this book!! :D-----------------------------------Great read! It was a bit confusing sometimes because it went very fast at some points, but still a great book.

heteronormativity and insta-love aside THE PLOT IS SO GOOD AND I LOVE ALL THEM FEMALE ASSASSINS, they can murder me i'll thank them

Markswoman is an interesting fantasy title in the fact that it defies categorization, to a certain extent. While the uniqueness of the world appealed, I did find the execution a little disorienting and confusing. This was part coming-of-age story, a revenge plot, a romance, and an adventure. There were many things happening in and I felt that to be a detriment considering that it took so long for the plot to get moving. Readers go in to the book...

I AM HERE FOR SISTERHOODS OF BADASS WOMEN. My reading interests fall pretty neatly into two categories: books full of badass characters (the characters I want to become) and trashy romance novels (for the trashy person that I am.) I was so certain Markswoman would fall into the former category, but it ended up falling into neither. My emotions while reading went something like: bewildered -> confused -> quite frankly lost???? -> bored -> a little...

I LOVED THIS BOOK. Post-apocalyptic magical knife-wielding female assassins FTW! I received a galley through the publisher (also my publisher), and was happy to supply a blurb:"Markswoman is a breathlessly-paced post-apocalyptic fantasy with a highly original setting and characters you can't help but love (and hate)."