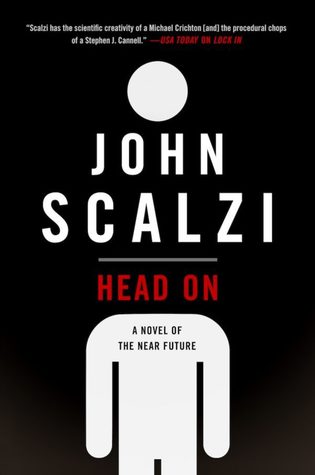 John Scalzi returns with Head On, the standalone follow-up to the New York Times bestselling and critically acclaimed Lock In. Chilling near-future SF with the thrills of a gritty cop procedural, Head On brings Scalzi's trademark snappy dialogue and technological speculation to the future world of sports.Hilketa is a frenetic and violent pastime where players attack each other with swords and hammers. The main goal of the game: obtain your oppone...
---
Details Head On (Lock In, #2)
Reviews Head On (Lock In, #2)
This review was originally posted on Books of My Heart Lock In was one of my favorite Sci-Fi worlds ever.  I really appreciated all the thought John Scalzi put into how life would be different if the person you presented to the outside world was basically a robot.  The prequel Unlocked (which should actually be read after Lock In) was fantastic, as it was presented as a documentary on how 1% of the population ended up being locked in their mind...

This is a super easy read that hits all the fun spots for all you folks who're into Sports, Mysteries, and great concept SF filled with robots designed for tele-reality and virtual reality.I'm one of those readers who are very partial to the SF stuff and I like a good mystery, too, so I had a great time on that alone. But here's the funny part: the sports aspect is unique as hell and full of some great twists. :) Such as getting your head pulled ...

At some point in the future – when early 21st century media culture is assessed in all its heedless glory – a full audit of the blogger/novelist phenomenon will come to pass, and John Scalzi will likely be held as one of its most successful and admired specimens. By blogger/novelist I don't mean "novelist who blogs", or blogger who turns their blog into a book, but of a specific mutant hybrid of both mediums. Scalzi has transposed all t...

*Shakes Fist at John Scalzi!!!*Damn you, Scalzi! We still don't know if Chris is a male or female. You just like mind-fucking us don't you?Come on!!Now who's messing with us? VEGAN cookies? Eww... no thanks, I'll have crab juice instead.Chris is out narrator and he/she is in the FBI, and look, I'm just going to assign Chris a gender right now because I'm not writing out he/she for every stupid thing I say. Chris is a girl. I've declared it becaus...

Review for Lock In.Scalzi continues the great momentum he built up in Lock In with this excellent sequel. Once again the daring duo of Chris (of the indeterminate gender) and Van find themselves involved in a complex investigation that intersects with the Haden community. In this case Hilketa, a sport that combines football with gladiatorial combat and robot bodies. Of course all is not as it appears, billions of dollars in investments are at ris...

A Solid 4 Star ReadIn a world where 1% of the population interacts with the rest of the world in something akin to C-3PO this was a game that was bound to be invented. The reason Hilketa is so popular is that the players score points through simulated decapitation, and go after each other with melee weapons. It's team gladiatorial combat, on a football field, with a nerdy scoring system. It's all the violence every other team sport wishes it...

4.5 of 5 stars at The BiblioSanctum https://bibliosanctum.com/2018/04/23/...I'm a huge fan of John Scalzi, having read almost all his novels, and when Lock In came out a few years ago it quickly became one of my favorite books by the author. It was therefore with great excitement that I picked up Head On, which is described as its standalone sequel. And indeed, you may choose to read this without having read the first book, but personally I fee...

Scalzi's books are always such good palette cleansers. Head On was fast and fun (and a little bit infuriating).This is the second book in the Lock In series, which started with 2014's Lock In. You don't need to have read the first book if this one tickles your fancy, but you should, because it's great. The premise here is that in the near future, a disease called Haden's Syndrome (after the first lady of the US, it's most famous victim) makes it ...

"Basically, Hilketa is both representation and alienation for Hadens."This is an FBI procedural story set in the near future where the case is focused on robot controlled medieval gladiatorial sports, Hilketa. I wish there had been more sport, but this emphasized the political and economical consequences of Hadens, especially how business and legislation are in a constant push and pull. It feels like a Washington D.C. story with the lens decidedl...

This is basically a mystery with a really cool setting. I enjoyed it! I liked the premise a lot, and I especially enjoyed the first part and getting back into the world.

Please note that I received this book via NetGalley. This did not affect my rating or review.Not a lot to say here besides I freaking loved this book. I loved Lock In (the first book in the series) and the world that John Scalzi created. I adored the characters of Vann and Chris. Though the book is told via Chris's POV, I do wish one of the books would be told in Vann's POV. She is just my favorite.It's been several months or at least a year sinc...

Head On is a good follow up to Lock In. Most of the complaints I had about Lock In have been addressed here, while it still retains all of its strengths.In my review of Lock In, I mentioned that its strength was its excellent world building - on par with any Asimov out there - while it was let down by its poor storyline and paper thin characters. Rejoice! I liked the story in Head On and the characters, while not robust, are definitely better por...

This is my least favorite Scalzi novel to date, but this wasn't bad at all. I enjoyed it, but I wasn't as wowed as I was with Lock In and Old Man's War. The summary says that you can read this as a standalone, but I recommend that you read Lock In first. It took at least 50 pages for me to get into this. Once the story picked up I loved it, but there were too many ups and downs for me. One minute I was glued to the book and the next I was a littl...

I'm so glad that Scalzi returns to the fascinating near-future world of Hadens, people representing about 1% of the world's population who were stricken with an epidemic causing neural damage in a pattern leaving them totally unable to move. This state, called "Locked-In"and used for the earlier novel's title, was the target of a massive, "moonshot" of government sponsored research efforts and subsidies which led to the development ...

4ish stars. John Scalzi succeeds again at writing accessible science fiction, but here also succeeds in writing something tense and mysterious, unlike some of his lighter fare. It's interesting, science-y (or at least science-ish) science fiction that's well plotted and edited. Well done, again, Mr. Scalzi.

Wry wit, social commentary, and a world full of stories: I really enjoy Scalzi's Lock In universe, and was happy to read this sequel. In this rich world of androids and humans, Scalzi explores the role of the body and mind in identity, and dis/ability, usiness and politics, all in a fun procedural buddy-cop format. Scalzi's mashup of genres is ever-entertaining and I hope he keeps going with this for a long while.

If you liked Lock In you will probably like this. If you like murder mysteries and aren't opposed to SF you'll probably like this. If you liked anything else Scalzi has written you'll probably like this. And if you like witness protection cats, you will definitely like this!It doesn't repeat the whole subtext of Lock In and doesn't really replace that subtext with anything, but it tells an amusing tale of smart-arsery, corruption, murder, arson, ...

Dare I say this was better than Lock In? With each new novel, John Scalzi renews his spot (in this reader's opinion) as the science fiction master of world building, character development and frank dialogue. He genuinely *gets* people and how they interact, and translates this understanding to the page with such ease.If you're not reading Scalzi -- or listening to his audio books, narrated brilliantly by Wil Wheaton -- you are truly missing out.

This book isn't even out yet and it has a rating... because I liked the first book, I'm giving this one an anticipatory rating to counter!

I loved John Scalzi's Old Man's War books. I've tried reading his latest two, this and the Collapsing Empire, and I highly doubt I'll be reading any more. The books have turned dull and predictable, the writing style sophomoric (as if these were his actual first novels) and his ad hoc insertion of social justice warrior jibes and asides has become unbearable - there's not a gender-binary, heteronormative White character in any of the new books, a...

I received an ARC of this book via NetGalley. 3.5 stars. A fun, light, fast-paced read, with Scalzi's trademark snappy dialog. Having just read the first book in the series, I went into this one with a better sense of the tone for the series, and prepared for the fact that, while interesting issues abound in this world, the books aren't going to delve into them in great detail. Chris Shane continues to be a fun and interesting character to spend ...

6/10Flojito. Lo salva el escenario, porque la trama es floja, floja...creo que las novelas de policías no son lo suyo.https://dreamsofelvex.blogspot.com/20...

Executive Summary: As with most Scalzi books, this one is light and fun without a ton of depth. Audiobook: Wil Wheaton is always a good fit for John Scalzi, and here is no different. I do mean to try to the Amber Benson version of the books at some point, but for me Wil Wheaton will always be my first choice for a Scalzi book. Full Review At this point I've read nearly all of John Scalzi's books and enjoyed most of them. Lock In was no different....

Another Scalzi book, narrated by Wil Wheaton, that I crushed in less than two (2) days. That should give you some inclination as to how enjoyable and engrossing the two (2) novels in this series have been. In Head On, the sequel to Lock In, we venture into the future world of professional sports and the investigation surrounding the death of a star athlete. Hilketa is a brutal and fast-paced game played with hammers and swords. The goal being to...

John Scalzi writes incredibly fun and eminently readable fiction, and Head On, sequel to 2014's Lock In, is another fun, fast read. ARC reviewed for BSC's spring newsletter.Head On again follows Haden FBI Detective Chris Shane and his partner, Leslie Vann, this time as they investigate the death of a Haden athlete who plays a game called Hilketa, which is something kinda like gladiatorial soccer, with threeps. More mysterious deaths, corporat...

I really enjoyed Lock In, but Head On was a little dull in comparison.The setting is still great. I also liked most of the side characters, but eventually I realized that I was perking up every time Agent Vann or Chris's roommates entered a scene because Chris himself felt really bland this time. The story was also just generally unsatisfying.

I normally enjoy Scalzi books quite a bit. Even among the sea of really good books he's put out, Lock In - and the subsequent novella - were among my favorite that he'd produced. Interesting concept, great execution, great characters. When I found out there'd be more in the series, I was beyond stoked, and I'm glad to say that Head On lived up to my expectations. It was 'more of the same', while not being 'more of the same' - he didn't go the saf...