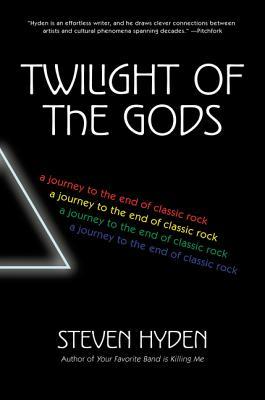 A New York Times Book Review "New and Noteworthy" selection"A wise meditation on why classic rock stars keep trucking, both on the road and in our dreams. Every page is an irresistible argument starter."—Rob Sheffield, Rolling StoneThe author of the critically acclaimed Your Favorite Band is Killing Me offers an eye-opening exploration of the state of classic rock, its past and future, the impact it has had, and what its loss would mean to...
---
Details Twilight of the Gods
Reviews Twilight of the Gods
Twilight of the Gods by Steven Hyden is a 2018 Dey Street Books publication. Sex, Drugs, and Rock -n- Roll …This is yet another of a spate of recently released books, lamenting the death of rock music, seeming to finally admit and accept, that the rock icons still living are the last of a dying breed- no pun intended. In the past couple of years, we have lost some heavy hitters, which has left us to face the sobering reality that once those hug...

Twilight of the Gods is an awesome read from cover to cover. Definitely enjoyed pretty much every page and will read it again down the road. This book is an ode to the art for, known as classic rock and a must read for anyone who grew up before the advent of Napster and Spotify changed the music world. Hyden draws the period from Sgt. Pepper to now as the classic rock period and sees that era changing because people now make playlists and don't b...

The main takeaway from Steven Hyden's fantastic and much-deserved meditation of classic rock is that the mythology of what constitutes classic rock is greater than its sad and sordid truth. As our heroes have either departed this mortal coil (Bowie, Prince, Tom Petty, Leonard Cohen, etc.) or are contemplating retirement, we now find ourselves reckoning with what classic rock truly means. Hyden presents several illuminating (and hilarious) argum...

What Chuck Klosterman does for hair metal in Fargo Rock City, Twilight of the Gods does for classic rock. Hyden's book, like Klosterman's, is part journalistic take on a musical genre and part memoir exploring the author's experiences with and nostalgia for that music. The book is filled with insights, but also marvelously laced with humor. I was as surprised by how many times I thought, "Wow, I didn't know that," as I was by how many times I fou...

To put "Twilight of the Gods" in a perspective that Steven Hyden would appreciate: it is the "Goat's Head Soup" of rock books. Let me explain.If you have an interest in "Twilight of the Gods," you are undoubtedly familiar with the Rolling Stones' "Goats Head Soup". "Goats Head Soup" is many things -- underrated and overrated -- precisely because it contains both great songs and terrible songs. (This is the band that created "Exile on Main Street"...

I've gotten a little behind the eight-ball in my reviewing, so my apologies to everyone (the author of this book being reviewed included) for being late on this five-star book. Twilight of the Gods is essentially an essential survey of classic rock and poses the question, is classic rock a dead genre? It may seem to be so in that its icons have either died or are on the verge of launching their farewell tours, even though new acts (Alabama Shak...

From the very moment I received Twilight of The Gods in the mail, I was hooked. I looked at this book as a look back at the music of my youth. Although Steven Hyden and I liked different bands and artist of CLASSIC ROCK, we both still love the genre. I was more into southern rock and California country rock. I did love Bob Seeger and The Silver Bullet Band, while Mr. Hyden loved the Who and Bowie. No two people confessing the love of classic rock...

You kids don't know Grand Funk? The wild shirtless lyrics of Mark Farner? The bong-rattling bass of Mel Schacher? The competent drumwork of Don Brewer?Steve Hyden examines what classic rock means in 2018, now that the music world is completely different, the culture is pretty different, and the rock stars of yesteryear are dropping like flies. I probably wouldn't read this book if it had been written by someone who had lived through the classic...

Hyden presents an entertaining look at his journey through the mythology and reality of classic rock, beginning as a teenager listening to the radio and collecting tapes. He winkingly likens it to the heroes journey, beginning with his adolescence and yearning to understand the music he loves, but he is not blind by the limits and foibles of the genre. While people bemoan the loss of the stature of rock music in the modern day pop structure, the ...

Not so qualified snippets/ ramblings on classic rock; I had so many issues with this book, I had to finish it to get to my review of the book. Here is what makes it NOT worth a read:- no common thread running through the book to connect the various snippets and back-stories about classic rock- some interesting, but most you already have heard/read- the author- while noted as published and a critic and by those standards could be qualified to writ...

Spot on book! I'm from the era this book writes about and enjoyed the read. Some parts gave me a very hearty laugh (Hyden REALLY loathes the Eagles!) And, of course, off stage antics were a good reminisce! In light of all the accusations of sexual misconduct in the news of late, I wonder how many groupies will now want to cash in?!? A bunch of us are waiting to see the fall out of bad behavior 40-50 years after the fact... I am amused by our "god...

I was never really sure where the author was going with this book. At times the book feels like a compact history of Classic Rock, but it isn't that. What it is is a road trip through the Classic Rock landscape with stops at about fifty of Classic Rock's roadside shrines (some more meaningful than others). The dude in the driver's seat took me down a bunch of streets and back alleys I didn't want to travel down. On the radio, he wanted to skip so...

I quite enjoy Steven Hyden's writing. It's extremely current and is always partly autobiographical, but when you're examining a topic as broad as classic rock, you need to filter it through your own perspective. Hyden does this magnificently. This is by no means comprehensive (Hyden's acknowledgements at the end of the book even rattle off a list of bands and artists he wishes he'd covered more in depth), but it's a fun read, and that's what you'...

I wish I could do 1/2 stars, because I'd give this 3 1/2 stars. Steven Hyden is a terrific writer and a solid critic. His first book, Your Band Is Killing Me, used the concept of rivalries in music to make observations outside of the realm of music. It was somewhat akin to Chuck Klosterman. On this book, Hyden takes on classic rock in a manner that looks less outward, as the subject means so much to him. It certainly makes me understand where he ...

I'll admit it right up front: I'm the demographic for this book. I have been a fan of Hyden's writing since I first encountered it on The A.V. Club and I listen to his current podcast, Celebration Rock. This is his second book and in it he grapples with his relationship with classic rock, examining its strengths and flaws. It helps that he's really funny throughout the book; for example, he refers to David Bowie in the his Thin White Duke phase a...

I won a copy of this book.What do you do when all of your favorite rock stars are aging and dying? Steven Hyden talks to those aging rockers and their fans in the twilight of their lives. I am a Gen-Xer and I was able to relate to Hyden as he was watching many of his favorite bands (many created before either of us was born, but we both found in our early teens) are retiring or dying. Personally, I'd prefer to remember these bands as they were - ...

Despite being a few years older than me, Hyden's experiences of being a neophyte classic-rock fan in a small town in the Midwest in the early 1990's hit so close to home that I'm beginning to believe he just might be my brother from another mother. If there's any justice in the world, this book will mean as much to today's young awkward rock fans as the 1987 Rolling Stone "100 Best Albums of the Last 20 Years" list meant to us. (I should note tha...

I really enjoyed this book. The author's experience growing up after the big classic rock bands of the 1970s had mostly faded but still hearing them and about them on classic rock radio mirrors my own in many ways.The book is very well-written with chapters devoted to various big names like Dylan and Springsteen and then, in my favorite chapter, one devoted to the band Phish and how he overcame his ignorant dismissal of them and now considers t...

At times cultural analysis, at times personal memoir, at times laugh out loud, and at times powered by melancholic nostalgia, this is a must-read for anyone who has ever listened to Les Zeppelin IV and marveled at rock star mythology. Steven Hyden touches upon the twilight of the classic rock generation, referencing the "death of rock", "dad rock", Springsteen and Dylan, and countless other touchstones that you've heard on the radio all these yea...

It's fine, but feels incredibly inessential. Adds nothing to the already crowded field of articles and books covering the 70s. The "hook" is to discuss those artists as they exists in 2018 - touring and making a ton of money. But Hyden doesn't seem interested in why these artists continue to be huge beyond "I like these bands so I go and see these bands". And maybe that's all there is to it, but then why the book?

Steven Hyden has written what amounts to a requiem for classic rock, told from the perspective of a gen-X fan who's watching the idols of his youth die off one by one. I reviewed Twilight of the Gods for The Current.

Hyden is in a lot of ways like reading Chuck Klosterman light, same inflections and intonations, similar interests, maybe slightly less intelligent. I have only a passing interest in classic rock (based almost entirely around the beatles and Pet Sounds by the Beach Boys,) but I found it an entertaining read all the same.

Sometimes the prose is sort of purple, and, like every piece of cultural criticism that name checks Joseph Campbell, the "hero's journey" stuff becomes quickly embarrassing. Still, Hyden's thoughts on "the death of rock" are probably going to be my go to reference whenever that old assertion is thrown at me next.

Very enjoyable. (But isn't Hyden a little bit the bobo Rob Sheffield? I mean, doesn't Sheffield just do the music memoir/history perfectly? Do we NEED another Rob Sheffield? I don't imagine so; I won't be re-reading this one, and I've read all of Sheffield's books more than once. So...)Anyway, highly recommended for fans of classic rock especially.

Steven Hyden's new book, Twilight of the Gods, is an amazing journey through the history of CLASSIC ROCK (not CLASSIC rock) full of great insights, anecdotes, and surprises. The book has me going back to some of my old favorites as well as convincing me to check out some new ones. Highly recommended!

It so strange to think that Rock n' Roll is becoming an outdated and irrelevant art form. There still great stuff out there but the same can be said about genres like opera or jazz. Like those, playing it involves studying an existing structure rather than an act of rebellion and being a fan is viewed as an eccentricity rather than the dominant unified expression of the culture.

Fun and energetic look at a "dying" genreGreat read. The observations and experiences the author has cling to home for me, which makes sense as we're basically the same age. The classic rock vs new rock vs dad rock vs musical enjoyment is decoded in multiple ways with a clean and original manner. Fan to fan the author shares what makes rock, rock.

The first 200 pages are enjoyable, if a bit disjointed. The last 80 are riveting. The book is an interesting way to view the end of an era that is really unparalleled in popular culture. (But only really in the last 80 pages. The first 200 are anecdotal but fun)

Just wonderful. From growing up with classic rock as back ground music to running errands with my mom in our station wagon to all the years hence, this music is a part of me. I loved this book from start to finish.

Another fantastic book from Hyden. A great trip down the memory lane of classic rock. Brings me back to first worshipping so many of these gods in high school and beyond. Definitely recommended for any fans of classic rock or rock n' roll culture, or any fans of good writing in general.