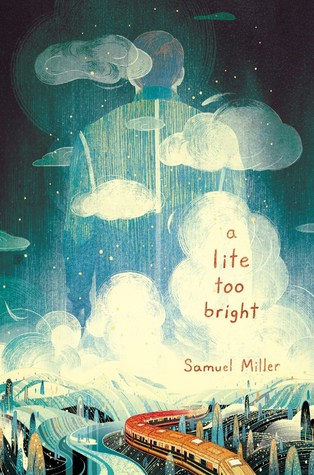 For fans of literary classics such as The Catcher in the Rye and The Perks of Being a Wallflower comes a stirring new thought-provoking novel from debut author Sam Miller about a loss shrouded in mystery with twists and turns down every railway. Arthur Louis Pullman the Third is on the verge of a breakdown. He's been stripped of his college scholarship, is losing his grip on reality, and has been sent away to live with his aunt and uncle.It'...
---
Details A Lite Too Bright
Title
A Lite Too Bright
ISBN

9780062662026

Author

Samuel Miller

Release Date
May 8th, 2018
Publisher

Katherine Tegen Books

Genre

Young Adult

,

Contemporary

,

Fiction

,

Realistic Fiction

,

Young Adult Contemporary

,

Health

,

Mental Health

,

Travel

,

Mystery

,

Novels

,

Teen

Rating
Reviews A Lite Too Bright
Astonishing! This novel is a very refreshing read. Quite ambitious that had live up to my expectations and beyond.It is about Arthur, going through a journey of dealing with loss, healing, family, friendship, with the added spice of mystery and bittersweet instances in life. And a literal journey too travelling through it all in search of answers. That surely will leave the readers with a lot of things to think about too.I love how balanced every...

I breezed through this amazing story. It's big - loss, connections, time, memory, mystery, love and regret. I loved the progression and how information is parsed out over time. Plus, I love when books analyze other books - it's so meta and genius (if it's done well, which it is here).Bonus: it's a traveling/journey story, which I have a big heart for.

4.5/5. This book is a wildly ambitious, beautifully literary, and refreshingly original story for YA lit. Arthur's journey to better understand family, faith, and mortality is bittersweet in that way that makes you feel like you both lost and gained something truly special by the end. Arthur's narration feels so old-soul, and paired with the frequent disconnect between his thoughts and his ability to express himself eloquently makes him a sup...

Arthur follows the clues his late grandfather left behind to discover what happened in his final days.----4 stars. I loved a lot about this book. I loved Arthur and his family (although I was frustrated with his father). I loved the mental illness rep. I loved Arthur's journey on the train. I loved the journal entries. However, I did find myself bored at times.This book deals with Alzheimer's, as one of the main themes. Can I just say, that my gr...

I need 6 years to unpack everything I just read.

*An ARC was provided by Edelweiss and the publisher in exchange for an honest review.*"Would you rather live with miserable truth, or blissful ignorance?"Actual rating: 4.5There are so many things to say about this book. I don't even know where to start. I guess I will start with the statement that is almost impossible to say much about this book without spoilers. Why is that? Because this book is a chameleon: every time I labeled it as somet...

"i am nothing but a mosaic of the people i've met & the things they've carried."3.5 stars. Poignant, emotional, beautiful written, Sam Miller's debut novel, A Lite Too Bright is a strange little book that unravels in unexpected ways and is perfect for fans of John Green. It follows Arthur Louis Pullman the Third as he travels on a cross-country train ride trying to piece together clues left behind by his deceased grandfather—a Salinge...

I have mixed feelings about this book. It was good but there were big sections that were slow and dragging, which made the story feel five miles longer than it should have been. The ending is what really shook me but the rest left me wondering what was going on.-------------Full review can be found here: https://agingerlyreview.wordpress.com...This story was one I had not heard a lot about before I borrowed from my library. The blurb sounded prom...

Sam Miller's writing is as beautiful as ever!

A Lite Too Bright by Samuel Miller 3.75/5 Contemporary YAA Lite Too Bright is a coming of age story with some unique elements. The main character is the grandson of a famous writer who wrote a seminal novel in the seventies, think J.D. Salinger. This is the story of Arthur's journey to discover what his granddad had done during his last week of life. His grandfather was suffering from severe Alzheimer's and took off without a word from his ho...

I'm giving this five stars, not because it's perfect but because it has the most ambition of any book I've read in quite a while. This is like the love child of MOSQUITOLAND and a Pynchon novel. And while it's no CRYING OF LOT 49 it's got so much going for it that I can't help but give it the highest of marks. It is a bit long and oblique at times but I'll give Samuel Miller this: I read more YA books than anyone I know, and I can always see the ...

I loved this book and find it incredible that someone so young could have written it. I was immediately drawn into the story and had a difficult time putting it down. I also found myself re-reading passages because the words were so beautiful and thought-provoking. I wish I had read it via Kindle so I could have highlighted those passages. My daughter would not have been happy if I highlighted her copy! Author Sam Miller is also a super nice guy....

book reviews aren't really my forte, but this book definitely deserves your read. it's thought provoking, beautifully written, has unexpected twists, and a great plot. it's a stunning debut novel.

I will let it be known that I am not unbiased.BUT it's really hard to believe that this is a debut novel. This story is huge and takes on a crazy journey, letting you think you know where you're going and what you're looking for, but you will always be wrong. This book is about so many different topics that I don't even want to try to dive into, but it is very well-executed that it doesn't feel convoluted or confusing.This is the kind of book tha...

This book was incredible. I read it on blind faith alone, wanting to support the author but knowing literally nothing about it, not even the genre. I finished it in two days. It's truly gripping. There are so many elements that mesh together to make such a fascinating story, like Arthur's cynicism and mental instability, the rise and fall of the clues they find, where they're led, and the manner in which they are led. It's a mystery, but it's not...

I had looked forward to Sam Miller's debut novel A Lite Too Bright because I have admired his writing for years through his lyrics for Paradise Fears and his blog writings. I did not know how blown away I would be by this book.What I knew about this book through the jacket copy and what Sam said at his signing combined with what I knew of Sam's methods and experiences of writing the book, I thought it would be a simple story of a young man going ...

"I always love the moment where the desert gives way to the mountains, because it reminds me that the highest peaks are borne of the lowest valleys."This book is incredible. I plowed through to the end and absolutely devoured this story. There are too many great things I'd like to say about this book, but I'll be brief.-Arthur was definitely not my favorite character at first, but he grew on me because he's so lost. He has so many questions and v...

I absolutely loved this book. I wasn't sure about it while reading the first few chapters but once Arthur went on his journey and we started learning more about him and his Grandfather, I totally fell in love. I loved the additions of Arthur struggling with his mental health and his hallucinations added to his story instead of being a distraction. I also loved that tiny bit of LGBT in the story and how his grandfather had a past that was kept hid...

3.5 stars. The writing is very good but parts of the story dragged for me. Arthur Louis Pullman III is struggling with some mental health issues when he sets out on a cross county train trip following clues he believes his grandfather, a beloved, critically acclaimed author suffering from Alzheimers, left for him. Along the way he encounters a counterculture group called The Great Purpose who are followers of his grandfather's writings. It gets a...

I was on the fence through much of this book about a young man who retraces a mysterious journey taken by his late Alzheimer's-stricken father. The pieces of the puzzle he is following come together a little too conveniently at times, and his odyssey is helped along by certain coincidences. I grew increasingly annoyed at the various contrivances until I began to suspect a method to the author's madness and predicted a masterful twist in which all...

I'm writing this review upon finishing A Lite Too Bright for the second time. In a promising debut novel, Samuel Miller leans on history, literary icons, and beautifully composed poetry to make this coming of age story stand out from others in its field. The story is original and exciting and is sure to please almost anyone. The story itself feels genuine and authentic, tackling issues of mental health, family dynamics, immense love, and immense ...

Although I can appreciate the literary genius of the writers of the Beat generation, I have to admit that I haven't really liked their books. However, one of the things that initially intrigued me about A Lite too Bright is that it is a sort of homage to those books. Then add in the appeal of travelling cross-country by train, and I quickly found myself engrossed in the story. The mystery element of the story was fun as well, but what really pull...

This book has instantly become one of my favorites. It was easy to read. Even as some parts were written in broken thoughts, I was still pulled through the story. Everything I could want in a book, mystery, purpose, reality, and emotion. This book made me feel so strongly for the characters involved but not overwhelmed like some books do. The way everything wrapped up was never what I expected but exactly what I needed. Just like in his songs Sam...

A Lite Too Bright... Focused on an Amtrak journey cross country, following clues left in his famous author/Alzheimer's driven grandpa's poetry journal, Arthur, a teenager, attempts to solve the mystery surrounding his death, while uncovering a secret organization and trail of followers hoping to cash in on unpublished works. Story is detailed; it has many dream flashbacks and voices inside the narrator's head that made the reader question reality...

Usually I can predict what's going to happen in a book, but I couldn't figure out one twist in this book. Sam depicts his main character little by little, letting the reader into his life, only when Arthur is ready and we are too. It's not a happily ever after, that's for sure. The poetry Sam uses for Arthur the writer, versus Arthur the kid's journal entries was really fascinating as well. I almost want a full book of just the poetry.

Absolutely flew through the last 200 pages of this book. Inspiring, heartwarming, and heartbreaking all at the same time!Also hella props for all the thought-provoking and quote worthy lines. Definitely a book that someone can read over and over and get something different out of it each time.

An absolutely captivating debut novel. The seamlessly woven story, the vivid imagery, and the hyper-realistic characters kept me hooked from the start. A reminder of the vast beauty, intricate history, and unsound rebellious nature of our great country. A true testament to the Great Purpose and power of our Youth. 10/10 Will recommend to everyone I know.

I have a tattoo on my wrist that I got well before this book, to represent my love for Sam Miller's writing. This book made me fall in love with his writing all over again. It's unique and complex and wonderful and sparks the passion I have to keep writing my own novel. I can't wait to see what else Sam comes up with!

i finished this phenomenal book yesterday and i cannot stop thinking about it. the characters, the plot, all the intricate details. amazing. *SPOILER* i love how sam compared the feeling of nothingness to bright light. i've always thought of it as darkness, but i quite like this view of it. a lite too bright is so thought provoking and emotional and i LOVE it.