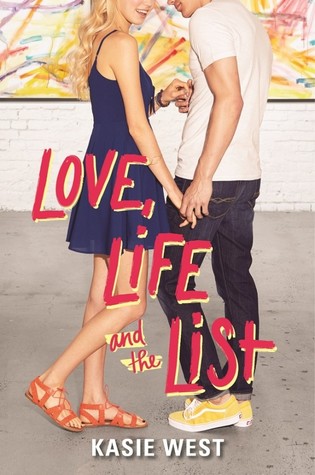 Seventeen-year-old Abby Turner's summer isn't going the way she'd planned. She has a not-so-secret but definitely unrequited crush on her best friend, Cooper. She hasn't been able to manage her mother's growing issues with anxiety. And now she's been rejected from an art show because her work "has no heart." So when she gets another opportunity to show her paintings Abby isn't going to take any chances.Which is where the list co...
---
Details Love, Life, and the List
Title
Love, Life, and the List
ISBN

9780062675781

Author

Kasie West

Release Date
Dec 26th, 2017
Publisher

HarperTeen

Language

English

Genre

Contemporary

,

Young Adult

,

Romance

,

Realistic Fiction

,

Fiction

,

Young Adult Contemporary

,

Contemporary Romance

,

Womens Fiction

,

Chick Lit

,

Teen

,

Art

Rating
Reviews Love, Life, and the List
Well that was just soooo dang cute. Just what I needed to get me out of this reading slump.

About: Love, Life, and the List is a young adult fiction written by Kasie West. It will be published on 12/26/17 by Harper Teen, an imprint of HarperCollins, 384 pages. The genres are contemporary, fiction, romance, and young adult. My Experience: I started reading Love, Life, and the List on 10/20/17 and finished it on 10/25/17. This book is another fun read from Kasie West. It's full of sarcastic humor, challenges, friendship, and family. I l...

Absolutely loved this one!! Full review to come!

This was exactly what I wanted to read. Love love love the BFF to more trope and Abby and Cooper are adorable together. I love their snark and banter and her art and his goofiness. I really enjoyed being on Abby's head while she figured everything. There's a great set of characters here and I can't wait to see who gets a story. Plot wise, it was slow enough for me to savor and quick enough to satisfy. I loved the idea of the list and how ev...

(I received an advance copy of this book for free. Thanks to HarperCollins and Edelweiss.)This was a YA contemporary romance story about an artist and a quad bike rider.I liked Abby and Cooper in this, and I liked their friendship. I felt sorry for Abby that Cooper didn't want more, and I also felt sorry for her when it came to trying to get her art in a show.The storyline in this was about Abby being told by her employer that her art didn't ...

Sad to say that overall I thought this was just okay and that some aspects really bothered me. Abby is secretly in love with her best friend Cooper. A year ago she told him, but when he didn't seem to return her feelings, she quickly claimed she'd been joking. Now she hangs around him all the time, silently pining. Abby's also an artist who's hoping to get her work included in an upcoming art show. When the director of the show tells her that her...

I LOVED THAT! Funny, flirty and full of feels...this is Kasie West at her best! I can't wait to see whose story is next.

2.5 starsLove, Life and the List was the kind of cutesy contemporary I knew I could expect of West. The premise was enticing; the promise of a best-friends-to-more romance too good to turn away. The execution, however, left a bit to be desired. The tone was quite young so its attempt to explore important topics like mental health and family fell a little flat. The characterisation was also quite shallow and there were some subplots that took too ...

3.75 starsReally enjoyed that one. I wish somethings had gone down differently but I was happy in the end. Review to come.

This was DIVINE! Read it in a day!

I don't know what it is about West's recent books, but I haven't been enjoying them as much. I just didn't feel like there was any chemistry between the main characters at all. I found myself rolling my eyes constantly and actually wondering why on earth Abby actually had feelings for Cooper. He was a total ass! I'm really disappointed I didn't enjoy this one.

This was okay, although predictable and with a distinct lack of chemistry between the characters.

Can you make your best friend fall in love with you? Can you change your heart, become a better person with a few simple steps? Maybe, maybe not. But it's what Abby learns in the process that makes Love, Life and the List such a fun, contemporary YA novel. Abby's goal is to make it into a prestigious art program. The one obstacle in her way is showing her art in an exhibit. When her work is turned away as 'lacking in heart', she creates a list of...

Kasie West contemporaries always provide the light and fluffy goodness that I look for in these kinds of contemporaries. Love, Life, and the List is a fun friends-to-lovers story about pushing yourself and finding yourself. Plus, there's great family dynamics and great art - always good things. We follow Abby Tucker as she spends her summer conquering her fears, facing challenges, and suppressing her feelings for her best friend Cooper. That le...

I really wanted to love this one more but I just didn't care for the love interest AT ALL. I thought Abby made the wrong decision when it comes to her choice. I did like the family and art elements though.

Definitely not my favorite Kasie West book, but not my least favorite either. I liked the writing in this one much better than Lucky in Love, but I just was not there for this relationship. I did not like it in any way. And I did not think that Cooper treated Abby well, and I thought Abby treated Elliott just as poorly. I liked Abby's sarcasm and wittiness. And I loved her relationship with her grandfather. That was my favorite part of the enti...

I've said it before and I'll say it again, Kasie West can always bring me out of a reading slump. Although now that means I have read every single one of her books and if I go into another slump before I get my hands on her next book then I guess I'll have to reread haha. Anyways, this book was so amazing and I flew through it in less than a day, which says a lot because like I said above, I had been in a reading slump. My favorite thing about th...

Cute enough, I guess, though undeniably formulaic and barely distinguishable from her other contemporary YAs. Forgettable.