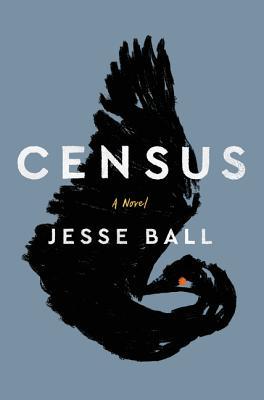 NAMED ONE OF THE MOST ANTICIPATED BOOKS OF 2018 BY The New York Times • The Chicago Reader • Nylon •   The Boston Globe • The Huffington Post • The Rumpus  • The AV Club • Southern Living • The Millions • BuzzfeedA powerful and moving new novel from an award-winning, acclaimed author: in the wake of a devastating revelation, a father and son journey north across a tapestry of townsWhen a widower receives notice from a...
---
Reviews Census
There were a few times that I wanted to put this book aside because I wasn't getting what was happening in this society, this country with unnamed towns designated by letters from A-Z. I wasn't understanding what this census was all about, why this unnamed agency of the government was conducting it. It was just too philosophical in places. But I couldn't stop thinking about what Jesse Ball tells us in the introduction: "It occurred to me ...

This was my first experience of a Jesse Ball novel. I did however come across him in Granta magazine's "Best of Young American Novelists" where he wrote a short story called "A Wooden Taste is the Word for Dam a Wooden Taste is the Word for Dam a Wooden Taste is the Word for" which was startlingly original enough for me to think I needed to read more and therefore to not turn my back on a chance to get a review copy of Census via NetGalley. My ...

After Silence once begun and A Cure for suicide I had high expectations of the latest Jesse Ball, but Census didn't disappoint at all. It's an absolute triumph of imagination, writing skills and finesse. More than with his previous books there is a lot of -personal- emotion involved.Don't miss this one!

5+ out of 5. Ball returns to his more oblique work here (after 2016's much-more-realistic How to Set a Fire and Why) but this book feels as distinct from any other of his works as every other of his works. It is perhaps his best yet - a beautiful, moving portrait: of a father and son, of a child with Down syndrome, of the practice of taking a census, of the relationship between a person and their world. It's also the most loving of letters betwee...

A deeply humane and tender novel about grief, loss and the nature of connection. And yes, it's Ball, so it's surreal and otherworldly in the best possible way. Written as a creative response to the life and death of his older brother (who had Down Syndrome), every strange turn is underpinned with love and compassion. As a tribute it is gorgeous and heartfelt. As a novel it is astoundingly good. Right up there with Silence Once Begun and The Curfe...

For fans of literary fiction. Some of this is a tad hazy but it's got a good heart. Ball is less about plot, I think, than philosophy. It's not a fast or easy read but I admired it. Thanks to Edelweiss for the ARC.

This is a stunner. It's a beautiful and philosophical work dedicated to a brother who has passed. This is a work of art. goodreads giveaway.

I like how this book is put together, the ordinariness of the main storyline (high stakes admitted) with the seemingly ordinary but then strange census and world. It just walks in and out of the normal, casually and easily. It moves too, but quietly. It's an interesting book.

CENSUS is my first exposure to Jesse Ball and now I need to investigate his backlist titles. WOW! What was I venturing into with this tale of a dystopian society - NOT a favorite genre of mine. Ball's writing style (for this tale) is comfortably choppy. He has deft skill with his prose, making every sentence count. The opening passage tells you that Ball's brother, who had Down syndrome, died at a young age. This tale of a Father and Son (with Do...

What a sweet, melancholy story of a father facing the end of his life and a son for whom he has hopes and dreams that will likely never be realized. In this sparsely written book, Jesse Ball shows how much emotion he can convey with a few words. Working a job that no longer makes sense to him, this man focuses on what time he has left with his son who has Down syndrome. These two characters take off on a road trip of discovery and togetherness an...

Jesse Ball draws from his own life experience to create an honest and emotional tale of life, love, and family. Census follows the journey of a terminally ill father and his son who has Down syndrome as they administer a census in an ambiguous, dystopian society. Along their route, they encounter rapidly changing towns and landscapes as well as the stories of people who live there. Throughout the journey, the father reflects on his life, grapplin...

I received this book through Netgalley for an honest review. This was... beautiful. A meditative stroll through a life that touches thousands. On occasion, a little too metaphorical, and occasionally stories were split up in a confusing way (though that could just be the copy I had). It was reminiscent of Siken's poetry. I really enjoyed this.

I'd read and enjoyed Ball's previous novel, How to Start a Fire and Why. This one is very different, though – probably closer to his usual style, based on accounts I've read from others. It's strange, dreamy, and philosophical. With its flat, simple, repetitive language; short sentences and paragraphs; and no speech marks, it is fable-like and oblique, altogether hard to latch onto. (Sample line: "Who can comprehend blankness?")The ...

Jesse Ball has such a unique voice. Census is a quiet elegiac book about the gentle relationship between a father and son. Very sweet, tender and refreshing.I encourage language readers especially to treat themselves to Jesse Ball's sparse and slightly experimental prose. Do be sure to try his earlier works like Silence Once Begun. You won't be disappointed.Thank you HarperCollins for the advanced readers edition.

A beautiful, reflective book that tackles loss, parenthood, kindness and purpose in the context of a dying father taking a road trip through a dystopian countryside alongside a son with Down syndrome. The clippy writing style takes a moment to get use to but don't fret -- you'll fall in love with the protagonists as you follow them down their thoughtful and windy road to Z.

This book packs a hardcore emotional punch. Brilliantly written, thoughtful, and so full of empathy, kindness, and gentleness.

A beautiful read. Ball is one of our finest writers.

"People like this are small; it is almost always possible to escape them in those first moments, but once you consent then what is real for them becomes real for you and it is hard to find a way out."

From my review (4Columns, 4/23/2018):Hardly the census as we know it, this one is composed of open-ended interviews with each subject followed by the administration of a mark on the officially designated rib. Ball's census owes a debt, perhaps, to Shelley Jackson's Skin project—a story composed of one-word tattoos on many people's bodies. But what makes Ball's census original—and appealingly novelistic—is that it's an account more...