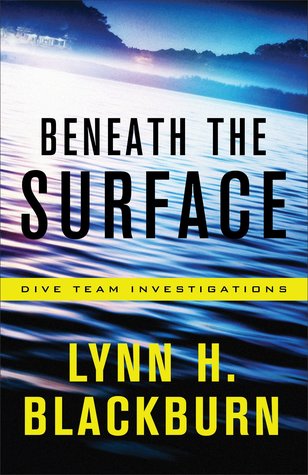 After a harrowing experience with an obsessed patient, oncology nurse practitioner Leigh Weston needed a change. She thought she'd left her troubles behind when she moved home to Carrington, North Carolina, and took a job in the emergency department of the local hospital. But when someone tampers with her brakes, she fears the past has chased her into the present. She reaches out to her high school friend turned homicide investigator, Ryan Parker...
---
Details Beneath the Surface (Dive Team Investigations, #1)
Reviews Beneath the Surface (Dive Team Investigations, #1)
Well, it's not what I expected, but it was definitely interesting! I thought the diving part would play a larger role in the story, but it only is featured at the beginning. Leigh is drawn into the story when the dive team needs to use her lake access to remove a murder victim from the lake. But pretty soon the action ramps up when someone makes an attempt on Leigh's life, very nearly succeeding and landing her in the hospital.So that was twist n...

4 out of 5 stars.This book was well done! I enjoyed it greatly and it kept me reading. The overall storyline was easy to follow, but hard to figure out the ending, just like a proper suspense book should do. The plot kept moving quickly enough that I was constantly turning pages. I think I broke a current record for myself in how fast I read it. It felt good to breeze through a book because it would have been hard to put it down.The characters we...

Cop suspense meets medical suspense in this enthralling caper. I loved all the characters (well, the good guys, anyway. The schmuck who left his wife is somewhere under the murderer in my estimates in line for reader love from me). Ryan and Leigh were so cute together, and so were Adam and Sabrina (even if they don't know it), and all the other people I look forward to reading in the rest of the series. I especially loved the relational dimension...

I was pretty excited when I checked this one out..Dive team investigations...sounds intriguing and creepy! Well, the "dive team investigations" part was only in the very beginning. Not really sure why so much emphasis would be put on the dive team aspect when it was only one scene in the very beginning of the book? I would definitely call this a romantic suspense (slash) unrequited love story. Yes, the suspense at the end was definitely a thr...

For all my reviews, visit my blog at http://ladyjbookishnook.blogspot.com Follow me on Twitter Beneath The Surface by author Lynn H. Blackburn is the first installment in the Dive Team Investigations series and my first read of this author. I noticed AFTER receiving my copy in the mail that it was a romantic suspense which truthfully I never read. I didn't pick up on the romance while reading the blurb so this one was a surprise. But I decided...

Lynn H. Blackburn's new series, Dive Team Investigations, starts out with a bang.First off, the characters. Leigh is an interesting and well-rounded character. Her issues of faith and fear felt very real and relatable. Ryan's character was also good, and I think I liked him even better than Leigh. I appreciated how he wasn't your stereotypical perfect specimen of humanity that all the girls fall for. He was awkward at times, bumbling in an ...

Wow, this book was AMAZING from the VERY start and I LOVED every bit of it!! This was my first time reading Blackburn's work, but I'm so looking forward to Book 2 in this series. Leigh has just returned home after having a traumatic stalker experience and is trying to find her momentum again working as a nurse when the attacks against her start up again. Investigator Ryan Parker, best friend to Leigh's brother and friend from high school, gets as...

Wow, now this is a suspense book! I haven't been able to find many suspense books that I've enjoyed lately, but this one was amazing. I can't wait for book #2! The suspense was so well done in this book. There was so much going on and you never knew what was going to happen next. The mystery itself was pretty unique compared to other suspense books I've read, which really stood out to me. It was different and well thought out and I absolu...

'Somewhere, probably nearby, there was someone who hated her so much they were willing to end her life and possibly a few more. Why?'I love discovering new authors and so happy I came across Lynn H. Blackburn. This was a very intricate and detailed suspense novel. I enjoyed it very much and intend to read more from this author. Much like an adrenaline laced episode of Criminal Minds.*My thanks to the publisher for a copy of this book via Net Gall...

I really enjoyed the twists and turns in this novel. Well written with an engaging, and harrowing, plot. The romance was well done as well.

4.5 StarsI knocked off .5 stars for a little bit more romance in one scene than I wanted to read. (view spoiler)[ Ryan and Leigh are in her Dad's old study, the door is open but the lights are off. And somehow his hands are on her hips and then they are interrupted. Cause you were left wondering what would have happened if they hadn't been interrupted. It was uncomfortable to read and didn't really have any influence to their relationship so I wa...

Eep! Squeal!! Thud!!! I'm in a discombobulated frenzy of excitement over this new series by Lynn H. Blackburn. Not only am I smitten by Beneath the Surface, but I'm all aflutter just contemplating the future Dive Team Investigations books! That's because Blackburn has done an incredible job of introducing team members with unique personalities that already have me clamoring for answers. Like what's up with Gabe and Anissa?! Inquiring reader minds...

I love finding new to me authors, especially when it's one like this! Ms. Blackburn is a fantastic author! She has created a wonderful story, full of amazing characters and I was hooked from the first page. Each page, each new character, each new plot twist had me on the edge of my seat and staying up late to finish the intense, captivating ride.I loved Ryan and Leigh so much! They were wonderfully chiseled and their feelings really jumped off ...

Talk about high tension, wow, Blackburn has you on the edge of your seat in this one. This was the first book that I read by Lynn Blackburn but it won't be my last in fact. She has a second book in this series coming out next year called In To Deep.I hope that it is half as good as this one was.The suspense and the romance in this book was spot on and I really can say it was a really good read.I can't wait for you to dive into (pun intended) Ryan...

This book is intense. The amount of research that went into it is impressive. And the characters are great. I loved the main characters, but the secondary characters really drew me, as well. I am hoping that some of them are featured in the next books. I can't wait to read book 2 in November.

I am always on the lookout for new and exciting inspirational suspense novels, and Beneath The Surface did not disappoint. Lynn Blackburn delivers a novel that balances action with fantastic interpersonal interactions, careful criminal investigation with plenty of tension, and a light-hearted joy despite the depravity of the crimes. Beneath The Surface was a very enjoyable novel to read and with it Lynn H. Blackburn earns her way onto my list of ...

Okay, I have a confession to make. I initially picked this book because I thought this might be another author in the style of Dee Henderson or Dani Pettrey (two of my favorite suspense authors). Consequently, when I started reading I was guilty of comparing this book with their books and that is certainly not fair to the author. So I will just state that if you're looking for another Dee Henderson, this isn't the book to choose, but if you want ...

Beneath the Surface grabbed me from the get-go and didn't let go until the end. Blackburn created characters I cared about and then she put them in all kinds of precarious situations. I wasn't sure how the story would turn out—great for keeping me reading way too late into the night!Blackburn is a new-to-me author and I look forward to more of her books! She kept me turning the page with her tight writing, and she knows how to create intere...

From the moment I saw the cover of the first book in Lynn H. Blackburn's Dive Team Investigations series, I was intrigued. Then I read the synopsis and have been waiting for it's release since. Now it's here and it was so worth the wait.When full-time homicide inspector and part-time dive team investigator Ryan Parker comes across an unexpected discovery during a training dive, he professional plate fills.Leigh Weston has returned to her fa...

Wow. When I finished this story my mouth was wide open. My heart was pounding. I had just been on a journey that was filled with twists, turns and so much suspense. I thought I had it figured out, then another wrench thrown into the mix. I absolutely cannot wait until the next book to come out. I received a copy of this book through the author - all thoughts are my own.

Beneath the Surface  is the first book in Lynn H. Blackburn's new romantic suspense Dive Team Investigations series. It is a fast-paced story about Leigh Weston, an ER nurse who has recently returned to her childhood hometown and who becomes a murder target for an unknown reason; Ryan Parker, a detective who finds a body at the bottom of a local lake during a dive team training activity and is assigned to work the homicide case; and the team wor...

3.5 stars I haven't read anything by Lynn H. Blackburn, but she has written a number of romantic suspenses for the Harlequin Love Inspired Suspense line. I do enjoy a good mystery that grips my attention and keeps me focused on the story. With Blackburn's first full length novel Beneath the Surface, I expected to receive a military or FBI type character who is working to solve a case while the woman either works with him or he or she is trying to...

Wow! This is the fabulous first thriller in an explosive new series, Dive Team Investigations. The author far exceeds my expectations with female leads this reader could connect with, scenes that elicit fear or excitement, the potential for a long-awaited romance, and a plot in which the bad guys/ gals quickly escalate attacks. All of this, with serious spiritual lessons and a sweet, renewed revelation of God's love and faithfulness.Ryan and di...

I started following Lynn on Facebook awhile back, being interested in her books. I had not read her previous books, as they are Love Inspired Suspense novels and there are way too many of those to keep up with. I saw she had a trader paperback book coming out from Revell, who always puts out quality Christian suspense, and put it on my list of to-read books. Then she posted one day she needed people for her street team....people to read, review, ...

Title: Beneath the Surface (Dive Team Investigations #1)Author: Lynn H. BlackburnPages: 352Year: 2018Publisher: RevellMy rating 5 out of 5 stars.Lynn H. Blackburn weaves a tale of romance and stress of finding a killer before he/she strikes again which causes Detective Ryan Parker and Leigh Weston paths to intersect time and again. Ryan was Leigh's brother Keith's best friend growing up, and without Ryan's knowledge Leigh was interested in ...

I was in like Flynn in the first chapter of this book. There were so many hooks that all just worked together. Leigh draws you into her heart from the very beginning. Having recently moved back to her childhood home after the passing of both her parents she leaves behind the memory of a stalker and changes her career specialty. She finds herself in contact with her older brother's best friend, who she may or may not still carry the embers of he...

This was my first read by this author and it will definitely not be my last! I was first intrigued by the description, but I have to admit that what sealed the deal on me wanting to read it was the glowing endorsement from Lynette Eason (one of my all time favorite authors!) I was pulled into this book from page one and truly hated to set it down! Leigh and Ryan were fabulous main characters, I loved that they had known each other since they were...

This is definitely a character driven novel. There is much thinking by the characters and I have to admit, I skimmed through much of it. Much of the thinking is about a possible romance between the two main characters. It really took attention away from the plot, I felt.The plot was complex and on shaky ground. The sheriff dive team finds a torso while on a training session in a lake. The head, hands and feet are missing. Ryan is the lead detecti...