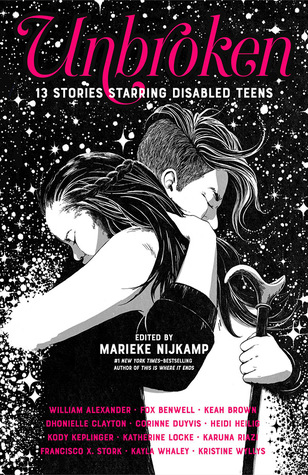 A YA Anthology of short stories featuring disabled teens, written by #OwnVoices disabled authors. The stories reflect a range of genres and disabilities; contributors include bestselling authors Kody Keplinger and Francisco X. Stork, as well as newcomers Fox Benwell, Keah Brown, and more.
---
Reviews Unbroken
*ARC received from Publisher in exchange for an honest review*Full Review may also be viewed on LAIR OF BOOKSThis Anthology holds such a special place in my heart, I found myself taking my time with each story many of which moved me or empowered me. Many left me in tears while others left me with hope. These stories are filled with strong characters who really just want to be seen and heard for the person they are rather than their disabilities b...

Beautiful cover, and beautiful stories! While all the authors are disabled, I'm not 100% sure their characters follow the exact disability. Either way, I love the intersections of the characters and the vast range of writing styles. A more comprehensive review with opening lines will follow. While I'm giving each individual story a rating for my own notes, this whole book was a solid four from me and I highly recommend the anthology! Quick re...

A beautiful and meticulously crafted anthology that is yet another example of the fantastic work We Need Diverse Books keeps putting out.Full Review Here: https://bookpeopleteens.wordpress.com...

Overall: 3🌟I love the idea behind this anthology: own voices short stories about disabled teens! I want to give it all the stars. Unfortunately, it was a bit scattered, some of the stories felt pointless, and the genre hopping from story to story was disconcerting. There were a few gems in the anthology, though! Here are my individual story ratings and thoughts..The Long Road by Heidi Heilig: 2🌟There's a hint of something interesting in t...

The average of all the short stories combined is 3,92, but I'm still debating giving it 5 stars just because we need more of these books. I laughed and cried and felt all the stories and all the tiny recognisable things that we disabled/chronically ill people have in common. There was a lot of recognition for me but that it's simply because about everything in my body is malfunctioning. I too worry about muddy sand combined with my electric w...

It's so difficult to rate anthologies, which is why I've rated every story separately. This was definitely worth the read, and I especially loved the insights into what it's like to deal with any kind of disability. Heidi Heilig - The Long Road (3/5)This first story has a lovely message, but I did feel like it could have been longer or at least a bit more substantial, because it didn't really have much of a plot. However, I did love the setting a...

"This company is made of grit and steel. A thousand stories, told and still unfolding."- A Play in Many Parts, Fox BenwellUnbroken is easily the best short story anthology I have come across. These thirteen stories are exquisite in not just their #ownvoices representation of disabilities but their intersectionality with race, sexuality and gender as well. With a broad range of disabilities, these characters lead us on a variety of journeys - ...

As a disabled person myself I was really excited about this anthology and the representation in it that is long overdue. Sadly overall I felt very meh about the stories, but I'm so glad this anthology exists. 1. The Long Road by Heidi Heilig - 3 starsOk overall - a lot of setup and but not much occurred 2. Britt and the Bike God by Kody Keplinger - 4 starsCute!! - If you like Kody's other work (like The DUFF), you'll enjoy this story.3. The Leap ...

This is such a great premise for a short story collection, and I really enjoyed this book! We're starting to see a lot more diverse books being published, but there's still a lot more room to publish own voices books starring disabled characters, and I hope Unbroken helps push the publishing industry further in that direction.Overall, I thought these short stories were really well done. There was a great mix of characters, settings, genres, and w...

This is a short story collection so it's hard to give one rating. I just merged them all in my mind. Some were better then others, per usual.

In this entire collection, I only came across one story I just felt 'meh' about, and that is a great ratio. These are stories about characters with disabilities and the authors and characters are incredibly diverse. Hooray! The disabilities are varied and include physical, emotional, and mental. The stories encourage the reader to think outside of the little boxes we fit people in.My thanks to NetGalley and the publisher for the advanced copy in ...

i n e e d t h i s(five- starring bc people are one-starring for no reason)

It's hard to put a star rating on an anthology. Some of the stories were really good, and some just didn't hold my attention, so take this rating with a saltshaker.I appreciated from the moment I heard about it how there was an anthology of stories solely focused on teens with disabilities, but not that their disabilities were the entire plot. (Honestly, I sort of freaked out from excitement when my email told me I won an ARC from Goodreads Givea...

I love this own-voices anthology more than I can say. It's just what it says on the tin: disabled teens fall in love, fight evil spirits, have adventures, juggle responsibilities, and do various other things abled protagonists do in YA fiction. Let me say that again: every story in this collection is centered around a disabled teenager who doesn't die, get cured, play the villain, describe themselves as not really living, exist as a punchline, te...

Normally when I read a collection of short stories, I really love a few, like some, and am "meh" about others.Not with this collection. Every story was great and the collection itself had a good mix of different genres (SF, fantasy, historical, contemporary, etc.) and covered a broad spectrum of disabilities. I loved this book and am not going to shut up about it for a very long time.

Excellent book of short stories for the Y.A market. Only one story i didn't care for (never set a table for 13, but i guess that was the point.) Some of these i don't think of capital D disabled, but are shown to clearly be crippling. Much of this book is designed to open eyes, and some is to challenge the reader. Fortunately are are well written, even the one i didn't like.This was a NetGalley.com advanced reader

A gread mix of stories! Intersectional on so many axes, and a wide variety of genre. A great choice to hand your kids who are still thirsty for Wonder readalikes.

Some stories stood out to me more than others and I was a bit confused about some of the disabilities represented but overall, I truly believe there should be more stories like these on shelves everywhere. I've finished this book with a warm and happy feeling in my heart ❤ (And I freaking love the cover~)

Thank you to every person that was part of this book. I've been wanting a book just like this for a long time. A book where I feel seen; where I feel represented.Every story was so wonderful; each representing different people. I loved so many of them! I felt most represented with Found Objects by William Alexander with the main character having chronic pain. I think that one was one of the most unique stories too. Other stories I loved were The ...

You can read my full review here!