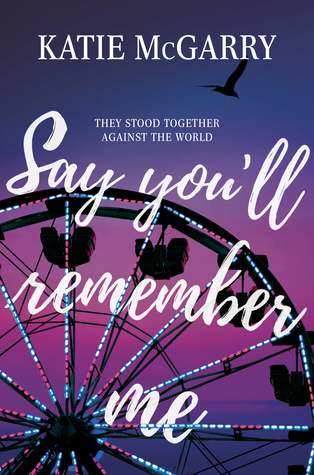 When Drix was convicted of a crime--one he didn't commit--he thought his life was over. But opportunity came with the new Second Chance Program, the governor's newest pet project to get delinquents off the streets, rehabilitated and back into society. Drix knows this is his chance to get his life back on track, even if it means being paraded in front of reporters for a while.Elle knows she lives a life of privilege. As the governor's daughter, sh...
---
Details Say You'll Remember Me
Title
Say You'll Remember Me
ISBN

9780373212378

Author

Katie McGarry

Release Date
Jan 30th, 2018
Publisher

Harlequin Teen

Language

English

Genre

Young Adult

,

Contemporary

,

Romance

Rating
Reviews Say You'll Remember Me
*received an arc from KM*Elle and Drix were so vibrant I swear I forgot I was reading about fictional characters. I ached for them, I cried for them, and I cheered them on from beginning to end. Authentic, edgy, and fraught with realistic, heartfelt conflict and romantic tension, Say You'll Remember Me is a fantastic coming of age story and now on my favorites shelf for good!

I enjoyed this one a lot!!!! I love Katie McGarry's books and never feel disappointed by them. This one is no different! It's a quick read and an easy escape from reality. Cannot wait for her next release. A must-read!!!

Loved this story and Drix might be one of my favorites now...It has been a while since I have read anything by Katie McGarry and Say You'll Remember Me reminded me of why I love her books so much. On our last podcast with Swoony Boys, Kass mentioned how much she loved this book so I pushed it up on my TBR. Once I started, I found myself unwilling to put this down (unfortunately my work life didn't really agree with me on this) and couldn't ...

As I expected of Katie McGarry, this book was fantastic. If you're a fan of her books, this one will not disappoint! If you've never read a book by Katie, this is also a great one to start with - honestly! SAY YOU'LL REMEMBER ME is the story of 2 Kentucky teens with very different lives - Elle is the Governor's daughter and Drix just got out of juvie. They feel an instant connection the first time they meet at a county fair - an intense, blazing,...

Good girl, bad boy - yes, those high school romances might seem to be a dime a dozen but when it comes to the best, it's hard to beat my girl Katie McGarry. This one comes pretty close to beating out my favorites - Crash into You, Long Way Home, and Chasing Impossible. I hope this becomes another great series, considering the wonderful family of characters introduced here, along with the impossible romance between Elle and Drix.Oh, I must say I w...

I received this free eARC novel from NetGalley in exchange for my honest review. Drix took the fall for a crime he didn't commit, and now, 1 year later, he is a changed man. Through the governor's program, the Second Chance Program, he really has changed his ways. Before he was following the path of his father, high all of the time, drinking excessively, playing in a band that was a bad influence, and he was falling apart. He was only wanting to ...

I love Katie McGarry's books and this one was no different! Seriously, if you're a fan of hers, you should definitely be excited about this book! I loved the overall messages of being true to yourself and learning who you are and helping those who need it. Warning --->(view spoiler)[ If you don't like it when an animal is killed, you might have a hard time with this one. It's a small part but definitely emotional. (hide spoiler)]I'm going to hide...

*Arc received from NetGalley* I really just need to start this review off with a sigh of disappointment... also one of happiness because I finally got through this book. When I first read Katie McGarry's series Pushing the Limits I was super confused and disappointed because I had heard nothing but good things about it and I hated 90% of it. After that, I did not plan to read any more of her books, but she had a new series (The Thunder Road ser...