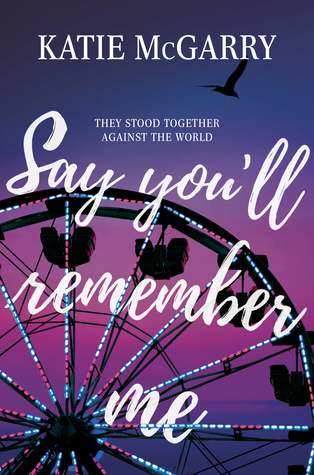 When Drix was convicted of a crime--one he didn't commit--he thought his life was over. But opportunity came with the new Second Chance Program, the governor's newest pet project to get delinquents off the streets, rehabilitated and back into society. Drix knows this is his chance to get his life back on track, even if it means being paraded in front of reporters for a while.Elle knows she lives a life of privilege. As the governor's daughter, sh...
---
Details Say You'll Remember Me
Title
Say You'll Remember Me
ISBN

9780373212378

Author

Katie McGarry

Release Date
Jan 30th, 2018
Publisher

Harlequin Teen

Language

English

Genre

Young Adult

,

Contemporary

,

Romance

Rating
Reviews Say You'll Remember Me
*received an arc from KM*Elle and Drix were so vibrant I swear I forgot I was reading about fictional characters. I ached for them, I cried for them, and I cheered them on from beginning to end. Authentic, edgy, and fraught with realistic, heartfelt conflict and romantic tension, Say You'll Remember Me is a fantastic coming of age story and now on my favorites shelf for good!

4-4,5 STARS It was a long time since I read a book by Katie McGarry and omg how much I missed her writing!Such a beautiful story, Say You'll Remember Me was a sweet and intense story.I loved the premise in this one and storyline was fantastic!The characters were lovable and realistic.I adored Drix and Elle.Drix is something else, I loved him and I ached for him.His story is heartbreaking and from the beginning I fall in love with him.He is been t...

I read my first Katie McGarry novel in October of 2014. Even after so many years, I still remember how captivated, and engaged I felt. I devoured the book even though it was strictly YA. Since then I read more and more YA – including many exceptional books by other authors. But Katie McGarry's books were pretty much the first young adult novels I ever gave a try.Say you'll Remember Me was the first book by this author I picked up in recent ...

***4.5/5 Stars***Say You'll Remember Me was a beautiful, tragic, heartwarming story that had my emotions all over the place. I love that it reeled me in and that it felt as though I was right in the middle of their lives. I loved even more that I got to feel every single smile, hope, hurdle and soul crushing moment with them. So of course I found my heart beating faster at the tension between Elle and Drix. I wanted them to have more. So much mor...

After thinking on my review and rating for a couple of days and recently finishing 'Crash Into You' I definitely think this is a 4 Star rating book. I'm left absolutely floored by Say You'll Remember Me. Katie McGarry has written a novel that strips back characteristics of a person so they can truly see who they're meant to be. Elle and Drix are lost souls who find solace together, their love empowering them to make change.

this first 60% of this book was SOLID, like 6 star material, i was 10/10 in love with the writingit had forbidden romance and that slow burn that is just 👌🔥 but THEN WHEN THEY GOT TOGETHER idk i just felt like meehhhhhhi liked the characters even though at some times they just felt somewhat forced into role. I love the close-knit family and the deeper social issues we got to explore like the court & law ish, poverty, juvenile delinquencies,...

I freaking LOVED this book!!!! I couldn't put it down; seriously, damn sleep, I stayed up until 2 AM to finish this. 😍😍😍 The characters were complex, the storyline was addictive, and the writing was absolutely engaging.This is one of those books where I love the heroine just as hard as the hero. Elle was an AMAZING female lead. She was so strong and I love how she took no shit... "Drix, you don't get to make me or my problems feel small....

*https://mrsbbookreviews.wordpress.comI am quite a visual person when it comes to books and I like nothing more than a good cover. Katie's McGarry's latest release, a young adult offering titled, Say You'll Remember Me features a striking cover image that served to draw me to this book. The image, with its vibrant pink and purple background, has a ferris wheel embellished across it. I think this ferris wheel works a solid metaphor for the e...

Can we talk about that cover?! It's gorgeous, I may have spent an inordinate amount of time staring at it, there's something about those shades of purple 😍 Now that I got that fawning out of the way…I don't read all that much YA anymore, I have absolutely nothing against it, there was a time when I almost strictly stuck to the genre, but I'm at a point in my life where I can't always relate to the trials and tribulations of teenage...

It's been awhile since I've read a Katie McGarry novel and I'm just as convinced as ever that this lady can do no wrong. I have absolutely loved every book written by this author, and this one is no different! Say You'll Remember Me was exactly what was I craving at this time; the writing is as flawless as ever and once again featured realistic and relatable characters that are easy to get on board with. Say You'll Remember Me follows Drix and El...

What the heck did I just read? I'm off to listen to Wildest Dreams so that I can think of that instead of this book.Also, someone please restrain me from stabbing everyone in this book.Full review to come!

Favorite Quotes:He must believe there's nothing in my skull beyond the beginnings of hair follicles.It's creepy hanging with you… It's like you're the Walking Dead. I'm half expecting someone to jump out with a samurai sword and slice out your heart."I don't know how to get them to leave me alone." I pause, then the bitterness leaks out as well as a grim grin. "At least not without a baseball and a well-placed throw. Some peop...

Check out more reviews @ Perspective of a Writer...Drix gets a second chance through the governor's special program as long as he's willing to parade himself in front of reporters as a convicted criminal for a crime he didn't commit. Elle, as the governor's daughter has a life of privilege which is stifling. When they find themselves meeting again and again their attraction creates sparks, and they decide to give love a try.The short review...Thi...

RECENSIONE COMPLETA QUI: https://thereadingslove.blogspot.com/...Hendrix Pierce ha trascorso un anno della sua vita in carcere, pagando per un crimine che non ha commesso. Quando viene rilasciato, Drix si sente perso, rotto e insicuro di se stesso e di come è cambiata la sua vita e le sue aspettative. Ha sofferto per perdite e tempi difficili e ora è costretto ad essere il volto del nuovo programma di riabilitazione del governatore del Kentucky...

I enjoyed this one a lot!!!! I love Katie McGarry's books and never feel disappointed by them. This one is no different! It's a quick read and an easy escape from reality. Cannot wait for her next release. A must-read!!!

I wasn't expecting much but oh my god I loved this one!

I loved the story, of course (I love all her books!) but I especially loved Drix. What an amazing character. (His brother Axle too!) Elle was in such a completely different setting with completely different issues, but the author made her problems just as real, although not quite as tragic. Drix and Elle perfectly complemented each other. It's very emotional, and there are plenty of tears to be shed. The story is timely in many ways. I recommend ...

THIS REVIEW ALSO FEATURES ON MY BLOGTrigger Warnings: neglectful parents, drugs, alcohol, violence, abuse (parental & relationship), death of animalR E V I E WI wasn't expecting to actually enjoy Say You'll Remember Me. I was a big fan of the authors works a couple of years ago but when I read her most recent novel last year I DNF'ed it. It just wasn't sitting well with me. Say You'll Remember Me has brought me back to Katie McGarry's...

5 DRIX Stars!!!Katie McGarry has my number. I don't even like books with musicians….like I steer clear of them because I can't think of one that I loved. I had no idea that one of characters was going to be a musician, but of course if there was a musician I would love, it would be one that Katie wrote. Feel the beat in my blood, the rhythm in my heart, the music filling an empty soul. Drix just got out of his special juvenile detention pr...

This review and many more can be found on my blog: Feed Your Fiction AddictionSay You'll Remember Me is just what I've come to expect to Katie McGarry. It's the type of contemporary that makes me laugh and makes me cry and leaves me truly thinking about all the complexities of the themes. These are my favorite types of contemporaries!What Fed My Addiction:Elle's Complex family dynamics. Elle's family life is complicated, to say the leas...

Like always, Katie's characters are ones I'm rooting for. This wasn't as emotional for me (until the end... GIRL) because they were new characters and I didn't get as much building as I like. But I still loved it and enjoyed reading. Katie always managing to be more than "just a romance" in her YA contemporary novels. She is intentional on shedding light on real issues teens and families go through and I always respect that about her ...

"A year ago, I would have said as many pretty words as it took to convince you to do what I wanted, but I don't have much prettiness inside me anymore. I'm raw, and I'm telling you the truth. I want you to stay."Definitely enjoyed this one. Drix and Elle were perfect for each other. Steady drama, but not overwhelming or contrived.

I received a finished copy of this novel from the publisher Harlequin in exchange for an honest review – all thoughts are my own.Trigger Warnings; This novel contains drug & alcohol abuse, abuse –both physical and mental and the death of an animal. It's books like this one that make a huge fantasy lover like me fall in love with the contemporary genre. Say You'll Remember Me isn't your normal teen YA love story – it tackles real issue...

4.5 stars. I was a little worried when this book started off slow for me, but I'm very glad I stuck with it. Once I truly began to connect with Elle and Drix, I was hooked. Say You'll Remember Me didn't feel like your typical good guy meets bad boy story. Drix's backstory was unique, and I appreciated that he accepted the mistakes he'd made in the past. Elle was a character who spoke to me. While her struggle was much different than Drix's, it wa...

4.5 STARSAs the governor's daughter, Elle lives with constant pressure. The pressure of public scrutiny and the pressure from her parents to always be the best. Their expectations only increase when she agrees to help her father campaign for senator. With every new demand and the push to do better and be better, Elle is buckling under strain. "I have three minutes until I have to pretend in public that the last few minutes didn't come close...

Trigger warning: (view spoiler)[ A pet is killed in this book by gun shot wounds. (hide spoiler)]There's just something about Katie McGarry's books that continue to attract me to them. I don't think I've read one book from her that I have disliked. With Say You'll Remember Me by good-luck streak with her book continues. Once again, she has written an addicting story with a wonderful cast of characters.Like with most other Katie McGarry ...

O livro conta a história de 2 adolescentes, suas famílias e dramas. Descomplicado. Gostei.

Another wonderful book from Katie McGarry! I can always depend on McGarry for a rather emotional story filled with characters I grow to love, but she also gave me a lot to think about with one. I loved Drix and Elle, adored Drix's "family", and really appreciated the messages built into the story. Full review to follow. ARC received in exchange for an honest review. BLOG | INSTAGRAM | BLOGLOVIN | FRIEND ME ON GOODREADS

4 stars!Once again, Katie McGarry delivers a heartfelt and beautifully written coming of age story as two teenagers from two very different walks of life fall in love against the odds as they battle against the ties that bind them. Hendrix has just returned home after serving time in juvenile detention for a crime he didn't commit. He was a wild child and took a plea bargain to avoid adult prison and, as part of the Governor's new initiative ...