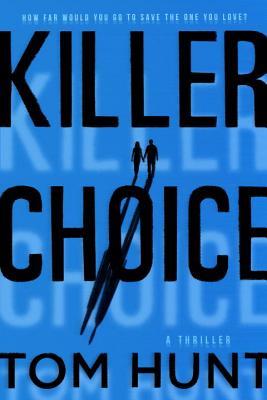 The electrifying debut thriller that asks the question: To save the one you love, is there any price you wouldn't pay?His wife is sick.He needs $200,000 to save her.A mysterious man offers to give him the money with just one catch: He has to murder someone to get it.Gary Foster's life is finally heading in the right direction. After years of trying, his wife, Beth, is pregnant, and he recently opened a business with his brother. But one phone...
---
Details Killer Choice
Title
Killer Choice
ISBN

9780399586408

Author

Tom Hunt

Release Date
Jan 30th, 2018
Publisher

Berkley Books

Language

English

Genre

Thriller

,

Mystery Thriller

Rating
Reviews Killer Choice
DNF This novel began so slowly I wanted to give up early on, but I did my best to persevere. The other problem was that I wasn't being pulled into the characters' points of view. From Gary's perspective, I should have been sad and stressed and emotionally wrought. I wasn't. From Otto's perspective I should have felt truly terrified—instead, I couldn't care less if Otto was tortured and beheaded like it appeared might happen to him. ...

Gary Foster and his wife Beth had been trying for years to become parents and have a baby and just when they didn't think it would happen Beth became pregnant. Gary also has his career just where he wants it having just opened a business with his brother with things going well for them. One phone call however changes all of the good for Gary when he's told his wife was brought into the hospital having suffered a seizure. After many tests it's fou...

Thrilling and completely engrossing... is this really the first book Tom Hunt has written, or at least published? It doesn't read like a debut! He's definitely one to watch! It's a page turner, absolutely filled with action. It certainly grabs on to you and won't let go. I planned to get it started before bed and ended up reading half of it right then... oops. "Tick tock, tick tock..." That is the time bomb that is in his beautiful wife's head. ...

Quick: Roll up your pantlegs - it's too late to save your shoes! I can't count how many times I've said that over the years. And I'm betting I said it at least half a dozen times during the couple of days it took to read this book. At issue, you see, is that only a ton of money - $200,000, to be exact - will save Gary Foster's wife Beth from dying (or more correctly, give her a chance of not dying as soon as she otherwise will). Beth, who's pregn...

Tom Hunt's KILLER CHOICE is a thrilling, masterful debut. Yes, the plot moves quickly and furiously, with twists and turns until the very last pages. But the book's real strengths are its rich characters and vivid writing. This is a fast, powerful, agonizing read, impossible to put down once started, and it marks the start of what will certainly be an impressive career.

Gary and Beth are happily married and happily pregnant after having tried so long for a baby that they had nearly given up hope. All seems to be going well until suddenly and unexpectedly Beth collapses. After a trip to the emergency room they are given devastating news. Beth has an inoperable tumor and may have less than a year to live. Her only hope of survival is a costly experimental treatment that they can not afford. Meanwhile a shady chara...

This one is definitely a page-turner! Goodness, I don't think I got anything done while reading it, just the basics until I finished the book. Beth and Gary have been married a while, soulmates and best friends. They have tried for a while to have children and finally Beth is pregnant. Then Gary gets a call that Beth collapsed and is in hospital. She is seriously ill with a brain tumour and the only hope is a revolutionary kind of treatment in Ge...

Was given this book as an ARC through NetGalley. Where do I begin. Gary's wife is pregnant, passes out and at the hospital finds out she is dying from a brain tumor. He needs $200,000 to save her through a clinical trial in Germany but in order to get the money he needs to kill someone. Would you do it? I battled with this question throughout the book.This is a page turner as the story gets more involved, the people get more intriguing. The more ...

Killer Choice, by Tom Hunt is one of those books I really didn't want to put down until the end.I will say that it was hard for me to get behind some of the choices our main character made in this book. He quickly went from a sympathetic character to a man defined more by weakness than anything else. I actually ended up really disliking him by the end of the book.I think, though, that the author gives us some real ethical conundrums and each re...

I Could not put it down! Love that i won this on a giveaway and this is a new author for me I will be reading more from him! My Reviewhttp://shannonbooks197.livejournal.co...