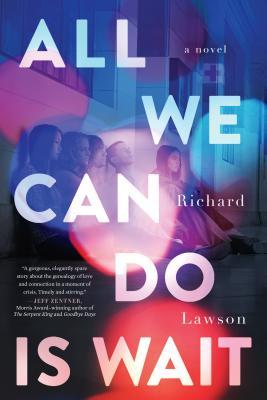 In the hours after a bridge collapse rocks their city, a group of Boston teenagers meet in the waiting room of Massachusetts General Hospital:Siblings Jason and Alexa have already experienced enough grief for a lifetime, so in this moment of confusion and despair, Alexa hopes that she can look to her brother for support. But a secret Jason has been keeping from his sister threatens to tear the siblings apart...right when they need each other most...
---
Details All We Can Do Is Wait
Title
All We Can Do Is Wait
ISBN

9780448494111

Author

Richard Lawson

Release Date
Feb 6th, 2018
Publisher

Razorbill

Language

English

Genre

Young Adult

,

Fiction

Rating
Reviews All We Can Do Is Wait
This book is told from multiple POVs which I like from time to time, as it gives you an insight to more emotions and stories that hopefully weave together a bit in the end. And while the stories do start to make sense in this book, I found the narratives of each to be a little dry. There were definitely bits of each chapter that I was interested in, but the majority of this book is in a telling vs showing narrative that didn't keep my attention m...

This book blew me away. I adore stories about strangers meeting and and a story based around that. I thought this book not only had a cool concept but also such a cool narrative and way of telling the story. I loved how past and present was used to to tell these five characters stories. I was equally invested in all the various POV and raced through it. It was a more emotional read and def tugged on my heart strings. I really enjoyed it and would...

This is quite solid and affecting. I sat down to skim a few pages and ended up reading a third of it without thinking. Even though I saw a lot of the twists it's got really good writing. I'm not in love with the backstories being misty watercolored memories while the characters sit in a hospital waiting room but it's the structure - whadaya gonna do. [side note - unrelated to the story, can I just say I hate almost all the names of the characters...

Review TK, but this is an incredibly moving and poignant story about interconnectedness and learning to face the world.

A bridges collapses in Boston, Massachusetts and five teenagers find themselves in the ER waiting room together, desperately waiting to hear news of friends and family who were driving on the bridge when it fell.Jason and Alexa are siblings but act more like strangers. After a summer in Wellfleet in which Alexa thought they bonded, a new wedge has come between them. Jason spends his time getting kicked out of multiple schools, getting high, and d...

*I received an Advanced Reader Copy from the editor.Rating: 4 stars (Very good)Summary: Five teenagers meet in an ER where they reflect on their lives and relationships while waiting to hear if their loved ones have survived a bridge collapse. Review: I don't usually read contemporary YA, but the premise intrigued me and I can't resist a beautiful cover.All We Can Do Is Wait's greatest weakness is its uneven opening pages. The prologue neither ad...

The Tobin Bridge has collapsed! The high-volume bridge in downtown Boston may have been carrying Jason and Alexa's parents, Scott's girlfriend, Aimee, and Skyler's sister, Kate. All four young people meet at Boston General, as they share a common fear. Morgan, who had come to the hospital earlier, adds to the group. One by one, each person finds out the truth of his or her loved one. As the five characters are told one by the good or the ba...

I received a copy of this book from the publisher via NetGalley in exchange for an honest review. Following a fatal bridge collapse in Boston, five teens meet in a hospital waiting room while anticipating news of their loved one(s). Jason and Alexxa are siblings waiting to hear about their parents. With the exception of last summer when they were able to put their differences aside, this brother and sister haven't had the best relationship and th...

A story of five teens brought together during a tragedy, waiting, searching, and finding some form of hope for themselves and their lives. Each of their stories unfolds and intersects as they wait to find the outcomes that will catapult them into their 'after'; their futures. Well written and an interesting plot perspective. Definitely a good read.*I received an arc from the publisher through NetGalley for an honest review

What a great read! The tension builds and builds as the book unfolds. The characters are well developed and so very real. I felt like I was in the hospital waiting room along with them. I found myself wondering how I would react. I can see using this in a high school classroom. It would spark some interesting discussions.I received an ARC from the publisher through NetGalley.

Richard Lawson's writing and great story telling kept making me want to read this book even when I didn't have time. My favorite part of this book was the great flash back scenes for each character. They were each filled with a bit of mystery that kept me wanting to read and find out more. This was definitely a character driven book, which is my favorite type of story. Slowly learning about the relationships that Jason, Alexa, Scott, Morgan, and ...

I flew through this book. Such an impactful, emotional story. I loved all of the characters. This book actually made me cry.

Such a disappointment. Didn't enjoy his writing style at all - kind of pretentious and feels the need to over-explain the narrative to the reader. Would have been better in more capable hands.

I have often wondered what it would've been like to grow up on the East Coast. This gripping coming of age story perfectly captures exactly that. Writing about teenagers can be tough - too dramatic and it becomes unrealistic. To angry and it feels unapproachable. Lawson renders each character with grace, truth and spirit.

Thanks to Netgalley for the ARC! I loved this concept-all these kids coming together, all their stories revealed piece by piece to see the people they are and the people they are waiting for at the hospital. I cared about them and what happened to them. I got annoyed when I went to the next chapter and saw it switched to another person, keeping me hanging. That is a good thing! It sucked me in. There were areas I wanted more development, but over...