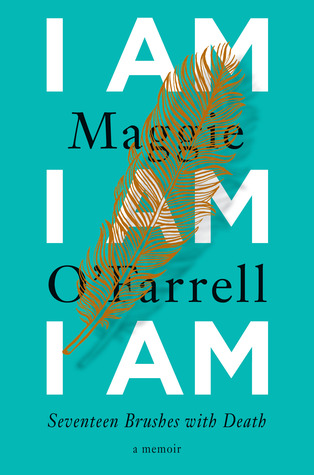 "I Am I Am I Am is a gripping and glorious investigation of death that leaves the reader feeling breathless, grateful, and fully alive. Maggie O'Farrell is a miracle in every sense. I will never forget this book."—Ann PatchettAn extraordinary memoir—told entirely in near-death experiences—from one of Britain's best-selling novelists, for fans of Wild, When Breath Becomes Air, and The Year of Magical Thinking.We are never closer to life th...
---
Reviews I Am, I Am, I Am
At the time, I gaze up at the sky, the birds, the fast-moving clouds, and I am thinking about the dense forest behind us, about how I do not want to be dragged in there, not at all. I do not want to see the trees closing over my head, feel the scratch and pluck of bushes against my skin, my clothes, the cold damp of the ground in there. My thoughts are very simple. They pulse through my head: let me go, let me go, not the forest, not the ground, ...

I have never read any of Maggie O'Farrell's fiction. It is not for lack of good intentions. I have certainly heard good things about her writing, which is what made me jump at chance to read an advance copy of this brief memoir.At first blush, the way O'Farrell has chosen to organize her memoir is odd. Each chapter is focused on a near death experience. The chapters are out of chronological order. And while each chapter deals with a particu...

Love her fiction so wanting to read her memoir was a no brainier. A different take for sure as she recounts the near death experiences she has encountered in her life. Reading this made me think of all the mishaps I have had, that could have turned fatal. Something I think we all share to various degrees.Honest and open are the two words I thought of while reading this. The things she shares, private moments, secrets she had held close, but now s...

I am Iam Iam is moving extracts from a life less ordinary; a life lived to the full."Is this your life?" She asks."It's not......it's just......snatches of a life. A string of moments. Some chapters will be long. Others might be really short."The chapters are at times terrifying and at other times heart breaking. These short snippets of a life give an insight into the personal life of Maggie O'Farrell and really show the reader who ...

"I took a deep breath and listened to the old brag of my heart. I am, I am, I am."—Sylvia Plath, The Bell JarI thoroughly enjoyed this unique take on a memoir! I've never read any of O'Farrell's books, and I'm so glad I started here. O'Farrell recalls seventeen close brushes with death at various points in her life, dividing each chapter into both year and organ(s) that was endangered. The writing was so compelling and the language beautiful, t...

British novelist O'Farrell provides us an unusual collection of personal essays on the theme of near-death experiences in her life, with each chapter headed by an image and label for the relevant vital organ. From her childhood we get the events and aftermath reactions of nearly getting run down by a car while crossing a road, nearly getting caught by her mother slamming a car trunk, and serious bout of encephalitis. As an adolescent, near drow...

In two minds about this one, but eventually topped it up to four stars just through the power of the writing alone. Maggie O'Farrell writes beautifully - and yes, that still seems the correct word to use, despite the book being about seventeen brushes she has had with death - but I think, in the end, I may enjoy her novels more. (Incredibly, I still haven't read anything else of hers.)Some of the chapters in I Am, I Am, I Am - taken, of course, f...

WHAT A PHENOMENAL AND BREATH-TAKING READ!!! I Am, I Am, I Am by Maggie O'Farrell is a beautifully written, emotionally-wrenching and poetically-haunting story. I very rarely read non-fiction but when I heard about this book, I knew I had to have it. It follows Maggie's life from childhood to the present day and there is a poignant intimacy which pervades throughout. I loved the structure of the book and how it is divided into seventeen sections, ...

4.5★s"The knowledge that I was lucky to be alive, that it could so easily have been otherwise, skewed my thinking. I viewed my continuing life as an extra, a bonus, a boon: I could do with it what I wanted. And not only had I tricked death but I had escaped a fate of incapacity. What else was I going to do with my independence, my ambulatory state, except exploit it for all it was worth? … This insouciance stopped the minute I had children,...

I had initially been sceptical about a memoir from a fiction writer. Have really enjoyed O'Farrell's fiction writing but couldn't see why I would want to read about her own life....And to anyone else who might be thinking the same - it is because her writing is extraordinary; at times harrowing, at times uplifting. There were occasions I actually held my breath as I read, and others where I was holding back the tears. All the emotions I would get...

I very much enjoy Maggie O'Farrell's fiction, and when I found out about her first foray into biography, I Am, I Am, I Am: Seventeen Brushes With Death, I wanted to read it immediately. The book, which reflects upon seventeen times in which O'Farrell's life was in danger, or appeared to be, has been split into seventeen distinct sections. These give a brief biological positioning of the problem which follows, as well as the year of their occurren...

Warning: This book may change your life.This memoir is a powerful and haunting experience. Novelist Maggie O'Farrell tells of her seventeen encounters with near-death at different stages of her life. It is extraordinarily well-written: brave, visceral, terrifying. It will probably make you cry. It will certainly make you gasp. It will definitely make you think. It may well make you change your priorities in life. It should unquestionably be rea...

I took a deep breath and listened to the old brag of my heart: I am, I am, I am.~ Sylvia Plath, The Bell Jar I received an Advanced Reading Copy of I Am, I Am, I Am, and after a cursory look I thought, "Hmmm, a memoir told through seventeen brushes with death. That could be interesting." I had never read Maggie O'Farrell before, so I didn't really know what I was in for: It turned out that I simply loved her voice, her turns of phrase and s...

Reading a memoir told through 17 near death experiences doesn't seem that uplifting and a little gimmicky. This book is the direct opposite of that. Life affirming and so revealing, it tells the story of the author who has an above average number of brushes with death and is so exasperating that at times you want to shake her by the shoulders and scream, "Do not go into the sea again. How many times must you almost drown before you realize this i...

Although I love the idea of exploring a life through brushes with death I think reading this book in one sitting was a bad idea. Maggie O'Farrell has had more than her fair share of near death experiences! This memoir is gripping and intense but I found, as I read it, it had a distancing effect.

"We are, all of us, wandering about in a state of oblivion, borrowing our time, seizing our days, escaping our fates, slipping through loopholes, unaware of when the axe may fall."O'Farrell captures fragments of her life through 17 essays on life-threatening illnesses and other narrow escapes she's experienced. The pieces aren't in chronological order and aren't intended to be comprehensive. Instead, they crystallize the fear and pain...

Wow, just wow. Amazing stories, fabulous writing, and the last chapter will completely wring you out. Best book I've read so far this year--oh wait, it's the only book I've finished this year, but I've already put the title on my best of 2018 list.More to come for for now all I'll say is "I will never take life--or good health, for granted." Thanks to the publisher for a digital advance copy.

If life teaches us one thing it is that each day is precious and that we need to live each day and grab hold of life and never let, go. The Costa Awarding writer Maggie O'Farrell has released a memoir like no other. In I Am I Am I Am she talks openly about the 17 near death experiences that she has gone through. It is a frank and an astonishingly beautiful written memoir. Each chapter is named after a part of the body so the book starts with th...

A different take on the memoir. As can be discerned from the title, Maggie O'Farrell recounts her life story (so far - she is still only 45) through 17 near death experiences. I worried before reading that this format might be a little gimmicky, but I think it worked really well. It was well written, and I love her way with words. O'Farrell managed to make me feel as if I was there with her, which is particularly impressive given how short most o...

If you read one book this year, make it this one. It's utterly perfect, devastating, life-affirming.

I received a free e-copy through First to Read from the publishers at Penguin Random House. The title of this book, a nod to Sylvia Plath's The Bell Jar, captured my interest immediately. There's also a caption comparing her to Cheryl Strayed, who I love. But, you know, that's probably false because nobody else is Cheryl Strayed. Lidia Yuknavitch comes close, but she can't be Cheryl Strayed because she's Lidia Yuknavitch, and no one els...

Stunningly beautiful. O'Farrell's 17 brushes with death are rendered as celebrations of what they weren't.

My first book of 2018 and I think I'll be hard-pressed to find another as moving as this for a long time. Superb read.

Another great book by Maggie O'farrell. I loved the premise of this book and the way it builds.

This has to be the most unique memoir I have ever read. Maggie O'Farell tells the story of her life, using seventeen brushes with death as the framework. It sounded strange to me, but it was intriguing enough to pick up. This book is a gift to the memoir genre. That someone could have lived through so much and gone on to write about it with such honesty and grace, is nothing short of amazing. I highly recommend it.

Was so blown away by this book. Just picked it up randomly in a bookshop and it spoke to me so much.In reading it I had to face some of my biggest anxieties but the book was handled so well, so sensitively and so genuinely that it was difficult not to be completely drawn in. It says so much about life, death, family, travel, and women, all through a series of bibliographical tales.Just BEAUTIFUL

Astonishingly moving - I finished with tears in my eyes and goosebumps up my arms.