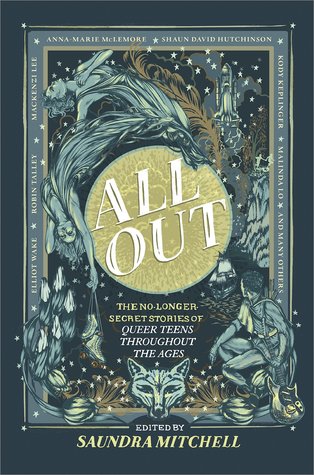 Take a journey through time and genres and discover a past where queer figures live, love and shape the world around them. Seventeen of the best young adult authors across the queer spectrum have come together to create a collection of beautifully written diverse historical fiction for teens. From a retelling of Little Red Riding Hood set in war-torn 1870s Mexico featuring a transgender soldier, to two girls falling in love while mourning the dea...
---
Reviews All Out
Rosa was a summer girl, and I was a winter girl, but that fall we made magic. You know, back when I was in my early teens, I once heard this old guy say "there weren't all these queers around when I was younger". Oh, but there were, sir. And long long before that, too. All Out is a great fictional companion to last year's Queer, There and Everywhere. While the latter works to uncover the real queer - gay, bi, trans, genderqueer, nonconformi...

This anthology was everything I wanted and more. I'm gonna reread so many of these stories again and again and I can't wait for this to be out in the world. I'm sure y'all will love it!While my average rating is way below 5 stars, I just love this concept and the overall way it was done so it deserves every star it can get. It was just incredible to read so many HAPPY QUEER STORIES all in one place. My favourite by far was the story by Elliot Wak...

Disclaimer: I received a free copy via Edelweiss for review purposes. I really enjoyed this. Like I've said before, anthologies are usually hit and miss for me because I find that some mediocre/bad stories can really bring the whole book down for me, but I didn't have this problem with All Out. I enjoyed pretty much all the stories, though I can't say all were 5 stars for me, they were definitely all enjoyable. There were such a variety of sexual...

This is a compilation of short stories by well-known young adult authors. Each story features an LGBTQ+ character, though the stories vary in setting and genre. This is an excellent collection of stories. Strongly recommended.Recommended for: teensRed Flags: noneOverall Rating: 5/5 starsRead-Alikes: A Thousand Beginnings and EndingsI received a complimentary copy of this book through Edelweiss for the purposes of review.

I've been wanting to read anthologies more just because they seem like they would fit my crazy lifestyle, and what a great way to start. I won this in a giveaway and I am so glad I got the chance to read it because it is FANTASTIC. I'm not sure how to rate anthologies because there are multiple authors and stories, however, I enjoyed ALL of these stories so it wasn't hard to figure out that this was a 5/5 for me. I enjoyed all the story, there wa...

Thank you Harlequin Books for the ARC of this collection of short stories! I was so excited to receive it and to read it before it's even released!I definitely liked some of these stories more than others, but on the whole this is a great compilation. Stories from different cultures and time periods, about teens with a variety of identities. Burnt Umber by Mackenzi Lee, about a 1600's painters apprentice who struggles with his feelings for the ma...

As with all anthologies, there were some hits and misses with this anthology, but the hits far out number the misses and I'm so glad that this is an anthology that exists. Before I finished reading it I had already placed an order for my library because it's going to be so important for teenagers to see themselves and others like them in this anthology. My favorites included: Roja by Anna-Marie McLemore, Burnt Umber by Mackenzi Lee, Molly's Lips ...

I really liked this anthology. It's very nice to read about queer teens throughout history. Some of my favourite stories are Burnt Umber by Mackenzi Lee, New Year by Malinda Lo, Every Shade of Red by Elliot Wake, The Girl with the Blue Lantern by Tess Sharpe and The Inferno and the Butterfly by Shaun David Hutchinson. And there are more stories in there that I liked. I flew through this book and highly reccomend it.

I absolutely LOVED this book. It's a treasure being able to read stories of queer characters scattered throughout history. It shows that queer people have always existed, despite some suggesting otherwise. Many thanks to Harlequin Canada for the advance copy. Hoping to write a longer review later.

I had so much fun reading this. There were some amazing stories in here that really educated me on teens on the LGBTQIA+ spectrum. I discovered some authors whose other works I want to explore. I highly recommend everyone to pick this up since this was just a wonderful anthology. 4/5 stars.

This was such a lovely little collection! I really enjoyed reading it, and I can't wait for it to be released so everyone can experience it. Review to come!

I thought this was a pretty good anthology! it had all kind of stories, and I loved that. it was really diverse and, overall, this was a very enjoyable read.

I want to write a more complete review shortly, but I absolutely loved this anthology!