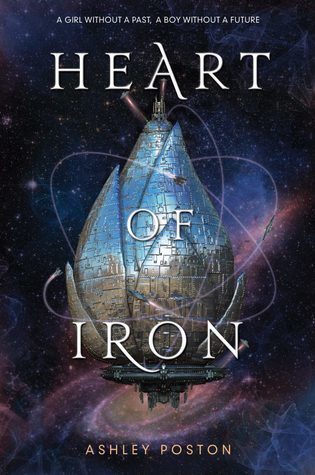 Seventeen-year-old Ana is a scoundrel by nurture and an outlaw by nature. Found as a child drifting through space with a sentient android called D09, Ana was saved by a fearsome space captain and the grizzled crew she now calls family. But D09—one of the last remaining illegal Metals—has been glitching, and Ana will stop at nothing to find a way to fix him.Ana's desperate effort to save D09 leads her on a quest to steal the coordinates to a...
---
Details Heart of Iron
Title
Heart of Iron
ISBN

9780062652850

Author

Ashley Poston

Release Date
Feb 27th, 2018
Publisher

Balzer + Bray

Genre

Young Adult

,

Science Fiction

Rating
Reviews Heart of Iron
Whattttt?! That ending though! I need the sequel now!

Release date: February 27, 20183.5 stars. It's like Defy the Stars meets Empress of a Thousand Skies (with an Anastasia retelling in there)? The smuggler ship and other elements that reminded me of Firefly were really fun!I had kind of a hard time getting into the tone, but I still thought this was an engaging, fast-moving story! All of the POVs are short so things never got slow. I liked the characters (Jax was my favorite) and thought the writi...

3.5 stars. Trying to decide if I want to round up or down. It was okay... slow start... maybe I just wasn't as invested as I'd hoped to be. I have no doubt others will love this book. I'm sad a YA sci-fi didn't totally impress me but at the same time, I'm not disappointed. I'll be looking out for book two!***Review to come***

This story deserves a star rating of all the stars in the galaxy if I'm being honest. [SPOILER FREE]Ana. DI. Robb. Jax. These characters have coveted my heart until the end of time.Ashley is a prime example of an author who puts her characters through hell and back. I can't even list out all the times she made them suffer!DI stole my heart the most in all honesty. Throughout the entire book I just kept feeing my heart melt whenever he was either ...

Yall aren't ready for this. The OTPs. The heart breaks. THE FEELS. YOU AREN'T READY!