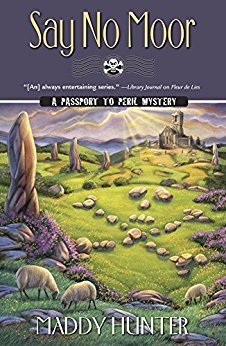 Hoping to reach an expanded clientele of senior travellers, Emily Miceli, travel agency owner and tour escort, offers discounted fares to a handful of bloggers in exchange for highlighting her group's tour of Cornwall, England. But when the quarrelsome host of their historic inn dies under suspicious circumstances, Emily worries that the bloggers' coverage of the situation will torpedo her travel agency. To make matters worse, Emily is roped ...
---
Details Say No Moor (Passport to Peril #11)
Title
Say No Moor (Passport to Peril #11)
Author

Maddy Hunter

Release Date
Jan 8th, 2018
Publisher

Midnight Ink

Genre

Mystery

,

Cozy Mystery

Rating
Reviews Say No Moor (Passport to Peril #11)
I think I may have "Squeeed" when I saw this latest installment available on Netgalley in exchange for my honest review. I had enjoyed the first 10 books and have a background with a group tour company and could relate to the settings/situations. Well, you can see from my OK rating that Moor did not hit the same spot for me as the others.I was not engaged by the story and it seemed to be stuck on low speed, maybe because this story is set in the ...

Say No Moor is the 11th installment in the Passport to Peril series by author Maddy Hunter. It's the first that I've read, but even though I didn't have any of the character background it was very easy to pick up and dive into. Travel agency owner Emily Miceli is escorting a group of seniors, as well as travel bloggers, on a tour of Cornwall, England, when on their first night the chef is murdered! The chef's business partner is in police custody...

Got this book from Netgalley in exchange for my honest reviewThis book is funny but is not my cup of tea.I enjoyed the book, really appreciated the Iowan seniors because they are really funny.It seems to me that the book is more a humorous one than a mystery as the mystery takes the back seat and it seems to be something that is not so important, just problems that cause problems to the tour.I suppose this was caused by the settings, really stati...

Quirky cozy mysteryMaddy Hunter added another fun story to the Passport to Peril series. With Emily at the helm of another tour group of mostly seniors Jane Austen's England may never be the same. If you enjoy humor, outrageous characters and a little dose of social media commentary with your mysteries you will love this story.I received an advance reader copy from NetGalley in exchange for a fair review.