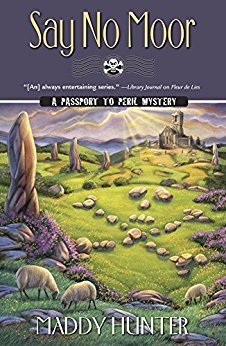 Hoping to reach an expanded clientele of senior travellers, Emily Miceli, travel agency owner and tour escort, offers discounted fares to a handful of bloggers in exchange for highlighting her group's tour of Cornwall, England. But when the quarrelsome host of their historic inn dies under suspicious circumstances, Emily worries that the bloggers' coverage of the situation will torpedo her travel agency. To make matters worse, Emily is roped ...
---
Details Say No Moor (Passport to Peril #11)
Reviews Say No Moor (Passport to Peril #11)
Hail! Hail! The gang's all here! Let the fun begin! Emily has her hands full, again with her usual oddball bunch of senior Iowans plus six bloggers (added because Emily wants to increase her advertising base) and, last but never least, her ex-husband Jack, now Jackie. Their latest tour has brought them to Cornwall...in the middle of a bit of a storm, both outside and inside. Before Emily can blink the first corpse makes its appearance and, withou...

In an attempt to expand the client list for their travel agency, Emily and her husband offer big discounts to the bloggers who travel with them to Cornwall, England. The only thing the bloggers have to do is cover their travels on their respective blogs. Emily hopes this will be the trip that will go off without a hitch, but things quickly go awry when two of the bloggers bump heads, a pipe bursts at the inn, and someone gets murdered all on the ...

A fast funny cozy read set in one of my favorite locales- Cornwall! I'd not read the first 10 books in this long running series but that didn't make a difference. One thing was clear to me: I might think twice about joining one of Emily's tours given the murders and problems that seem to hound her. That said, she handles all the problems, including running an inn, with aplomb. The seniors from Iowa are a hoot, the mystery not too complicated, and...

I've been waiting ages for the eleventh entry in the wonderful Passport to Peril series and I wasn't disappointed at all. Maddy Hunter's Say No Moor is hilarious, filled with memorable hijinks, features the usual unforgettable characters and has an interestingly twisty mystery.Our narrator is Emily Andrew Miceli, tour escort and travel agency owner, who takes her band of Iowan seniors and some bloggers on a tour of Cornwall. While staying a...

Emily Andrews Miceli's senior tour group is at it again, this time in 'Merry Olde England', on the Cornwall coast. Trying to get more business for her tours, Emily has invited along five (very strange) travel bloggers - at a deeply discounted rate that only incenses her regulars - to give daily updates on the pleasures of touring with their agency.But no sooner do they arrive at their destination than disaster befalls (did we expect anything else...

Love fun mystery books and this is the first I've read in this series. Totally enjoyed it.

For some reason when I requested this I thought it was the first in the series so I was surprised later to see that it was actually the eleventh. Normally this isn't that big of a deal in a mystery series but with the large number of regular characters and the addition of the bloggers and Cornwall residents it got a little confusing. I think it would have been a little easier to keep track of all the Iowans if I had gotten to know them in the ear...

A tour filled with American seniors busy enjoying their retirement is joined by six determined bloggers, who are invited to publicise the trip. Someone is bound to end up dead. How will Emily the tour operator cope, especially when the cook is absent from the B&B and some of the bloggers have artistic disputes?This is fun with cantankerous seniors crowding the page, each trying to lead the group and some wanting more activities than others. The m...

Got this book from Netgalley in exchange for my honest reviewThis book is funny but is not my cup of tea.I enjoyed the book, really appreciated the Iowan seniors because they are really funny.It seems to me that the book is more a humorous one than a mystery as the mystery takes the back seat and it seems to be something that is not so important, just problems that cause problems to the tour.I suppose this was caused by the settings, really stati...

Quirky cozy mysteryMaddy Hunter added another fun story to the Passport to Peril series. With Emily at the helm of another tour group of mostly seniors Jane Austen's England may never be the same. If you enjoy humor, outrageous characters and a little dose of social media commentary with your mysteries you will love this story.I received an advance reader copy from NetGalley in exchange for a fair review.

Maddy Hunter's "Passport to Peril" series is everything you want in a cozy mystery series--good whodunits filled with eccentric characters, exotic locales, and a put-upon sleuth who somehow happens to be around when bodies show up. Her newest outing, SAY NO MOOR, is no exception."Passport to Peril" centers around a group of octogenarian Iowans who tour the world with the much younger Emily Andrew-Miceli leading the way as organizer of the tours. ...

Emily is guiding her usual group of clueless elderly Iowans through the beautiful Cornwall area, with their first stop being a bucolic inn. Emily has given cut prices to some travel bloggers, whom she hopes will provide good publicity for her company. Unfortunately, the abrasive chef is found dead shortly after they arrive. Even worse, two of the bloggers turn out to be feuding, and the inn's owner is taken for questioning when the police decide ...

This book is the newest in the Passport to Peril Mystery series featuring Emily Andrew-Miceli as the main character. This time Emily and her usual group from Iowa are visiting the Cornwall region of England. Besides the usual group , Emily has invited a group of bloggers along on the trip in hopes of getting good reviews and thus more business. Naturally things don't go smoothly beginning with the murder of the inn's chef. A couple of robberies p...

Thank you to NetGalley.com for the opportunity to read an Advanced Reader Copy of this book in exchange for my honest opinion.I've loved the Passport to Peril series for a while and am always excited to read the latest edition. What I loved: Nana's my favorite with Jackie being a fast second. I don't remember Nana's grammar being as poor in this edition versus prior novels but it has been a while… Hopefully Jackie will find her calling ...

I think I may have "Squeeed" when I saw this latest installment available on Netgalley in exchange for my honest review. I had enjoyed the first 10 books and have a background with a group tour company and could relate to the settings/situations. Well, you can see from my OK rating that Moor did not hit the same spot for me as the others.I was not engaged by the story and it seemed to be stuck on low speed, maybe because this story is set in the ...

One of my most extremely favorite series!I was saving the book until I couldn't wait any longer. And I finished it too soon.This time the Iowa team is touring England's Cornwall region, staying at a very scenic inn right on a cliff. The chef is very temperamental. However, nana is the one who has to cook all the food and everything is very delicious. Jackie also tries to find her true self. She is a descendant of royal baker. So she can bake gr...

This was a fun cozy mystery that I finished in a day. The characters are fun, the locale is interesting and the plot moves along swiftly. This is the 11th book in the Passport to Peril series, and they've taken the reader all over the world.Emily Miceli runs a travel agency and takes a group of senior citizens from Iowa all over the world on exciting tours. The group includes her grandmother, and her husband, a former police detective she met on ...

Say No Moor is the 11th installment in the Passport to Peril series by author Maddy Hunter. It's the first that I've read, but even though I didn't have any of the character background it was very easy to pick up and dive into. Travel agency owner Emily Miceli is escorting a group of seniors, as well as travel bloggers, on a tour of Cornwall, England, when on their first night the chef is murdered! The chef's business partner is in police custody...

I've long been a fan of the Passport to Peril Mysteries, but was disappointed in Say No Moor. The usual banter between characters was missing in this book and the whole novel was lacking. I was baffled by the ending, which frankly, came out of nowhere. Hopefully the next installment in the series is an improvement.

Note: this is the 11th book in the Passport to Peril series. Emily Miceli and her husband Etienne have a travel agency that caters to the senior crowd. On the latest trip to England's Cornwall region, Emily has invited along a group of internet bloggers, hoping that additional exposure will boost her agency's clientele. The core of her group, as always, is the senior citizens from Iowa who have gone on every one of her trips. One has to wonder wh...

I loved this book so, so much. It started off on a nice, cozy note and continued in the same spirit all the way through (with a sprinkling of nefarious activities here and there). In short, a pure delight. Everything about this book felt right: the atmosphere, the characters, the humor, the writing style...Also, the murder side of things was completely unpredictable, which was fantastic. As for the pacing, it was very well done: there was just ab...

This book is one of the ones I tend to hold onto until that time I need a good laugh. Well, I did and so out came this book that thoroughly met my expectations.What has cobblers, mousse cake, Cacciatore, bursting pipes, missing person, and two deaths have to do with a tour comprised of geriatrics from Iowa and Bloggers? Well, I'm not going to tell you. Other than all the above takes place in Cornwall, U.K. and this book will keep you entertained ...

I do like these stories and have read the series from the beginning. This now being #11, the same old schtick from the quirky characters is wearing a little thin. And, I would have given this one 4 stars if it had just included more than one phone call from Etienne! I would like to see more interactions between Emily and her adorable husband. Their romance was a big part of the appeal in the early books. I must say that I do appreciate the additi...

I love this series. I always want to travel after reading one of these, although maybe not with this group: There's always a murder or two during every excursion. Still, I love the characters, even the really annoying ones. Emily's tour always consists of a group of senior citizens from her home town in Iowa, including her grandma. They go to interesting places on their trips. This one takes place in Cornwall. It was a good read.

The senior citizens of Iowa are on tour again - this time to the Lake District of England. Their stay at a quaint country inn predictably results in several murders and a disappearance but the tale is told with hilarity and through the usual great characters that bring you back to read the next one in this series.

This one was just too much out of the park for me. Case very unlikely, setting strange and no love at all. Also, nothing new.Actually, this one was so out of originality for me, I almost wish it's the last one. Or second to last, with another - hopefully good one - to send this serie off with a blast.

I was so glad to see another installment of one of my favorite cozy mystery series. This one didn't disappoint - Nana and the gang with Jackie back in fine form. I've become attached to these quirky seniors and hope to see this series continue for a long time.

I found this cozy to be interesting, Ms.Hunter is a new author to me so I will have to go back & read the previous books.I love the quirky characters in this the storyline, I will have to go back & read the previous books.

Always an enjoyable series. The usual group of Iowa seniors led by their intrepid tour guide whose experience with their escapades is still not enough to avoid problems. Still going strong after 11 books.

I've read this series from the start and never been disappointed. Nice, entertaining fun. Always one of my first suggestions when asked for cozy mystery recommendations.And you don't HAVE to read them in order, a note for those who are using the library.