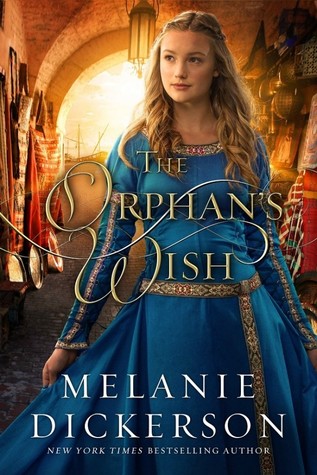 From the streets to an orphanage in a faraway kingdom, Aladdin has grown up alone. Until he meets Kirstyn. With a father who is the duke of Hagenheim and a mother who is the patroness of the orphanage where Aladdin lives, Kirstyn is a member of the most powerful family in the land . . . and way out of his league. Despite the difference in their stations, Aladdin quickly becomes Kirstyn's favorite companion for taking walks in the forest, and th...
---
Details The Orphan's Wish (Hagenheim, #8)
Title
The Orphan's Wish (Hagenheim, #8)
ISBN

9780718074838

Author

Melanie Dickerson

Release Date
Jun 26th, 2018
Publisher

Thomas Nelson

Language

English

Genre

Young Adult

,

Fantasy

,

Christian

,

Romance

,

Historical

,

Historical Fiction

,

Fairy Tales

,

Fairy Tale Retellings

,

Christian Fiction

Rating
Reviews The Orphan's Wish (Hagenheim, #8)
Book title: The Orphans Wish.Author: Melanie Dickerson.Series: Hagenheim book #8.Genre: Fairy Tale retelling without magic, Medieval.Received book from: NetGallery.Form of Book: Ebook.Reviewer: Victoria Goodbrand.Date started: March 15, 2018 at precisely 2 o'clock. Date finished: MY REVIEW:Y'all! I'm so excited to share this review! I'm going to be doing this revie was I read this beauty of a book! Super special thanks to Net Gallery for...

As always, Melanie Dickerson is creative in her twists and new takes on fairy tales and history! The Orphan's Wish gives new life to characters like Aladdin and Abu, while adding in the beloved royal family from previous Hagenheim books (although Kirstyn's older siblings don't play much of a part, as the main focus is on Kirstyn herself). One of the things I appreciated most about this story was Aladdin's struggle with appearing "perfect" to othe...

I can't wait to read this!! The cover looks amazing and I love that it's going to be an Aladdin's retelling!!!

I see that this too received the white wash treatment, in which a story set in the middle east (Persia to be precise) now features a blue-eyed, blonde Caucasian as the heroine.

Another win by Melanie Dickerson. Although I would never have guessed that the character of Aladdin would make an appearance in Hagenheim, Dickerson made his story come to life in a new and exciting way. Although at first I was hoping for an Arabian Princess as the heroine in this story, Kirstyn is a lovely character that you can't help but want to be friends with. Aladdin coming to terms with his past was a great storyline, as it shows how our c...

You know when you are reading a book and wonder what else could possibly happen but you are only half way through the book so apparently there is something? This is one of those books. And then wow, the second half of the book each page just gets better and better. The characters are all well developed. Some you love and some you absolutely hate. No fluff here. I loved Aladdin's integrity even from such a young age. I've enjoyed all of Ms Dickers...

The Orphan's Wish by Melanie Dickerson is one that will have you glued and guessing every step of the way. Romance, mystery, and adventure awaits in this new book, and it is quite the story. An orphan, Aladdin, becomes best friends with a girl named Lady Kirstyn whom is not from his social class at all, and yet their bond is strong. Aladdin experiences love of a family, even though they are of different blood and yet the ties that they have are s...