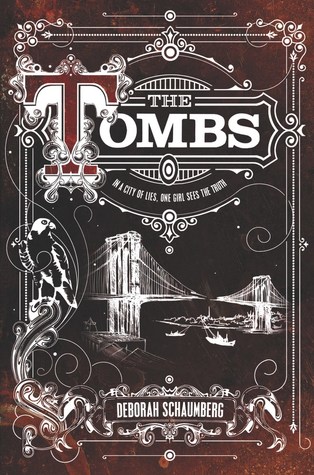 Gangs of New York meets Cassandra Clare in this debut YA fantasy set in 1882 BrooklynNew York, 1882. A dark, forbidding city, and no place for a girl with unexplainable powers.Sixteen-year-old Avery Kohl pines for the life she had before her mother was taken. She fears the mysterious men in crow masks who locked her mother in the Tombs asylum for being able to see what others couldn't. Avery denies the signs in herself, focusing instead on her ...
---
Reviews The Tombs
Sixteen-year-old Avery Kohl has been working as a welder in an ironworks factory ever since her mother was locked in the Tombs asylum and she and her father had to flee their respectable middle-class life. The skills Avery has developed in creating perfect metal connections are only appropriate, as she discovers that she has powers that let her see the connections between lives, and help heal other people's auras. But in New York City in the th...

I know my status updates don't seem like I enjoyed this book, but I really, really did. It was special. The Tombs is definitely one of the creepiest books I have read in a long time, and the main antagonist was horrifying. The characters were amazing, as was the atmosphere, and I thought all the issues I had were handled delicately. There was even an author note at the back about the usage of the G word.However, I have thoughts about that. I need...

This historical fantasy takes place in an alternate history New York in 1882. Avery Kohl is a young woman working in one of the many factories. She a welder in an iron works. She and her father are hiding from the Crows who took her mother and imprisoned her in the Tombs which is part prison and part mental asylum. Her father works as a clockmaker/inventor which brings in a steampunk element to the story.Avery is sixteen and starting to have the ...

I have several things to say about this book, and I'm gonna be all over the place excuse me lol:- Something about the writing set me off with this book?? I'm not sure what exactly it was, but it was just weird. Didn't make it bad. Just like "oof". - Golly I swear to god there is gonna be like a sequel???? Because that ending was so open ended??? And kinda rushed???? And not like "they lived happily ever after" more so "the bad guy...

I am torn between 3.5 and 4 stars. I went with 4, but parts of this really bugged me .. I felt our heroine, for someone so determined to find out what happened to get her mom put into solitary confinement in The Tombs, was very flighty and indecisive in her plans to execute an escape. There's also the matter of character disappearing that are major parts of the plot. Two viable love interests that turn out to be kernels of temptation. The sacrifi...

Reviewing an ARC of The Tombs--I thought the novel was a smart, beautiful melding of urban fantasy and historical fiction. I adored the characters, and the smoky world of Five Points and Tammany Hall era NYC, particularly the depiction of city as it existed in the late 19th century through the eyes of a young girl with a lot of loss behind her, a lot of mystery in her midst, and a lot at stake.

I loved this book! The setting and time period were beautifully interlaced with the plot, the characters are to die for, and the mystical feeling is outstanding. A wonderful read for anyone who loves fantasy and/or history. I read an ARC of the book and I can't wait to see it out on the shelves!An absolutely amazing and magical story :)

I am all-in for anything set in 1882 Brooklyn! And Deborah did an incredible job with setting and atmosphere, fully rooting us in this world!!! I found myself rooting for Avery--I loved her! And the tombs.... so creepy! This story is filled with adventure and high-stakes!

This started out well enough but the end just dragged on and the plot went off in a random direction. Full Review To Come

This book was amazing! The cover is great, the book is great, the plot is great! Definitely recommend. There are a few funny moments several scary and lots of excitement. By the way I got an ARC copy.

I have to say I am a little disappointed. This book is amazing in the beginning and I love the setting, but it dragged towards the ending. I think it would have been better with less pages to make it more compact and interesting. Nevertheless, a pretty solid read around Halloween.Review to come.This book has a creepy atmosphere that was really well crafted. The author knows how to write a setting and it was one of the aspects I loved the most. Th...

Thanks to the publisher for providing an ARC in exchange for an honest review, This doesn't in any way influence my opinion on it. The Tombs by Deborah Schaumberg is yet again another absolutely brilliant debut novel. Avery's story is a captivating one that grabbed my attention from the very beginning and never let go. Dashing through the streets of 1800s New York with Avery was a fantastic experience I enjoyed having. Avery Kohl works in a ironw...