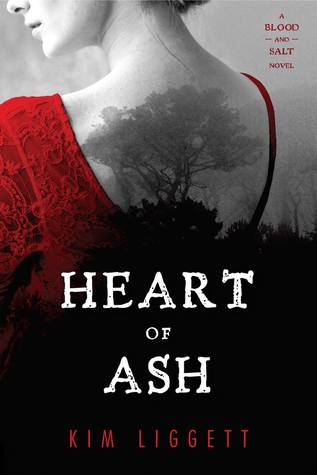 Ash may have escaped the immortal-worshipping cult that killed her mother, but the love of her life is still under its thrall. Dane has been possessed by his diabolical ancestor Coronado, a man who's fabulously wealthy, dripping with fame, and the leader of Europe's most dangerous immortal network. Dane begs Ash to join him at Coronado's castle in Spain, and swears that his blood bond with Ash is stronger than Coronado's hold over him. Ash is des...
---
Details Heart of Ash (Blood and Salt, #2)
Title
Heart of Ash (Blood and Salt, #2)
ISBN

9780399166495

Author

Kim Liggett

Release Date
Feb 20th, 2018
Publisher

G.P. Putnam's Sons Books for Young Readers

Language

English

Genre

Horror

,

Young Adult

,

Fantasy

Rating
Reviews Heart of Ash (Blood and Salt, #2)
"We're like a dissonant chord in the finale of Beethoven's Ninth Symphony, begging for resolution. As long as we're apart, there will never be peace in the world...harmony." - pg 41 of Heart of AshAsh Larkin barely survived a year ago when she was caught in the crossroads of a cult's curse and tradition. Through her mother's sacrifice, she lived and evaded Katia's wrath but is is now an immortal. But because without darkness there can be no light...

Heart of Ash is exactly the book I needed at the right time. As many of you know, my reading record this year has been staggered and less than stellar. In the past week, I have read 3 horrible ARCs and I was questioning what happened to YA. For every 20 books there may be 1 truly great one. When did this become the norm? It could be me. It could be that over the past year, I have changed and become too busy, but I think that it's because of tha...

Heart of Ash is so much better than Blood and Salt. Honestly, I think a lot of the problems I had with the first book were actually plot points that helped build this sequel, so I'm not as bitter as I had been by the time I'd finished it. I'm so glad Kim Liggett finally gave us one too, because I was so much more invested in this book compared to its predecessor.

I really didn't love this. When Blood and Salt first came out, I read it and savored it and took it into my heart like something that belonged there. This book didn't belong. It was rushed, the storyline was weak, and it felt like this book had absolutely nothing to do with the first one. The characters have the same names and some of the same history, but the first book was so full of authenticity and a genuine feel for the characters, and this ...

I read an ARC copy of this book so... maybe there's still a chance that it could get better? This book was bad.... physically painful for me to read. The timing was all over the place. Two pages to cover important plot points and way too many pages explaining stupid, unnecessary details. The characters were boring and one-dimensional and I found myself really not caring. It was like the bad parts of "The Fire Sermon" mixed with the bad parts of "...

What did I just read?I don't know if Liggett was under a lot of pressure to write another book, if she had some other person who vaguely has a grasp of writing write this for her, or what happened, but this book is ridiculous. Blood and Salt was vaguely passable, but this reads as a fanfiction sequel where everyone is rich, famous, and two-dimensional. BS was spooky and scary, whereas this book is just gore-rific and disturbing.Dane is still unqu...

Heart of Ash did not live up to the standard Blood and Salt set. The first book was on a smaller, more intimate scale that held the tension really well. Then Heart of Ash turned it into a global conspiracy that just took away from the original story. Where Ash used to be a mature teen who had to deal with a lot of adult stuff and did it capably, she then turned into that annoying teen who flip flopped on every little thing and spent most of the b...

When I started reading this book I kind of missed the element of horro that was more prevalent in the first book, but as I read on the book really made up for it with alot of other great aspects.The mystery element of the story as well as the character development was really great and I could definitely feel a improvement from the first book.And the ending, the ending. It was so great and gave me a feeling of joy. Just to see Ash fighting for bot...

A good ending to the series, I enjoyed the way all of the loose ends were tied up. I hate to be a critic but one thing I'd have enjoyed was an epilogue to see how our characters are dealing with the aftermath of things. I don't think I fell into Heart of Ash as much as I did Blood and Salt but I still Enjoyed it immensely. Kim Liggett still remains on my "must read" author shelves.

Loved, loved, loved. Was great to see what happened to the characters I had grown to love in Blood & Salt. Enough twists and turns to keep me turning the pages and not wanting to put it down. A must-read!

So, so good. Worth the wait, for sure!

This was interesting. While it had some quotable lines, I thought it was too short for my liking. The ending seemed rushed.

Honestly not a huge fan of the writing style, it left out too many details which caused many scenes to be more confusing than anything else. but I enjoyed the story and its uniqueness overall.

4.5/5I do dishes this way to fast. everything about it was incredible. there was a tiny bit that felt like the pacing was off but other than that great story and a revisit of characters.

A worthy sequel to Blood and Salt, this book kept me guessing right up until the satisfying ending.

Heart of Ash picks up right after Blood and Salt ends. Ash flees Quivara after Dane becomes possessed by Coronado's spirit and her bothers capture. Determined to find and save her brother she agrees to join Coronado at his Castle in Spain. The new setting for the second book is one of the things I enjoyed most about Heart of Ash. That and Rhys story. The relationship between the two characters is one of the reasons I enjoyed the story so much. ...