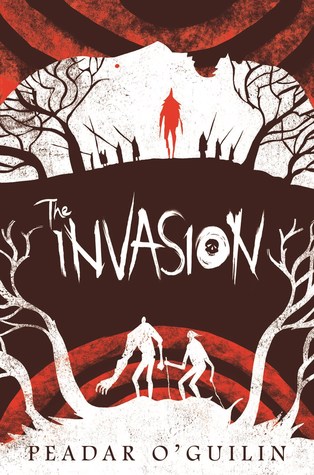 After so much danger, Nessa and Anto can finally dream of a happy life. But the terrible attack on their school has created a witch-hunt for traitors -- boys and girls who survived the Call only by making deals with the enemy. To the authorities, Nessa's guilt is obvious. Her punishment is to be sent back to the nightmare of the Grey Land for the rest of her life. The Sídhe are waiting, and they have a very special fate planned for her.   Meanw...
---
Details The Invasion (The Call #2)
Title
The Invasion (The Call #2)
ISBN

9781338045628

Author

Peadar Ó Guilín

Release Date
Mar 27th, 2018
Publisher

David Fickling Books

Genre

Fantasy

,

Young Adult

,

Horror

Rating
Reviews The Invasion (The Call #2)
I loved this book!!! I loved seeing Nessa and Anto again and being back in the world. This sequel was really well paced and totally kept me on the edge of my seat, I've not shouted at a book like that in a long time ;) I was really happy with everything, in fact the only bad thing is that there are no more!

Don't want to write anything to spoil it, just know it's as scary, and as action-packed as The Call. Every scene as imaginative, every emotion as powerful.It's just not the story I wanted.

Holy hell what a mind-blowing sequel! Going into this book I was really unsure about what the plot was going to be and how it was going to top the first one, but honestly it only took a few chapters before I was completely and utterly hooked!I don't want to say too much just yet until the book is officially released, but let's just say that The Invasion is much more horrific, dark and twisted than The Call, and I found myself on the edge of my se...

Peadar is a master of combining thrilling horror with thoughtful characterisation, creating an addictive mix of wild savagery and messy human emotions. As with The Call, he drives The Invasion's plot forwards at a tremendous pace whilst adding just the right amount of intimate scenes for the reader to become very attached to his cast – an incredibly difficult balancing act to achieve. I guess it's something to do with his Irish folklore her...

Usually when I pick up a sequel some time after reading the first book, it takes a while to get back into the flow of the story, to remember the world and the characters and all the little things that make the story unique. Not with this book. Two pages in I was already sucked back into this strange, hopeless Ireland and the struggles its people were facing.There's a little more world building in this one, which was great; it was sad but interest...

I love The Call so much that when I got my hands on a proof copy of The Invasion I gave over my day off to reading it, and what a great day it's been! Just as dark, beautiful, magical and original as its predecessor. I hope this series is as successful as it deserves to be.

Absolutely incredible. I was on edge MOST of this book. It is absolutely brilliant. It's as dark and delicious as The Call but genius and clever and grim. A few new faces thrown in who are just devious and delicious. Twists and turns galore. I absolutely adored this and I need more. So much more. I need to know what happened after the jump.

I was lucky enough to get a proof copy of this book and I absolutely loved it. I read it over a single bus trip to Dublin and I don't think I looked up from the pages once over the entire journey. Fans of the first book are going to love this conclusion, I know I did!!