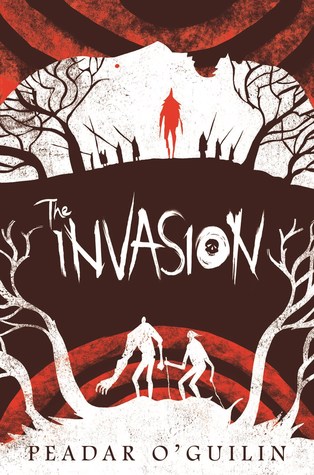 After so much danger, Nessa and Anto can finally dream of a happy life. But the terrible attack on their school has created a witch-hunt for traitors -- boys and girls who survived the Call only by making deals with the enemy. To the authorities, Nessa's guilt is obvious. Her punishment is to be sent back to the nightmare of the Grey Land for the rest of her life. The Sídhe are waiting, and they have a very special fate planned for her.   Meanw...
---
Details The Invasion (The Call #2)
Reviews The Invasion (The Call #2)
"I hear the Sídhe have found a way in...I hear that's what it's about. An invasion." The Call is a fantastic book - brutal, inventive, and exciting! I expected more of the same with the sequel The Invasion, as well as plenty of new surprises.Well...I got surprises all right.I am just SUPER disappointed. Mild spoilers throughout, but anything heavy duty will be marked. And spoilers for The Call. Obvs. Let's start with what I did like:Aoif...

I really enjoyed this duology. The Invasion wasn't as strong as the first book (The Call) but it was still an enjoyable read. For whatever reason, I really love creepy, twisted, and dark books and this duology has it all. There are several different narratives in this book but the strongest involves my favorite character Nessa. Nessa is still front and center in The Invasion and despite her severely deformed legs, she is a force to be reckoned ...

I thought this was an excellent follow up to The Call. Having read the first book I was prepared for grim and dark, and The Invasion pretty much delivers. The experiences of horror come this time not just from the Sidhe, but also from other humans. Of course they think Nessa is a traitor, otherwise how else could she have survived her Call? I found the whole nightmare Nessa has to endure as an accused traitor almost as stressful and horrifying as...

PATRONAT P42 (oczywiście jak będzie już premiera w Polsce XD) OBEJRZYJ NA YOUTUBE http://bit.ly/ppppp0 Nikt nie spodziewał się takiego obrotu zdarzeń! Dalsze losy Nessy mrożą krew w żyłach i stanowią świetne zwieńczenie historii The Call. Wezwanie oraz Inwazja pokazują jak w dwóch książkach można zawrzeć więcej akcji niż w niejednej trylogii. + wydarzenie, od którego rozpoczyna się ta książka… nigdy nie przyszłoby mi ...

When I read The Call about a year and a half ago now, I did so under the assumption that it was a good Halloween one-off, a haunting story about horrific, evil fairies known as the sídhe, who terrorized Ireland by spiriting all their children away to the grey land due to a sick, twisted take on the story of St. Patrick wherein he banished the sídhe from the mounds, not snakes. The wicked imagery and haunting descriptors alone were enough to mak...

This was another fun one with LOTS of graphic violence and gore. There were a few issues with this one with the plot points but I still really liked and haven't seen anything like it in the YA category before. RTC

The Call is one of my favourite books about the Faery/Fairy folk - it came out of nowhere and slapped one hell of a story right into my hands. This follow up lacks some of the punch of the original (not entirely it's fault; a lot of that punch was that I'd never read anything like that before), but pulls none as it follows after it's sibling.We pick up right where we left off, and I highly recommend reading the first book again if it's been a whi...

Actual rating 2.5 out of 5 This book was extremely disappointing. I was looking forward to finally seeing Anto and Nessa together, but instead they were apart the entire book. We never once got to see them together. I can't even begin to explain how upset I was about that. Anto who was my favorite character in the Call became frustrating most of the time. I pretty much just liked the parts with Nessa. She's the best part of this novel in my o...

I loved this book!!! I loved seeing Nessa and Anto again and being back in the world. This sequel was really well paced and totally kept me on the edge of my seat, I've not shouted at a book like that in a long time ;) I was really happy with everything, in fact the only bad thing is that there are no more!

I loved the first book but this one drug and drug. It felt like it was never going to end. I didn't enjoy the plot at all. All the violence was tedious and I really didn't care how things ended. I wish I would have just read the first book and been done with it. I still highly recommend that one I did this on audio and the narrator is excellent.

6/10It's so sad but I didn't like this book as much as the first one. I really really wanted to like it which is why it bums me out as much as it does to only give it three stars. I liked the first book even though there were still some answers left but it was okay because it was mysterious. For this book I had to stretch my disbelief so much it stretched thin at some points and some phrases like "he was drooling like a cartoon character" or "lik...

2.5 StarsThis book was just all over the place and I didn't really get what was going on most of the time. The biggest issue, however, was the fact that I just didn't particularly care about any of the characters.If this book (and the duology as a whole) was told in the first person perspective, then I think it would have allowed the reader to develop a better sense of sympathy. I felt like the third person narration just detached the reader ...

(2.5)This was a weird mix of an interesting concept, a character that I couldn't help but feel for, and utter boredom and contempt for the rest of it. I enjoyed Nessa's chapters and they kept me intrigued and wanting to know what happened, but I honestly did not give a shit about anything else. For me at least, this would have been a much more enjoyable book without the extra point of views. Also, I can't help but laugh at the romance a little be...

Excellent follow up to The Call and after reading this I'm sure to read everything that Peadar Ó Guilín ever writes!

Review to follow in April, along with a video interview with the author!-------Here they are!https://www.josiejaffrey.com/single-p...

Holy hell what a mind-blowing sequel! Going into this book I was really unsure about what the plot was going to be and how it was going to top the first one, but honestly it only took a few chapters before I was completely and utterly hooked!I don't want to say too much just yet until the book is officially released, but let's just say that The Invasion is much more horrific, dark and twisted than The Call, and I found myself on the edge of my se...

Don't want to write anything to spoil it, just know it's as scary, and as action-packed as The Call. Every scene as imaginative, every emotion as powerful.It's just not the story I wanted.

(originally reviewed at thelibraryladies.com )I was so very pleasantly surprised by Peadar Ó Guilín's novel "The Call" that when I found out that it was getting a sequel I was on pins and needles for it to be released. His take on a malevolent and violent faerie world was something that I hadn't seen before in such brutal and disturbing fashions, and it definitely took the concept of faerie worlds and put it in a dark reality, all whil...

Really enjoyable twisted fairy tale .Dark as hell but with a great imagination

I absolutely adored The Call, it's so gory and chilling, and The Invasion is no different. It has the same feel, and created the urge to keep reading in order to find out what happened next! I really liked what happened to Nessa. Even though it's obviously wrong, I feel it really is what people would think and I loved it for being so dark. I was a little more confused with Anto, to be honest. Him being rounded up but not really then getting u...

*4.5 StarsThis is a great follow up and finale to 'The Grey Land' duology. Just as dark and grim as the first one but with more development of the main characters, as well as the Sídhe themselves! I did find myself pushing through some of the slower parts, particularly in the middle before the big action set pieces were truly underway but the ending was fantastic and just how a story such as this should end. I wish we got more!

Another really fun/terrifying/unpredictable story in this series. I believe this is the end of the series, and as finales go it wasn't a favorite, but I did enjoy it for the most part. The overall atmosphere of the story is very different. You don't get to see Nessa interact with a lot of familiar characters throughout the book which made it feel very odd to see those familiar characters apart from Nessa for me. In general, I think there were too...

What can I say apart from the fact that this book was as amazing as the first one and I was bitterly disappointed to see that there isn't a sequel. There was probably room for a sequel tbh as the end was a little unsatisfactory, but on the whole the book continued the story well and was as shocking and gripping as the first ones. A must, must read±

Есть продолжения, которые лучше не читать. Мечтаю, чтобы "Зов" остался однотомником.+звезда только за Нессу.

I have so many feelings- happiness, contentment, confusion, anger, frustration. I think my feelings for this book overall are positive, but there's so many questions left unanswered. I really feel like that ending should have been elaborated on, otherwise it's just not satisfying. I'm pretty sure the author has said this is the last book, and with the addition of an epilogue so many years later I'm afraid to say that's probably true, bu...

Peadar is a master of combining thrilling horror with thoughtful characterisation, creating an addictive mix of wild savagery and messy human emotions. As with The Call, he drives The Invasion's plot forwards at a tremendous pace whilst adding just the right amount of intimate scenes for the reader to become very attached to his cast – an incredibly difficult balancing act to achieve. I guess it's something to do with his Irish folklore her...

Usually when I pick up a sequel some time after reading the first book, it takes a while to get back into the flow of the story, to remember the world and the characters and all the little things that make the story unique. Not with this book. Two pages in I was already sucked back into this strange, hopeless Ireland and the struggles its people were facing.There's a little more world building in this one, which was great; it was sad but interest...

Usually when I pick up a sequel some time after reading the first book, it takes a while to get back into the flow of the story, to remember the world and the characters and all the little things that make the story unique. Not with this book. Two pages in I was already sucked back into this strange, hopeless Ireland and the struggles its people were facing.There's a little more world building in this one, which was great; it was sad but interest...